'Uncle Louis' – A Quiet Man of Excellence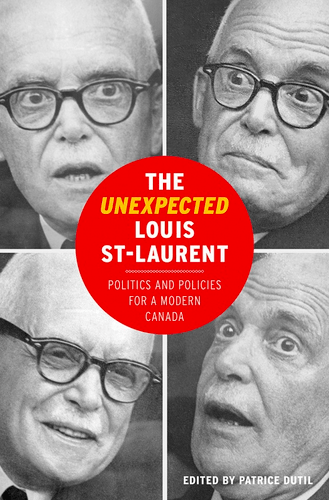 The Unexpected Louis St-Laurent: Politics and Policies for a Modern Canada
Patrice Dutil, Editor

UBC Press/November 2020
Review by Anthony Wilson-Smith
Born 17 years after Confederation, first elected to office in 1942, defeated as prime minister 64 years ago: Louis St-Laurent seems an unlikely choice to be having a moment now, nearly 140 years after his birth. But a moment it is. In January, the McGill Institute for the Study of Canada (MISC) held an online symposium titled Rediscovering Louis St-Laurent, dissecting his legacy. Written articles since have done the same. A major contribution to the re-examination is The Unexpected Louis St-Laurent: Politics and Policies for a Modern Canada.
Edited by Ryerson University political scientist Patrice Dutil with entries from an all-star team of fellow political historians, the book explores St-Laurent's achievements in close detail. Among them, Dutil notes, huge infrastructure projects including the St. Lawrence Seaway and the Trans-Canada Highway; creation of the Registered Retirement Savings Plan; university funding, pension and old age assistance reform, support for the disabled, establishment of the equalization program to help have-not-provinces; establishing the Supreme Court as the final judicial body of decision; the entry into Confederation of Newfoundland and Labrador.
And yet, St-Laurent was ignored or dismissed by many political analysts for decades. The late historian Donald Creighton described St-Laurent as a charmless "company chairman" who was, by his account, lucky enough to come to office in a boom era for Canada.
As we learn in a fond, exquisitely-written chapter by St-Laurent's grand-daughter, Jean Thérèse Riley, St-Laurent was a reluctant politician who came to public life only out of duty, eschewed partisan politics; and deflected credit to others.
He was turning 60, one of the country's most prominent lawyers, and compensated accordingly, when he agreed to a request from Mackenzie King to join the cabinet in 1942. He planned a quick return to private life, but stayed, building a reputation for quiet efficiency and consolidating Liberal support in Quebec. A grateful King supported St-Laurent to succeed him when he stepped down in 1948. At 66, St-Laurent was the oldest person then or since to step into the position.
St-Laurent emerges as a man with his eye on the future, but habits rooted in the past. Born to a francophone father and Irish-origin, unilingual anglophone mother in Compton, in Quebec's Eastern Townships, he identified as francophone but easily straddled the language groups. That bicultural upbringing was part of what Jean Charest — himself a native of nearby Sherbrooke — describes in his chapter as a "Townships mentality". The qualities Charest ascribes to St-Laurent include "practicality" and a "show-me attitude that defies easy assurances, a tough-minded spirit that waves away superfluous attitudes and lofty ambitions."
St-Laurent presided over one of the most prolonged periods of economic growth in Canada's history. As Luc Juillet and Luc Bernier write, he oversaw the modernization of the apparatus of government even as he was seen as "low-key and cautious". They observe that his "willingness to inspire and lead" gave a strong cabinet the ability to move.
As we learn in a fond, exquisitely-written chapter by St-Laurent's grand-daughter, Jean Thérèse Riley, St-Laurent was a reluctant politician who came to public life only out of duty, eschewed partisan politics; and deflected credit to others.
Journalist and economic historian Mary Janigan, in her chapter on the equalization program, describes St-Laurent as "the deceptively avuncular corporate lawyer [who] dragged Canadian federalism, along with some dubious premiers, from the 19th into the 20th century." Much of his success lay in his ability to manage an age-old issue; the competing demands, interests (and egos) of the country's premiers.
Why, then, is St-Laurent not given more credit as a builder of modern Canada? Janigan offers an explanation that Jack Pickersgill, who served as clerk of the Privy Counil under St. Laurent, once provided to illustrate the difference in how King and St-Laurent operated. When King saw a problem, Pickersgill said, he would vacillate until everyone saw it – and "when he found a solution, even if it was not topnotch, everyone concluded he was a great statesman." By contrast, "St-Laurent often found a solution before most Canadians, including some of his cabinet colleagues, even knew there was a problem."
That description limns the quality that was a blessing and curse for St-Laurent — the ability to make hard things seem easy. When he and the Liberals were defeated by John Diefenbaker and the Conservatives in the 1957 election, there were several reasons. The Liberals seemed complacent after 22 consecutive years in power and St-Laurent, 75 and never an enthusiastic campaigner, showed poorly against the vigorous Diefenbaker.
Once St-Laurent left office, he had little interest in maintaining a public presence or taking credit for his achievements. He retreated to his house on Quebec City's Grande Allée, where he died in his bed at 91 in 1973. He was buried in Compton, with a burial stone smaller, by his wish, than that of his father.
As Riley writes of her grandfather, "He was put to rest as he had wanted, and as he had lived, in that unassuming way that was his." With this superbly-executed, comprehensive book, he now gets the tribute he would not have asked for — but nonetheless deserves.
Contributing Writer Anthony Wilson-Smith is President and CEO of Historica Canada, and former Editor of Maclean's magazine.