'Twas the Week Before Christmas
A happy Christmas to all! In spite of, you know… everything.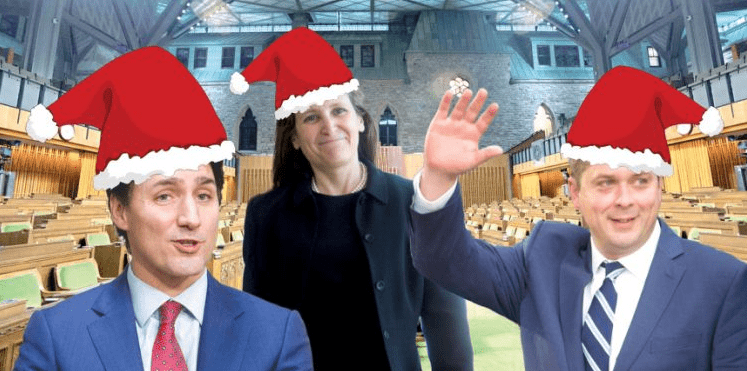 Photo: Andrew Meade, graphic: Serena Masonde/Hill Times.
Lisa Van Dusen/For The Hill Times
December 18, 2019
'Twas the week before Christmas and all through the world,
Stock in Xanax inflated as the s***show unfurled.
In a Washington split like a log with an ax,
They were impeaching a president—not the one with the sax.
As the details emerged of a hit on Ukraine,
America's mayor broke up with his brain,
For a boss who was willing to sell out Donbas.
Option one: take out Joe, option two: kiss my ass.
Up the street, up the hill, in the branch they call legislative,
They were locked in a dance that was wildly interpretive.
With corruption repurposed as anti-corruption,
All to appease the King of Disruption,
While the unstinting gaze of Pelosi and Schiff,
Sent his Twitter id-rage sailing over a cliff.
Meanwhile, in London, where things used to be saner,
Another wobbly campaign made the 12th a no-brainer.
Faced with a choice: blanc-mange? … Eton Mess?
This blessed plot picked, "It'll never digest."
Ah, remember when Boris was mayor, crashing ziplines?
Now he'll be clogging the Brexit-angst tip-lines.
And what of the waffly and baffling Corbyn?
Meet the sober pub bore who's spoiling your bourbon.
With plots un-blessed, vox populi perversion,
Time to start quoting the King James version.
What ho! Doesn't matter? We'll always have Fleabag?
Thank Christ, there is that, and the great Yorkshire teabag.
In Madrid, in Spain, where they invented siesta,
The COP25 was so not a fiesta.
As the new world order's firemen-slash-arsonists
Bollixed it up for the KAOS-y larcenists.
At least Greta Thunberg's got the you-know-whats of a leader.
Sure, tell her to "chill," she's a pigtailed Ben Weider!
Back here in Canada, where minority rules,
It's a yuletide tale of two different yules.
Chrystia Freeland's new job is our own Ukraine statement,
With a mandate so copious, it brooks no abatement.
So much to ensure, eyeball, and embody,
There's barely a chestnut for Prime Minister Hottie.
Andrew Scheer's still verklempt o'er his wee lump of coal,
Not yet facing the fact that escape was his goal.
From the gay marriage stuff to the Dockers-dad vibe,
Just the wrong kinda weird for the Trumpian tribe.
He'd have never seen April with the horde on his tail.
Now he can find a more catchy white whale.
Ask Tory, ask Nenshi, ask Watson, ask Plante!
A nice city hall is the thing that you want.
No QP sur tes nerfs, no more infinite scrums,
Just road-closure tweets and Second Cup mums.
Another year gone, and another one coming,
As we tweet-tweet away with our lizard brains humming.
Sure, there may be no more of trust, hope or truth,
But leave the malarkey to the sayers of sooth.
We've got Siri, Alexa, and Yoda, the baby.
And next year will be better. It just might. It just maybe.
Lisa Van Dusen is associate editor of Policy Magazine and a columnist for The Hill Times. She was Washington bureau chief for Sun Media, international writer for Peter Jennings at ABC News, and an editor at AP in New York and UPI in Washington.