To Fly or Not to Fly? A Brief COVID Travelogue
A professor who teaches at the world's leading business schools from McGill to Oxford to Stanford to Bangalore, Karl Moore knows the airline industry as an expert and a frequent flyer. He filed this report for Policy after a day on the front lines of Canadian commercial flight.

Karl Moore
July 4, 2020
It's been more than 35 years since I've gone four months without flying. Despite the catastrophes of recent times (9-11, 2008 Recession, SARS, etc.), COVID-19 has impacted air travel in a significant way. The resulting standstill of airports and airlines is the first of its kind I've seen in my lifetime. Now, as pandemic restrictions are slowly lifting and planes are starting to take off again, I decided — as a management professor and airline industry observer — it was time to explore this new era of air travel for myself.
On Tuesday, June 30, I flew from Montreal to Toronto. Down by WestJet and back that evening by Air Canada, I felt it was important to experience Canada's two dominant airlines. At Pierre Elliott Trudeau International Airport I was met by three managers — Danny Coveney, Anne-Sophie Hamel-Longtin and Marguerite Karteris — who had been involved with putting in place the measures to make it safer to move through their airport. At Lester B. Pearson Airport, two senior managers — Dwayne MacIntosh and Kurush Minocher — showed me around and pointed out the measures their team had put in place in Canada's busiest airport.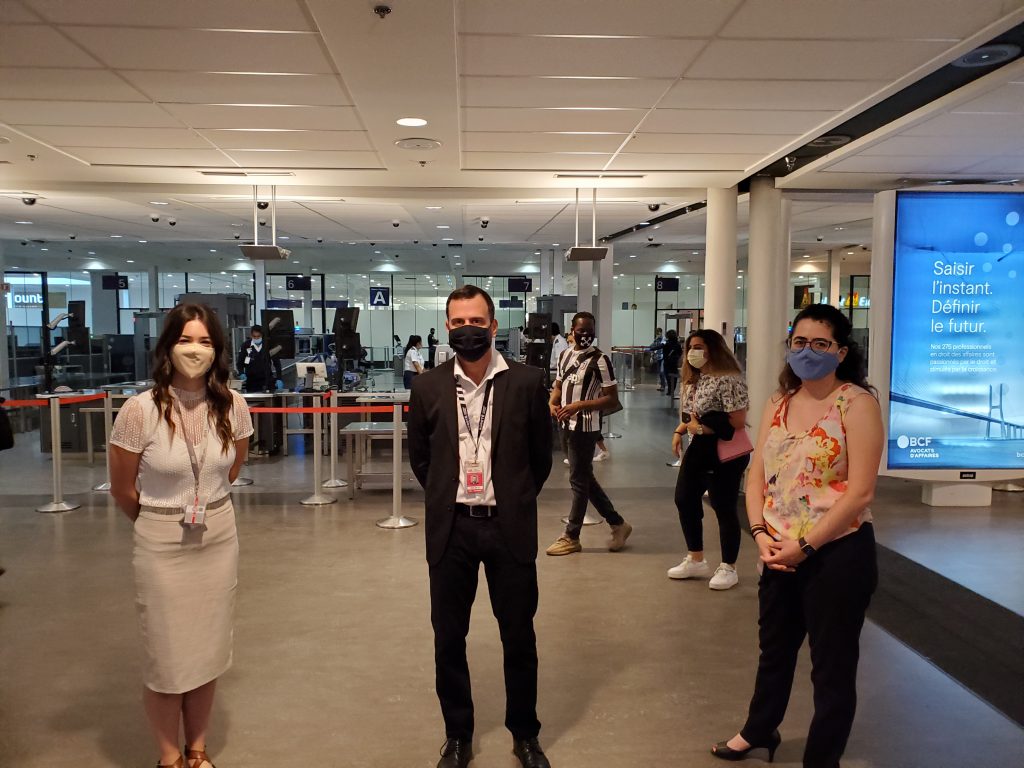 At both Trudeau and Pearson airports, only three of the many entrances were open to funnel perimeter security checks of each person entering the buildings. There were the now-ubiquitous hand sanitizing stations, at the entrance, right after you entered and many places around both airports — hundreds in the sprawling Pearson airport. There were even strategically placed circles to tell us to stay the appropriate social distance apart at the entrance and throughout the airports. Upon entering the airport, employees took our temperature, taking only a few seconds to get a result. If you tested positive, there was a place to wait so that they could test you a second time. If you had a temperature after the second measurement, you were sent home. Masks were de rigueur and everyone I saw was wearing one unless they were eating or a parent with a baby or small child.
Boarding the plane was done in small numbers and as I walked down the gangway, there was no one near me and no lineup at the bridge to enter the plane. The plane was, at best, half-full, so carry-on luggage wasn't a problem (winter might make this more challenging in Canada, with winter coats and scarves), though some airlines are outlawing carry-ons, which may be a good idea. De-planing went well, though I felt the business class passengers leapt out of their seats too soon and stood too close to one another in the aisles to disembark. (I guess some habits are hard to break for hard-charging business types … I remember those days).
On arrival at Pearson, walking through the airport was a breeze and I was quite relaxed. Though the small number of passengers and flights was undoubtedly part of why it felt safe. With many more passengers it would be more challenging to keep the social distancing in place. Though I wonder with masks all-round, perhaps we can relax a bit on the two-metre rule?
The two senior managers who showed me around Pearson airport and filled me in on what they had done were impressive and very clearly had done their homework with health care professionals, learning from other Canadian and international airports and following guidelines from the International Civil Aviation Organization (ICAO), the Montreal-based United Nations agency, and the International Air Transport Association (IATA), which represents most airlines. At the end of the day, I felt quite reassured.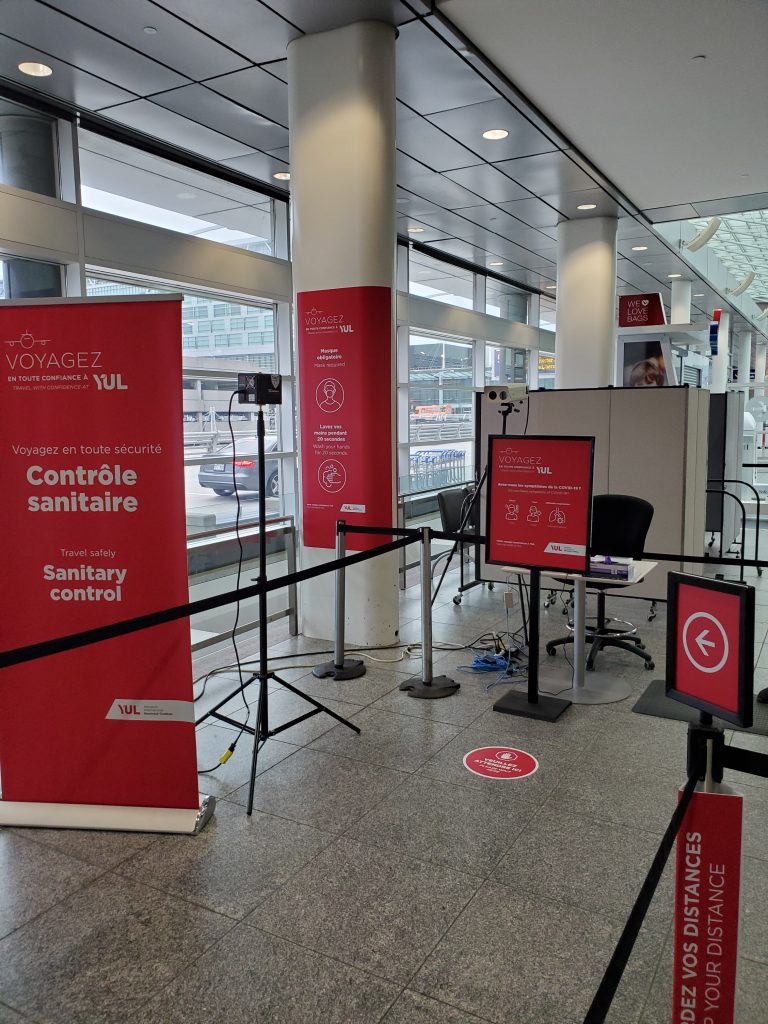 I splurged on a private car to my morning meeting at the Globe and Mail to ensure my journey remained as safe as possible. After my meeting and equipped with my safety gear, I decided to hail a taxi on Yonge Street — how pre-COVID that felt!
Let me be frank, it felt great to be out of my bubble in Montreal and be in the heart of the beast in Toronto. Walking down Bay Street by the TD Centre, where I worked for IBM in my 20s, was invigorating, rejuvenating, uplifting. What a tonic after four months at home. But after I arrived safely back at home, I wondered — as someone over 60 — was it wise?
The world is eager — perhaps desperate — to move on. We are in the worst economic times since the Depression. Of course, we value safety above all, but at what cost to our economy? How do we balance the two? As we see with our neighbours to the south, examples of opening up too rapidly can be costly. On the other hand, Air Canada and WestJet are flying 95 percent fewer passengers than just a few months ago, and they are facing the real possibility of going out of business. Our vast country needs airlines to be flying for business, for families, for government and for our significant tourism industry. But if we have a second wave because of flying, it is, of course, not worth it.
With all this in mind, the killer question is, would I fly again?  Thinking in terms of safety, I do feel like our major Canadian airports have done their homework.
Much of what I saw was based to a considerable degree on the pandemic response of ICAO and IATA. Of course, they and the airlines all have "a dog in the fight"; their self-interest is obvious.  Nevertheless, after talking to IATA officials, including the organization's chief economist, sources at ICAO, the airports of Montreal and Toronto and executives at Air Canada and WestJet, I came away impressed by the degree to which they've all done their homework, including in consulting with world-class health care professionals at the World Health Organization, the Mayo Clinic, the University of Toronto and McGill, among others.
Balancing the self-interested desire to get people on planes is the incontrovertible fact that their employees, colleagues, friends — the WestJet/Air Canada families — were on the planes, at the counters, at the airports for hours a day, unlike passengers, and the next day, they do it all again. I have the strong sense from both my trip and from speaking with officials that they genuinely care for their colleagues and for their passengers. They are going out of their way to follow strict guidelines from top health care professionals and be cautious Canadians. They also realize that if many cases are traced back to air travel, it will perhaps sound the death knell for their companies.
So, will I and my family fly again? Our son just flew Montreal to Vancouver for an exchange semester at UBC, and, if we could afford it, we would fly out in the next month and visit. In late August, I am scheduled to teach once again at Reykjavik University in Iceland; we will see if that is allowed by Icelandic authorities. If it is, I will faithfully follow the rules and get on a plane, perhaps with less excitement and more apprehension than in the past. But I am ready, and willing, to go.
Karl Moore is an Associate Professor at the Desautels Faculty of Management, McGill University, and a longtime airline industry observer.