The USMCA and the New Rules of the Road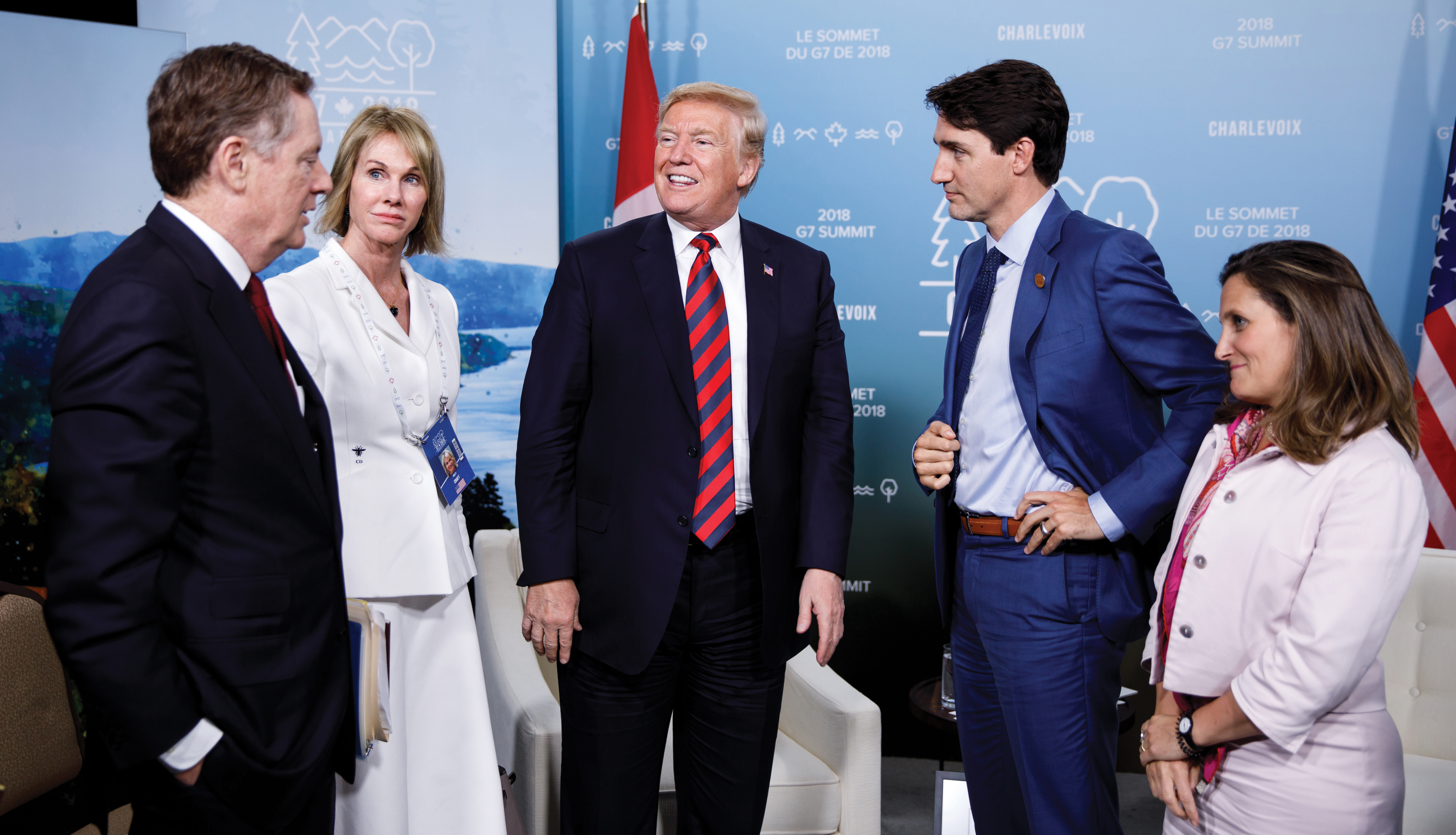 At a time of geopolitical disruption, much of it rationalized by the unpredictable presidency of Donald Trump, no trade deals are local. As evidenced in the so-called China clause of the United States-Mexico-Canada Agreement, a newly competitive relationship between Washington and Beijing is playing out in places beyond the bilateral.
Meredith Lilly 
The successful negotiation of the United States-Mexico-Canada Agreement (USMCA) in principle has been welcomed with a sense of relief across Canada. But rather than embraced as a "good" deal for Canada, the USMCA is regarded by most experts as a "good enough" deal, the best that Canadian negotiators could have achieved given the unpredictable and protectionist posture south of the border. 
Reaching an agreement with the Americans had become increasingly necessary in order to restore stability and certainty to Canada's lagging investment climate, and to prevent a far worse future from materializing. There is ample evidence that the Trump administration would have made good on its threat to impose punitive auto tariffs on Canada in the 25 per cent range had the Trudeau government failed to sign on to the U.S.-Mexico deal that was concluded in August. Auto tariffs on Canada would have spelled disaster for both the sector and the broader Ontario economy, jeopardizing well over 100,000 jobs. 
Many accounts have already been written about what Canada gained and lost in the new deal. But one overlooked reality is that the end zones for a NAFTA 2.0 were predictable from the outset, suggesting the three countries could have arrived at a trilateral agreement much faster and with less acrimony.  
For example, before negotiations began in 2017, virtually no close observers expected Canada or Mexico to come out further ahead under the Trump administration. Instead, various modernization chapters such as digital, small business, services, labour and environment were expected to be transplanted from the Trans-Pacific Partnership (TPP) that the U.S. left in 2017. These modernization objectives would be accompanied by a U.S. "rebalancing" agenda that required both Canada and Mexico to make concessions in politically important areas for Trump in exchange for ongoing access to the American market. Mexico would be forced to make concessions on auto rules of origin and Canada would be pressured to provide comparable levels of access to its dairy market that were previously negotiated via the TPP. Any other Canadian or Mexican priorities that were not shared by the Americans were virtually guaranteed to stall, including government procurement, temporary entry, and Canada's so-called progressive trade agenda. 
The best that the two smaller NAFTA partners could be expected to achieve in those areas would be the status quo. 
Indeed, after more than a year, the three countries landed on an agreement that was largely spelled out from Day One. For all the political drama that unfolded in the final weeks of negotiations, the same deal could have been reached last spring, with less damage to Canada's economic interests. For it was over the summer months that Canada was slapped with billions in steel and aluminum tariffs and  President Trump ramped up his rhetoric against Prime Minister Trudeau, further entrenching the impression that Canada remains an unstable investment environment. 
But the most important reason to reach a quick deal was to ensure the USMCA negotiations did not get caught in the crossfire of Trump's developing trade war with China that started rolling out last spring. The U.S. 232 national security tariffs on steel and aluminum hit Canada hard, but the U.S.'s real target was China. It also took this very aggressive action by the Americans before Canada's Department of Finance took serious measures to address the dumping and trans-shipment of Chinese steel that the U.S. had long requested. 
Following the imposition of steel and aluminum tariffs, the Americans then proceeded to circle the wagons on an auto tariff strategy over the summer months.  With the completion of renegotiations with South Korea and NAFTA partners, the U.S. reached trade agreements with three of its major vehicle exporting trading partners. The subsequent launch of bilateral negotiations with each of Japan, the European Union and the United Kingdom means the U.S. has also now made commitments to all of its trade allies who export vehicles that can keep them protected inside any future U.S. tariff wall. 
In short, this sequencing has set the table for the Americans to now move forward aggressively with auto tariffs targeting China. When added to the $250 billion in tariffs that the U.S. has focused exclusively on China, the groundwork has been laid for a new Cold War between the two superpowers.
It is through this lens that the USMCA clause on non-market economies must be viewed: not as a deliberate challenge to Canadian sovereignty but instead as an American chess piece in a much more complicated game. Rather than an American veto on Canadian trade policy, Article 32.10 offers a plain message of deterrence to all countries seeking to trade with the U.S.: you're either with the United States or you're with China—pick sides.  
Trump's preference for the "stick" over the "carrot" may be brazen and aggressive but this orientation to China is not new for the Americans. For example, other provisions in USMCA that target China date back to the Obama-era TPP text, such as currency manipulation, data localization and state-owned enterprise requirements. Now that these provisions are entrenched in the USMCA, the Americans can use the text as a template for negotiations with future trade partners.
Furthermore, the Americans have already been actively working with the EU and Japan to develop a trilateral approach to address and enforce rules around China's distortionary practices such as industrial subsidies, state-owned enterprises and forced technology transfer. Once the three countries have a united strategy, others including Canada will be invited to join this "consensus".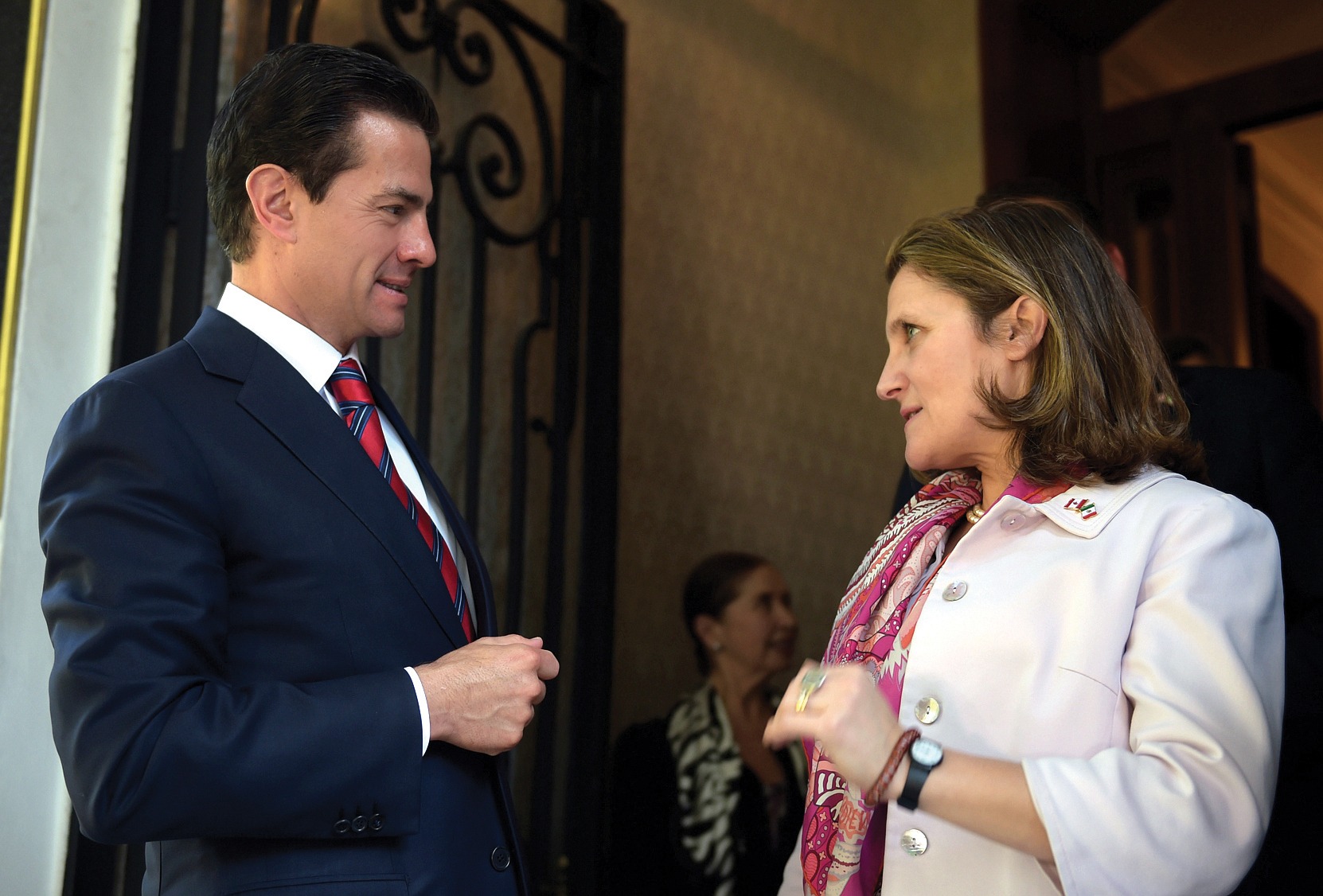 When the newly concluded USMCA is viewed in this broader context, Canada's role is clearly a marginal one. We needn't fixate on Article 32.10 as a deliberate provocation to Canadian sovereignty that requires us to reflexively run toward China just to show the Americans how unconstrained we are by the provision. Nor should we halt Canadian progress with China on areas of mutual benefit. Instead, we should follow our normal path of Canadian pragmatism to support the Americans where it makes sense, while falling back in areas where it doesn't. In fact, many of the trilateral efforts led by the Americans to constrain China would be positive for Canada, particularly in sectors such as the digital economy where Canadian interests are threatened by unfair practices that undermine innovations in such areas as artificial intelligence. 
In the months ahead, Canada must remain focused first and foremost on shoring up our trade agreements with established partners, including the U.S. and Mexico. And as we take stock of our international trading position now that USMCA is complete, we must recognize that protectionism has become the norm in many parts of the world.
For example, the ratification of CETA is proving to be difficult in several key European countries, potentially jeopardizing its future. Canada is not innocent either. We have recently jumped on the protectionist bandwagon, rolling out our own safeguard measures on steel in order to protect domestic interests.  
Finally, Canada's diversification goals are laudable but must be kept in perspective. While there are many new opportunities for exporters in the fast-growing markets of the Asia Pacific via our new TPP partners and South Korea, none will replace the US market next door. Canada's interests are always better served when we cooperate with our friends and allies: we needn't throw out the rule book as we consider what to do next with China.  
Meredith Lilly is Associate Professor and holder of the Simon Reisman Chair in International Affairs at Carleton University. Previously, she was foreign affairs and international trade adviser to Prime Minister Stephen Harper.