The Trumpification of Republican America
David Frum
Trumpocalypse—Restoring American Democracy. Toronto and New York, HarperCollins Publishers, 2020.
Review by Anthony Wilson-Smith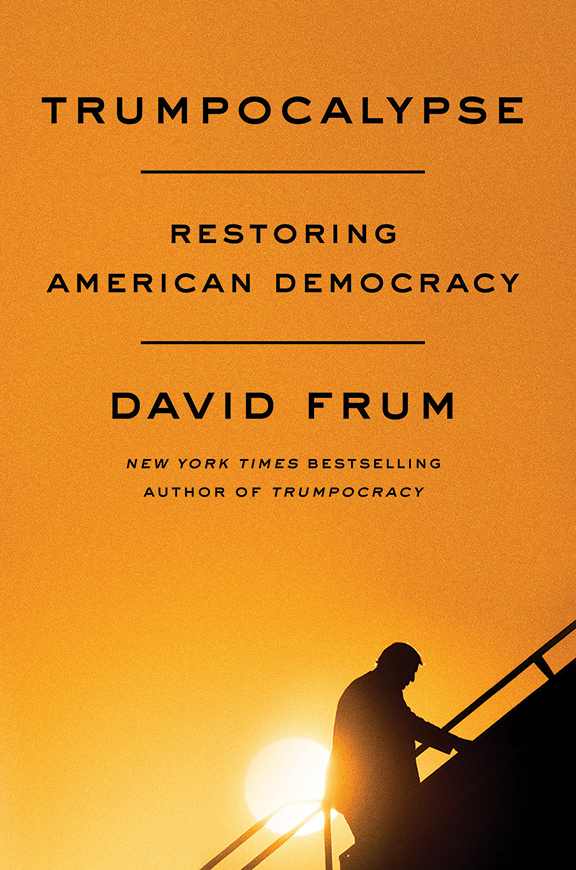 Canadians, the late, great homegrown journalist Peter Jennings used to say, have an edge over Americans at his old craft because "we're used to being observers on the world stage, while Americans expect a leading role." One exception is another expat—Canadian-raised, Washington-based author and commentator David Frum. For decades, Frum enjoyed a place in the higher reaches of the Republican Party through books, speeches, columns and television appearances in which he provided erudite promotion of traditional conservative philosophies and policies. But he has never gone along with prevailing thought just for the sake of it.
Trumpocalypse, Frum's second go at excoriating the present president of the United States in book form, is the latest example of that trait. (His previous was the 2018 Trumpocracy.) The title arguably does the book a disservice, because Frum does more than just profess his disgust with Donald Trump (although there's plenty of that.) He analyzes Republican policy shifts and problems—regretfully concluding the party has done the U.S. more harm than good so far this century. He dissects the social and political conditions that led to Trump 's election; explains why the Democrats may still blow the election this fall; and provides ideas to bridge the enormous disconnect between Washington and much of the rest of the country.
Frum has two qualities necessary for a successful author and polemicist—the ability to turn a neat phrase, and the diligence to support his assertions with a mountain of research. He lists well-established criticisms of Trump such as his habitual lies; contempt for democratic norms and traditions; dog-whistling toward minorities; and so on, with plenty of examples. Then, this deft take on the difference between the two dominant political lines of thought: "American conservatives take pride in their nation but mistrust the nation's state. American liberals value the state but feel discomfort with the concept of 'nation.'" Those views, in the extreme, explain why masked, armed dissidents tote American flags even as they threaten the lives of elected officials in state legislatures. It also explains why Democrats embrace what he calls 'The Great Awokening', embracing identity politics at the expense of united interests—and mainstream voter support.
Even if Trump loses this fall, Frum argues that the rubble in his wake won't be swept away easily. He proposes steps that include abolition of the right to filibuster; a different approach to climate change to bridge fears over the economic impact of environmental measures; a targeted approach to immigration (similar to Canada) aimed at matching newcomers with needs in the workplace; and, last but far from least, Republican and Democratic parties that return to the cross-aisle pragmatism of decades gone by.
Frum—who voted for Hillary Clinton in the last election—remains an unrepentant traditional conservative of the 'compassionate' variety. He has recounted how, in the Trump era, he runs into onetime ideological soulmates who support Trump and ask, in dismay; "What happened to you?—to which, he has said, he invariably responds; "what happened to you?" It is one thing to leave a party—and quite another, as is the case with Frum, to have your party leave you. Not to mention the country that Frum moved to some three decades ago—measured against the one that he finds himself living in today.  
Contributing Writer Anthony Wilson-Smith, President of Historica Canada, is a former Editor of Maclean's.