The Throne Speech: Trudeau Owns It, For Better or for Worse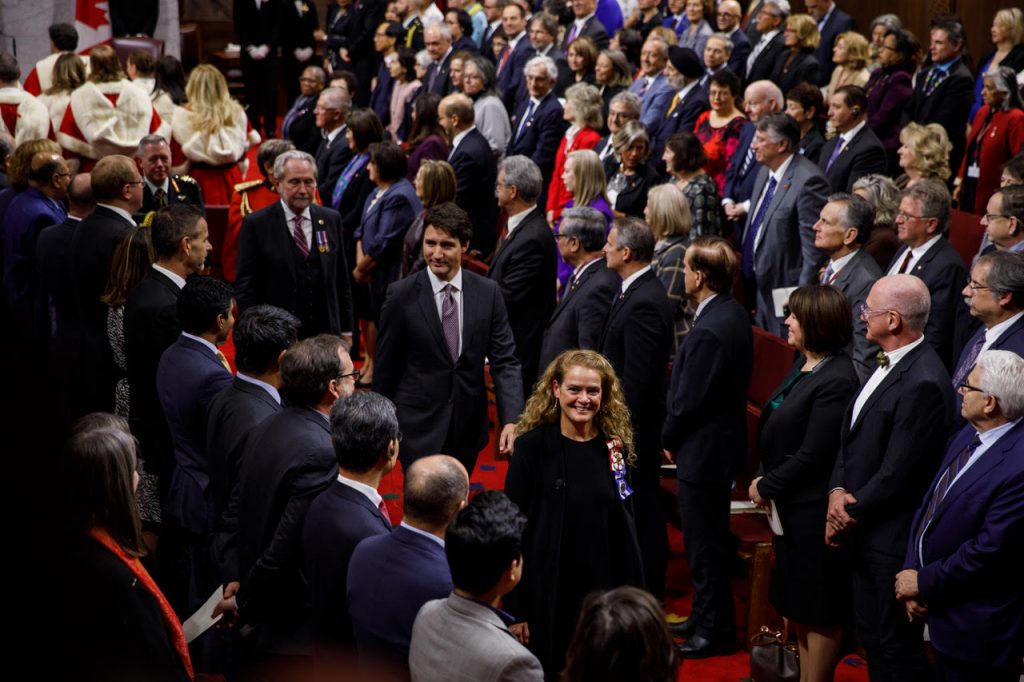 L. Ian MacDonald
September 7, 2020
When it comes to the Speech from the Throne, there is normally one person who holds the pen in the Prime Minister's Office.
For everyone inside the system, up to their deputy minister and minister, it's a question of pride to have a paragraph, or at least a sentence, in the SFT.
And when making their case to the PMO, it's usually understood that the money to pay for it is up front.
In 1986, I received a call from a friend and a great public servant named Richard Dicerni, who was senior assistant deputy minister in what was then the Secretary of State's office.
"Nineteen eighty-seven is international literacy year," he said. "It has to be in the throne speech."
"How much have you got?" I asked.
"I've got $50 million," he replied.
"You're in."
Which is how the National Literacy Secretariat was born, once the Prime Minister had signed off on it.
Another measure in the 1986 SFT was the Atlantic Canada Opportunities Agency, ACOA, a signature initiative of the Mulroney government. The Western Economic Diversification Agency (WD) and other regional development agencies followed.
The landmark Atlantic agency became known as ACOA only after a last-minute name change from the Atlantic Canada Development Corporation.
Reading the final draft of the SFT intended for Mulroney's signoff on the PM's plane a few days before the fall speech, my colleague Geoff Norquay discovered an unfortunate acronym: ACDC. I still don't know how we missed that in dozens of earlier drafts, but Norquay's catch saved us from the program being known as AC/DC, which would have been the mirthful sidebar headline on the speech.
Normally a throne speech is written entirely in PMO, except for one paragraph known as the governor general's paragraph, always written at Rideau Hall.
It's usually about what's called "the GG's cause" and it was pretty clear that Julie Payette, famously a former astronaut, was the author of the following thought in last December's SFT: "We start on the same planet. We know that we are linked on the same space-time continuum and on board the same planetary spaceship."
That was her only throne speech since her appointment in 2017. The one in two weeks will be her first since accusations of work-place harassment of her staff broke on CBC last month, which are now being investigated by a firm specializing in personnel inquiries and hired by the Clerk of the Privy Council.
She has not spoken publicly since then, though she presided over the cabinet shuffle swearing-in that preceeded the prorogation that led to the SFT, and she retains the confidence of Prime Minister Justin Trudeau, who has called her "an outstanding governor general."
For the rest, this is clearly Justin Trudeau's throne speech, in every sense of the word, It is unprecedented for the PM to become personally involved in an SFT, as Trudeau has done in discussing it on a round of talk radio shows across the country and consultations with his regional caucuses. Normally the PM is lobbied by stakeholders, interest groups and cabinet colleagues, not the other way round.
And Trudeau has made it very clear that he's prepared to expand the post-pandemic relief fund that has already rung up a record $343 billion deficit, with another $50 billion or so announced but unaccounted for, and much more to come in the throne speech and beyond in a fall budget or economic statement.
Make no mistake, this is on Trudeau's account and he is already wearing it in an unexpected precinct, present and former senior members of the public service.
"When they say the government has your back, that's absolute bullshit," former Bank of Canada Governor David Dodge told National Post columnist John Ivison in an interview that rocked Ottawa's mandarin and political class.
It is unheard of for a former central banker, let alone one of Dodge's stature—he was previously deputy minister at Finance—to make such comments about a sitting prime minister and the government of the day.
Ivison followed up Dodge's profane remarks with a column that justified them, suggesting even more billions were in the works. "The number being bandied about Ottawa is $100 billion," Ivison wrote, "that is, another $100 billion will be added to a deficit that is already approaching $400 billion this fiscal year."
That would mean—wait for it—a $500 billion deficit in the current FY, or nearly 25 percent of Canada's GDP. Like Italy, in the bad old days.
Trudeau told CBC Vancouver on Wednesday that the Liberals "will embark on an entirely different direction as a government," Quote, unquote.
Finance Minister Chrystia Freeland got right out front, saying "the re-start of our economy needs to be green."
Really? That's a link most voters haven't made yet, though Canadians may be driving less to work and shop in the post-COVID economy.
Meantime, there's this $500 billion deficit number hanging out there, with Opposition Leader Erin O'Toole suggesting a Conservative government would pay down the deficit and balance the books within 10 years. In this context, it almost sounds like a radical promise, since a current deficit of $500 billion added to net 2019 debt of $768 billion would bring Canada's debt to nearly $1.3 trillion, or more than half the Canadian economy estimated by StatsCan at $2.2 trillion last year.
And then there's the question of a confidence vote on the throne speech, normally held after seven days debate, though not necessarily seven consecutive sitting days.
And is that seven days under the old rules of parliamentary procedure, or the still evolving new ones in which members sitting on virtual committees and the full House as a committee of the whole can debate and even vote virtually?
It's completely unclear how that would impact a confidence vote in which a minority government could fall on the throne speech.
Only a few votes short of a majority, the Liberals can reach majority territory easily with the support of the Bloc Québécois, whose members are looking down the road at two terms and six years to qualify for parliamentary pensions. As for the NDP, they'll use the run-up to the SFT for whatever leverage they can, no matter the cost. That's what they do, except for the 2015 campaign when then-leader Tom Mulcair was running on the promise of balanced budgets. And in the aftermath—his own party dumped him in a leadership review. And then there's the WE Charity scandal, which the government hoped would disappear with prorogation, but which gives every indication of reviving in the new session. The Family & Friends Affair simply isn't going away.
So welcome to September, Trudeau's time and turn.
Or not. It's all on him now.
L. Ian MacDonald is Editor and Publisher of Policy Magazine.