The Ontario Campaign that Went from Time for a Change to Throw the Bums Out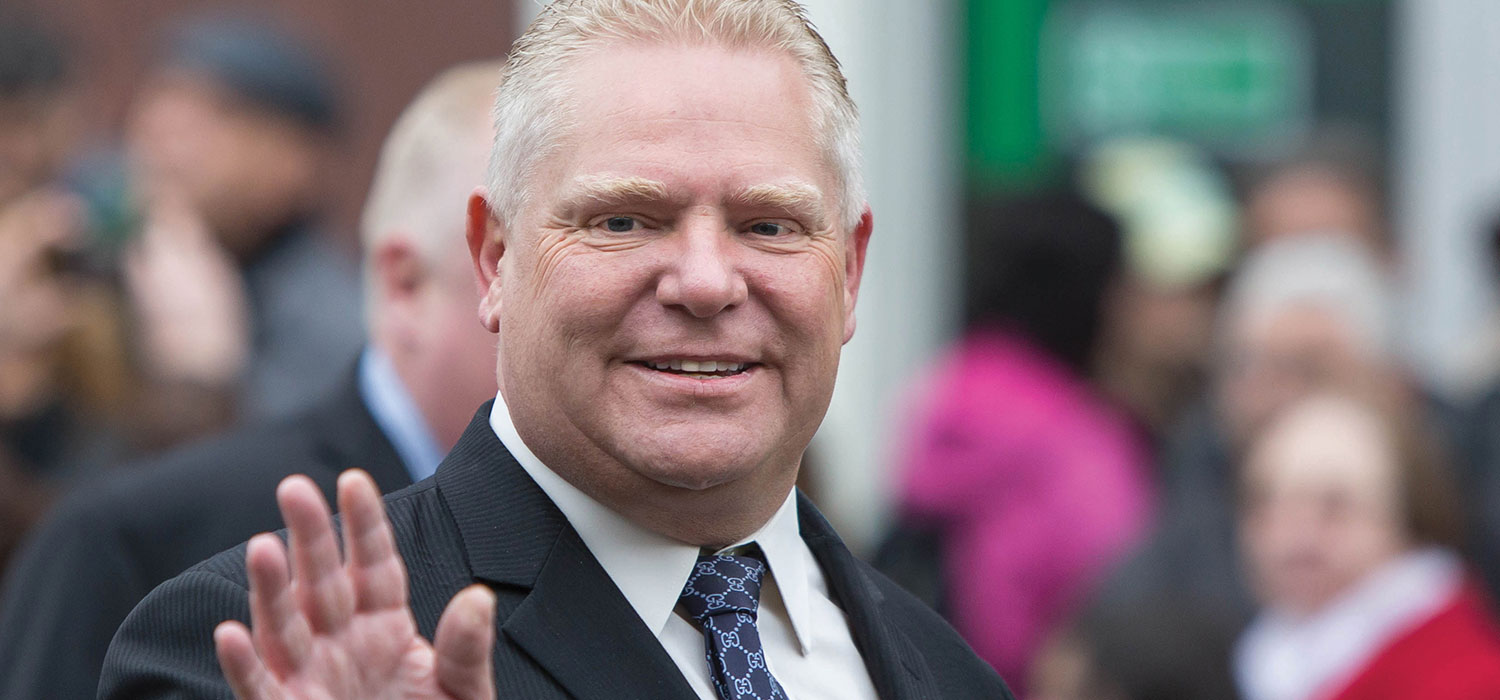 The negative trajectory of Ontario's once-formidable Progressive Conservative party only contributed to the Liberal Party's 15-year run in government, first under Dalton McGuinty, then Kathleen Wynne, that ended with Doug Ford's election on June 7. The combination of displeasure with Wynne's leadership and Ford's ultimate success in convincing voters he was a safer version of change than the NDP's Andrea Horwath delivered Queen's Park back to the party that was once a dynasty.
Geoff Norquay 
Any party seeking re-election after 15 years in office will face challenges, but it's not impossible in Canadian politics. Provincial party dynasties with successive leaders are rare, but they do exist: the Ontario Progressive Conservatives, 1943-85, and the PCs in Alberta from 1971-2015. In each of those cases, the party shuffled out the old leaders every 8-10 years, and replaced them with new leaders who rejuvenated the government and in turn left after another two or three terms.
While four official parties contested this year's June 7 Ontario election, there was a fifth political movement that was pervasively and decisively in play; the "party of change." In fact, long before the election began, that movement had morphed into a seething desire to "throw the bums out", with public support ranging between 65 and 70 per cent—the bums in this case being Kathleen Wynne and the Liberal party.  
All of this came about at least partly through a comedy of errors put on by successive leaders of the PCs over the previous decade. Going into the 2007 election, the Liberals under Dalton McGuinty had provided four years of decent but unimpressive government. The PCs enjoyed an even-up chance of winning until leader John Tory promised to extend education funding to faith-based schools, and the Liberals were re-elected. Kathleen Wynne personally defeated Tory in the riding of Don Valley West.
By 2014, McGuinty had retired, having bequeathed the premiership to Kathleen Wynne the previous year, but with a large pile of political baggage. These included a broken promise not to raise taxes, wasteful spending scandals at crown agencies e-Health Ontario and Ornge Air Ambulance, plus the cancellation of two locally-opposed gas-powered electricity plants in west-Toronto Liberal ridings just prior to the 2011 election.  
By the time Wynne sought her own majority in 2014, the provincial auditor had pegged the cost of the gas plant cancellation at up to $1.1 billion, and electoral success looked doubtful for the Liberals. Into the breach stepped PC leader Tim Hudak, who started the campaign with a promise to create a million jobs, but also to begin that task by killing 100,000 public service jobs through layoffs. Wynne and the Liberals waltzed to victory, regaining the majority they had lost in the previous election.
As this year's election approached, Wynne had accomplished much in her time as premier, but she was never able to put the McGuinty record behind her. While an  effective and engaging communicator, her time in office had also added her own mistakes to McGuinty's. They included the plan to lower soaring hydro rates by kicking costs down the road, and hugely expensive renewable energy subsidies that paid producers to generate power that was not needed, while consumers were paid not to consume that same power. 
No account of the 2018 election would be complete without describing the bizarre odysseys of Patrick Brown and Doug Ford in the first few months of this year. In the early hours of January 25, Brown resigned as PC leader following serious allegations of sexual misconduct. Just 133 days later, Doug Ford led the PCs to a smashing electoral victory, winning 76 of the 124 seats in the Legislature. In between were:
• A lightning-fast leadership campaign for the PCs which Brown entered briefly after being expelled from the PC caucus before withdrawing;
• Ford's chaotic leadership victory over Christine Elliott, Caroline Mulroney and Tanya Allen Granic, as Elliott won the popular vote but ended up 150 electoral votes short of Ford out of the more than 12,000 counted in the party's complex voting system; and
• An election in which Ford appeared to have blown a huge lead, then recovered to sprint to a strong majority victory.
As a provincial political neophyte whose experience was all at the municipal level, Ford took a while to reach cruising speed. His first task was to clean up the mess left by Brown. Several nomination contests had been controversial with documented voting irregularities, and a strong suspicion that Brown or his party officials had had their thumb on the scales to favour preferred candidates, one of whom was the mother of one of Brown's former girlfriends. Ford cleaned out the party, ditched several contested candidates and called for new nominations, all of which went off without a hitch.
As the election campaign began in earnest, Ford's inexperience showed and was painful to behold. Brown had left him with a comprehensive and well-thought-out platform, but in the early weeks of the campaign, Ford struggled to move beyond bland platitudes: "You know me, I'm for the little guy." In the first leaders' debate on May 6, he appeared stiff and scripted. While he managed to hold off Wynne and NDP leader Andrea Horwath, he made a strange and patronizing remark about the premier's smile. Horwath took advantage of the Ford-Wynne counter-punching to begin casting herself as the winning alternative.
As voters sized up the alternatives to the Liberals, Horwath and the NDP slowly whittled away at the PCs' lead, and by May 23rd, IPSOS Reid had the NDP at 37 per cent and the Tories at 36 per cent, a virtual tie. The final leaders' debate on May 27 did not go well for Horwath. Her party had had to admit the previous week that they had made an embarrassing $1.4 billion costing error in their platform.  The Tories and Liberals argued this error added $7 billion to the NDP's projected deficits. And in the debate, Horwath came out swinging against Ford, repeatedly interrupting both Ford and Wynne, and at times coming close to appearing rude and overbearing.  
Policy played an interesting role in the campaign, with the three parties blithely ignoring the reality of Ontario's fiscal situation, promising billions of dollars in new spending while laughably vowing to be responsible and prudent. An apt title for all three parties' platforms would have been, "We will make water flow uphill." 
• The Liberals unveiled most of their platform in their March budget, and after struggling to manage down the deficit to zero, blew out spending to a deficit of $6.7 billion for the current fiscal year. In May, Ontario's Financial Accountability Office reported that the real deficit for 2018-19 would be almost $12 billion, a significant blow to Liberal Finance Minister Charles Sousa's credibility.  
• The NDP's platform promised $9.1 billion in new spending, focused on affordable child care, raising welfare rates, increased hospital funding, public dental and pharmacare, and a new workplace benefits program, largely offset by new and higher taxes.  
• The PCs ran up a total of $9.1 billion in new spending commitments, featuring a 20 per cent middle income tax cut, ending cap-and-trade, reducing business taxes, lowering gas taxes by 10 cents per litre and building 15,000 new long-term beds. While the Tories never released a full costing of their platform, they said their new spending would be offset by finding $5.6 billion in "efficiencies" and scrapping the Jobs and Prosperity fund, which was created in 2015 to provide $2.7 billion over 10 years to bolster Ontario's productivity and innovation.
The weekend before the election, facing decimation in the polls and the loss of official party status, Kathleen Wynne did something unheard of in electoral politics: she acknowledged that she would not be premier after June 7 and called on voters to vote Liberal to stop the PCs or NDP from securing a majority. It was a strange ploy, and speculation on its meaning was furious, the most prevalent being that Wynne had recognized her continued presence as leader was detrimental to the Liberal brand, and wished to remove that deterrent against voting Liberal.
By any measure, the PC victory on June 7 was both strong and decisive. The PCs achieved a net gain of 49 seats and the NDP more than doubled the size of its caucus, moving from 21 seats at dissolution to 43 on election night. The Liberals suffered a huge loss, losing 51 of their 58 seats, and ending with seven, one short of official party status.
So far, the Ford government is off to a solid start. His cabinet appointments favoured experience over diversity, and his two fellow contestants for the leadership, Christine Elliott and Caroline Mulroney were rewarded with key portfolios, Health and Attorney General. The calm and deeply experienced Vic Fideli is Finance Minister. Former federal minister Greg Rickford is Minister of Energy, Mines, Northern Development and Indigenous Affairs. Collectively, the cabinet is ideologically centrist and moderate.
The summer session of the Legislature may have brief, but it was eventful and even tumultuous.
Not only did the Ford government immediately cancel Ontario's cap and trade program on carbon emissions, it issued a legal challenge against Ottawa's intention to impose a carbon tax. In suing the feds, Ontario joined Saskatchewan's legal challenge to the federal carbon tax, with Attorney-General Mulroney calling it "unconstitutional."
Ford also unleashed chaos when he announced a downsizing of Toronto City Council from 47 to 25 members, at the very outset of the municipal election campaign. Under the 1867 Constitution Act, cities are creatures of the provinces, with provincial powers over "Municipal Institutions in the Province."  Public opinion seemed to align the rest of Ontario vs. Metro Toronto, and Ford appeared comfortable with that.
For the rest, the hard work of turning all these promises into reality begins this fall.  
Contributing writer Geoff Norquay, a principal of Earnscliffe Strategy Group, is a former senior adviser on social policy to Prime Minister Brian Mulroney