The New Canada-US Dynamic: Building Back Better Together
The Canada-US relationship is transitioning from what Barack Obama recently called the "anomaly" of Trumpian bilateral belligerence back to a more neighbourly normal.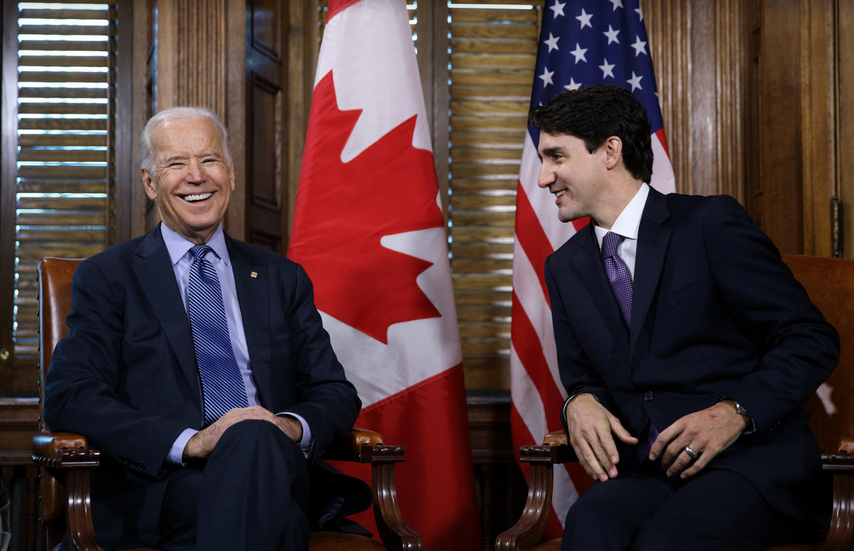 L. Ian MacDonald
December 2, 2020
As the late, American-born Canadian Conservative politician Robert Thompson once said, "The Americans are our best friends, whether we like it or not."
It might also be said that we're their best friends, whether they know it or not.
To the extent that Canada-US relations are on the agenda of any president, Joe Biden is beginning from those ingrained attitudes of our two peoples. And he will see plenty of both in the coming weeks of his transition to the presidency and years beyond in the White House.
He begins with an enormous reservoir of good will from Canadians, who share the relief of most Americans that in less than two months, Donald Trump will be gone, if not forgotten.
The outgoing American president usually attends the inauguration of his successor to signify the peaceful transfer of power. Every living former president is also invited. Trump has refused to say whether he will be there on January 20, but whether he attempts to upstage his successor by showing up or not showing up, Biden's sense of occasion and class will surely prevail.
From John F. Kennedy to Ronald Reagan and Barack Obama, many modern American presidents have made their first foreign visit to Canada. Trump never came to Ottawa, undoubtedly to the relief of the Trudeau government, which was spared the embarrassment of dispersing protesters on Parliament Hill. Trump's lone presence on Canadian soil was at the G7 summit at La Malbaie in 2018, where he arrived late after saying the Russians should have been there, left early before the leaders' working lunch, refused to sign the communiqué, and tweeted from Air Force One that Trudeau was "weak."
As former prime minister Brian Mulroney noted in a National Post op-ed last week: "To give Justin Trudeau his due, he has earned high marks for conducting Canada-US relations on transactional terms during the travail and turmoil of the Trump years."
Biden knows Canada well from his years as chair of the Senate Foreign Relations Committee and vice president under Obama. And, of course, Vice President-Elect Kamala Harris knows Canada from spending her formative high school years in Montreal.
Trudeau would do well, if he hasn't already, to invite Biden to make Ottawa his first foreign stop with an address to a joint session of Parliament, where many US presidents have spoken and Kennedy, Reagan and Obama all made memorable appearances.
As for the senior members of Biden's cabinet named in the waning days of November, they will be most welcome in Ottawa, beginning with Secretary of State-designate Antony Blinken, a former assistant secretary and previously White House deputy national security adviser under Obama, who knows the Canadian file, and who on a personal level was raised in Paris and speaks fluent French.  Treasury Secretary-designate Janet Yellen is a former Fed chair under Obama, who was previously chair of the President's Council of Economic Advisers under Bill Clinton. At the Fed, she was an advocate of quantitative easing, the cheap money tool of monetary policy that helped end the Great Recession of 2008-09 in both the US and Canada. She has a track record of success, with like-minded senior officials at the Bank of Canada. And the appointment of John Kerry as Biden' s cabinet-rank envoy on the environment is very good news on climate change, signaling the return of the US to the Paris Agreement and American leadership in working towards a carbon-free world economy. And as a longtime senator from Massachusetts, presidential nominee in 2004 and Obama's former secretary of state, Kerry knows Canada well.
This is an "A" Team, partisan Democrats to be sure, but a quantum improvement over the cult worshippers telling Trump what he wanted to hear.
In terms of harmonizing a bilateral agenda, Biden and Trudeau are on the same page with the slogan "Build Back Better", borrowed from British PM Boris Johnson, who launched his recovery plan around it in the spring, and has the words branded on his podium.
Imitation being the sincerest form of flattery, Biden jumped on it over the summer as a push back against Trump's taunt that he had no plan for economic recovery, and Trudeau joined the Build Back Better chorus in August before casting it as the third of four policy pillars in his Speech from the Throne on September 23.
Beyond the bilateral relationship, Canada and the US have long been mutually helpful on multilateral security and diplomatic issues. And it starts with the relationship between the president and the prime minister, which in Washington is measured by access to the Oval Office.
For Biden as for Trudeau, building back better begins with getting a grip on the COVID-19 pandemic.
Thanks largely to Trump's leadership deficit, the pandemic is the American tragedy of the 21st century. With 4 percent of the world's population, America has suffered nearly 20 percent of the world's deaths. Stated another way, the richest country in the history of the world has been unable to prevent the spread of a killer virus as contagious as the plagues of previous centuries.
Canada's death toll of 12,000 persons to date is also a grievous tragedy, particularly among elderly Canadians who comprise four victims out of five. The Canada-US comparison is even more shocking on a per capita basis.
So, any bilateral meeting or conversation between Biden and Trudeau begins with managing those numbers down on both sides of the longest undefended border in the world. That border is now highly secured, closed to all non-essential traffic and travel, while open to the trade and commerce that it is the lifeblood of two economies. And in terms of what can done about it, vaccines are now looming large on the horizon. The success of the top three contenders in achieving immunization rates up to 95 percent raises questions are where they will be made, how they will be transported, how many doses will be available, and lastly, who will receive them.
And beyond the pandemic, there is the longer-term agenda enunciated by both Biden and Trudeau involving the continental economy.
On the economy in Canada, our bilateral priorities always come down to international trade. Canada-US trade impacts everything from an oil patch susceptible to world prices to the auto sector, driven by a parts industry that sees cars and trucks moves cross the border six or seven times during assembly.
For example, Trump overrode Obama's veto of the Keystone Pipeline project from Canada to the delight of the Canadian government and the US trade unions. But Biden, in a bid for environmental votes, has made noises about returning to the verdict Kerry delivered as secretary of state killing the pipeline.
And NAFTA 2.0 may be the new rulebook for continental trade, but you can always count on old standbys like softwood lumber with the US lumber coalition demanding countervail duties on Canadian imports, particularly in the housing market. This has been going on since the first Canada-US free trade talks in the late 1980s. Dairy prices also make life interesting. Cows are important in the dairy state of Wisconsin, a battleground won by Biden. And the Canadians have this thing called supply management, of keeping the dairy farmers happy.
Beyond the bilateral relationship, Canada and the US have long been mutually helpful on multilateral security and diplomatic issues. And it starts with the relationship between the president and the prime minister, which in Washington is measured by access to the Oval Office.
And as former PM Mulroney noted in his National Post piece, "an open door to the Oval Office opens many other doors for Canada."
As a middle power, he noted, Canada has only so much influence with China in our effort to liberate Canadians Michael Kovrig and Michael Spavor, held as diplomatic hostages for two years, with Beijing essentially demanding the release of Huawei CFO Meng Wanzhou from Vancouver house arrest and the end of her Canadian extradition process requested by the US. Biden supporting Canada on that could obviously help bring the matter to a resolution.
And as Mulroney added, were Biden to "intervene against Beijing silencing free speech in Hong Kong, or brazenly threatening to annex Taiwan, Canada would obviously support the US."
That was the supporting role Mulroney and Canada played through Reagan and the first George Bush at the end of the 1980s and beginning of the 90s. As Mulroney wrote in the  Post: "Presidents Reagan and Bush knew they had Canada's unstinting support for their initiatives that led to nuclear arms reductions, the fall of the Berlin Wall, the First Gulf War, the implosion of  the Soviet Union, and dissolution of its empire, with German reunification and the independence of Ukraine."
Biden will have his opportunity to make enduring change, and a better world, beginning in January. Perhaps, after 2020, the world can only get better. And for Trudeau, while his role is complicated by a minority government status, Biden's inauguration presents a major opportunity for Canada to be there with him.
In a sense, building back better together.
L. Ian MacDonald is Editor and Publisher of Policy Magazine.