The Innovation Superclusters: Working for Canada
When companies of all sizes, academic institutions and not-for-profits come together, they generate bold new ideas that wouldn't have otherwise come to light. Investment in Canada's five Superclusters helps build first-rate innovation ecosystems with a competitive edge… and opens up a world of possibilities.
Sue Paish, Bill Greuel, Jayson Myers, Julien Billot and Kendra MacDonald
Innovation arises when people and groups spread knowledge, contribute to investment and work together across disciplinary barriers, organizational boundaries and geographic borders. When this happens, an ecosystem develops. 
Canada's Innovation Superclusters are built on this model. Operating in the domains of digital technology, plant-based foods, advanced manufacturing, artificial intelligence in supply chain and logistics, and ocean, each of the country's five Superclusters is made up of a combination of large and small companies, research institutes, not-for-profit organizations, accelerators and incubators—many of which have never worked together before.
While each Supercluster is unique, they share certain qualities. They are fundamentally collaborative: co-investing money, co-investigating promising ideas and sharing resources to find answers. They then amplify efforts to scale up the products, processes and services that arise from their discoveries.
And they are ambitious. While they concentrate on five domains in which Canada has natural and competitive advantages, they also strive to help Canadians reach some of the most challenging yet essential goals such as a net zero emissions future, digitization, building the blue economy, and advancing equity and diversity objectives.
Digital Technology
The pandemic has underscored and entrenched this truth: no distinction exists anymore between the economy and the digital economy. Which makes Canada's Digital Technology Supercluster perfectly timed and ideally suited to support Canadian companies, systems and sectors as they more fully embrace this fact of economic life.
For the Digital Supercluster, the focus is on transforming the delivery of health care services, on reimagining the operations of natural resources sectors, and on supporting other industries that could most profit from digital solutions. This ambition is needed. Spending on health care consumes steadily growing proportions of provincial budgets. Digital solutions can slow and even reduce that trend. 
This ambition is evident in the work of the Supercluster. More than 300 organizations of all sizes are active right now in dozens of projects. One such project, led by DNAstack, involves 16 partners who collaborated to create COVID Cloud—a platform to gather genomic sequencing data on COVID-19, share information about the evolution of the virus, and use this knowledge to inform clinical guidelines and epidemiological decisions. Ontario has adopted the platform and, on March 23, the federal government and Genome Canada announced that COVID Cloud would form the basis of a new Canadian SARS-CoV-2 Data Portal that will manage and facilitate data sharing of viral genome sequences for research and development among Canadian public health labs, researchers and other groups.
This project shows the Supercluster's speed, adaptability and relevance, and that we are looking to deliver digital solutions, to teach and train new generations of workers skilled for the digital transformation, and to make sure Canada leads the world in the new economy—the only economy, the digital economy.
Protein Industries
The annual global market for plant-based foods is estimated to reach $250 billion by 2035. Along with this opportunity comes an equally striking sense of urgency in Canada's agri-food industry. The Protein Industries Supercluster aims to help Canada capture at least 10 percent, or $25 billion of the market, in part by moving swiftly to not just grow and export but process and package a significant portion of the nine million metric tonnes of commodities we produce each year. 
Protein Industries Canada positions Canada to make this shift. Its actions are founded on genuine collaboration along the value chain of plant-based foods. Projects bring together plant breeders, food processors and food packagers—the key players along this chain. All projects feature big and small players, averaging six organizations per project. And at least two companies take part in research, with one of them being a small or medium-sized business. That approach produces a feedback loop along the plant-based value chain, enabling all those involved to improve the nutritional profiles of crops, increase the efficiency of ingredient processing methods, and develop entirely new food products.
This effort is evident in all 26 Protein Supercluster projects. For instance, GrainFrac Inc., Tomtene Seed Farm and Ripple Foods PBC are leading development of high-protein pulse-based ingredients for the non-dairy beverage market. Roquette and Prairie Fava are cultivating new pea and bean products, as well as solutions to process them given Canadian feedstock and conditions. And Griffith Foods, Persall Fine Foods and k2MILLING are researching new plant-based protein ingredients for the growing flexitarian market.
Such innovation is key to plans to increase capital, amend regulations, create a growing skilled workforce, and make sure foreign direct investment leads to more processing infrastructure. A handful of countries are going to make the most of this unprecedented market opportunity. Canada must be one of them.
Advanced Manufacturing
Advanced manufacturing is inspiring what the world creates and transforming how the world creates. The domain has enabled innovators and entrepreneurs to launch entirely new industries. At the same time, advances have armed manufacturers with the precision and power to upend processes they have been using for generations.
Canada's Advanced Manufacturing Supercluster combines research, technologies and capabilities to create projects that produce and scale up such advances. These next-generation methods are meant to maximize the competitiveness of Canadian manufacturers, position them in global markets, and then propel them to lead industrial digitalization so that "Made in Canada" is recognized as a global hallmark of manufacturing excellence.
The Supercluster's role is to be the nucleus of collaboration within the domain, bringing together the right mix of partners for projects, then backing projects with seed funding and intellectual property strategies to scale up and create jobs, wealth and value.
Since 2019, the Supercluster has been at the centre of 96 projects—21 of which are complete, 45 underway, and 30 approved and in the contracting process. Combined, they have generated 75 instances of intellectual property available for licensing, and 1,100 jobs.
A perfect example of such collaborative projects is Aspire's ground breaking production facility, which will help address the challenge of global food insecurity. Working along with A&L Canada Laboratories, Swiftlabs, Darwin AI, and TELUS Agriculture, the Aspire Food Group is building a state-of-the-art facility that integrates industrial automation, robotics, the internet of things, and deep learning in what will be the world's first fully automated, food grade insect protein manufacturing site, positioning Canada as a leader in
this space.
The automated and modular technology that is being developed in Aspire's project can be scaled for use around the world and in a variety of industrial applications, and provides a good example of how advanced manufacturing can address major world challenges.
Scale AI
Supply chains have become increasingly complex. The earliest supply chains—farmer to mill to market stall—were basic. The advent of railway networks and reliable transoceanic shipping expanded their reach and intricacy. The introduction of containerization, combined with trucking and warehousing, represented a quantum leap in supply chain logistics. Then, the digital age brought software and unprecedented levels of reliability and efficiency to the storage and movement
of containers.
Now, the world stands at another inflection point. Big data, advanced algorithms and potent computing power are combining to propel a new supply chain revolution. The Scale AI Supercluster brings and holds together the three groups necessary to create a supply chain ecosystem: fundamental and applied research generators, start-up disruptors and industry adopters.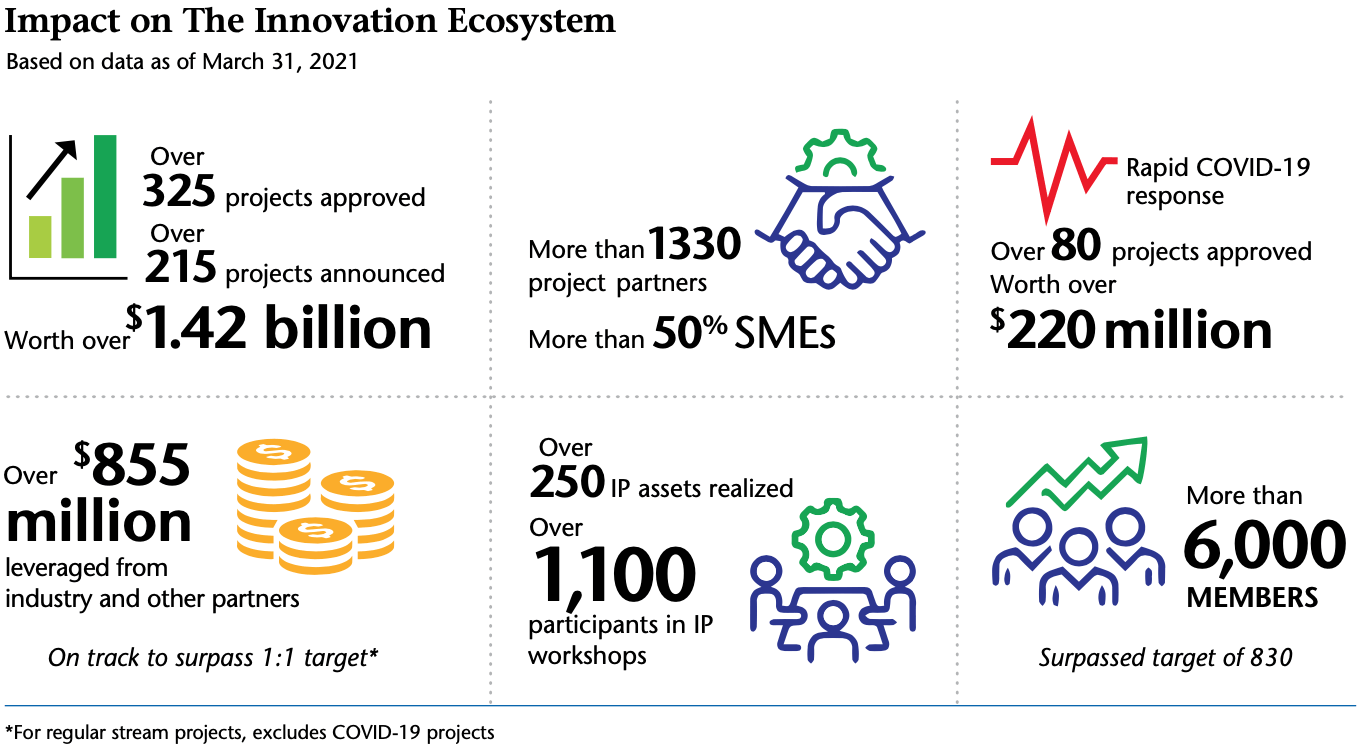 This emphasis on the power of three also animates how the Supercluster operates. It funds the incubators and accelerators that support supply chain start-ups; it provides resources to train engineers and cultivate other professionals vital to the ecosystem's future; and it backs industrial projects to ensure Canadian products and services get to markets and customers fast.
Three projects epitomize the Supercluster's adhesive effect. OPTEL Group and its partners deployed a supply chain for metals and minerals that tracks the provenance of materials in circulation and puts measures in place to improve the sector's environmental performance. Roche Diagnostics led development of a solution that optimizes national distribution of COVID-19 diagnostic tests. And the Montreal Port Authority and CargoM spearheaded an AI-based solution to triage the arrival of medical equipment, food products and other critical cargo arriving at the port. 
The pandemic has made the need for smarter and more resilient supply chains clearly evident. The goal now is to make sure Canada's supply chains help our country and Canadians recover from the pandemic and emerge from it better than ever.
Ocean
Canada is an ocean nation. Our land is bordered by three oceans and has the longest coastline of any country—some 243,000 kilometres, roughly six times the equatorial circumference of the planet. So, the importance of the world's oceans to Canada is self-evident. Yet that same scale also presents a challenge: three seas and a lengthy coastline mean many ocean communities, regions and industries, and therefore many ocean needs and priorities.
Canada's Ocean Supercluster unites that multiplicity of places, people and players in common cause. The Supercluster takes decisive action to include people, groups and communities that have been under-represented in making decisions and devising solutions on matters that directly affect their health, lives and futures.
Small and medium-sized businesses and those owned by women, Indigenous peoples and other under-represented groups are essential to its success. Combining their experiences, perspectives and knowledge with the resources and capacities of the biggest companies is not only essential for Canada to contribute to solutions, but also fundamental to changing the way ocean business is done. Those solutions will be indispensable to the path of decarbonization and overcoming real existential challenges: rising sea levels, shrinking biodiversity, increasing ocean acidification and a growing volume of plastics.
The Ocean Supercluster has put in place different streams of activity so that everyone can play a role in achieving Canada's full ocean potential. Technology Leadership projects enable small and large companies to collaborate closely to develop and deliver game-changing ocean solutions and sell them to the world. And Innovation Ecosystem projects, including the Ocean Start-up Project, accelerate the freshest and most promising ideas, bringing solutions out of laboratories and into the hands of paying customers.
As a result of these activities, some $153 million will be invested by industry players; 80 percent of projects are led by small and medium-sized businesses that invest in them; more than 100 new ocean products, processes and services have been developed for commercialization; and more than 4,300 direct and indirect jobs have been created from the more than 30 projects announced to date.
More broadly, the Ocean Supercluster is raising ocean awareness, creating more project opportunities, increasing training and employment for workers, and engaging more marginalized people in developing solutions. They are creating an ecosystem that will make our country a global leader in the blue economy and the best place in the world to start and grow an ocean company.  
Sue Paish is CEO of Canada's Digital Technology Supercluster, Bill Greuel is CEO of the Protein Industries Supercluster, Jayson Myers is CEO of the Advanced Manufacturing Supercluster, Julien Billot is CEO of the Scale AI Supercluster, and Kendra MacDonald is CEO of the Ocean Supercluster.