The Innovation Imperative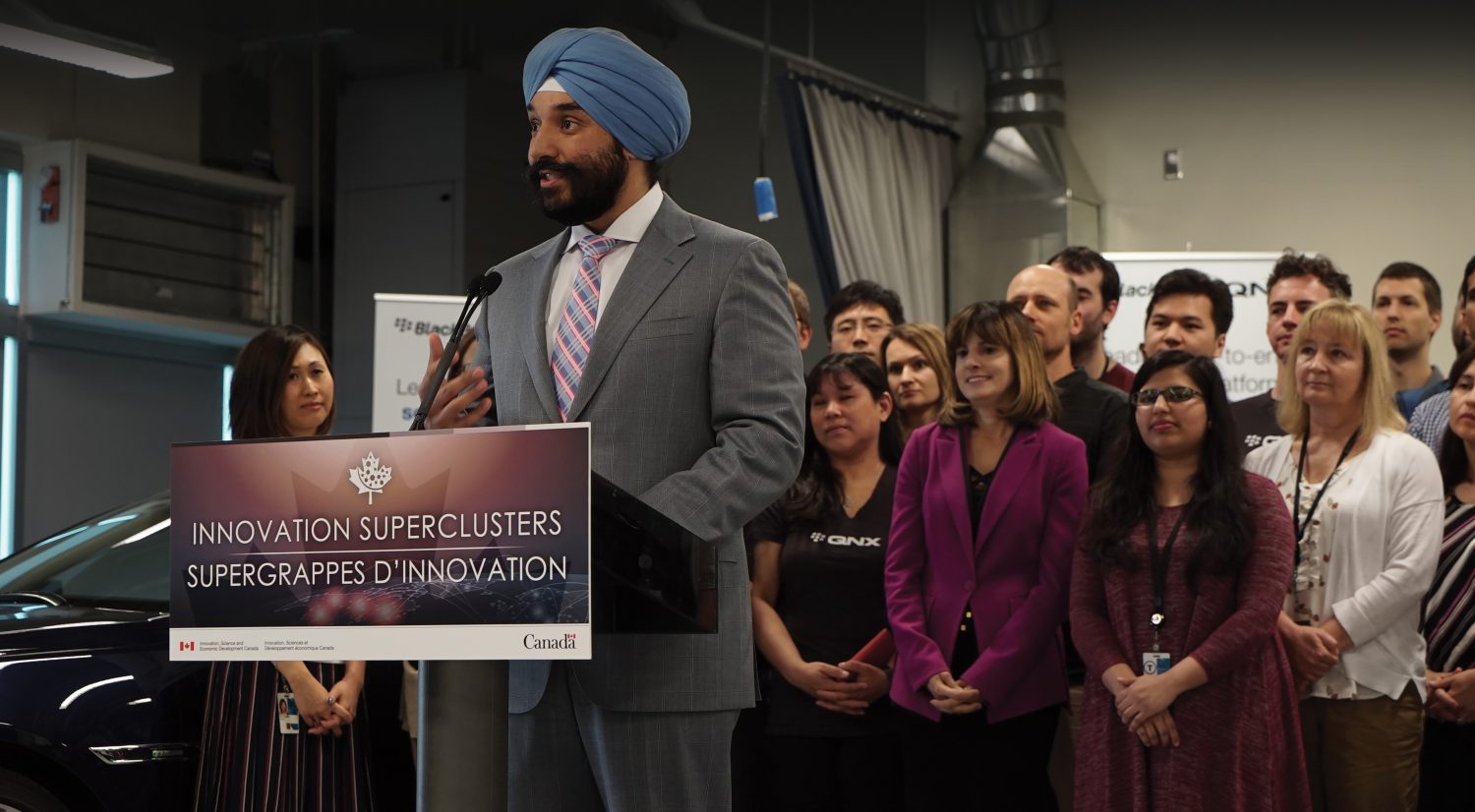 Innovation, fittingly enough, isn't what it used to be. Before the Fourth Industrial Revolution transformed not just the nature of change but the pace of it, innovation was largely the domain of research and development divisions and design departments. Now, innovation can happen anywhere—it is perpetual, disruptive and demands that governments engage in equally creative and adaptive ways.
Navdeep Bains

 
As technological progress continues to shake entire industries, the nature of economies and societies is changing. In this era of disruption, innovation matters. Not only does it improve our quality of life, it is increasingly the key factor that drives productivity, competitiveness and growth. 
The accelerated pace of change means nations need to invest in innovation, talent, and ideas for more inclusive and sustainable growth. The opportunities presented by a disrupted and competitive world are numerous and potentially game changing for Canada. Just think of the possibilities that stem from artificial intelligence (AI) and clean technologies.   
However, the challenge for advanced, leading economies such as ours is how we embrace this change. In addition to having all the right ingredients, we need to foster an innovation mindset to give Canadians the confidence to transcend boundaries and achieve long-term economic and social advantages.  
The bottom line is that the traditional policy prescriptions of the past need to be rethought. In this era, we cannot continue to rely on indirect measures or low tax rates. Not so ironically, we need to be more innovative in developing the very policies that encourage business innovation. Microeconomic policy has to be complemented by macroeconomic policy, with more demand-driven, business-led programs.
Enter our government's Innovation and Skills Plan. Using a whole-of-government approach, the Plan supports firms at all points along the innovation continuum and Canadians at every stage of their lives. It emphasizes partnerships, brings together industry and academia, and embraces inclusion. 
I know innovation can sometimes seem like an abstract idea, but its effects are very real and the benefits can be seen all around us—whether it is healthier Canadians thanks to advanced surgical technologies or better crop yields thanks to satellites that predict soil conditions with uncommon accuracy. 
There are incredible opportunities around the corner. Canada can plant a flag in any number of new industries. We have emerged as leaders in fields such as artificial intelligence, telecommunications, animation and CGI because of the foresight governments displayed in supporting these industries when they were at their inception. For instance, Canada's investments in AI in the 1980s successfully attracted world-class researchers and provided the foundation for Canada's leadership in the sector today. 
Innovation is not limited to high-tech industries, but impacts every sector of the economy. I see it in our energy industry, where low oil prices and a worldwide push to curb fossil fuel use have had an undeniable impact. Economic experts have identified our oil and gas sector as an advanced industry, thanks to its high investments in research and development and a STEM-savvy workforce.
Advanced industries such as these are key to our future. They anchor high-value economies, and present opportunities for global leadership. Furthermore, average wages in these industries are nearly 50 percent higher than the national average.
Industries such as oil and gas or transportation are not dying. They are evolving, growing, and unlocking the potential of innovative technologies to be more competitive and environmentally friendly. For example, we just invested in a partnership between Siemens Canada, New Brunswick Power and Nova Scotia Power that will help improve power delivery to underserved communities in the Maritimes, better integrate renewable energy into the power grid and reduce future electricity costs for consumers.
With such monumental change comes some displacement, too. Those changes require responsive government to guide us through great shifts; to help Canadians identify, prepare for, and succeed at, these jobs of the future. Because really, it is people that win the day. Canada's biggest competitive advantage is its people. It is not government. It is us, together.
The Innovation and Skills Plan is a real and definitive answer to that question. It will help us navigate the changes already unfolding, and allow us to create a resilient workforce and economy. The Plan, which has received significant support over federal Budgets, including new support in Budget 2019, is about: 1) generating more and better ideas—solutions; to people's problems; 2) growing and building on those ideas to turn them into successes and jobs; and 3) ensuring Canadians have the tools to benefit directly from these opportunities and this prosperity.
Early in our mandate, we invested massively in science—where the brilliant ideas of today become the "givens" of tomorrow. It has been the largest-ever budget investment in our country's history. This support for scientific research is leading to new products and improvements on existing ones, and it is generating new companies, jobs, and economic growth.
More recently, Canada recognized the exponential value of bringing great minds together with the Innovation Superclusters Initiative. We are now building ecosystems that will bridge the gaps from science to commercialization to investment and scale-up—helping Canada to grow and compete on the world stage.
We've focused on access to talent, including through the Global Talent Stream of our Global Skills Strategy, which makes it easier for companies to recruit in-demand workers from around the world. Given its success, we now propose to make the Stream a permanent program.
We've also improved access to markets. This includes the recently negotiated trilateral trade deal with the United States and Mexico. We are also the only country in the G7 with free trade deals with all the others, and preferential access to almost two-thirds of the global economy. Now more than ever, Canada needs innovation to guarantee its prosperity in a trade-dependent global economy.
We have enhanced access to capital by introducing the $400-million Venture Capital Catalyst Initiative (VCCI), which makes crucial late-stage capital more accessible. With funds leveraged from the private sector, VCCI is expected to inject $1.5 billion into the Canadian market. And in the fall of last year, we proposed a new stream under VCCI that will make an additional $50 million available to clean technology firms.
Not only will this initiative support Canadian clean tech firms and other high-growth industries, it will help us tap into the untapped human capital of women business owners and entrepreneurs from under-represented groups. That means a more inclusive, more representative economy. 
Our innovative approach to foreign direct investment (FDI) increased FDI by 144 percent in the first half of 2018 to close at $51.3 billion over the year, the highest total in three years. This is important, as FDI makes a significant contribution to Canadian prosperity by infusing communities with fresh capital investment, introducing new technologies, and providing Canadian companies with access to global value chains.
The Canadian Trade Commissioner Service has become an exceptional tool for Canadian companies looking to navigate international markets. The Service facilitated 138 new foreign investments and expansions worth $3.6 billion in 2017-2018, creating 7,640 new jobs.
Finally, when we have an environment that generates good ideas and develops them into global successes for world-class employers, we need to ensure everyone has a chance to participate in, and benefit from, this economic prosperity. 
That is why we are doubling down on training and re-training, including with the establishment of a new Canada Training Benefit. It will pay for training, provide income support during training, and offer job protection so that workers can take the time they need to keep their skills relevant and in-demand.
For the next generation of workers, we are teaching for the jobs of tomorrow. CanCode is providing our youth with digital skills such as coding, data analytics and digital content development.
In a country as vast and sparsely populated as Canada, we are connecting more people to high-speed Internet. In fact, Budget 2019 announced a plan to deliver $5-6 billion to this cause. And by the same token, we are connecting them to their next job, to the services they need, and to the opportunities that will change their lives.
Budget 2019 also makes key investments in Canadian strengths like genomics, particle physics, and stem cell research. We're doubling the amount of paid parental leave we provide student researchers, part of our commitment to bring equity, diversity and inclusion to the Canadian science and research community.
The technological transformation that has redefined our lives in the past two decades will only accelerate. Other countries are moving just as quickly as we are, and they are positioning themselves for the same markets. To compete and win, we need to innovate more than ever before. 
We must keep at the front of our collective minds that innovation matters to the long-term prosperity of Canadians and to their quality of life. We must look at disruptive innovation as a common effort.
As seen with successive budgets, our government has put forward a pathway to success that will develop top Canadian talent, attract the most creative minds from around the world, and spur new and innovative ideas that can be brought to market quickly.
This is the culture of innovation we are encouraging, and Canadians are already delivering the drive, creativity and ingenuity we need to be the innovation nation.  
Navdeep Bains is Canada's Minister of Innovation, Science and Economic Development.