The Biden Agenda Restoring World Leadership for Prosperity and Stability 
On the one hand, with his love letters to dictators, random and arbitrary attacks on the rules-based international order and use of his Twitter account as a multilateral irritant, Donald Trump is not a tough foreign policy act to follow. On the other, the domestic and foreign legacies of the twice-impeached president demand a significant amount of remedial work by his successor. Earnscliffe Principal and former US diplomat Sarah Goldfeder outlines President Joe Biden's plan to accelerate that process. 
Sarah Goldfeder
"Every action we take in our conduct abroad, we must take with American working families in mind. Advancing a foreign policy for the middle class demands urgent focus on our domestic economic renewal."  
— President Biden on America's Place in the World, February 4, 2021
The United States of America has a mixed legacy on the world stage. While the post-World War II era was a high-water mark, there have since been more than few times when American involvement has been nothing less than disastrous. US involvement in Latin America from the Eisenhower era on, for example, was often catastrophic. On February 15, 2003, the entire world came out to protest the American proposal to invade Iraq on the basis of questionable evidence on the existence of weapons of mass destruction. Later, in Syria, America drew a red line that it then ignored and with that, lost virtually all credibility in the Middle East. 
In some ways, the work the Biden team has in front of them is reminiscent of what the Obama team faced in 2008. At that point, the world had grown weary of America's anger and bad faith as it attempted to find allies willing to join in actions against perceived enemies of democracy and freedom. In what could be argued to be a global sigh of relief, the Nobel committee awarded President Obama the Peace Prize after less than a year in office.
President Biden is re-entering the world stage with a team of seasoned foreign policy professionals. Many of them have spent the past four years considering how to remake American foreign policy after witnessing the effects of the shortcomings of the Obama years. Many, including the President himself, have articulated the need for American foreign and trade policy to benefit America's middle class. That feature, more than anything else, will define the Biden administration's global profile. What does that mean, in terms of policy decisions?
These next four years offer a period of re-set in almost every way. Politically, with the change of administration, but also economically. What we learned about the recovery from 2008 was that our thinking was flawed and many were left behind. The economy needs not only a post-pandemic restart, but adjustments that ensure that no group is left behind in the recovery. Additionally, there are also opportunities for resets in foreign policy. Multilateral institutions such as the World Health Organization and the United Nations always have benefitted from American involvement, but it is in no one's best interest for them to be dependent upon American largesse or leadership.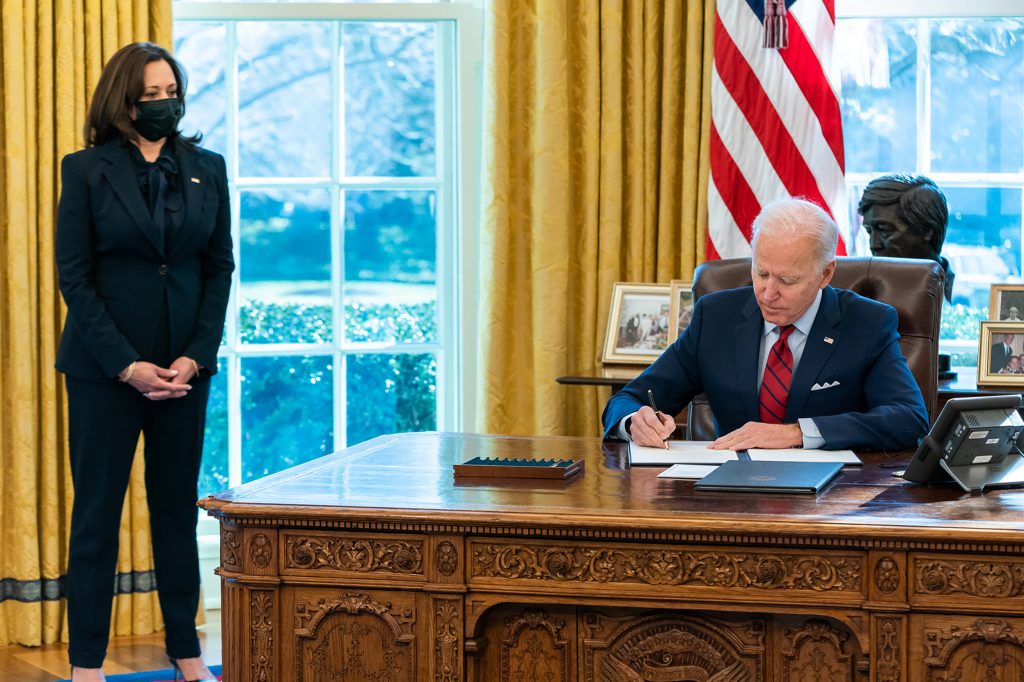 Rebuilding and buttressing alliances will be critical. The Trump years will be remembered for a president who preferred to go it alone—to negotiate bilaterally and neglect alliances, seeing them as outdated tools that required too much compromise. On trade, the United States could have chosen a route that brought along like-minded, rules-based trading partners. In discussions with Russia, alignment with NATO partners and others would have made the negotiating position of the United States stronger. In choosing the bilateral path, Trump turned his back on allies and allowed rivals to gain the global high ground.
The appointment of Secretary of State Antony Blinken along with a robust national security team brings decades of experience in diplomacy and intelligence. Guaranteeing dialogue, exchange and debate is part of the Biden plan to make policy that meets the national interests of all Americans. The positioning of Vice President Kamala Harris in a lead foreign policy role, where she is cultivating relationships with foreign leaders and within executive branch agencies at home, also telegraphs a level of commitment to a whole-of-government approach to foreign policy development.
The past four years have demonstrated the need for the United States to be part of the equation for global stability. Now we are facing a period of crisis and instability created not just by COVID-19, but by a series of climate and humanitarian disasters around the world. Moving forward without the leadership of the United States is possible, but not desirable. President Biden has articulated a vision of United States involvement to create stable and prosperous partnerships that provide jobs and security to Americans.
Foreign aid and the administrative costs associated with the dispensation of it make up less than one percent of the US total federal budget. In actual aid dispersed, the US sits at 0.2 percent of Gross National Income, well shy of the UN recommended 0.7 percent. That said, the US still accounts for 23 percent of the overall spending by Organisation for Economic Cooperation and Development (OECD) countries. The disconnect in the domestic conversation reflects the actual share of the burden the US takes on, not the amount of spending it does in relation to the size of its economy.   
Demonstrating the benefits of foreign aid and investments in foreign policy to working class Americans may be next to impossible, but it is possible to design foreign policy so it reflects those priorities. In 2020, the Carnegie Endowment for International Peace brought together a task force to identify how to make foreign policy work for America's middle class. More than one of the authors is now part of the administration, most notably Jake Sullivan, Biden's national security advisor. With globalization assailed since the 2008 financial crash, the articulation of a foreign policy framed for domestic stakeholders is bold.
Moving beyond the traditional, siloed conversations of foreign policy elites to a conversation about investing in American communities, demonstrating the value of having partners on the world stage as part of attracting that investment, and moving beyond partisan divisions will be critical. The use of foreign policy as a political football puts the entire country at a disadvantage and erodes trust between Americans and their government.
Those are the challenges for the Biden foreign policy team: regaining the trust of both allies and Americans alike, investing in policy that demonstrates benefits at home as well as abroad, all while preserving a position of strength that facilitates leadership on priority issues. Climate policy has already emerged as the defining issue of global leadership, even more striking for the contrast with the Trump administration's neglect of an issue seen by most allies and adversaries alike as key to global stability.
The concept of fairness being at the heart of the American psyche, the Biden climate team will have to bring evidence that America is not shouldering more than its share of the economic burden of mitigation. That means working with rivals like China to demonstrate a global unity of purpose. Compartmentalizing relationships with geostrategic rivals is nothing new, but this new front will be rife with challenges. Americans will have to trust evidence of China's commitment to zero-emissions vehicles, carbon capture technologies, and a move away from fossil fuels.
Finally, a challenge to any progressive policy is the integration of rural economies and communities to that vision. The discussion on energy transitions, reduction of defense spending (in the American context), and the innovation economy isn't as easy a sell in rural communities. Pointing to the importance of global markets may work in some of the agriculture-supported areas, but overall, rural America is suspect of any treasure spent on what is perceived to be the interests of elites.
At Foggy Bottom on February 4th, the President noted that "Investing in our diplomacy isn't something we do just because it's the right thing to do for the world. We do it in order to live in peace, security, and prosperity. We do it because it's in our own naked self-interest." The challenges that he and his foreign policy team will have in the coming months are multi-faceted. Proving the naked self-interest will be foundational to the credibility of his administration at home, and proving that America is once again a willing partner and advocate for democracy and good governance will be another.  
Contributing Writer Sarah Goldfeder, a Principal of Earnscliffe Strategy Group in Ottawa, is a former career officer of the US State Department who was an adviser to two US ambassadors in Ottawa, as well as serving in Mexico.