Substance Over Scrapping: The Final, French Debate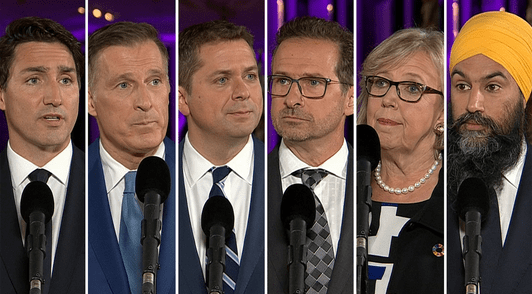 L. Ian MacDonald
Oct. 11, 2019
The final debate of the 2019 federal election campaign was held Thursday night. It featured some important ideas, and a minimum of overtalk.
Perhaps it was indicative that the last leaders' debate in French was a serious matter when the producers relegated Quebec's Bill 21 on secular dress codes to the end of the two-hour program.
"We received a ton of questions on laicité," conceded debate host Patrice Roy, the veteran Radio-Canada journalist and anchor.
Come to that, he asked the party leaders, "will you intervene, yes or no? Be clear, yes or no."
"We won't intervene at this phase," replied Liberal Leader Justin Trudeau, looking ahead to court challenges to Bill 21, on which the Quebec government of François Legault invoked the notwithstanding clause of the Charter of Rights.
Which does not indicate, Trudeau said, "the intention of the federal government is to close the door for good. We'll see our next step."
For NDP leader Jagmeet Singh, he thought the law might be tested at the Supreme Court. And in the everyday world, he noted, "the politics of division is bad for society."
Conservative Leader Andrew Scheer's position is not that he doesn't "want to intervene," but rather than "we can't."
And Scheer took the opportunity to suggest the obvious—that only the Bloc Québécois and its leader, Yves-François Blanchet, stood to gain from the Supreme Court of Canada intervening in the case.
If the court "invalidates Bill 21," Scheer asked Blanchet, "will that re-launch the sovereignty debate for you?"
All of that went down in a few brief minutes and it was the extent of the discussion of Bill 21, which had been expected to dominate the conversation, but emerged instead as almost an afterthought on "ethnic identity."
For the rest, amid a refreshing absence of posturing, there was a lot of serious discussion. There were at least five informative segments: the environment and energy; the economy; services to citizens including official languages; the role and challenges of Indigenous Peoples; and foreign policy and immigration, including irregular or illegal crossings into Canada.
Some of this was owed to the format, and some to adult supervision by Roy, who was cast as the schoolteacher no one liked but to whom everyone listened.
Audience questions from locations across the country were followed up in studio, in some cases by a guest journalist and in others by Roy himself. And the format — three leaders at the top of each issue and three joining the fray — was enriched by the absence, strictly enforced by Roy, of the leaders talking over one another so that no one could be understood, as was unfortunately the case in Monday's English-language debate.
There was even a question on supply management in diary and poultry. Maxime Bernier has made a career out of campaigning against it, even though his Quebec riding of Beauce is in the middle of dairy country.  "The cost is $400 for each family for supply management," declared the People's Party leader, "We'll eliminate it."  Retorted Scheer, who defeated Bernier for the Tory leadership: "You won't even win Beauce."
Trudeau was asked by Hélène Buzzetti of Le Devoir how he felt about adding $100 billion of debt to the books during his first term in office. "These investments worked very well over four years," Trudeau insisted.  As for raising money, all the leaders seemed on board with ending the sales tax exemptions of the major American streaming services, which is only a matter of fair play.
There was even a reference to the long-standing discussion about building a high-speed VIA Rail link between Toronto and Montreal, and eventually Quebec City. That wouldn't come cheap, either, but the savings of train time vs cars, not to mention the environment, are obvious, not least during a campaign.
The environment sets Trudeau on a collision course with Scheer over the carbon tax, notably opposed by Alberta and Ontario premiers Jason Kenney and Doug Ford, whom Trudeau got to mention as being "in the pockets of Big Oil". And this coming from a guy who paid $4.5 billion to buy the Trans Mountain Pipeline, and would put up billions more to finish its expansion.
Trudeau came across as more sincere on the prime ministerial role as   the steward of minority language rights, in this case in Ontario. You can look this up under two of the greatest Canadian speeches of the modern era, given by Pierre Trudeau and Brian Mulroney on the same day in the House on the question of minority language rights in Manitoba in 1983.
Pierre Trudeau called it "possibly the most important day of my life as a parliamentarian" and said his role was "to ensure the Constitution will be obeyed." For his part, in his maiden address, Mulroney, speaking "in a spirit of conciliation" recalled his school days in Baie Comeau where they learned "that an injustice had been committed in Manitoba. We did not know why or how but we knew that certain basic rules—which we as Quebecers, anglophones as well as francophones, could benefit from—had been broken."
To this day, in campaigns as in government, defending minority language rights is a fundamental role of any prime minister.
L. Ian MacDonald is editor and publisher of Policy Magazine.