Splendid Isolation: Survival Tips for Working From Home
Working from home is not for amateurs. It requires a knack for troubleshooting and a few handy props.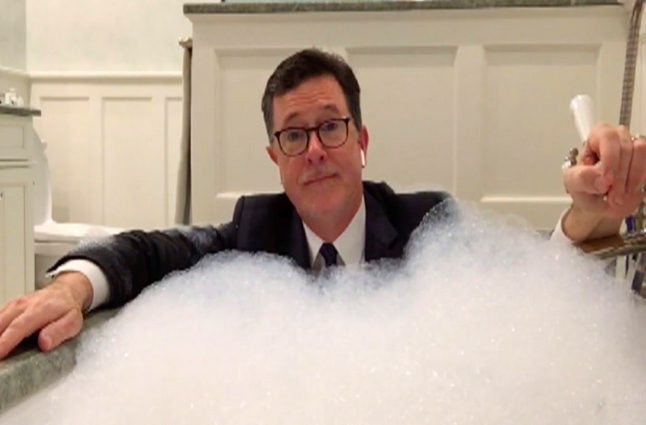 Stephen Colbert, working from home
Lisa Van Dusen/For the Hill Times
March 18, 2020
Having worked from home as an editor and columnist for years, I welcome to the club those who, due to the public health demands of the pandemic currently stalking humanity, suddenly find themselves telecommuting. Hereby, a list of helpful tips for adapting to a home office environment:
1. The glass half-full rule: For days when you feel the tug of nostalgia for a workplace full of human beings, have a carousel of creative visualization moments to play back, representing the downside of meat space professional life: that time your boss told you unironically that he wanted more stories about cannibals on the wire, or that time your other boss suggested bikram goat yoga as a team-building exercise.
2. It's all about alchemy: For every—in my case Donald Trump news conference, in yours, perhaps Power Point of the second quarter regional sales figures—10 minutes spent processing soul-shrivelingly dull, dispiriting, horrid, or regional sales figures content, counter-program with 20 minutes of Aretha Franklin, cat videos, soaring political eloquence, or other positive, uplifting, hilarious content to pre-empt a slump in morale. Next thing you know, it's 11 o'clock and time to watch The View.
3. The scourge of inertia creep: Don't sit for longer than two hours without taking a stretching or cardio mini-break. Do five jumping jacks. Touch your toes twice, wherever they are, then go put the kettle on, then come back, then go make tea, then come back. Whatever you do, don't touch your face, or you'll get coronavirus. I've taken to wearing a goalie's mask, which is just one of the many things you can do while working from home and not get reported to HR.
4. Beware the iHunch: If you don't have an ergonomically sound desk-chair arrangement or you can't be arsed and have taken to working on the couch all day because that's why couches were invented, you will develop a stoop that makes you look like a First World War soldier living in a trench, perpetually braced for incoming artillery fire, or Richard III with carpal tunnel syndrome. Every two hours, yank your copy of Infinite Jest off the shelf you slammed it back onto halfway through page 729, place it on your head (don't forget to take the goalie's mask off first) and walk around the coffee table 10 times like a superannuated debutante rehearsing for an imaginary cotillion. Next thing you know, it's 5 o'clock and time for a shot of tequila.
5. Two words—Howard Hughes: No matter how much time you spend alone, don't go cybermonk and start skipping showering or stop trimming your toenails or start working naked just because there's nobody around to see it—that's a very slippery slope. Think of it as splendid isolation, which, by the way, is more than a Warren Zevon song or a house in the title of an Edna O'Brien hostage novel. The term was actually coined in 1896 by Canadian MP Sir George Eulas Foster to describe Britain's political distancing from Europe under Lord Salisbury—a timely contrast to deeply un-splendid Brexit isolation. It didn't last as a doctrine because it was stupid, but don't let that deter you from embracing it as a euphemism.
6. No cheating: As tempting as it may be to acquire imaginary friends while #workingfromhome, there's a fine line between sniping at the television during a Trump newser and asking Wolf Blitzer whether these jeans make your ass look fat.
7. In case of cabin fever: Go for a walk, carefully.
Stay well, everyone.
Lisa Van Dusen is associate editor of Policy Magazine and a columnist for The Hill Times. She was Washington bureau chief for Sun Media, international writer for Peter Jennings at ABC News, and an editor at AP in New York and UPI in Washington.