Shuffle Shifts Minority Government Into Campaign Mode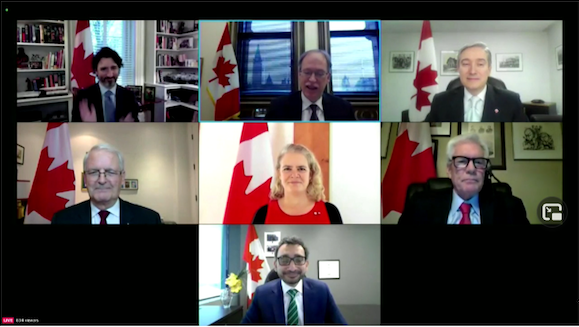 John Delacourt
January 12, 2021
You could say it began with the mystery of the mandate letters. For those of us following the Trudeau government's moves closely since prorogation, the signal that there might be some cabinet-level changes was starting to flash by late November, set off by one pressing question: what was delaying the release of the government's mandate letters for cabinet?
The official line was that these continue to be extraordinary times and that cabinet was focused on the urgent matters of the second wave of the pandemic. But as November passed and talk of the timing for the next election gained momentum, the conjecture regarding who might choose not to run again on Trudeau's team started to seem more significant than simply water cooler conversation. With the Liberals' minority government now flirting with majority territory in some polls, the first federal budget since the COVID-19 pandemic expected in the early spring, and the possibility of an election being triggered by that budget, a cabinet realignment was due.
Aside from Minister-of-Everything Chrystia Freeland's role at Finance, there may be no more important marching orders for economic recovery than the innovation minister's on Trudeau's team. Now, with the news that Navdeep Bains will not run again, new mandates at the cabinet table become the bullet points for a campaign platform. And the ink may not be dry on each before Trudeau's stump speech is in first draft.
The loss of Bains from cabinet is indicative of how transformative the last year really has been internally in government. You could put it down to that collective sense of exhaustion that the months of crisis response have exacted on cabinet. What is indisputable about the innovation minister's "retirement" is that it represents a major shift in dynamics in Trudeau's inner circle. The prime minister is losing a key player from the team that he has kept close for more than 15 years, as he charted his path to the leadership of the Liberal party and the Prime Minister's Office.
The Liberal leadership race of 2006 is ancient political history now, but for those on the convention floor in Montreal who saw an unelected Justin Trudeau working closely with Navdeep Bains to bring votes on the floor over to Gerard Kennedy, their bond was a seminal moment in Trudeau's eventual rise to power. From Bains's earliest days, when he rose to sudden prominence in the last months of the Martin government, the Brampton MP excelled at campaign organization and working the rooms where the alchemy of influence is transformed into solid political capital.
It's often in closer quarters where Bains's political EQ and close reading on policy truly shines. And he eases into perfect pitch as a communicator when he's at the doors in the crucial 905 Greater Toronto Area ridings in Ontario. Like Trudeau Chief of Staff Katie Telford, he's got a sharp eye for talent, bringing formidable organizational acumen to the table with the team around him. It is hard to imagine that the skill set Trudeau saw in Bains will now be ultimately realized in some C suite far from Ottawa or Queen's Park. Nav will be back.
Yet if there was any fundamental quality that Trudeau's cabinet had to draw upon over the course of this pandemic, it's simply been energy – the ability to keep driving an agenda hard through the vagaries of crisis – so it should be no surprise to see François-Philippe Champagne take over for Bains. Since 2015, when he was first elected in the St. Maurice-Champlain riding of Quebec, "Frankie Bubbles" has proven himself to be such a happy warrior for Trudeau's agenda, first racking up his air miles at International Trade and then at Foreign Affairs, he is a natural fit for such a vital, all-encompassing remit. He is Shawinigan born and raised, so all comparisons to a former Liberal up-and-comer from that corner of Quebec would be duly noted and welcomed by the new minister, as he'll play a key role for the next campaign ground game.
Apart from Bains's decision, the surprise in today's announcement is really with Garneau going to Foreign Affairs. Ever since he was recruited by the Martin team, the former astronaut has always been viewed as a natural for a prominent place at the cabinet table, and though he's been viewed as dependably effective, he was never quite in the limelight with Transport. His new job at Foreign Affairs, as the China file remains a formidable challenge, could be where his gravitas and diplomatic talents will finally be utilized to their full effect.
As Omar Alghabra takes his place at Transport, leaving a second Parliamentary Secretary role (Consular Affairs) vacant in two weeks for Trudeau's team, the legacy of those bonds established with Gerard Kennedy's leadership run is once again invoked. You could consider it the ultimate echo effect of Bains's decision; Alghabra, from his Mississauga base, formed an organizational alliance with Bains to make them fundamental to Trudeau's leadership success in the crucial Ontario ridings that remain a Liberal beachhead. Alghabra was there at the beginning with Trudeau's campaign team, and he has bided his time, slowly building his bona fides in his various parliamentary secretary roles over the years, to earn this major cabinet position.
The Transport portfolio presents its own Rubik's Cube of policy considerations, given the state of the airline sector and how pivotal transport infrastructure will be to this government's aspirations of building back better, but there will be no more important part of the country to communicate the "vision thing" for Trudeau than the suburbs of Vancouver, Toronto and Montreal, where Alghabra's campaign skills will be put to work.
And that work could be imminent over the next 12 to 16 weeks. The loss of a long-time brother in arms for Trudeau with Bains's exit means his team is going to take no chances with its front line, given the volatile political environment we're in with the rollout of vaccinations and a bumpy road ahead for an economy stuttering through lockdowns.
The return of Jim Carr to cabinet to oversee relations with the prairie provinces will bolster Dominic Leblanc's work with first ministers, accentuating consensus building where possible. No time like the present. Shore up your strengths and be battle ready; that's the directive Trudeau's inner circle has just spoken to his cabinet – and no doubt to the leaders of the opposition's party as well – with today's announcement.
Contributing Writer John Delacourt, Vice President and Group Leader of Hill & Knowlton public affairs in Ottawa, is a former director of research for the Liberal research bureau. He is also the author of three novels.