Scenario Planning in a VUCA World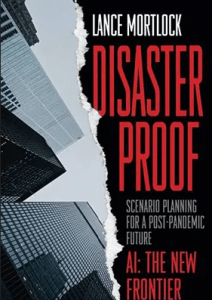 Disaster Proof: Scenario Planning for a Post-Pandemic Future
By Lance Mortlock
Barlow Books/2021
Reviewed by Karl Moore
May 9, 2021
As vaccination programs fuel hope for an end to the health and economic crisis of the COVID-19 pandemic, Lance Mortlock's new book, Disaster Proof: Scenario Planning for a Post-Pandemic Future couldn't be more timely. The realm of strategic planning needs to adopt new approaches.
We are now in a VUCA world (volatility, uncertainty, complexity, and ambiguity), to use the acronym coined by leadership gurus Warren Bennis and Burt Nanus in the 1980s.  In my long life and career as a management professor, the world has simply not experienced anything like this crisis.
The old crisis management style of deliberate, emergent approaches to strategy is still relevant but must, Mortlock argues (and I agree), be supplemented by a much stronger focus on scenario planning. Deliberate strategy — as outlined in Michael Porter's Five Forces, Three Generic Strategies, SWOT analysis and other tool-based approaches largely driven by CEOs and strategy consultants — was the default posture of many organizations in the 90s and early 2000s. I've run more than a few of these strategy planning away-days with senior teams. We'd repair to a five-star hotel in a bucolic locale and then disappear into conference rooms, close the drapes and go through seemingly endless decks of PowerPoints.  Not sure why we had to run these sessions amid breathtaking scenery, but for senior teams this seemed somehow appropriate — like the exclusive appeal of a destination wedding.
An approach that has gained greater traction in the last decade or two is that of my McGill University colleague Henry Mintzberg — consistent with his focus on the value of real-world experience — of letting strategy bubble up from those on the front lines, albeit the final choices for the emerging strategy rests with the C Suite. This approach recognizes that in a turbulent world, those on the front line who deal daily with that environment are better placed to provide feedback on where customers, suppliers and competitors are going.
During the course of our CEO Insights MBA class at McGill and my CEO Insights radio show, I've asked hundreds of CEOs about which approach they use. Most say it's a combination of the two. For an airline, when it comes to spending billions of dollars on a new fleet, a deliberate approach makes sense. On the other hand, Scott McDonald, CEO of management consulting giant Oliver Wyman, told me that new consulting businesses tend to bubble up from the partners who are close to customers and hear what new issue are of particular interest to their clients.
In Disaster Proof: Scenario Planning for a Post-Pandemic Future, Mortlock emphasizes something that I believe will become more central to strategy post-pandemic – scenario planning. The book starts off with an essential quote from Pierre Wack, the late French Royal Dutch Shell executive who pioneered scenario planning in the private sector, "There are three essential starting points for corporate strategy: global scenarios, competitive positioning and strategic vision. The first represents the world of possibility, the second the world of relativity, and the third the world of creativity." In class, we generally teach the second two. Increasingly, we should and must teach the first.
Every year, I co-teach — with a Boston Consulting Group executive — an advanced strategy class at McGill. For a few years now, my partner has been Alan Iny, director of creativity and scenarios for BCG.  This year, he presented four key scenarios for the world based on different levels of success of vaccines, vaccine take rates, etc. It was compelling.
Overall, Mortlock has made an excellent contribution to strategic thinking, and delivered a valuable public service as we consider all the scenarios of a post pandemic future.
That kind of private-sector experience can be invaluable. Lance Mortlock is a senior strategy partner at EY Canada, for over two decades he's been working alongside clients to help them make progress on their most complex strategic issues. In his book, he distills cutting-edge research, theory and real-world examples to demonstrate how scenario planning is a must in today's world.  Mortlock comes by it honestly, having worked with Shell early in his career, back in 2003 and 2004. Scenario planning helps companies understand emerging forces in a rapidly changing world so they can better prepared than less savvy competitors. When I worked for IBM Canada in strategic planning, we could assume straight-line growth for many markets in double digits. To a considerable degree, straight lines can't be presumed anymore. We must also consider the worst-case scenario: think retail during the heart of the pandemic without a strong online presence. Retailers had to pivot overnight to focus almost exclusively on the web, adopting a scenario approach would have encouraged retailers to be better prepared.
Mortlock rightly observes that scenario planning is like chess. Although chess players cannot predict exactly what the player opposite will do, skilled ones are able to visualize a number of potential moves ahead and develop strategies for each of them.  Scenario planning is about considering future options, not about today. Feedback about the scenarios is critical. Mortlock advocates using performance management systems to help organizations monitor which scenarios are playing out in real time. In my view, it's the best approach for strategic planning success.
Mortlock wisely devotes an entire chapter to the Evolution of Scenario Planning Using Artificial Intelligence. AI is changing many aspects of business. Mortlock quotes Google CEO Sundar Pichai: "AI is probably the most important thing humanity has ever worked on." Perhaps overstated, but AI is transforming our world.  As a Canadian, I'm delighted to see that Canada is playing an important role in the world of AI. This is an important area for those who do strategy to factor into their thinking, though it is still early days. Mortlock rightly ends the chapter with the suggestion that, "broader considerations, relating to leadership strategy, roles and responsibilities, data, platforms and governance, play in an organizations' success", that is, bigger issues that we must think a great deal about, still count. AI won't replace us completely.
Overall, Mortlock has made an excellent contribution to strategic thinking, and delivered a valuable public service as we consider all the scenarios of a post pandemic future.
Karl Moore is an Associate Professor at the Desautels Faculty of Management, McGill University. He has taught extensively in executive education and MBA programs, including at Oxford (1995-2000), Stanford, LBS,  Harvard Business School, Cambridge, Cornell, and INSEAD, among others. He is a regular contributor to Policy magazine.