Rail—Pulling Toward a Cleaner Future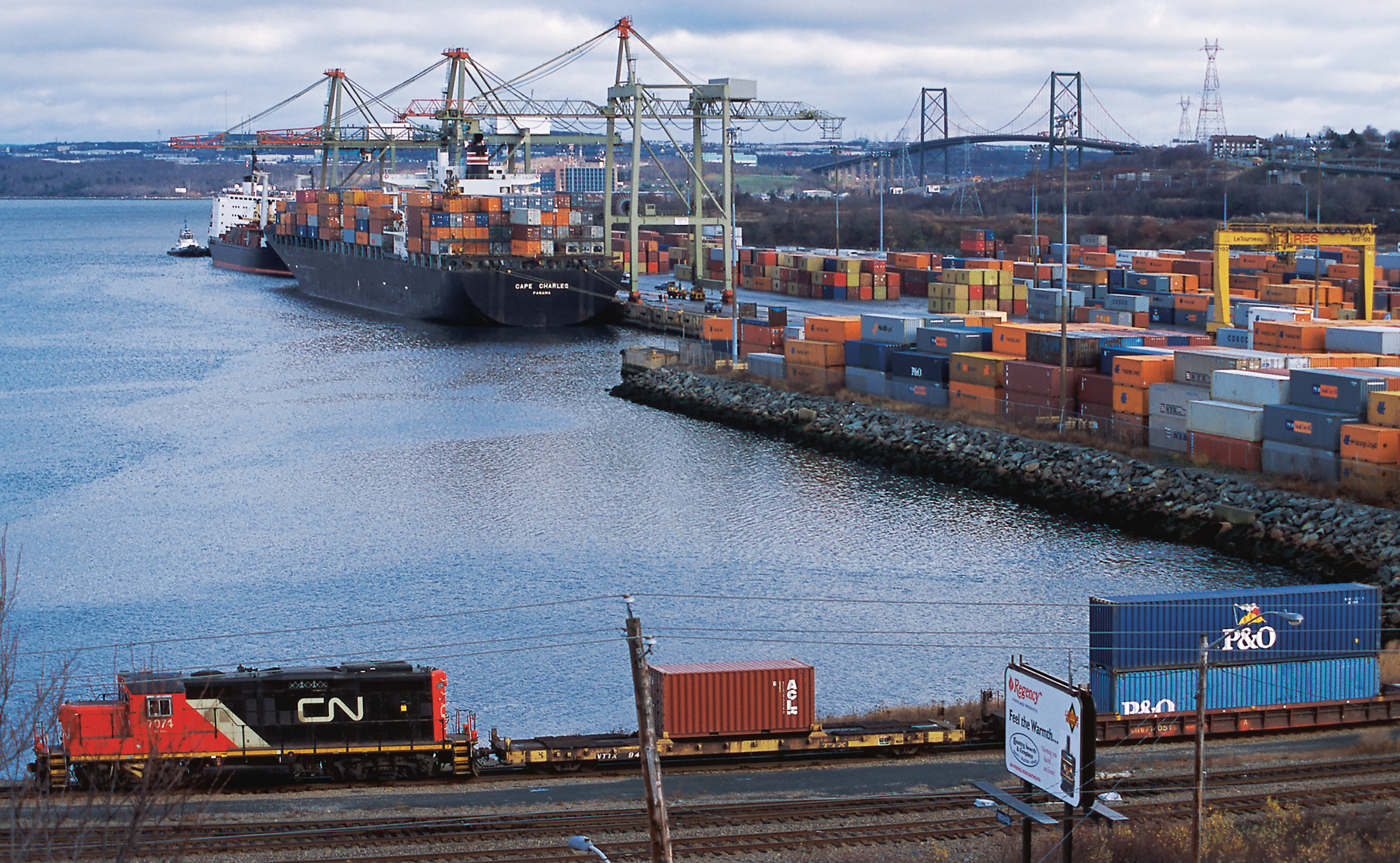 Transportation accounts for 28 per cent of Canada's GHG emissions, but railways generate only 5 per cent of that, or just 1 per cent of the country's emissions. CN, North America's largest railway, leads the industry with fuel consumption 15 per cent below the industry average. In 2017 alone, renewable fuels resulted in the railway producing 79,000 tonnes less carbon. Rail is clearly a sustainable choice in transportation.
Janet Drysdale 
As one of the most efficient and environmentally friendly ways to move goods, rail has tremendous potential to reduce the environmental impact of freight transportation by offering sustainable transportation solutions today and into the future. On average, freight trains are approximately four times more fuel efficient than trucks. Rail can move a tonne of freight more than 200 kilometers on a single litre of fuel and a single train can remove more than 300 trucks from our congested road and highway network. 
Canada's transportation sector generates approximately 28 per cent of the country's GHG emissions, however railways produce just 5 per cent of that total, and one per cent of the country's overall GHG emissions. Intermodal freight shipping combines the resources of different transportation modes, such as trucking and rail, to move products from the manufacturing site to their final destination. Intermodal helps lower transportation costs by allowing each mode to be used for the portion of the trip to which it is best suited. But it goes beyond cost savings. Effective intermodal service also helps reduce emissions by up to 75 per cent by shifting long haul truck traffic to rail. According to the Railway Association of Canada, "A 10 per cent shift in truck traffic to rail would translate to a 3.7-megatonne reduction in carbon emissions in Canada, while 15 per cent would result in a 5.6-megatonne reduction."
We recognize our responsibility to provide a more sustainable transportation service to our customers while minimizing the impacts of our operations. With approximately 84 per cent of our carbon emissions generated from rail operations, our focus is to continuously improve locomotive fuel efficiency. Operating efficiently has been the hallmark of our success and CN continues to lead the North American rail industry, consuming approximately 15 per cent less fuel per gross tonne mile than the industry average. 
Our unique operating model allows us to move more freight in a tight, reliable and efficient operation for our customers. We continue to purchase new locomotives that meet stricter regulatory emissions standards, producing less air contaminants while being more fuel efficient. In 2018, we announced the purchase of 200 new high-horsepower locomotives, and our train crews and rail traffic controllers are continuously being trained on best practices for fuel conservation, including locomotive shutdowns in our yards, streamlined railcar handling, train pacing, coasting and braking strategies. For example, in 2016, we decreased train idling by 14 per cent.
Furthermore, the installation of fuel-efficient technologies and big data management analytics capabilities are helping us reduce our carbon footprint. Our Fuel Productivity team uses a variety of technologies to improve locomotive fuel efficiency and a key focus of this strategy is putting just the right amount of locomotive power on each train using what we call our Horsepower Tonnage Analyzer (HPTA). Leveraging data from locomotive telemetry systems, the HPTA tool was built in-house and gives crews instructions and real-time monitoring allowing them to use only the locomotive power needed during that trip, by optimizing a locomotive's horsepower-to-tonnage ratio. In addition, we use Trip Optimizer, which regulates the speed of a train by controlling the locomotive throttle and braking system, and computes the most efficient manner to handle the train. The Locomotive Telemetry System collects data to drive improved locomotive and train performance, including fuel conservation. The use of distributed power, where a locomotive is placed further back in the train, is another technology used to improve train handling and fuel efficiency. 
Our rail fuel efficiency innovative mindset extends to all aspects of our business. For example, routing protocols facilitate the movement of customer shipments in the most efficient way. We also collaborate with ports and terminal operators to minimize dwell times and further drive efficiency. Together with other technologies and initiatives, we have achieved fuel efficiency improvements between 2008 and 2017 that have avoided 5 million tonnes of carbon emissions. 
The growth of the renewable fuel market has presented an important opportunity for CN to further reduce our emissions by using biodiesel blends in our locomotive fleet. In 2017, the use of renewable fuels saved over 79,000 tonnes of carbon. In the coming years, we look forward to working with our suppliers to explore the use of renewable fuels.
As we prepare for the future, our connections with our customers, supply chain partners and governments are enabling us to deliver sustainable and profitable business that drives economic prosperity in a low carbon environment. As a true backbone of the economy, CN is committed to playing a key role in the transition to a lower carbon economy. Over the past 25 years, we have reduced our locomotive emission intensity by 40 per cent, resulting in the avoidance of over 30 million tonnes of carbon, while achieving record growth in the volume of freight we move. Our approach is to reduce the carbon intensity of our business progressively over time and at a pace that's consistent with the objective of stabilizing global temperature.
We are also working with many of our customers to measure and help them reduce their transportation supply chain GHG emissions by leveraging rail for the long haul and trucking over shorter distances. The greater use of combined transport helps lower transportation costs by allowing each mode to be used for the portion of the trip to which it is best suited and also helps reduce emissions, traffic congestion, accidents and the burden on overstressed transportation infrastructure.
Launched in partnership with Tree Canada in 2014, CN's EcoConnexions partnership program aims to both partner with and recognize customers who are committed to building an efficient and more sustainable future. Each year, customers are invited to partake in the program and submissions are evaluated based on sustainable policies, energy efficiency, reporting to the CDP, and modal shift. Since 2015, we have planted 310,000 trees to recognize 32 of our customers for their sustainable business practices. 
One example is Kruger Products, Canada's largest producer of consumer tissue brands. John O'Hara, Kruger's Vice President of Business Planning and Logistics has said: "Our ecological footprint is linked with our corporate strategy. CN's leadership in sustainable practices, like the EcoConnexions program, allows us to partner with them to reduce our carbon footprint and eliminate waste in our supply chains. As a result, our partnership has grown dramatically over the last five years." 
These efforts reach much further as great strides have been made over the years engaging our employees, customers and communities through our EcoConnexions program to conserve energy, reduce waste and improve biodiversity through reforestation. In recent years, we have been responsible for planting 1.8 million trees and shrubs in Canada and the U.S., making us the leading private non-forestry company tree planter in Canada.
Furthermore, every year, we handle over 300 million tonnes of cargo from the food we eat, the wood to build our homes, the cars we drive, the appliances that make our lives easier, the products that improve our quality of life, and the energy to power our activities. Many of these goods are being transformed into more sustainable products, enabling us to play a key role as the backbone of the clean economy. We also continue to engage with our customers to strengthen our position within cleaner energy markets and thanks to innovation by our customers, we are now moving cleaner energy products like wood pellets, wood chips, wind turbine components, solar panels, as well as biofuel.
Through the use of greener and cleaner technologies and more
efficient operating practices, railroads are constantly improving and committed to even greater environmental excellence in the years to come. By moving sustainable products, including cleaner energy sources, we are playing an important role as a backbone of the clean economy and the lifeblood of healthier
communities.  
Janet Drysdale is a Vice-President at CN with responsibility for providing strategic direction and leadership for the company's sustainability strategy. deliveringresponsibly@cn.ca