Rail as the Transportation Hub of NAFTA: A Compelling Case Study
Jean-Jacques Ruest
When NAFTA came into force in 1994, CN's operations in the United States were primarily limited to the Grand Trunk Western Railroad from Ontario through Michigan to Chicago. Today, the thirteen major states CN connects have a total GDP about three times the size of Canada's. CN has been an unequivocal NAFTA success story.
When the North American Free Trade Agreement took shape in the early 1990s, the freight transportation world had an entirely different size and shape.
So did Canadian National.
CN was still a Crown corporation and very much a Canadian-focused railroad. But just as NAFTA would define Canada's economy for the coming decades, the influence of the historic trade agreement also became a backdrop to CN's transformation.
Since NAFTA came into force in 1994, CN's share of business in the United States and across the board has roughly tripled.
Visionary CN leaders such as Paul Tellier, who served as the company's chief executive officer from 1992 to 2003, overseeing its privatization in 1995, looked at NAFTA and other Canada-US free trade agreements and recognized that trade flows going north-south would increase dramatically.
Canada's economy was already dependent on trade with the United States, but NAFTA would solidify that economic reality for generations to come.
In the mid-1990s, CN's market reach into the United States primarily stopped in Chicago. The railroad's revenues were dominated by Canadian business, along an east-west trade flow, and fueled by such markets as grain and forest products.
A single main route from Ontario through Michigan, and on toward Chicago—known as the Grant Trunk Western Railroad—had long given CN a taste of the U.S. market, especially in the automotive manufacturing industry.
A bold and significant investment in CN's international high-clearance rail tunnel between Sarnia, Ontario and Port Huron, Michigan, positioned CN for new growth. But the company's then-small U.S. network, the Grand Trunk corridor, would not itself be enough to compete and thrive in an irreversibly changing North American market.
When NAFTA came into effect 23 years ago, CN's rail operations in the United States ran at a deficit. That would all begin to change in 1998 with CN's purchase of the Illinois Central Railroad, a game-changing move to reshape the railway's map and line up with growing north-south trade flows.
The Illinois Central expanded CN's reach. With hundreds of miles of new track, its network now ran parallel to the Mississippi River, through the rich agricultural and industrial heartland of the United States, reaching the Gulf of Mexico ports of New Orleans and Mobile, Alabama.
Two years later, the addition of the Wisconsin Central railroad network across the resource-rich Dairy State brought new markets that continue to evolve. For example, the high-quality frac sand found across Northern Wisconsin today moves on CN's network to natural gas drilling operations in Alberta and British Columbia, and to locations across the United States. Frac sand, used in the hydraulic fracturing process to extract petroleum products from rocks, represents one of the company's fastest growing business units.
Later purchases of Great Lakes Transportation with its regional railroad in Minnesota and fleet of bulk vessels operating on the Great Lakes, and later the Elgin, Joliet & Eastern Railway in busy suburban Chicago, filled in the gaps for CN.
Since the infancy of NAFTA, the company has transformed itself—from a transcontinental Canadian railway to the North American industry leader reaching three coasts and 16 U.S. states.
CN's network taps ports on the Pacific, Atlantic and Gulf coasts and the railway made new partnerships with the ports of Prince Rupert, Halifax, Montreal, Vancouver, Mobile and New Orleans, and significant investments with inland intermodal terminals in Minnesota, Indiana, Wisconsin, Illinois and Michigan.
The network's reach puts CN in the sweet spot of a North American economy rich in manufacturing, automotive, merchandise, agricultural, energy commodities and consumer products, while connecting Asia and European trade flows to central Canada and the U.S. Midwest.
With this remarkable geographic change, CN also reinvented itself internally to play a leading role in the dynamic transformation of the integrated North American supply-chain needed to move the products we all use from fields, factories and other continents to our store shelves.
The movement of raw materials, advanced industrial products, or goods ready to be consumed always involves a combination of different modes of transportation through a borderless logistics journey.
Take your car seat. The electrical components that allow you to position that seat just where you want it start in an ocean container in Asia, before heading to the Western United States by train to join with other parts that make up the motor. It moves in other containers and trucks to and from Mexico before landing in an assembly plant in Ontario.
The finished vehicle is later loaded onto a CN specialized railcar and heads to a dealer near you.
That's one small example of how our economy and the things we consume depend on trade and a seamless supply chain.
CN had to expand geographically and evolve the way it does business to provide our customers with an effective supply chain accessing these rich, vast and diverse markets.
For leading transportation and logistics companies like CN, trade agreements such as NAFTA, the Canada-European Union Comprehensive Economic and Trade Agreement (CETA), and Trans-Pacific Partnership (TPP) open new markets and mean ever increasing change in our competitive landscape.
CN's expansion and focus on supply chain collaboration positioned us to compete and win in new markets, with new trade rules.
About 35 percent of CN's business involves trans-border trade, and when combined with what is strictly domestic U.S. traffic, half of CN's total revenue comes from business that touches the United States. That make Montreal-based CN one of Canada's industrial champions.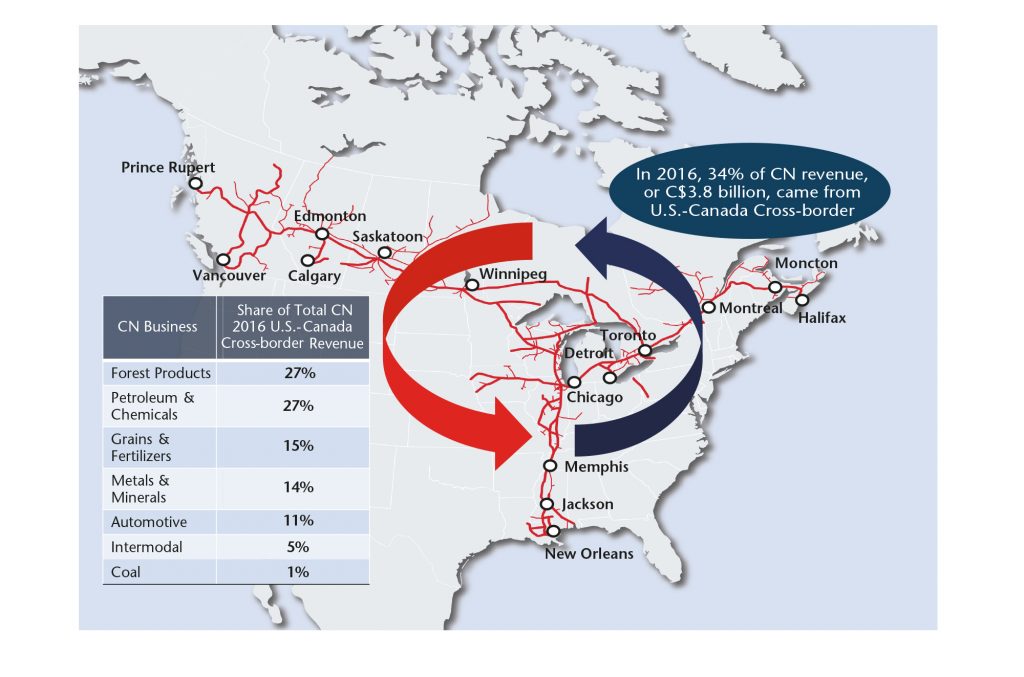 Last year, CN moved about $100 billion worth of goods between the United States and Canada. The major states CN now connects have a total GDP about three times the size of Canada's GDP. Of the 13 main states CN operates in, Canada is the largest trade customer in all but one of them, with the value of the goods traded with Canada totalling more than $240 billion a year.
An efficient supply chain means a growing economy and more jobs for Canadians and Americans alike. In the 13 primary states CN serves, trade is responsible for nearly 2.4 million jobs.
As trade agreements such as NAFTA are re-examined, CN continues to innovate in order to serve other emerging economic blocks and trade corridors.
CN's goal is to open one new inland container terminal a year in the United States bringing new transportation products to facilitate trade opportunities.
Technology is also playing a greater role in these new opportunities as larger vessels, greater fuel efficiencies, and supply chain collaboration bring much-needed improvements to old transportation networks.
CN's CargoCool service is one example of new thinking in old transportation sectors. Investments in temperature controlled containers are allowing new products and more produce—ranging from poultry to vegetables to cosmetics and medicines—to move by rail.
Nowhere in the world is there a more successful or balanced trade relationship than exists between the United States and Canada. Free trade has benefited all three NAFTA countries and is contributing to growth and prosperity throughout North America, a trade area that is now the biggest economic zone in the world, accounting for a quarter of the world's GDP.
Louisiana Congressman Garret Graves said, "CN is helping move Louisiana's economy forward, creating jobs and linking our state to national and global marketplaces."
The Globe and Mail has called CN a NAFTA success story and the railway will continue to support a dynamic and integrated North American supply-chain, fuelling continued opportunity and prosperity for our partners, customers and neighbors on both sides of the border.
Jean-Jacques Ruest is Executive Vice-President and Chief Marketing Officer of CN with responsibility for providing strategic direction and leadership for the company's sales, marketing and supply chain solutions groups. CN_Marketing@cn.ca
SaveSave
SaveSave