Policy Q&A: Recovering G7 Sherpa Sen. Peter Boehm on Biarritz Schadenfreude, Trump and the Future of the G7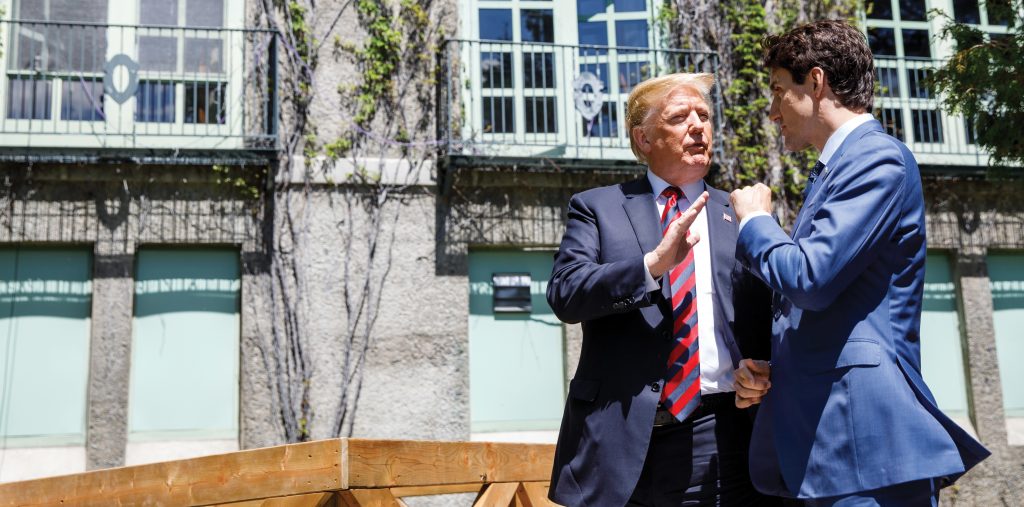 Before retiring from a distinguished foreign service career last year, Senator Peter Boehm served as Canadian sherpa to the 2018 G7 in Charlevoix, Québec. Ahead of the G7 summit in Biarritz, France, he spoke with Policy Associate Editor Lisa Van Dusen about his Biarritz Schadenfreude, the emotional roller coaster of Charlevoix, those notorious Donald Trump tweets and the future of the G7.
Lisa Van Dusen: Will you be in Biarritz in any capacity and if not, are you sorry/relieved that you won't be?
Peter Boehm: I will not be in Biarritz and am actually relieved that after some 18 Summits (some G7, some regional or on specific issues), I can actually experience my own Schadenfreude for those who will be present.
LVD: After getting through Charlevoix last year in relatively good shape only to be whiplashed as soon as Air Force One left Canadian airspace, what one major piece of advice would you (or have you) give(n) your successor, David Morrison, ahead of Biarritz?
PB: David is very experienced in these matters. We worked together on the Halifax G7 Summit in 1995 and in fact he drafted much of the communique. Although participating is different from hosting/chairing, my advice is to be patient, and in working closely with the Prime Minister, to look for the opportunities to bring differing parties together, forge consensus. The "great Canadian compromise" is our credo, as boring as it may seem.
LVD: Can you share an anecdote from Charlevoix from behind the scenes that captured the essence of the experience for you? Perhaps where you were and what your reaction was when Trump's tweets surfaced?
PB: It was the emotional roller coaster: the relief at getting the language on "the international rules-based order" phrase in the communique agreed to by the leaders followed by the stunning revelation of President Trump's tweet apparently disassociating the US from the Charlevoix Summit outcomes. On the latter, we were on the verge of releasing the seven "Charlevoix Commitments" plus the Communique but in typical Canadian fashion encountered a few mistakes in the French language translation. Aware of the tweet, we released these documents, errors notwithstanding. And so the work on the agenda did in fact continue.
LVD: You've written that Prime Minister Trudeau had a back-pocket/Plan B final chair's statement prepared last year in case the customary final communiqué fell through. Do you think Macron's made the right decision to forgo the final communiqué this year?
PB: I would agree that he has. Better to get agreement on some initiatives that matter that can be followed up either bilaterally between the countries or pushed into the international organizations, than knocking ourselves out getting a communique full of lowest common denominators.
LVD: What's the worst-case scenario you'll be lying awake envisioning Friday night? A Trump-Johnson tag team?
PB: After years of being awake and negotiating all through Friday nights at such events, I can confirm I will not be lying awake Friday night.
LVD: As a career diplomat expert in the nuances of bilateral as well as multilateral relations, what did you think of Donald Trump's apparently thwarted hostile takeover bid for Greenland?
PB: I think seeing a world full of real estate opportunities ended in the last century with the emergence of former colonies as sovereign entities unto themselves. There should also be a realization that much of the world is inhabited and the people in remote locations, be they few or many, also have rights to decide their destiny.
LVD: Will the G7 survive this current unpleasantness?
PB: Cut and thrust in debate has been a feature of G7 Summits for 45 years. That is why the leaders appreciate the opportunity to have great discussions among themselves without having to deliver speeches as in the G20 or the UN systems. Biarritz will be no different in that respect. But what has united the G7 over the years has been like-mindedness and common values among its members and a collective wish to make the world a better and fairer place. By no means a global council, the G7 group serves to push solutions to the great issues of our time forward for greater discussion and ultimately, solutions. In my view, the key to a sustained G7 will not be the Biarritz Summit, but the one after in 2020 when the US chairs. On verra.