Policy Q & A: Innovation Minister François-Philippe Champagne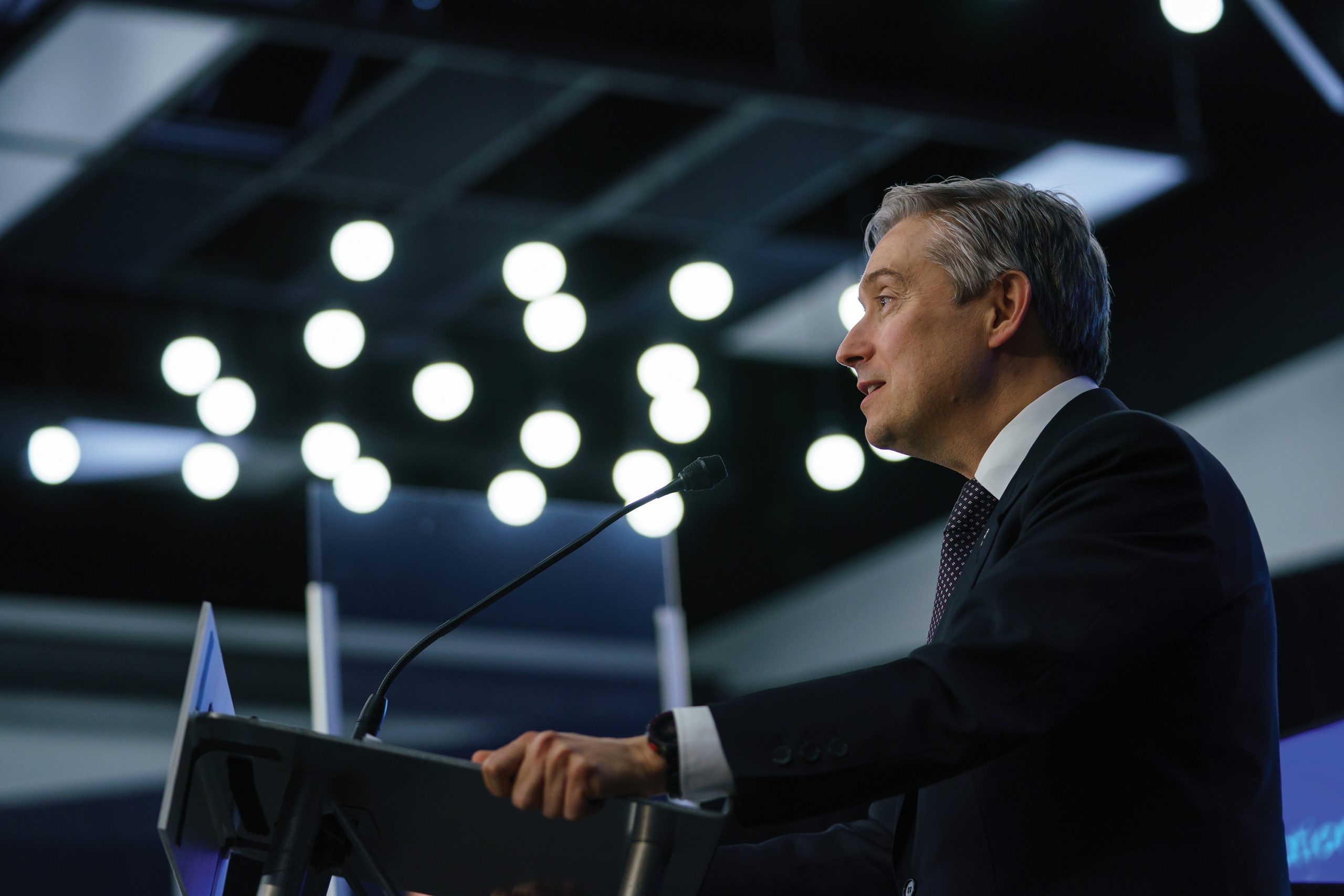 Canada's culture of innovation has been both challenged and accelerated by the unique demands of the COVID-19 pandemic. As has become an annual tradition for our Policy-Rideau Hall Foundation Innovation Issue, Policy reached out to the federal innovation minister for a Q & A. François-Philippe Champagne, who was sworn in as Minister of Innovation, Science and Industry in January, was kind enough to respond.
Policy: The Made in Canada innovation and retooling program saw 6,500 Canadian companies mobilize to help fight the COVID-19 pandemic. What is it revealing about our innovation landscape? Can you provide a few examples of participating companies that stand out in their progress?
François-Philippe Champagne: First of all, it has demonstrated the resourcefulness, passion, and determination Canadian companies have had in coming together to help fight the pandemic here at home. 
We created a plan to mobilize and support domestic manufacturing capacity to supply vital, made-in-Canada protective gear and other medical equipment and devices needed to respond to the outbreak of COVID-19. From coast to coast to coast, Canadians showed that we are in this together. Over 1,000 companies have scaled up or retooled to produce personal protective equipment, such as GM Canada, which retooled to manufacture surgical masks and Bauer, which retooled to make face shields. We also sought to leverage industry and innovation programming – such as the National Research Council of Canada's Industrial Research Assistance Program, Innovation Superclusters and Innovation Solutions Canada—to make industry's transition to COVID-related production as seamless as possible. 
For example, we launched seven Innovative Solutions Canada challenges, including challenges focused on Made in Canada filtration materials for respirators, Point of Care and Home Diagnostic Kits for COVID-19, and Compostable and Recyclable surgical masks/respirators for health care workers. Additionally, the Innovation Superclusters Initiative leveraged Canada's five superclusters and their networks of more than 6,000 members to support national COVID-19 efforts. 
Policy: What are your thoughts on how the pandemic has transformed our economic reality in ways that will require adaptation and innovation that otherwise would not have been contemplated? 
FPC: The most obvious example that the pandemic has brought into focus is the need to grow our domestic biomanufacturing capacity. This has been a focus of mine since assuming this portfolio, and it has already borne fruit, as you may have seen with our major investments since. These include support for a nearly $1 billion project by Sanofi Pasteur to build an end-to-end vaccine manufacturing facility in Toronto. The resilience of our supply chains and our ability to produce things like personal protective equipment and vaccines here at home is critically important, both in terms of creating good jobs and increasing our pandemic preparedness. To that end, Budget 2021 proposes $2.2 billion over seven years to help build Canada's talent pipeline and research systems, and support the growth of Canadian life sciences firms, including with $1 billion of support to Canadian firms through the Strategic Innovation Fund.
As we look toward building back better from the pandemic, our priority is to make sure that Canada is a top destination for businesses to invest, grow, and create jobs. We have seen the success of programs like the Strategic Innovation Fund which is helping to maintain and create over 73,000 high-quality, good-paying Canadian jobs, while responding to pressing national priorities. Building on that success, Budget 2021 proposes to recapitalize the fund with more than $7 billion in additional funds, including $5 billion for the Net-Zero Accelerator program to meaningfully accelerate domestic greenhouse gas emissions reductions by 2030. This program, launched last December, will help build and secure Canada's clean industrial advantage. 
By investing in decarbonizing large emitters, transforming key sectors—from steel and aluminium to cement—and accelerating the adoption of clean technology across the economy, the Net Zero Accelerator will spur Canada's shift to innovative net-zero technologies and meet our goal of net-zero by 2050. Transforming industries maintains jobs by making our industries competitive as global markets change and consumers are demanding more environmentally conscious products, and creates new jobs as we position Canadian businesses to take a significant share of these growing markets.
Policy: Thinking about rebuilding our economy post-pandemic, particularly with respect to creating new jobs and upskilling our workers, how will innovation and technology play a role in that? In what sectors should we be anticipating the most growth and the most impact? 
FPC: We have said that we will have Canadians' backs throughout this pandemic and demonstrated that commitment by extending business and income support measures through to the fall of 2021. We will continue to make investments to create jobs and help businesses across the economy come roaring back. Budget 2021 puts the government on track to meet its commitment to create one million jobs by the end of this year. We need to keep our eye on where the puck is going—that means developing upskilling and reskilling plans in tandem with industry to support our most innovative firms. Budget 2021 proposes to provide $250 million over three years for an initiative to scale-up proven industry-led, third-party delivered approaches to upskill and redeploy workers to meet the needs of growing industries. It also proposes $55 million to support communities to develop local plans that identify high potential growth organizations and connect these employers with training providers to develop and deliver training and work placements to upskill and reskill jobseekers to fill jobs in demand. Finally, the Budget proposes $708 million for Mitacs to create at least 85,000 work-integrated learning placements, or co-ops, that provide on-the-job learning and provide businesses with support to develop talent and grow.
Innovation and technology will be key to the success of these investments and to our post pandemic recovery writ large. We must ensure that we are developing a labour force that is prepared to help our economy position itself for growth; driving our competitive edge on a global scale. Investments in preparing our workforce to shape dynamic and emerging sectors, like clean tech and agri-food, will help cement Canada's position as a world leader in research and innovation, building a global brand that will attract talent and capital for years to come. 
Policy: Recently, we saw the publication of Corporations Canada's first annual report on the diversity of boards of directors and senior management of federal distributing corporations. How can ensuring greater diversity at the leadership level in Canadian business help drive innovation and competitiveness across sectors? 
FPC: I want to start by expressing gratitude to those raising their voices for change, including diverse people in the business and entrepreneurship world. They are the people calling for and leading this change, and we are here to support them and play our part. It has been empirically proven that organizations with greater diversity in their leadership team have better outcomes, be they financial or otherwise, meaning there is both a social and business imperative to strive toward this. The data in this report will be an important tool in the push for increased diversity on corporate boards and among senior management. With its publication, Canada becomes one of the first nations to measure corporate diversity beyond gender. This report will serve as a benchmark against which to judge future progress.
It is clear that the numbers in this report fall well below what would accurately represent the diversity of Canada. This reflects the reality today that women, racialized persons, those who identify as LGBTQ2 and those living with disabilities (including invisible and episodic disabilities), as well as First Nations, Inuit and Métis peoples, are under-represented in positions of economic influence and organizational leadership across Canada. We have taken important steps to address this reality, including launching the 50-30 Challenge; the Women Entrepreneurship Strategy; a charter on equity, diversity and inclusion for post-secondary institutions; and the Black Entrepreneurship Program—the first of its kind in Canada. But there remains much more work
to do. 
Policy: With the acceleration of online activity during the pandemic, what does this mean for privacy regulation going forward?
FPC: We recognize that adopting digital and data-driven technologies will be key to reinvigorating our economy and allowing Canadians to create new business opportunities and high-value jobs in emerging sectors. At the same time, digital technology presents risks, including to privacy. And so, as part of our work on the Digital Charter that was released in May 2019, we proposed the Digital Charter Implementation Act to modernize Canada's privacy law for the digital age. 
Put forward as Bill C-11, the proposed Act was developed in a manner that supports innovation, and is interoperable with the privacy regimes of our major trading partners. As a result, Canadian organizations will be well positioned to leverage data in a responsible way, and to compete internationally.
Policy: The pandemic has, among other things, revealed a real inadequacy when it comes to equality of access to the internet and online environments. What do we need to do to help mitigate these access issues, how do we help level the playing field to ensure we aren't leaving people behind and weakening our culture of innovation as a result?
FPC: The COVID-19 pandemic has transformed how Canadians live, work, access information and connect with each other—and that has made digital technology and connectivity more important than ever. Many industries have undergone an overnight shift to a virtual workforce. And e-commerce has been embraced even more by Canadians to meet their basic needs. 
Budget 2021 accelerates investment in digital transformation of small and medium-sized businesses through a new Canada Digital Adoption Program. The program will provide micro-grants to smaller, Main Street businesses to support the cost of technology adoption. It will create training and work opportunities for as many as 28,000 young people to help small businesses adopt new technology. Our Computers for Schools program has also stepped up over the last year, and has provided refurbished technology to low-income families and schoolboards so they can access the digital world. We also recognize that adopting digital and data-driven technologies will be key to reinvigorating our economy by allowing all Canadians to create new business opportunities and high-value jobs such as in online health care and virtual education services. High-speed internet access is no longer a luxury—it is essential. That is why Budget 2021 proposes to adds $1 billion to the Universal Broadband Fund for a new total investment of $2.75 billion to help us reach the goal of 98 per cent of the country having high-speed broadband by 2026 and 100 per cent by 2030. The pandemic has made clear how essential it is for Canadians and their businesses to be reliably connected at efficient upload and download speeds and we are taking action to ensure this is the case in all corners of the country.