Our Post-Pandemic Energy Future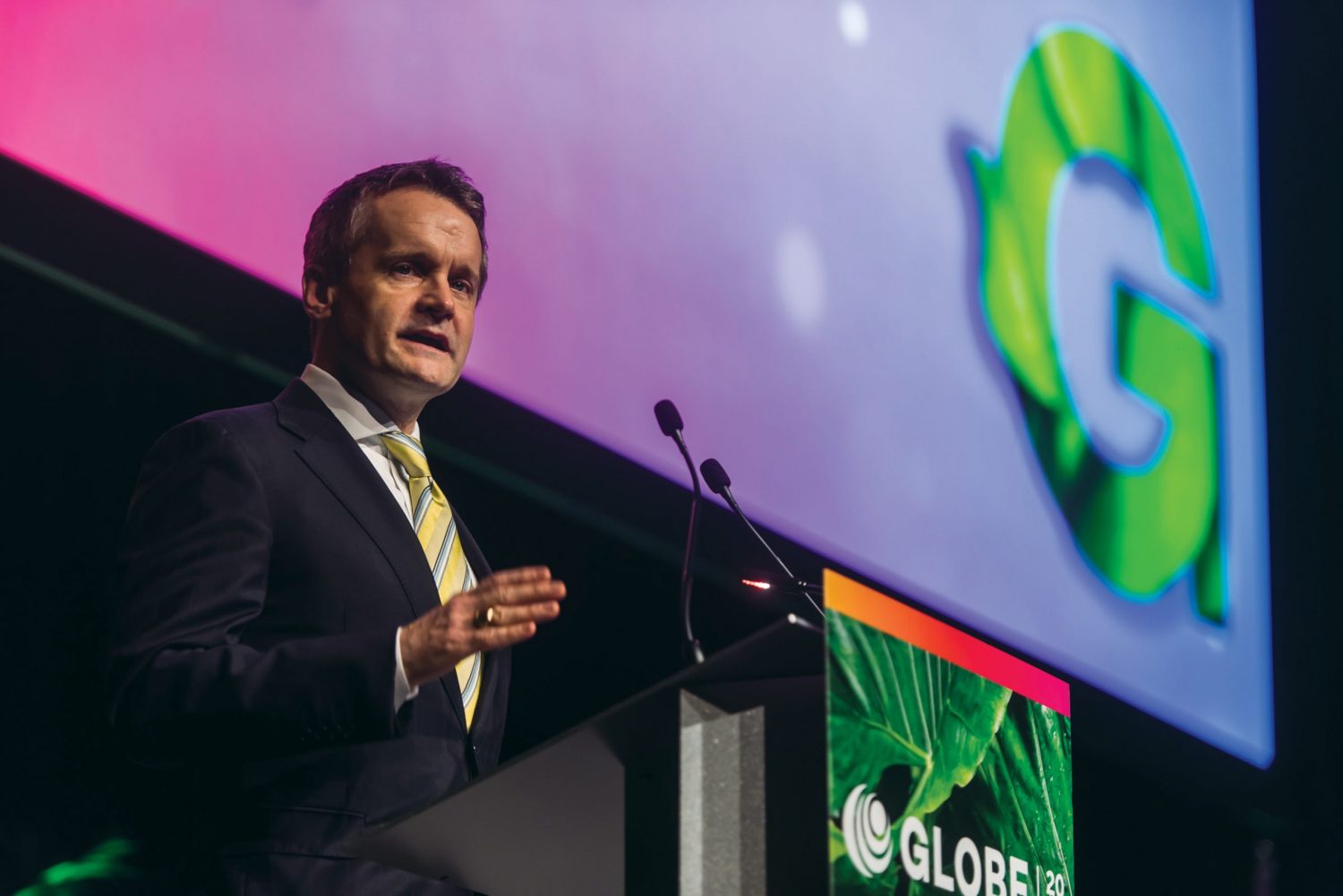 At the dawn of 2020, it seemed the wicked problem that would dominate global agendas for this year would be climate change. While the COVID-19 pandemic and economic shutdown have eclipsed even the climate crisis in the political discourse for the moment, international policy makers and thought leaders in the energy field are still working to reconcile our economic and climate change mitigation needs. Seamus O'Regan, Canada's Minister of Natural Resources, is one of them. 
Seamus O'Regan
Politicians are always looking for stories, and for places to tell them. In the month of February, before the COVID-19 shutdown, I'd struck gold. I found myself in two different cities, on two different days, and with two vastly different audiences, and two different ways of telling the exact same story. And, in the telling of this tale, I had found a way to make my point. 
In Vancouver, I gave a keynote speech at GLOBE, North America's largest cleantech conference. My message was simple—that Canada would not reach its climate goals without the oil and gas industry. Natural Resources Canada officials had run the numbers and  the road to net-zero emissions by 2050 ran through the oil-producing provinces of Alberta, Saskatchewan and Newfoundland & Labrador, and there was no getting around it.
The next day, I flew to Calgary.
I co-hosted an Innovation Summit with Alberta's Energy Minister, Sonya Savage. The audience might not have been as large as GLOBE's, but around that table sat some of the biggest players in Alberta energy R&D. News headlines were dominated by stories of investors increasingly turning their backs on the sector, and the mood of the room was unsettled. I told them exactly what I had told the audience at GLOBE. And that day, in listening to what the people around that table told me, it became clear to me that, in fact, Canadian oil and gas needed net-zero. 
Call me the Minister of Inconvenient Truths. It was not the crowd-pleasing message either expected, but each was receptive to it. It felt like the time had come to sit and speak of the world not as each wanted it to be, but as it was.
Canada is the fourth-largest producer of oil in the world. That is a point I always make to every audience on the subject of energy. That accomplishment, the result of the extraordinary ingenuity of our people, has brought us immense financial wealth and employed hundreds of thousands of Canadians. It does not mean we dig in and resist the truth of our changing climate. It does mean we have a great responsibility. And the world is watching—increasingly by Zoom. 
COVID-19 has meant attending international summits from your den. At my second International Energy Agency ministerial meeting, I was surprised I was one of the first chosen to speak, of the dozens of ministers who were 'there'. It dawned that that was because I was the Minister of Natural Resources of the fourth largest oil-producing country in the world. Other countries below us on that ranking readily identify as oil-producers and make it a nation-building imperative. We do not see ourselves that way, but others do. 
They also see us as the second-largest producer of hydroelectricity in the world. They see us as a global leader in solar and wind power and emerging renewable energy storage technologies. They know we're a tier-1 nation for nuclear energy, and a driver of clean hydrogen production, biofuels, and cutting- edge fuel cell technologies.
So, others look upon us with high expectations. They also look upon us with some envy. Countries around the world see energy and energy infrastructure as integral to their post-pandemic recovery, but few have the range of renewable and non-renewables that we do. 
The diversity of our energy sector is our underlying strength. It is that diversity that will carry Canada through this short-term storm, and through the long-term transition that has been underway since before the pandemic began.
The relationship between non-renewable and renewable energy sources is not one of opposing teams. It is one of symbiosis. That synergy must prevail in the months and years ahead. The relative sizes of the renewable and non-renewable shares of the energy sector are shifting. They will continue to shift over time. How governments manage the shifting of those tectonic plates—how they support the workers and regions that rely on industries experiencing that shift—has great political and economic consequences for the country.
To drive our post-COVID recovery and advance our commitment to net-zero, I believe we need to do three things:
First, we need to be smart. We must use every ounce of our ingenuity to make our traditional sources of energy more sustainable—through electrification, carbon capture and storage, and evolving clean technologies.
Second, we need to be thorough. This means making smarter individual choices that will achieve collective results—better appliances, better light bulbs, better windows, better building codes, better cars. This 'radical incrementalism' will, cumulatively, be far more effective than any one single, revolutionary technology we hope will one day save us.
Third, we need to be thoughtful about the challenges ahead in the global economic recovery, and about just how fundamental this longer-term energy transition will be. Some will say that we are moving too fast. Others will say that we are moving too slowly. 
Through all of it, we must be determined that people—energy workers and their families—aren't left behind. And we must be determined that whole regions of this country—those that produce much of our non-renewable energy now—aren't left behind.   
Our mission must be a shared one—to build a stronger, more sustainable and innovative energy sector as part of a more prosperous and sustainable economy. It will require determination, good will, empathy, and the cooperation of all Canadians. It will be hard work. 
Our government was elected on a platform with a serious plan to fight climate change. Canadians expect us to honour that commitment. The economic recovery from the COVID-19 pandemic requires broad-based measures that put Canadians back to work, and keep us on our path to achieving net-zero emissions by 2050. 
It is worth emphasizing that the key word in that objective is "net". It is an acknowledgment that non-renewable sources of energy will continue to be a part of our country's energy mix until, and perhaps beyond, 2050. The world today does not yet have the technology to fully meet our energy needs without non-renewables, and we do not yet have all the commercially viable replacements we need.
The work continues even as our government responds to the clear and present immediate threats posed by the pandemic. That matters. It matters because the work is important, and it matters because of the role it will be playing in generating growth for so many communities that have been hit hard by the pandemic, including Indigenous communities. 
Right now, across this country, many people are re-discovering the simple joys of gardening. We're all creating micro-environments on our windowsills, our patios, and our yards.  
As my mother taught me, gardening is all about balance. Even though I don't have much of a green thumb, I do know that if your plants are struggling because there's too much sunlight… you don't solve that problem by sticking them in the cupboard all day long. They need balance.
Our energy transition and the interplay between economy and environment is no different. They are ecosystems. Ecosystems need balance. Bringing Canada's economic and environmental ecosystem into balance must, and will be, an enduring pursuit. 
As the late Jim Prentice wrote in his book Triple Crown, "No other democracy in the world possesses a comparable set of energy opportunities." We are a country blessed with a bounty of natural resource wealth. We are a country that relies on that bounty, nationally, for an enviable quality of life. Our stewardship of these resources, as we meet the urgency of combating climate change, is the challenge of our age.  
Seamus O'Regan is federal Minister of Natural Resources.