Money, Money Everywhere— A Fiscal Framework for the Times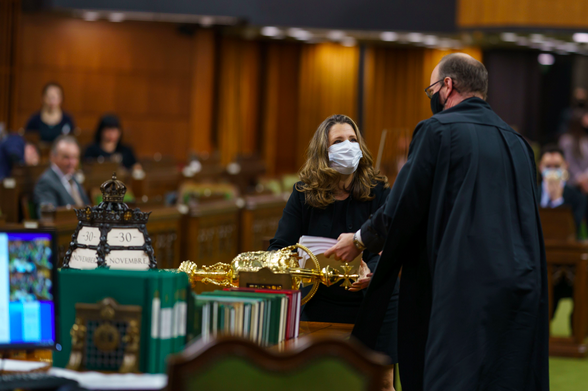 L. Ian MacDonald
November 30, 2020
When you look at the Fall Economic Statement delivered in the House by Finance Minister Chrystia Freeland on Monday afternoon, it's quite faithful to September's Speech from the Throne (SFT).
The SFT outlined four policy pillars for these unprecedented times. The first of the "four foundations", as they were styled in the throne speech, was ending the pandemic and getting vaccines distributed and delivered across the country. The second was the need to support people and businesses through the crisis, the third was the need to "build back better", and fourth was the need to "stand up for who we are as Canadians."
On ending the pandemic by efficiently distributing a vaccine, that message was clouded by a remark by Prime Minister Justin Trudeau made last week that, since Canada doesn't manufacture any of the leading candidate international vaccines, countries that have done are "obviously going to prioritize their citizens first." Moderna and Pfizer Bio-Tech are located in the US, while Oxford University and AstraZeneca are in the U.K. All their vaccines have tested up to 95 percent effective against COVID-19.
In the ensuing domestic uproar over his initial statement, Trudeau walked it back somewhat by last weekend, suggesting vaccines would be available to all Canadians by next September. But the public doesn't want to wait for months. They're thinking about weeks. They're thinking about when, and who gets it first. They're not thinking about Canada having enough doses on order from the vaccine makers to eventually cover all Canadians, as Freeland pointed out, but she gave it a good college try.
If it's any comfort to policy leaders in Ottawa, they're having a similar conversation in Washington. The powerful Centers for Disease Control (CDC) scheduled a vote of its advisory committee Tuesday to determine who gets vaccinated first, with health care workers and seniors in long-term care centres at the top of the priority list, the first group because their good health is essential to containing the virus and the second because they're obviously most vulnerable to being struck by it.
From there, Freeland moved on quickly to the second point—she showed us the money. As expected, the deficit for the current fiscal year ending next March is forecast to set an all-time record, $381 billion, up from $343 billion forecast by the former finance minister, Bill Morneau, last summer. That's somewhere in the high teens as a percentage of GDP, a place we've never been before. And it pushes the debt-to-GDP ratio over 50 percent, another first.
To her credit, Freeland wasn't the least bit flustered by this. Government aid programs have been helping millions who lost their jobs put food on the table and pay the rent, and helping small businesses stay in business. As for the deficit, she's forecasting a reduction to $121 billion in the next FY starting in April, and $51 billion the year after that. Why, budgetary balance is almost in sight. And then another $60 billion or so will be spent on stimulating the recovery.
And if things get better sooner rather than later, Freeland said "fiscal guardrails will help us establish when the stimulus will be wound down." That's a pretty good turn of phrase, because it's memorable and appropriate. Someone in the speech meeting deserves a bottle of good Niagara or BC Chardonnay.
Freeland went on to the "third foundation" from the throne speech– "Build Back Better", a familiar slogan among G7 leaders this semester. It looks beyond the pandemic "to create a stronger, more resilient society," which, in specific economic terms, is still unclear.
But we know that pandemic distancing has created new economic models, notably of working from home and shopping online. Black Friday, the day after US Thanksgiving, has for generations been the biggest shopping day of the year in America, such a powerful brand that it migrated to Canada. Now, it's just a prelude to Cyber Monday, forecast to be the biggest single online shopping day in history.
This is why Shopify, the major Canadian player in this economic space, has seen its stock price multiply to four digits, $1343 a share on the TSX last weekend, with its market cap at $163 billion, more than Bank of Montreal and Scotiabank combined.
And finally, the fourth foundation of the throne speech, "standing up for who we are as Canadians," meaning dollars for every progressive interest group on the political spectrum, and perhaps a few who haven't signed on to the Liberal cause, but just asked for some money because there's so much of it out there.
No price tag or timelines on pharmacare and childcare, as the NDP have been demanding per the price of their support for the government in a minority House. But Freeland referred to Quebec's successful childcare program as a model to enable "a feminist agenda" for the workplace. Not to forget "the work of reconciliation" with Indigenous peoples, or eliminating the federal interest on student loans, while encouraging Black business start-ups to overcome systemic racism, and help for the homeless.
Oh, and those two billion trees the Liberals keep saying they're going to plant? Well, they made it into the economic statement as well. NDP Finance critic Peter Julian said he thought "austerity" was coming, and his leader, Jagmeet Singh, said the Liberals "are unwilling to make the ultra-rich pay their fair share." There's an original thought on the left—make the rich pay.
Maybe it's the times. Freeland is a former financial journalist who, as a senior editor at the Financial Times and Reuters, has played in the global majors. Her talent, and sense of history, were evident in a remarkably eloquent thought for a fiscal roundup.
"This is the most severe challenge our country has faced since the Second World War," she said. "It is our most severe economic shock since the Great Depression and our most severe health crisis since the Spanish flu, a century ago. Canadians should know that their government will help them get through it, come what may."
Well said, Minister. And well done.
L. Ian MacDonald is Editor and Publisher of Policy Magazine.