Making Nixon Look Presidential: Woodward on Trump's Rage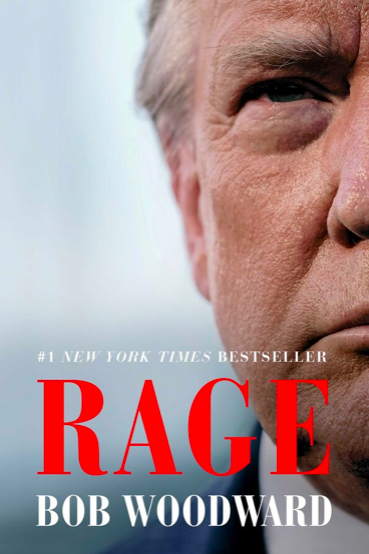 Simon & Schuster/September 2020
By Bob Woodward
Reviewed by James Baxter
October 21, 2020
The question everyone was asking in Washington when Bob Woodward's latest book — and the stunning recordings of 17 interviews with President Donald Trump on which it is based — landed, was whether it would have any impact on the outcome of the 2020 presidential election. We may never know, but there's little doubt that it will have a lasting impact on the Trump legacy.
Given the advance hype, it was almost impossible to read Rage without having already heard the highlights from Woodward's book. Among other revelations, Trump said that he and North Korea's leader, Kim Jong-Un, had exchanged 25 "love letters" over the past few years, leaked that the US had developed a new hypersonic weapons program, and chided Woodward over a question about race relations. But the jaw-dropper, of course, was Trump's admission that as early as late January, he was already well aware of how dangerous COVID-19 would be and that it was being spread by aerosol particles.
Trump said later: "I wanted to always play it down. I still like playing it down because I don't want to create a panic." While the "stars" of Woodward's book are unquestionably the Trump tapes, the most compelling stories come from Woodward's interviews with many of the administration's exasperated former senior staffers. Retired General James Mattis talked of sleeping in his clothes and stopping in at National Cathedral because he lived in fear of having to launch a nuclear strike against North Korea. Dan Coates spoke of the frustration of trying to focus Trump on matters of national security, and then revealed that he became suspicious that Russia might actually have some hold on the president.
But it was Trump's intransigence on the pandemic that dominated the latter half of the book. Dr. Robert Redfield, the frustrated director of the Centers for Disease Control, said he had tried to make the White House understand that COVID was a game changer. "I think we all understood now we are in a race," he said. "We're in a marathon. We're in a two-year, three-year race. Not a one-year, not a six-month race."
These interviews breathed unexpected life into the book, which is written in Woodward's very plain, easy-to-read prose. As in All the President's Men, The Final Days and the other 16 of his books about presidential administrations over the past 45 years, Woodward methodically follows the chronology of events and brings them to life with details that he gleans from hundreds of interviews.
Indeed, perhaps the second-most interesting revelation is that people will still sit for an interview with Woodward in order to be part of what is always an important early draft of American history. Woodward's books are always written as though they are dispatches from the front lines, replete with the thoughts and opinions of others. This time, the 77-year-old reporting legend allows himself a brief moment of editorial licence in closing what he expects to be his last book of this sort.
"When his performance as president is taken in its entirety, I can only reach one conclusion: Trump is the wrong man for the job."
And with that, Woodward steps away.
James Baxter was founding editor and publisher of iPolitics and a Nieman fellow. He is currently a special advisor to the Assembly of First Nations and is active in community theatre in Ottawa.