Lessons in Leadership and Life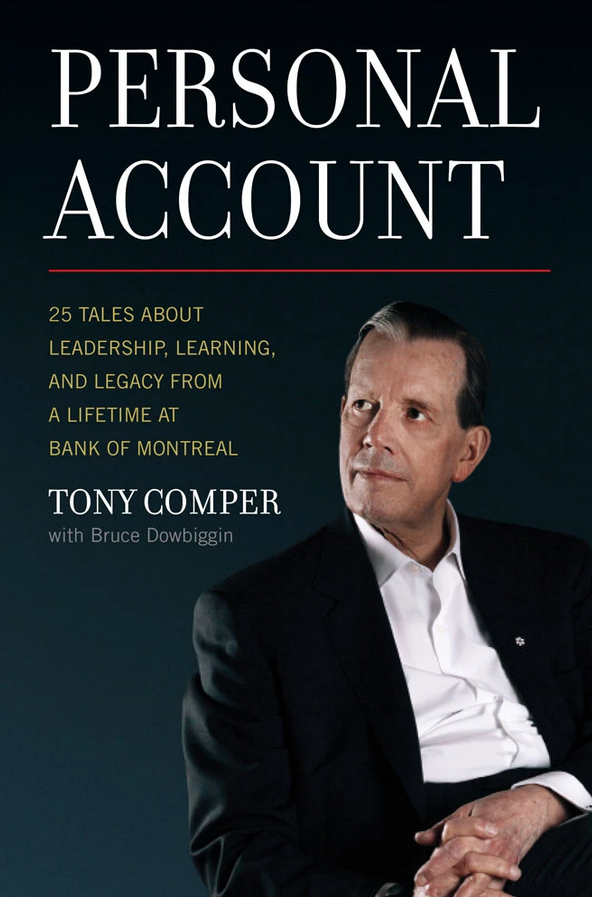 Personal Account: 25 Tales About Leadership, Learning, and Legacy from a Lifetime at Bank of Montreal
ECW Press/November 2020
By Tony Comper with Bruce Dowbiggin
Reviewed by Elliot Lifson
October 27, 2020
The new autobiography of former Bank of Montreal President Tony Comper, Personal Account: 25 Tales About Leadership, Learning, and Legacy from a Lifetime at Bank of Montreal is really about two lives, the one he lived at the bank and his personal life. Comper was able to tie them together in a most interesting way —the narrative road map of his career and its impact on his life. It is clear, concise and aspirational at the same time, and has great take-home value in leadership, learning and legacy from a career spent at BMO.
Comper uses quotes from Chaucer's The Canterbury Tales at the beginning of each chapter. This is a reflection of his love of literature and life outside of the bank and a way of showing that the two lives are not mutually exclusive while providing tales both cautionary and exemplary in the nature of leadership.
As a veteran business professional and business professor, I immediately liked that this book is not a story driven by balance sheets, income statements or opinions on monetary or fiscal policy. It's the personal journey of an individual who shares his experience in financial services as a reflection of his personal values. I did not want to put the book down, and it's a privilege to review it.
The chapters represent different experiences in Comper's career and their importance. He always inserts personal stories, autographical notes and the values that were most important to him. Each chapter is a short story with an underlying message and many of the chapters have a personal note from a colleague or friend. You cannot help but admire Tony and his late wife, Liz, for how they shared each other's interests.
As a professor of strategy at the Desautels Faculty of Management at McGill University, I'm not used to writing book reviews but I certainly recognize strategy at its best.
There are many leadership lessons in his book to be learned, or at least to reflect on, that have a strategic message.
Touch and feel
Hands on
See for yourself
Balance analytical and insightful perspective
The importance of organizational culture
and, as the late management guru Peter Drucker, wrote: "Culture Eats Strategy for Breakfast"
Also, if you love what you do, you never have to work a day in your life. I don't think Tony ever worked.
To most individuals, strategy is a plan, and Tony, who retired in 2007, was the best student of strategy. Both in business and life, he recognized that not all strategic plans are realized. He had the talent both from his career path and life to recognize the need to change and adapt to new realities yet achieve success without compromising his values. It was a combination of planning and improvisation, as he writes.
As a professor of strategy at the Desautels Faculty of Management at McGill University, I'm not used to writing book reviews but I certainly recognize strategy at its best.
His success was not only due to his efforts, but the efforts of his team at BMO and the underlying support at home. He provides a "take-away" at the end of each chapter — what he wants us to remember and share with others, both from a career and personal perspective.
I processed these lessons through my lens as a business executive and — more important to me — through the insightful lens of where I respected his shared values. Tony recognized the trust he received and the responsibility that was his when he took leadership of BMO in 1999. I liked the fact that he knew he had to be himself while being aware of the responsibility to all stakeholders; shareholders, employees, customers and the community at large. He also knew that the culture of the organization was key to his success and that of BMO. He relates the first challenge he faced of restoring credibility of BMO after the failure of a merger with RBC. This event leaves the reader with a few good lessons.
He refers to the quote from boxer Mike Tyson: "Everyone has a plan till they get punched in the mouth", and notes that "preparing for and dealing with the worst means being flexible and adaptable and having a long-term vision for where you're going." If you don't understand banking before you read the book, you'll get a feel for it by the time you've finished.
As consumers whose experience with banking has been transformed by technology, readers will appreciate the section on Tony's involvement with technology and embracing its importance when few CEOs in the corporate landscape understood what role it would play. Technology transformation was the responsibility and obligation of management and leadership and not the sole responsibility of the IT Department. But Tony also understood that there was a human element. Technology would not and could not replace the importance of face-to-face relationships. He applied that belief to his own management style, visiting BMO branches across the country in the belief that he couldn't  lead by simply staying put on the 68th floor of First Canadian Place.
Tony was an advocate of gender diversity and corporate accountability, not just as great business decisions, but as simply the right thing to do. The principle that doing good and the bottom line are not mutually exclusive is a recurring theme in the book. He also understood globalization and its overall benefits. To him, globalization extended beyond economic issues. He knew the impact it had on culture and art and the benefits of connection.
This is not a memoir you would generally expect from a banker. The title of the book — Personal Account — describes the road he followed in his career path and reflects his personal perspective from an environment rich with opportunities for readers to learn from.
I highly recommend taking that trip with him. I enjoyed both the journey and what I learned along the way. You will not be disappointed.
Elliot Lifson is Vice-Chairman of Peerless Clothing and President of the Canadian Apparel Federation. He is a Professor of Strategy at the Desautels Faculty of Management at McGill University.