John Turner's Bequest to the Nation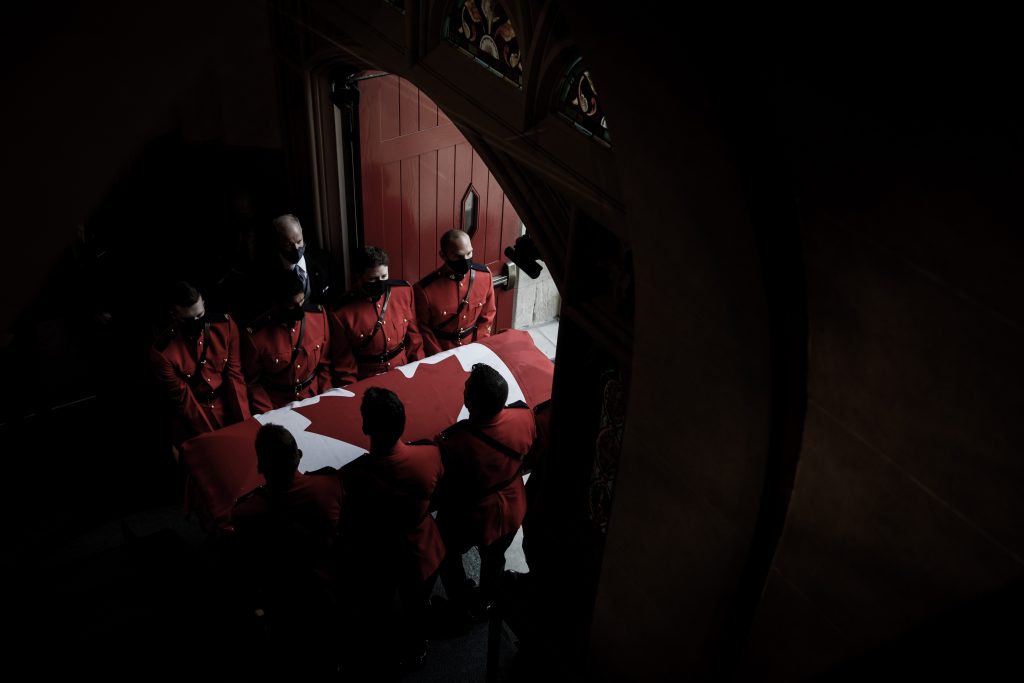 L. Ian MacDonald
October 9, 2020
Watching John Turner's funeral service the other day, there was a striking Canadian quality to it. In a sense, it was his bequest to the nation.
It was also impossible not to compare it, for dignity and decency, with the chaotic presidential campaign in the United States, where those qualities are conspicuously missing in action.
John Turner may have been prime minister for only 79 days in 1984, but he had class for a lifetime. His state funeral may have been downsized by the social distancing rules in fighting the pandemic, but in a way that put the focus of the event entirely on him. Rather than a large crowd filling Toronto's St. Michael's Cathedral Basilica, the live audience consisted of his family and friends.
In that sense alone, his state funeral was uniquely an intimate event. And you can be sure there will never be another one like it.
His wife Geills and his sister Brenda Norris saw to it that his taste was apparent throughout, beginning with the musical selection. It was somehow uplifting to hear Amazing Grace as his coffin arrived to be accompanied by an honour guard of Mounties. The singing of Ave Maria in Latin was a reminder that John Turner was a devout Catholic—every former altar boy knows the hymn by heart from High Mass. The choir and congregation joined to wholeheartedly sing the officially bilingual version of O Canada, and in the crowning musical moment there was a cutaway to Ottawa where the Ode to Joy of Beethoven's Ninth Symphony was played on the carillon of the Peace Tower.
And Turner's daughter Elizabeth totally captured her Dad in a strikingly good humoured eulogy to which future biographers will refer for anecdotes of a personal journey of purpose.
She brought the house down when she quoted him asking a companion complaining about bad weather on a canoe trip: "Are you a tourist or are you Canadian?" You could hear the crackle in his voice. But she was also making a larger point, that beyond his love of the great outdoors, he purposely chose routes in Indigenous territories as an endorsement of their cause.
And he was an early champion of clean water in Canada's lake and rivers, taking his canoe there. As his onetime archivist Elizabeth McIninch wrote in a brilliant appreciation published the day after his funeral in the Hill Times: "Turner became the foremost defender of the position that water is a priceless resource, and that no Canadian government should consider surrendering its birth
right."
In a way, she added, that set the scene for what he called "the fight of my life"—his opposition to the Canada-US Free Trade Agreement over which he famously said to Brian Mulroney in their historic 1988 leaders' debate: "I believe you have sold us out."
In the event, the voters endorsed the FTA, which transformed the Canadian economy, but it was also Mulroney who negotiated the Acid Rain Accord with the first George Bush in 1991, which saved Canadian rivers and forests east of Saskatchewan.
But the larger question Turner was putting on the ballot in 1988 was Canadian sovereignty in a context everyone gets—Canadians want a leader who gets along with, but stands up to, the Americans.
I remember on the night of the 1988 leaders' debate, when I was Mulroney's speechwriter, going to the National Press Club afterwards for a glass of wine and conversation. "You don't look very happy," said one former colleague. "What's wrong?"
Our team had taken a hit that night, and we all knew it. Turner was very different than the distracted Liberal leader of the 1984 debate who said Pierre Trudeau had left him "no option" but to make a string of Liberal patronage appointments just before the election. In 1988, he was fully engaged, and it wasn't just rhetoric. He meant it, as a question of country, and it showed. In the end, Mulroney prevailed, but Turner was bold and brave in his opposition, transforming the campaign into a momentous plebiscite not only on free trade, but on the nature of Canada itself.
Many years later, introducing Turner as our guest of honour at one of our magazine's working lunches in Toronto, I said; "You scared the hell out of us. I know, I was on the other side."
It was thanks to Turner and Mulroney that Canadians experienced the most exciting and consequential campaign of the modern era. And the thing is, it was never personal between them. Each was doing his job, declaring and defining the issues in the name of democracy. And each can claim that momentous campaign as part of his legacy. In addition to reminding us of Turner's dignity and decency, his funeral was also conducted with a very Canadian sense of modesty. In a quiet Canadian way, it's just another one of those things that we do better than the Americans.
L. Ian MacDonald, Editor and Publisher of Policy Magazine, is the author of the 1984 bestseller, Mulroney: The Making of the Prime Minister.