Joe Biden Didn't Kill Keystone, Reality and Wall Street's Green Revolution Did
As the world adjusts to the increasingly evident perils of climate change, some politicians now trail Wall Street in their environmental, social and governance commitment.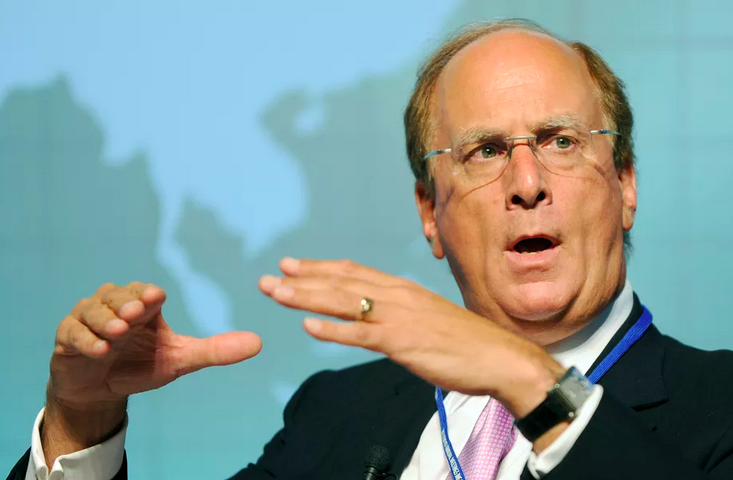 BlackRock CEO Larry Fink/AFP
 
Lisa Van Dusen
January 30, 2021
In his 2020 annual Letter to CEOs — or "Larry's Letter" — last January, BlackRock co-founder and CEO Larry Fink advised that "The evidence on climate risk is compelling investors to reassess core assumptions about modern finance," and that his firm would henceforth avoid investments in companies that "present a high sustainability-related risk."
In case anyone missed last year's message or presumed it would be nuanced or amended by the economic exigencies of the COVID-19 lockdown, this year's Larry's Letter, published January 26, doubled down on climate change mitigation as the new pork bellies and compelled companies toward a net-zero agenda. "Climate transition presents a historic investment opportunity," Fink writes of his zealotry on the attractions of "ESG" — environmental, social and governance — as a driver of profits.
Fink controls an investment fund worth nearly $9 trillion dollars, making him, per the New York Times' Andrew Ross Sorkin, "arguably the world's most powerful investor" and an annual-letter investing Sherpa now greater in oracular parsing power than Warren Buffett and his yearly letter to Berkshire Hathaway shareholders.
The reality that Fink's 2021 letter underscores is that the sustainable investing and corporate social responsibility movements that were sidetracked by the calamities of the 2008 financial meltdown have not only bounced back, they have bounced back past the tipping point at which doing good means doing well beyond just the public branding dividend.
"Over the course of 2020, we have seen how purposeful companies, with better environmental, social, and governance (ESG) profiles, have outperformed their peers," Fink writes. "During 2020, 81 percent of a globally-representative selection of sustainable indexes outperformed their parent benchmarks. This outperformance was even more pronounced during the first quarter downturn, another instance of sustainable funds' resilience that we have seen in prior downturns. And the broader array of sustainable investment options will continue to drive investor interest in these funds, as we have seen in 2020."
In other words, to update the Gordon Gekko-ism that spawned a generation of pomaded day-traders, "Green greed is good."
This evolution in the global migration patterns of money marks such a significant shift that it is the subject of this weekend's Financial Times Life & Arts section front by the paper's US managing editor (Canadian Finance Minister Chrystia Freeland's old job) and Moral Money columnist Gillian Tett, titled Wall Street's New Mantra: Green is Good.
In other words, to update the Gordon Gekko-ism that spawned a generation of pomaded day-traders, "Green greed is good."
While Tett traces the Damascus-bound conversion of Fink and other .001 percent financiers to anecdotal moments of climate change-driven personal devaluation shocks such as elite wilderness fishing trips spoiled by depleted water levels, decimated salmon stocks and wildfire smoke in a way that might make environmental activists roll their eyes, that's beside the point. "I am 68 years old and have seven grandchildren," Fink tells Tett. "I want to leave the planet better for them but I am not doing this for environmental reasons — I am a fiduciary responsible for other people's money and climate change is affecting their investments."
Yes, there is always the chance that a shift driven by profit motive rather than principle will swerve into the same contagion of corruption that produced the 2008 mortgage-driven meltdown. Let's not forget that that extravaganza of innovation in exotic financial instruments was partly, cynically Trojan horsed as a breakthrough in minority home ownership. But as Fink, former Bank of Canada and Bank of England Governor and current United Nations Envoy on Climate Action and Finance Mark Carney and others know, the new Green Revolution happening on Wall Street won't happen without a return on investment.
Joe Biden didn't kill the Keystone XL pipeline, reality did. The same combination of climate change-driven political and investment disincentives that made the project a chronic, asymmetrical irritant during the Harper-Obama years and made its reinstatement just one among many of Donald Trump's ludicrous reversals also made President Biden's repeatedly, explicitly telegraphed decision to revert to the pre-Trump status quo entirely unsurprising.
To continue to promise Alberta oil workers a counterfactual salvation belied by the critical mass of pragmatic change instead of investing in 21st-century jobs isn't just disingenuous, it's political and economic malpractice.
Lisa Van Dusen is associate editor and deputy publisher of Policy Magazine. She was Washington bureau chief for Sun Media, international writer for Peter Jennings at ABC News, and an editor at AP in New York and UPI in Washington.