How COVID-19 Silenced Fed-Prov Bickering
As Canadians brace for a second month of lockdown, crickets can be heard where the national soundtrack of fed-prov squabbling once echoed.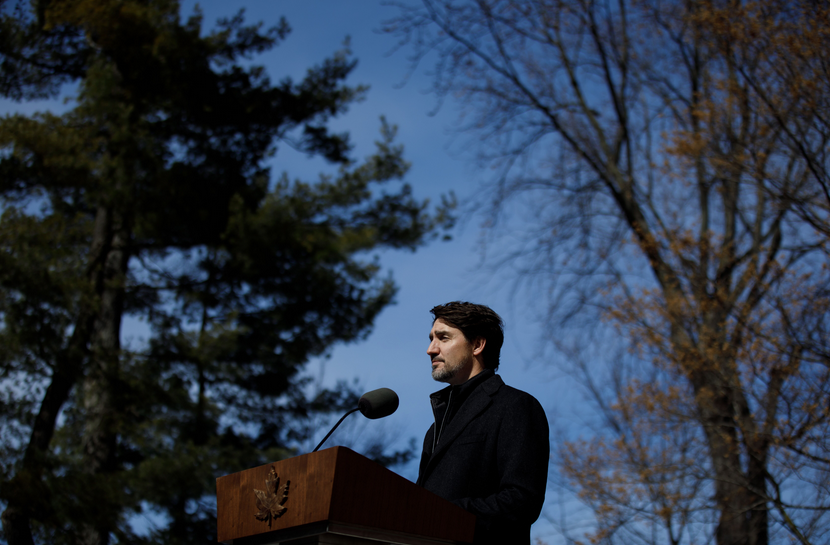 Adam Scotti, Flickr
L. Ian MacDonald
April 26, 2020
The two most important files on a prime minister's desk are federal-provincial and Canada-U.S. relations.
The management of those two dossiers is a vital measurement of a PM's place in history. And the current COVID-19 crisis is obviously a critical test of Justin Trudeau — what he's made of, and what he makes of it.
By most accounts, Trudeau appears up to the challenge on the fed-prov and trans-border dialogues. One is measured by his interpersonal relations with the premiers, and the other by his ability to get along with the U.S. president.
On both fronts, Trudeau's leadership role has been largely enabled by Deputy Prime Minister Chrystia Freeland stepping up as the government's chief operating officer, taking notes of premiers' agendas at home, and intervening with the White House whenever Donald Trump screws up, which can be every day of the week.
Trudeau and Trump spoke directly about the decision to close the border, but it was Freeland who straightened out the mess created by Trump saying U.S. troops would be stationed close to the Canadian border. And it was Freeland who intervened with U.S. Trade Representative Bob Lighthizer, with whom she negotiated NAFTA 2.0, to rescind Trump's offensive order stopping the export of millions of 3M surgical N-95 respirator masks to Ontario. Apart from the insult to Canada as a whole, the effrontery of Trump's stupid gesture sparked particular outrage in southern Ontario, where some 1,500 health workers commute across the Ambassador Bridge to care for COVID-19 stricken Americans, among their patients in Detroit.
Freeland doing the heavy lifting allowed Trudeau to stay on the high road, saying Canada was "discussing very closely" with the U.S. and was "confident the close and deep relationships between Canada and the U.S" would prevent "interruptions in supply in either direction." Which, in the end, is what happened.
Freed of micro-managing, decidedly not his strength, Trudeau has also been able to nurture his relationship with the premiers, not only in one-on-conversations, but in the larger context of a Team Canada approach to the most urgent health and economic crisis in a century. He's been holding weekly conference calls with the provincial and territorial premiers, uniquely frequent in the annals of federal-provincial relations.
Some of the results with the premiers have been agreeably surprising, not just in terms of filling their shopping lists, but equally in terms of Canadian unity, notably on Quebec's relations with Ottawa and the rest of Canada.
There's no other explanation than good management for Ontario Premier Doug Ford, normally an unswerving Conservative adversary of the Trudeau Liberals, constantly going out of his way at his daily briefings to thank both Trudeau and Freeland for their positive interventions on procuring and delivering medical supplies from private and foreign sources.
Then there's Alberta's Jason Kenney, sending surplus medical supplies to British Columbia, Ontario and Quebec. For Quebecers in particular, Kenney's announcement two weeks ago was a stunning and welcome development. Here was Kenney sending Quebec 250,000 N-95 surgical masks, two million procedural masks, and 15 million pairs of gloves. Then Kenney added 55 ventilators. "Thanks for your help, Jason," tweeted Quebec Premier François Legault. It was a long way from the two quarrelsome cousins of Confederation badmouthing each other over pipeline routes.
Legault has also asked for and received Trudeau's help in sending armed forces personnel to help Quebec manage the scandalous situation in dozens of long-term care (LTC) facilities for senior citizens.
This exploded as a national story on Easter weekend the moment health reporter Aaron Derfel and The Montreal Gazette broke a major exclusive that seniors at the private Herron Residence in Montreal's West Island suburb of Dorval were being abandoned by caregivers and left starving and sleeping in their own urine and feces. This disgraceful situation turned out to be province-wide and then nationwide in LTC homes.
Last week, when Legault asked Trudeau for an additional 1,000 Armed Forces members to provide medical assistance in dozens of public and private LTC residences, it marked the largest Quebec request for Army personnel since the October Crisis of 1970, an event with a different historical context in Quebec. Trudeau was answering a call for help. Quite right, too.
Trudeau has not even spoken publicly to Quebec and other provinces about their arbitrary police blockades of inter-provincial borders. Nova Scotia blocked travelers and commuters from southern New Brunswick. And Quebec police stopped motorists on the bridges from Ottawa to Gatineau, asking where they were coming from and what they were doing in Quebec. Well, many residents of Ottawa work in Gatineau, while many residents of Gatineau work in Ottawa. Drivers weren't even allowed to go to their cottages in the beautiful Gatineau Hills, arbitrarily declared off limits as they were not primary residences.
This clearly conflicted with the mobility rights in Article 6 of the Charter of Rights and Freedoms, which states that any citizen or permanent resident has the right to live anywhere in the country and "pursue the gaining of a livelihood in any province" subject to "laws or practices of general application in force in a province." That would make an interesting constitutional conversation in court, mobility rights in the Charter versus edicts by provincial premiers. But again, Trudeau has said nothing to contradict the provinces, since their position echoes his own daily mantra: "Stay home!"
Trudeau himself crossed the Ottawa River to spend Easter weekend with his family at Harrington Lake, but Harrington is an official residence owned by the National Capital Commission, and Trudeau could hardly be accused of setting a bad example.
On a more serious note, Trudeau began conversations with the premiers on the weekend about starting up the economy again, which will differ from one province to the next.  Start-up conditions are obviously different in Saskatchewan and Manitoba, with COVID-19 deaths in single digits, than Ontario and Quebec, respectively in high three and low-four digits. From a handful to well over 1,000, it's not the same at all. New Brunswick, Prince Edward Island and the three northern territories have had no COVID-19 deaths.
"We talked about gradually re-opening the economy," Trudeau said Saturday at his daily media briefing at Rideau Cottage. While these are provincial initiatives, he said, it was "important to co-ordinate at the national level to avoid confusion."
That would be, above all, to avoid confusion with the United States, the country's principal export market on which millions of Canadian jobs depend.
The Americans are having their own noisy debates about that, between a White House where Trump says one day it's up to the states to determine lifting the lockdown, and the next says he disagrees how they're doing it.
Meanwhile, no fewer than 26 million Americans have filed unemployment claims in the last five weeks, which as The New York Times noted, is "roughly the equivalent of the work forces of 25 states." That's half of all the states in America, and larger than a fully employed Canadian labour force of 20 million or the combined population of Ontario. Quebec and Atlantic Canada.
Unemployment is a state jurisdiction in the U.S., and most of them are required to run balanced budgets, leaving them no fiscal wiggle room to increase payments in the current emergency, as provinces can do in Canada. Only Congress can increase payments to states and cities, especially the hard-hit ones like New York. Senate Majority Leader Mitch McConnell has suggested hard-pressed states declare bankruptcy instead of asking Washington for a helping hand. Nobel laureate in economics Paul Krugman wrote a scathing New York Times column the other day, pointing out that states "don't even have the legal right to declare bankruptcy." The op-ed headline was "McConnell to Every State: Drop Dead".
Shades of the famous New York Daily News banner headline about Republican President Gerald Ford declining an appeal for help from a near bankrupt New York City in late 1975: "Ford to City: Drop Dead". Ford lost the 1976 election to Democrat Jimmy Carter.
Now it may be Trump's turn, and Joe Biden's turn to win.
L. Ian MacDonald is Editor and Publisher of Policy Magazine.