Homelessness and the Pandemic: Seeking Shelter from the Storm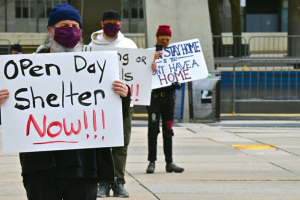 Valere Gaspard and Joshua Swift
February 4, 2021
Problems that distinctly impact people experiencing homelessness during this pandemic are falling through the cracks of public health policy.
Among these concerns is not having access to the public and private facilities required to perform everyday needs (like going to the washroom, staying warm or having clean drinking water). While Canadians are facing a variety of challenges during COVID-19, more attention should be directed towards the issues impacting this part of our population.
It is estimated that over 235,000 Canadians experience homelessness every year. Homeless people are at a higher risk of contracting COVID-19 and have been found to have a dramatically higher testing positivity rate than people with housing. Shelters and the services they provide are vital for those without a home, but COVID-19 health measures have forced these facilities to drastically reduce capacity, resulting in an increased number of citizens without access to essential facilities.
For the homeless, the distinction between private and public facilities is very important in practical terms. This distinction determines which entity (private individuals or government) has the control to regulate access to facilities. As stated by Dr. Jeremy Waldron, a professor of philosophy and law at the New York University School of Law, who has written extensively about property and homelessness: "one of the functions of property rules […] is to provide a basis for determining who is allowed to be where." For instance, a washroom in a restaurant is considered a private facility, while a washroom in a park is a public facility.
During a pandemic, homeless people lose access to both kinds of facilities, since many businesses may be forced to shut their doors during lockdowns, while public facilities are closed by governments to prevent the spread of COVID-19.
One prominent example of losing access to a public facility is the closure of public washrooms and drinking fountains in public areas like parks. While many Canadians can return to their home to use the washroom or drink water, if a park's facilities are closed, homeless people must search for access elsewhere. If no open public facilities can be found in their area, they then become dependent on private facilities to gain access to essential services.
While private facilities can be a very helpful resource, public health guidelines may make it difficult for private individuals to give the homeless access to these spaces.
Homeless people are at a higher risk of contracting COVID-19 and have been found to have a dramatically higher testing positivity rate than people with housing.
For those without a home, fast food restaurants like McDonald's are often cited as one of the most important of these private facilities. Not only do they provide reliable access to a washroom and clean water, but are also a place to purchase inexpensive food, have shelter from severe weather, and to socialize.
In addition, McDonald's also provides access to free internet and a place to charge an electronic device. In an increasingly digital world, the restaurant's internet provides homeless people with the ability to access important resources online, including the news, medical information, potential work opportunities, and public health guidelines. At locations that have all of these staples, private facilities can be a secure base that connects those without property to the community.
In the context of the pandemic, many restaurants have had to close indoor dining and related services and shift to serving customers through other means (such as drive through or delivery services).
Since pre-pandemic times, McDonald's Canada has prioritized policies that ensure each franchise is at the heart of supporting the community.
With 85 percent of locations in Canada being independently operated and owned by a restaurant franchisee, each restaurant is able to offer assistance to those who need it most, through initiatives such as food donations and financial support to local organizations and initiatives. For instance, at a corporate level, McDonald's Canada reports having donated over 325,000 pounds of food to local food banks.
In extreme circumstances, some McDonald's restaurants have been reported to have saved lives on cold winter nights, with one such account stating that the restaurant has "[picked] up the slack where the government slacked off".
Other fast-food restaurants, such as Tim Hortons, have also been known to "take the place of the shelters that [the homeless] don't have".
Fast-food outlets are not a panacea for homelessness, but they have offered some slack to those in need.
In typical times, losing access to one type of facility can usually be accommodated by going to another. With the pandemic, a harmful scenario is created where the homeless cannot rely on public or private facilities for their survival.
This becomes a kind of Catch-22 for COVID-19 restrictions. While social distancing and capacity measures help to protect the broader population, they have the unintended effect of making it more difficult for the homeless to seek help and find a place to stay.
Quebec's recently implemented curfew, which puts the population under a stay-at-home order from 8 p.m. to 5 a.m. with fines for violations ranging between $1,000 and $6,000, at the discretion of local police, offers a tragic case in point.
On January 17, a homeless 51-year-old Innu man was found dead in a portable toilet in Montreal after taking overnight shelter there when a nearby drop-in centre he attended earlier was forced by public health regulations to close its doors after 9:30 p.m.
This is especially troubling, since the drop-in centre was equipped with the resources needed to provide safe overnight shelter. One employee stated that this tragedy would not have occurred had public health measures not forced the shelter to close its doors.
Following this situation, the Mobile Legal Clinic, an ad hoc group made up of activists and law students representing homeless people in Montreal, brought a case against the Quebec government to the Quebec Superior Court, which questioned if the curfew should apply to homeless people.
On January 26, Superior Court Justice Chantal Masse wrote in her decision, the question to be asked was whether the curfew affects homeless people "in a way that is not justified and is contrary to the principle of fundamental justice."
Citing that the curfew poses a threat to the health and safety of the homeless, Judge Masse's decision ended with the order to suspend the Quebec government's application of the recently implemented curfew, to exempt "people in a situation of homelessness".
This was intended to eliminate the disproportionate effect that the policy had on the homeless, since many hid from the police to avoid fines during the hours the curfew was in effect.
While governments are focused on protecting Canadians from the virus, it is vital that our most vulnerable are not forgotten.
With public resources and policies focused on other aspects of the pandemic, private actors, such as community members in Montreal raising over $40,000 in six days to set up a warming tent in a downtown public space, are helping to make up for the lack of available facilities.
Together, both public and private facilities help to provide resources to homeless people, to ensure that in situations when one type of facility is lacking, the other can make up for it.
If public facilities like park washrooms must remain closed, public policy relating to the pandemic should consider allowing for more opportunities for private facilities to assist homeless people during the COVID-19 pandemic.
Valere Gaspard is an intern in the Parliamentary Internship Programme and a Fellow at Western University's Leadership and Democracy Lab.
Joshua Swift is an intern in GreenPAC's Parliamentary Internship for the Environment.