Home Prices Booming Because the System Encourages It
We are delighted to host this week-long series of articles by graduate students at the Max Bell School of Public Policy at McGill University. Look for them here in our Online Analysis section.
Mikayla Zolis
June 17, 2021
Canada is facing an unprecedented moment in housing market history. The Canadian Real Estate Association's latest data cites a 23.1 percent increase in April's home price index from the previous year. Set against the highest real house price growth rates among rich countries globally, and Vancouver, Toronto, and Hamilton topping the list of North America's most expensive housing markets, there is a broad consensus the situation is out of control.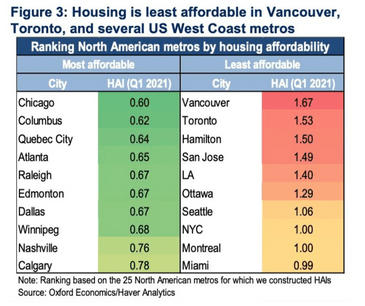 Housing prices are soaring, in part because of speculation from buyers and investors, facilitated by real estate agents set on the belief that prices will only continue to rise. All within a system that enables competitive market dynamics and imperfect knowledge in the bidding process, reducing the process to a game.
Economists from Canada's major banks have raised the alarm, in addition to Bank of Canada Governor Tiff Macklem, who issued a statement citing "not normal" housing market conditions and calling out worrisome "extrapolative behaviour." The Canadian economy is now 50 percent more dependent on housing as a percentage of GDP than the US was during the pre-crash bubble in 2006.
While important figures in Canada's economy address the issue armed with data, many factors contribute to this crisis, which makes effective solutions difficult to formulate.
Economists and policymakers like to point to a lack of supply from restrictive land-use planning and building regulations as the major issue, yet the increase in the supply of housing must achieve other objectives acknowledging housing's contribution to climate change and exacerbating disparities between income classes. This requires careful and strategic thought to urban planning and building design, which would inevitably prolong large-scale impact.
What makes the current situation different from previous housing policy response discussions is that today's extrapolative expectations are perpetuating the ballooning of prices,
An increase in mortgage stress tests came into effect on June 1, which is likely to reduce demand, however the Bank of Canada will not impede an economic rebound while the country is still in the pandemic by raising interest rates to slow down demand further.
The federal government, on the other hand, has the power to make substantive policy changes but seems unwilling to risk political support by addressing this issue with widely accepted incremental changes that likely would not contribute to the reason prices are soaring, such as a tax on vacant properties owned by foreign non-residents.
What makes the current situation different from previous housing policy response discussions is that today's extrapolative expectations are perpetuating the ballooning of prices, which exposes a fundamental problem with the design and operation of the real estate market.
Multi-bid wars over properties are plaguing regions across Canada,  responding to expectations that bidding way over the asking price is needed to win. This process is usually done without buyers knowing what other bidders have put forward, creating opportunities for real estate agents to exploit the situation for their own benefit while inflating the value of home prices. Once a house in a neighbourhood is sold substantially over the next closest bid, all other house prices in the area are priced off, feeding into this cycle.
In contrast, Australia mandates that the bidding process happens through an open auction where no bid is $150,000 or $200,000 greater than the lowest bid, creating a more equal and fair system. However, this process has not solved the problem of high prices alone.
In Canada, real estate agents can also terminate, suspend, and re-list properties at different prices, especially below market value, to drum up interest and create a bidding war. This is not the norm in many US states, where sellers would have to pay realtors a commission if an offer at the asking price is rejected, even though they aren't legally obligated to sell. This creates an incentive for real estate agents to price homes so they could sell, and not artificially below to drum up interest.
Executives from RE/MAX, economists from BMO and TD, and housing advocacy groups have called for more transparency in the bidding process to avoid over-inflating home prices and improve consumer protection, as the current process has buyers doubting themselves and second-guessing their assumptions leading to a stressful and demoralizing experience.
Any increases in real estate transparency in Ontario, however, must face a powerful industry group, the Ontario Real Estate Association, led by former Progressive Conservative leader Tim Hudak, who claims buyers and sellers should have a choice in deciding what bidding process they use and how much information they disclose. While this greatly benefits real estate agents, who are rewarded by higher home price sales, it also creates an uneven market. When there is a choice, sellers are disincentivized from using an open process as they can expect more modest offers and must disclose more information. Whereas, buyers are disadvantaged when properties of interest have chosen a closed process, forcing buyers to bid blind with less information.
While broad and universally applied transparency policies are needed to disrupt the accelerated rate of ballooning home prices, there is no silver bullet solution. Solving housing affordability in the long term will take a concerted and coordinated effort requiring structural changes on all levels.
Mikayla Zolis is a Master's student at the Max Bell School of Public Policy at McGill University and a member of the Hamilton Community Land Trust.