Canada isn't just in a friendly competition with Ireland and Norway for a rotating seat on the United Nations Security Council. It's in an epic one with China.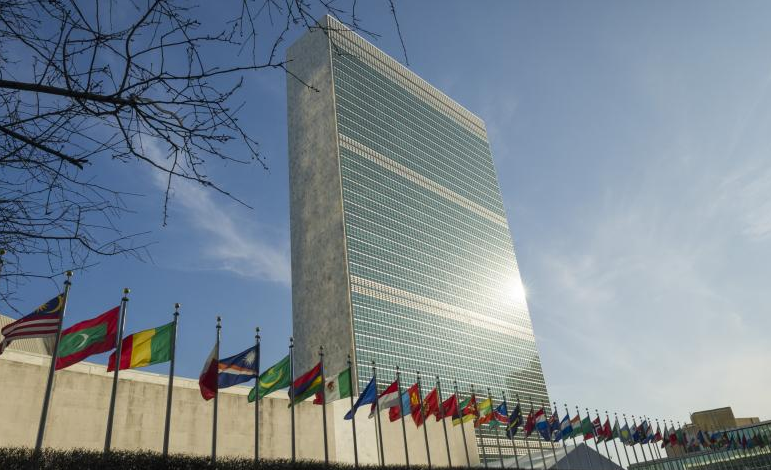 Lisa Van Dusen
June 11, 2020
As with so many contests these days — the 2020 US presidential campaign, the war of narratives over who started the COVID-19 pandemic, who best managed it and who runs WHO — Canada's bid for one of two rotating United Nations Security Council seats being assigned on June 17 is about more than a horse race.
The Security Council consists of five increasingly intractable permanent members — the United States, the United Kingdom, Russia, China and France — and ten non-permanent members elected for two-year terms by the 193 members of the General Assembly. Canada is competing with Ireland and Norway for the two rotating seats of the Western Europe and Others group (WEOG) open for the 2021-22 term.
The contest is a proxy war, not so much because China is reportedly against Canada's bid for its refusal to capitulate to Beijing on the extradition of Huawei CFO Meng Wanzhou, a stand-off to which entrepreneur Michael Spavor and former diplomat Michael Kovrig are already hostage.
The contest is a proxy war in the larger conflict between the rules-based international order and the aspiring authoritarian one that has been playing out incrementally over the past two decades and more overtly in the past five years. I've been banging on about it as a columnist with a flagrant interest in preserving democracy and human rights for the past three years, following intermittent pieces over the previous 15.
This aspiring authoritarian order club is nominally led by Xi Jinping, Vladimir Putin, Donald Trump, Jair Bolsonaro, Boris Johnson and Benjamin Netanyahu among others at the geopolitical level but also involves sub-national actors from corrupt intelligence interests to corrupt Big Tech interests abusing their power to undermine democracy with obvious results. Its influence has been evident in engineered narratives from the hacked Brexit referendum and its chaotic aftermath to the dumpster-fire 2016 US presidential election and its chaotic aftermath to the perpetual chaotic aftermath of Israeli politics to the total fiasco of the Iowa caucuses in February to the total fiasco of the Georgia Democratic Senate primary on June 9th to the totality of Trump's performative presidency to the shameless 2020 strategy of the Republican party to use voter suppression to rationalize a stolen election.
Within the context of that narrative warfare, Canada is a proxy for the liberal, rules-based international order. Which makes China's agenda in reportedly leveraging its influence with UN members to block Canada's bid about far more than two Michaels and a Huawei executive. In an atmosphere in which every outcome is distorted by the prism of a tactical obsession with winning at any cost and by any means, and every outcome is seen as a victory or defeat on the way to an authoritarian endgame, keeping Canada — whose refusal to give in to Beijing's bullying has been vindicated by recent events — off the Security Council carries disproportionate value.
The added nuance to Wednesday's vote is that, for the first time since China's accession to the World Trade Organization in 2001 marked the beginning of the WTO's downward narrative spiral from the failure of the Doha round to Trump's relentless targeting of the organization, observers are beginning to call out Beijing's systematic weakening of multilateral institutions from the inside. That co-opting of multilateral leadership has reflected a concerted effort to use corruption — from massive Belt & Road infrastructure investments across Africa, Eastern Europe and elsewhere to the lubrication of an academic, think tank and other third-party content propaganda machine in the West — to undermine democracy. As Kristine Lee wrote in a recent Politico piece leading with the huge favour Trump did for Beijing when he defunded the World Health Organization — It's Not Just the WHO: How China is Moving on the Whole UN — "Beijing's leverage over the WHO cannot be understood independently of a much longer and broader campaign, one that aims to bend the arc of global governance toward a more illiberal orientation that privileges the interests of authoritarian actors." Canada, at press time and unless things change drastically before Wednesday's vote, is not an authoritarian actor.
Heading into the vote, Canada's bid is being pre-emptively low-balled in some circles based on factors unrelated to Beijing's arm-twisting. Meanwhile, the stakes are being raised to stratospheric levels to portray Trudeau's possible failure to secure a seat as a defeat for his worldview, for any country that challenges China's bullying, and for novelty semaphore socks. If the bid fails, the outcome will evidently be blamed on Trudeau for confirming Canada's "loss of status" on a world stage increasingly dominated by bullies and liars, rather than on the corruption of those bullies and liars.
In more practical terms, it would confirm the new reality that the greatest threat to global security and therefore the matter of greatest urgency facing the Security Council is the same anti-democracy corruption being leveraged to dictate its own membership. Cue the counter-narrative.
Lisa Van Dusen is associate editor of Policy Magazine and a columnist for The Hill Times. She was Washington bureau chief for Sun Media, international writer for Peter Jennings at ABC News, and an editor at AP in New York and UPI in Washington.