Helping Communities Respond, from 'Hockey Hubs' to PPE
James Scongack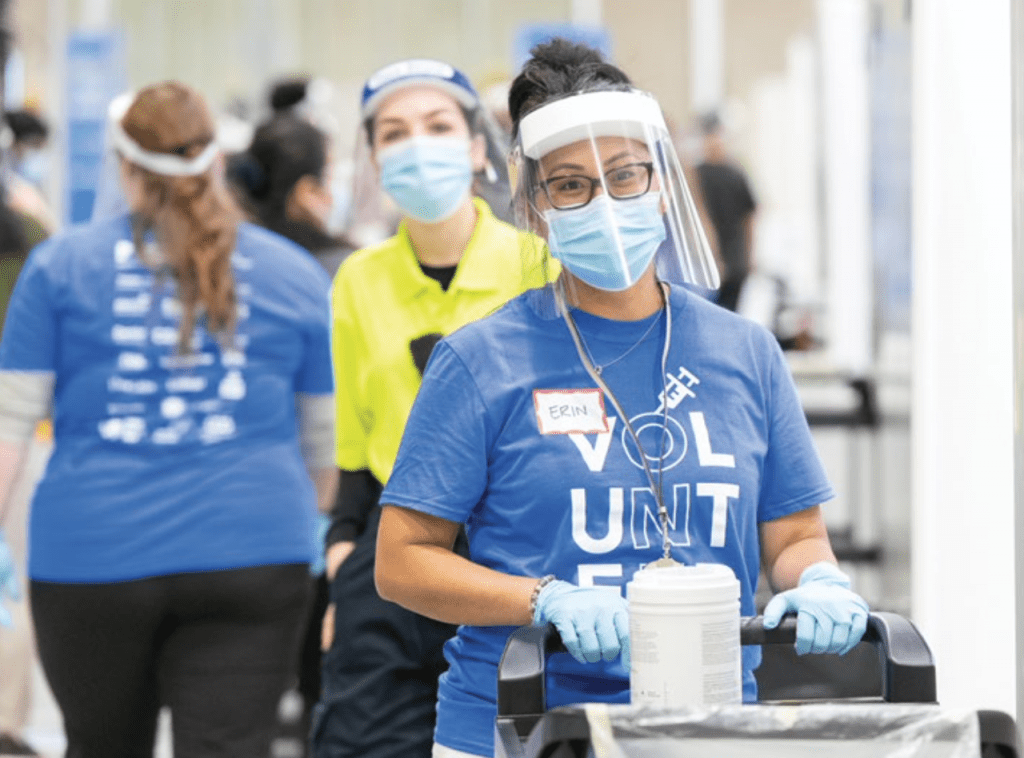 In mid-March 2020, a group that included public health officialsfrom the Grey-Bruce Health Unit and CEOs from hospitals in the two Ontario counties gathered in the health unit's Owen Sound offices. The reason? To participate in a virtual town hall live-streamed through Bruce Power's website and on radio stations and cable TV across the region that informed residents about prevention and protection against the worst public-health crisis our generation has experienced.
Some 16 months later, we (hopefully) find ourselves in the final stages of the COVID-19 pandemic. Many Canadians are getting their second vaccine shots, the number of COVID cases has been dramatically reduced, businesses are reopening, and families and friends are getting together for backyard BBQs and at cottages, parks and recreational facilities. There's increasing room for optimism that students attending elementary, secondary and post-secondary schools will be back in class and on campuses come September. 
Regaining some sense of normalcy hasn't been easy. We're almost there, thanks to the extraordinary contribution of so many health care and frontline workers; government officials across the municipal, county/regional, provincial and federal levels; businesses, organizations and individuals. In times of crisis, we see the best in people and there's been a plethora of evidence to support that for almost a year and a half.
At Bruce Power, our raison d'etre is to supply Ontario with 30 percent of the province's electricity with clean and reliable energy at 30 percent less than the average cost to generate residential power. We're a major contributor to the global supply of medical isotopes, which are used for the sterilization of medical supplies, and the diagnosis and treatment of cancer, not only here at home but around the world. While our company, our owners and our workers take immense pride in the production of reliable electricity and life-saving medical isotopes, we also take very seriously our social responsibility to lend a hand when it's needed.
Since the beginning of the COVID-19 outbreak, we've worked hard—with the generosity, leadership and innovation of our employees—to be a good corporate citizen by supporting the people on the front lines. That starts with Dr. Ian Arra, the Medical Officer of Health and CEO of the Grey-Bruce Public Health Unit, and his staff. Since that first virtual town hall in March 2020, we have collaborated with the health unit on more than a half-dozen virtual information sessions, printed and digital newsletters, advertising campaigns and other communications tools to make sure our residents had the most recent information to protect their families, friends, co-workers and neighbours against the Coronavirus. 
When there were concerns our local hospitals may not have the capacity to handle a potential influx of COVID-19 patients, we worked with the health unit to create recovery facilities at community centres in Owen Sound, Kincardine and Hanover. At the beginning of 2021, as larger supplies of vaccines became available, Dr. Arra and the Grey-Bruce Health Unit came up with the concept for a "Hockey Hub". Created inside hockey arenas, the typical vaccination hub has 150 pods with one nurse assigned 30 pods each. A streamlined flow-through process opened the door for a vaccinator to administer 90 vaccines per hour. 
Two Bruce Power employees—Bill Whetstone from supply chain and Rick McMurray from site services—provided resources and logistical support to convert the recovery centres in Owen Sound, Hanover and Kincardine into these hockey hubs. Since then, a mass immunization hub has been created in Lambton County in southwestern Ontario, along with another hockey hub inside the CAA Centre in Brampton to lend a hand to the Region of Peel's vaccination efforts in one of Canada's COVID hot spots. 
The Brampton hockey hub has been a consummate team effort, put together by a coalition of organizations—many of them under the umbrellas of the Ontario Chamber of Commerce Vaccination Council—unions and businesses along with public-health officials from Grey-Bruce and Peel. "I want to thank our public health units, hospital partners, and frontline health care workers for their leadership throughout this pandemic, as well as organizations like Bruce Power and their many partners, who have committed to supporting Ontarians through this vaccination effort," Ontario Premier Doug Ford said after touring the hub in early June. "These organizations coming together with public health to establish this hub is a demonstration of the true Ontario spirit."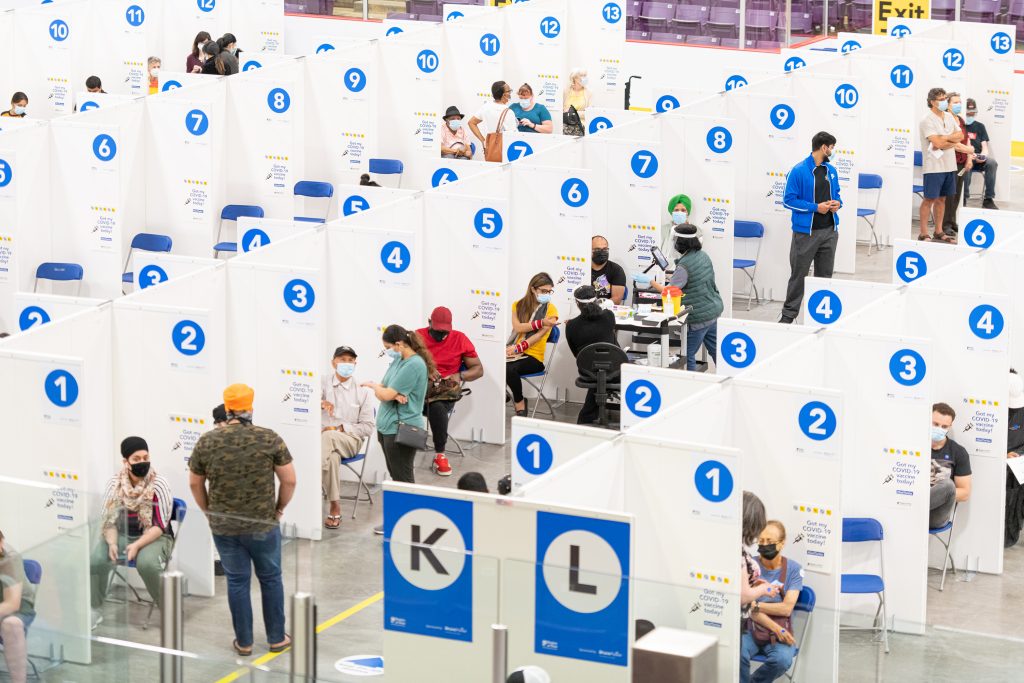 As the largest employer in Bruce, Grey and Huron counties, we've been an anchor in providing economic stability for our communities since 2001. Providing jobs isn't enough, however; we have a responsibility to give back to those communities as a company and as people who live in the cities, towns, villages and rural areas throughout what we call Canada's Clean Energy Frontier. That's why we have programs that underline our commitment to safe and environmentally friendly operations, are transparent in our technologies and operations and invest in the betterment of our communities. Local Indigenous communities and municipal and county governments have worked with us to partner on programs that benefit the entire region.
That's never been more important than during the pandemic. Bruce Power, with assistance from the nuclear supply chain, has distributed almost two-million pieces of personal protective equipment. One of our nuclear operators, Ronnie Miller, purchased six 3-D printers at the beginning of the COVID-19 outbreak and produced more than 20,000 "ear savers" to make the wearing of facemasks by healthcare and front-line workers more comfortable. We were able to distribute more than 50,000 litres of hand sanitizer to local municipalities and to Indigenous communities in northern Ontario through a partnership with Junction 56, a distillery in Stratford, which redeployed its resources. 
Ontario's nuclear supply chain stepped up to support the Retooling and Economic Recovery Council, established to support the fight against COVID-19 and prepare strategies for the province's economic recovery. One of those suppliers, NPX Innovation, built the Grey Bruce Huron Strong app to support local businesses. Another supplier, Abraflex, shifted some of its business to produce gowns for physicians, nurses and other health-care workers while teaming with Bruce Power and Bruce County to purchase a machine for sanitizing PPE used by health-care workers.
Along with the supply chain and other businesses connected to Bruce Power, more than $2 million has been donated during the pandemic to help out local food banks, assist the University Health Network with research into treatment for COVID patients, lend a hand to local businesses and organizations facing financial struggles, and simply acknowledge the heroic work of the women and men in health care and long-term care facilities with gift cards and packages. 
There aren't nearly enough words to recognize and thank every person who's stepped forward and contributed to these efforts in the fight against COVID-19. Each and every one of them has made a difference, and in many cases saved lives. It's that spirit of compassion, generosity and goodwill that will get us through these final months of the pandemic and carry us into the post-COVID world. 
James Scongack is Executive Vice President, Corporate Affairs and Operational Services at Bruce Power.