Getting the Vaccination, Just like That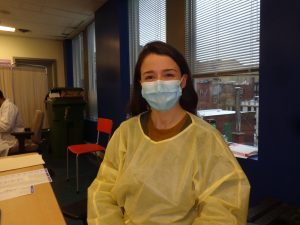 L. Ian MacDonald
March 11, 2021
It came Monday morning in an envelope from the Quebec government, which I threw on the coffee table and ignored for most of the day, thinking it had to be about taxes at this time of year.
When I finally looked at it, it turned out to be from the Health Department, in English as well as French. "You have been prioritized due to your age," it read, "and can immediately book an appointment at a vaccination centre in your region." The eligible age in Quebec, apparently as of this week, turns out to be 70+.
Huh? I thought they were still vaccinating people in their 80s, or at least over 75. Well, I'm over 70, but I haven't called or written, much less applied, to receive a vaccination shot against COVID-19. So, where did they get my address, and how did they know my age group? Well, I do have a pre-existing condition, having spent four months at the McGill University Health Centre's new Royal Victoria campus in 2019, and another two weeks later on at the Montreal General Hospital ahead of an elective post-operative surgery that was finally cancelled because of the pandemic.
Then what? Well, the notice was quite specific: "Go to Quebec.ca/COVIDvaccine to book an appointment by yourself or with the help of a loved one. It's the fastest way. If you are unable to book online or are having problems connecting, just call 1-877-644-4545." I went to the web page with decidedly mixed feelings. I don't feel threatened by the virus. I've been observant of the lockdown rules. I live in a part of Montreal, Westmount, where the incidence is low. And at some level, I didn't want to take the place of someone who needed a shot in the arm.
On the other hand, I have a small family circle that includes my grown daughter in Montreal, and my 11-year old daughter in Toronto. Why not protect them? And looking ahead to the possibility of travelling again, it will help to have been vaccinated, especially if governments issue passports to prove it, and have immunity along with it.
At the web page, the form was obviously in French, but also appeared in English at the click of a mouse. It asked all the usual questions, from date of birth, to parents' first names, to home address. As for connecting online, they already had my email on the form, so they had to know me from somewhere.
And when you fill in your address, another page pops up, one giving the address of several vaccination centres, and their distance from your home. In my case, the nearest two were only 1 KM away—the Montreal General and the CLSC over the Guy Métro—both of which I know from previous visits. A five-minute drive up the hill to one on Cedar Avenue, and a 20-minute walk down Sherbrooke Street to the other.
Then it asks you to select a centre and book a time, just like that. Both centres displayed available times for the remaining days of this week with a calendar going forward.
The General was booked, but the CLSC had an opening at 4.40 on Thursday for an inoculation at 4.45. They also ask you to stay on for 15 minutes after the shot to make sure there's no reaction to it. And there's a friendly reminder, since the shot goes in your arm, to wear a short-sleeve shirt. They also send text messages to your mobile phone, one confirming the appointment when it's made and the other a reminder the day before of the time and place. The whole thing took 10 minutes.
All things considered, it could not be easier or more convenient. In the papers and on Twitter, we've all been reading pieces and postings by middle-aged folks across the country writing that the best thing to happen to them and their families in the last year has been a parent or grandparent of a certain age receiving an appointment. They write happily of inter-city travels to accompany them.
In many cases, would-be recipients have waited in line for hours, or crept through crowded parking lots, with no word, Or they've been on hold on the phone for days, occasionally advised by recordings of their waiting times. All to no avail.
Acquisition, storage, distribution and dosage counts are all moving numbers in a federation in which health is a national policy delivered by the provinces in their constitutional jurisdiction. For governments, the situation is unpredictable, for recipients it is confusing and exasperating. As of mid-week, Canadian Press reported 2.6 million Canadians had received at least a single dose, with a forecast of 36 million by the end of July. In the US, President Joe Biden is talking about vaccinating 300 million Americans by then, and has just ordered 100 million doses of the new Johnson & Johnson one shot, non-refrigerated vaccine, which creates a supply problem for Ottawa receiving its advance orders.
In my case: from notification to vaccination within three days. And, OMG, inoculation one year to the day from the WHO declaring the COVID-19 global pandemic.
In Ottawa, the government declared March 11 a National Day of Observance, with all four party leaders speaking briefly in the House Thursday morning, all seeking a degree of partisan advantage, understandable in the circumstances of a minority House, but all of them lacking a sense of occasion which called for them to speak with one voice.
Among the 22,000 Canadian deaths, some 70 percent have occurred in long-term care homes, both public and private, where residents have been overcrowded, abandoned by caregivers working at multiple sites, and living and sleeping in unchanged clothes and beds. Their families have been unable to see them, except for waving through windows. It is the shocking Canadian scandal of the pandemic.
Vaccinations and herd immunity are one reason those numbers have levelled off. Meanwhile the feds and provinces are having the usual fight over $3 billion in LTC funding, to say nothing of the cost of replacing residences built half a century ago, and falling apart right on schedule.
At the CLSC, I asked the receptionist whether the vaccine was Pfizer or Moderna. "Pfizer," she said.
I explained an important local connection to Moderna. Noubar Afeyan, the co-founder and chairman, spent his formative years in Montreal, as a high school student at Loyola, and an engineering student at McGill. His family fled the Lebanese civil war in 1975, and he graduated from Loyola in 1978 and McGill in 1983. He later completed a doctorate from MIT, which moved him into a Boston orbit of what would become Moderna in Cambridge, Mass. In 2018, he was named to the Loyola Hall of Merit, a cohort that includes the likes of the late Jim Flaherty, honoured for their contribution to public policy, innovation and business. It is clear that he's been keeping an eye out for Canada, something the Trudeau government has come to understand.
The receptionist directed new arrivals to one of five nurses in the room. "Just wait till she wipes the chair clean. Her name's Victoria."
"My name is Victoria Bain," she said, proceeding to ask a few questions about allergies and giving me my next appointment, which she also sent to my phone. And then, the needle, though I never felt a thing. From arrival to injection took only five minutes. Amazing. "Thanks Victoria. Is this what you do?"
"Normally I work at the ICU of the Jewish." She said, referring to the intensive care unit of the renowned Jewish General Hospital. "We all feel very lucky to be here."
We are lucky to have her, and all the health care champions on the front line of the pandemic. Thanks also to Quebec, which has done a superb job of the online organizing and in person injection of the vaccines. Full marks to Premier François Legault and his team, as well as Prime Minister Justin Trudeau and Ottawa for its leadership role in buying and distributing the product.
"Your next appointment is July 1," Victoria said.
"That's easy to remember," I said. "A vaccination on Canada Day."
L. Ian MacDonald is Editor and Publisher of Policy Magazine.