From 'Buy American' to Made in North America— Trade and Jobs on Both Sides of the Border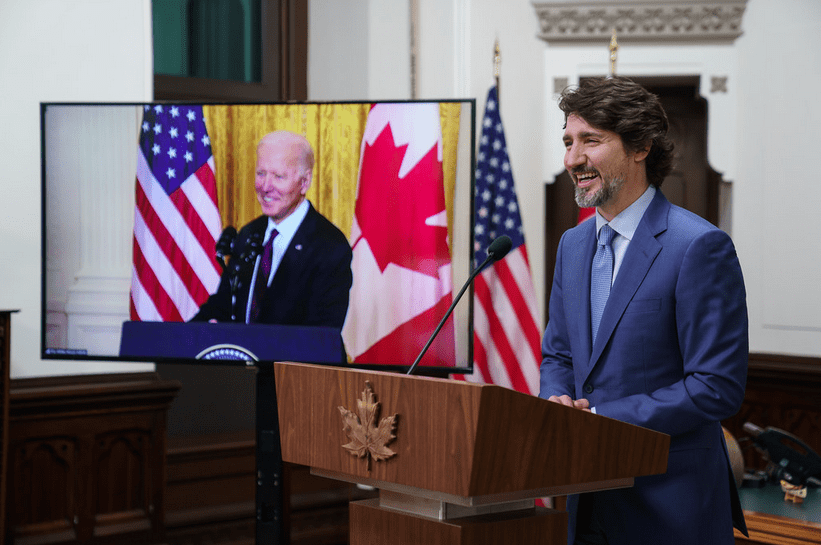 Colin Robertson
April 14, 2021
My experience with "Buy America" began in Albany in 1981 when, with my boss, Consul General Ken Taylor, we traveled from New York City to Albany to press Governor Hugh Carey for relief on "Buy New York" policies affecting sales of Canadian steel and cement.
As Canadian ambassador in Tehran in 1979, Taylor had given sanctuary to six Americans who had escaped when their embassy was occupied by supporters of the Ayatollah Khomeini. Taylor skillfully managed their exit. Cool and strategic, Taylor lived up to his hero's billing (something not captured in Ben Affleck's film Argo). The Americans loved Taylor – Congress had awarded him their gold medal – but as Governor Carey explained, it was politically impossible for him to resist the pressure of his labour base for protectionism and the policy enjoyed broad support amongst legislators.
Over the years I would have similar experiences in different states and on Capitol Hill. "Buy America" never goes away.  Occasionally, using credible arguments around jobs, competitiveness and national security, we would persuade Americans that "Buy North America" made more sense. But the victories are few.
Protectionism, through preferential procurement policies for goods and services, is not particular to the United States. They are practised by all nations, including Canada, and at every level of government.
If all politics is local, so is trade. Voters like their tax dollars spent locally and canny politicians have long recognized their potency and current provisions date back to Franklin Roosevelt's New Deal beginning in 1933.  That it costs more and limits choice are economists' arguments that are outweighed by the belief local purchasing means local jobs. In his supply chain executive order President Joe Biden has ordered a review of four critical sectors: semiconductor manufacturing and packaging, batteries, critical minerals, and pharmaceuticals, as well as year-long studies of major sectors of the economy: defense industrial base, public health, information and communications technology, energy, transportation and agriculture. Taken together, these sectors amount to nearly 60 percent of US GDP.
While polls consistently say that Americans like Canada more than any other nation, in fact more than we like them, the business of America is business. 
Jobs are what President Biden promises Americans and one of his first executive orders was to ensure "the Future Is Made in All of America by All of America's Workers" through preferential procurement or "Buy America" with executive oversight through the Office of Management and Budget. Biden's political future as well as the Democratic majorities in Congress depend on their ability to deliver on jobs and a more equitable distribution of prosperity.
That Canada deserves an exemption from "Buy America" because we are America's friend and neighbour won't wash. While polls consistently say that Americans like Canada more than any other nation, in fact more than we like them, the business of America is business.
With experience we've learned to tackle "Buy America" policies through three main approaches:
First, by negotiating a procurement agreement or reciprocal treatment.
There is no procurement chapter in the recent United States-Canada-Mexico trade agreement, NAFTA 2.0. President Trump took it out, Much of what was in the NAFTA is in the WTO Plurilateral Agreement on Government Procurement but.given the current protectionist mood in Congress, public disenchantment with foreign trade, and the Biden administration's "Made in America" policy the entities on this list are more likely to be scissored out rather than expanded.
As the money, especially in the case of infrastructure,  is usually spent at the state and province level,  we negotiate reciprocal treatment because that is where the money is spent. This is how we gained a piece of President Obama's 2009  Recovery Act  with its half a billion dollar infrastructure stimulus. Prime Minister Stephen Harper turned to the premiers. Premier Jean Charest of Quebec and his successor as Council of the Federation chair, Premier Brad Wall of Saskatchewan. They reached out to their governor counterparts. An advocacy mission by seven premiers to the National Governors' Conference in February, 2010 resulted in a procurement reciprocity agreement.  It did not include every state nor cover every sector but it did open procurement opportunities for Canadians. The arguments made by the premiers still apply:
By opening to outside vendors, local cartels' ability to game the market was curtailed. Competition means better value.
Most states are constitutionally prevented from running deficits so governors, now facing huge costs in public services because of the pandemic, must make their dollars count.
The Canadian threat in 2020 of carefully targeted retaliatory tariffs  in response to Trump's steel and aluminum levies motivated many of those affected American businesses to press for their removal. But it doesn't always work out. While Governor Andrew Cuomo originally relented  in 2017 from proposed "Buy New York" legislation after Ontario pushed back and threatened to adopt reciprocal legislation, he later went ahead and Ontario responded in kind.
Second, with those Americans we buy from and sell to we need to make permanent our advocacy campaign that Canada is a "trusted partner".
When I was leading our advocacy efforts from 2004-06 at our Washington Embassy we created the capacity, using data on Canadian trade and investment and US exports drawing from the US Census, Commerce Department and private sector sources, that gave us a good estimate of the jobs and dollars generated for each state, congressional and legislative district. This impressed legislators and their staff. It became a vital tool in our outreach. It also underlined our core argument that by "making things together" we create mutually-profitable jobs and prosperity.
Autos are a good example. Before a car is assembled its parts have criss-crossed our borders at least six times. Most cars assembled in Canada contain around 60 percent American-made parts – often from a Canadian manufacturer with US operations, like Magna, Martinrea or Linamar.
Given Americans' growing national security concerns about reliable supply chains and resiliency we also need to remind them that we are their closest ally, the source of their energy independence as well as a vital source of the critical minerals required for next-generation manufacturing.
As the US looks to rally the democracies to counter China's efforts to rewrite global rules, it should start with its neighbours.
Working with labour is critical. When our unions are part of the negotiations, as was demonstrated during the USMCA negotiations, we make headway. Leading the charge for "Buy America" are the United Steelworkers of America. Its America's largest industrial union and their membership is both Canadian and American. In the early 1990s we gained respite from "Buy America" on steel tariffs because then-Trade Minister Michael Wilson went to Washington with then-Canadian Steelworkers national director Leo Gerrard. After talks, then-Steelworkers president Lyn Williams (who would be succeeded by Gerard)  said the tariffs should not apply to their Canadian brethren, the George H.W. Bush administration lifted the tariffs.
We also need to underline that our regulatory standards, especially labour and environmental – are commensurate with those of the US. And we need to avoid the  "tyranny of small differences" in regulations that keeps us out of the US market.
Third, we need to remind the Biden administration to "tend their garden" as the late George Shultz put it. A compelling case for American leadership in creating a North America community built on skilled labour, market, energy and innovation has been made by the Council of Foreign Relations (2005) and in studies by General David Petraeus (2015), Ambassador Robert Zoellick (2014) and the Bush Institute (2020). As the US looks to rally the democracies to counter China's efforts to rewrite global rules, it should start with its neighbours.
Making the Canadian case must be a permanent campaign using a variety of tactics. It requires a Team Canada effort involving the prime minister and premiers, cabinets and legislators working with business and labour. Canadian advocacy ultimately depends on Americans intervening to protect their own interests. This only happens after constant interaction between legislators as well as business and labour with Canadians taking the lead in advocacy.
There is no magic bullet for "Buy America". Hoping for an exemption because we are Canadian won't work. We need to make our case as trusted partners: creating jobs, better value and reciprocity; underlining the reliability of our mutually-beneficial supply chains, and our shared values on labour and the environment.
Contributing Writer Colin Robertson, Vice President and Senior Fellow at the Canadian Global Affairs Institute in Ottawa, is a former Consul General of Canada in Los Angeles, and served at the Canadian Embassy in Washington. Adapted from a presentation to the House of Commons Special Committee on the Economic Relationship between Canada and the United States, April 8, 2021.