Friday, September 6, 2019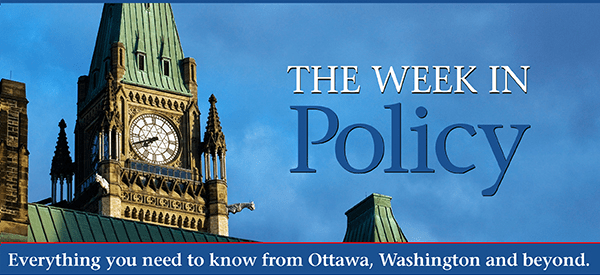 Friday, September 6, 2019
Welcome to The Week in Policy, Policy Magazine's weekly look at developments in policy and politics in Ottawa, Washington and beyond, compiled by Policyassociate editor and Hill Times columnist Lisa Van Dusen.
First Things First: #SheTheNorth
Tomorrow. Arthur Ashe Stadium. 4:00 pm.
Above the Fold: Democracy Strikes Back
There were crucial developments this week in the two evolving narratives — Brexit and Hong Kong — that represent the clash of new world order authoritarian bullying and the growing backlash from human beings whose democratically protected rights and freedoms are in peril. In Britain, Boris Johnson, whose role as the designated driver of a kamikaze Brexit was established the day he declared himself a Leave asset in 2016, had lost the plot by week's end after a disastrous parliamentary debut that included a defection that eliminated his majority, a rebellion by 21 of his MPs who were summarily ousted from the Conservative party (one of them Nicholas Soames, grandson of Winston Churchill) and a series legislative defeats — including a rejection of his call for an October election — that leave his Leave strategy seemingly in tatters. And, oh, his brother Jo quit his cabinet post, citing the impossibility of both supporting his brother's leadership and serving the interests of his country. Interestingly, former Labour PM Tony Blair delivered one of the more rational takes on this crisis in a speech to the Institute for Government on Monday. "What is happening is shocking, irresponsible and dangerous," said Blair, before laying out the rationale for a fresh referendum. Here's the full video. On Friday, the Lords approved a bill precluding the possibility of a no-deal Brexit on Halloween that effectively forces Johnson to secure an extension of Article 50 rather than crash out of the EU. On Thursday, he said he'd rather "die in a ditch" than request an extension. Labour Leader Jeremy Corbyn, now that a no-deal Brexit has been averted, is angling for an October 29th election, apparently because he'd rather face Johnson in an election he's far more likely to lose than address Brexit head-on in another referendum Johnson is more likely to lose. It's complicated, and #RevokeArticle50. Here's the Guardian with a wrap-up of the week, Rebellions, ejections…but no elections. What's next for Brexit?  And, here's Twitter's response to Central Casting PG Wodehouse wanker Jacob Rees Mogg hamming it up as a credit to his class.
In the stand-off between Hong Kong's pro-democracy movement and both Beijing and its proxies on the island, Hong Kong Chief Executive Carrie Lam withdrew the extradition bill that ignited three months of protests. That withdrawal, which happened Wednesday, was one of five demands issued by the protesters, the others being the retraction of the word "riot" to describe rallies; the release of all arrested demonstrators; an independent inquiry into police violence; and free and fair elections. From Beijing's perspective, the withdrawal may have been an effort to re-set the conflict to its original flash point as opposed to the larger battle for democracy against China's encroaching security state that it has become, while framing any subsequent violence as the fault of the protesters for not retreating at this concession. Pro democracy lawmakers said Wednesday the withdrawal is "too little, too late" and student protest leader Keith Fong said he's considering suing Hong Kong police for compensation over his "absurd, unreasonable" arrests, twice in the past month. And, Hong Kongers have begun the nightly habit of Howard Beale-ing their frustrations en masse at 10:00 pm sharp. "We shout at night not because we are crazy. We shout to prevent us and our city from going crazy," one shouter told Hong Kong Free Press.
Meanwhile in Washington, Donald Trump provided the most overwhelmingly convincing justification so far for a media boycott of his absurd, unreasonable presidency.
Your weekly TWIP links:
From Policy Editor L. Ian MacDonald, Campaign 2019: Lady and Gentlemen, Start Your Engines.
From yours truly, Policy Associate Editor @Lisa_VanDusen, my Hill Times column from this week, now re-posted on Policy, The New C-Word, about how we may be due for a semantic reclamation of the word "conspiracy."
From Policy Social Media Editor Grace MacDonald, her conversation with Gretchen McCulloch, Montréal author of the New York Times bestseller Because Internet. Here's Because McCulloch: A Policy Q&A with the Internet's Linguist-in-Chief.
And, from Policy contributor and BMO Chief Economist Doug Porter, this week's Talking Points, Revisiting Econ 101.
In and About Canada: Velvet Glove?
Prime Minister Justin Trudeau named former McKinsey Managing Director and former head of the government's advisory council on economic growth Dominic Barton Canada's new ambassador to China on Wednesday. Barton spent five years as the global consulting behemoth's Asia chairman from 2004-09. The appointment fills a key diplomatic post that has been empty since John McCallum was sacked for his inexplicably pro-China comments about the arrest of Huawei executive Meng Wanzhou eight months ago. It comes at what is arguably the most sensitive juncture in Canada-China relations in recent memory, with Beijing's detention of two Canadians in retaliation for Wanzhou's arrest an ongoing irritant in a bilateral relationship more broadly defined by the tension between China's increasingly brutal and expansionist authoritarian tendencies and Canada's role as an explicit defender of the liberal, democratic and rules-based international order. Trudeau addressed that tension directly during a livestreamed meeting with Toronto Star journalists on Thursday. "Using arbitrary detention as a tool to achieve political goals, international or domestic, is something that is of concern not just to Canada but to all our allies," Trudeau said. The context of the appointment makes it more Kissinger-to-China than Nixon-to-China, with Barton's international expertise and specific knowledge of China and its business culture and economy welcomed by Beijing at a time when any choice for the post would be dissected for optics signaling and symbolic value. On Thursday, Beijing's foreign ministry spokesman, Geng Shuang, confirmed that his government had already approved the appointment, adding pointedly, "We urge Canada to reflect on its mistakes, treat China's solemn stance and concerns seriously, and immediately release Meng Wanzhou, so that she can return home safely." He also announced that Cong Peiwu — who was until July the head of the foreign ministry's Department of North American and Oceanian Affairs — will serve as China's new ambassador to Canada. Here's the PMO announcement of Barton's appointment.
In pre-2019 campaign news, no federal election call by press time but it is Friday afternoon, so that may have been overtaken by the time you read this. Here's CBC's Salimah Sivji with Gaming the writ: the strategy that goes into timing an election call.
Federal NDP Leader Jagmeet Singh dropped his first election ad on Tuesday. Singh proudly leads with his Sikh identity in both versions. The English ad opens with Singh saying "People tell me I'm different from other leaders," and goes on to define that difference as his prioritization of regular voters over special interests. The French ad, aimed at a Québec audience in the wake of the controversial law banning religious clothing by public servants in positions of authority, shows Singh without his turban for the first time in public, then intersperses shots of him tying it on with shots of him boxing over a voice track connecting his own defense of his identity to how he will fight for voters. "I think we want to say to Quebecers that of course he's wearing religious signs because it's part of his identity and he's proud of that," Montreal MP Alexandre Boulerice, the party's deputy leader, told CTV News. "But it's also to say it's not the end of the world and he can show his head without a turban and it's not a big deal." Here's Kristy Kirkup in the Globe and Mail withJagmeet Singh addresses turban head-on with new Quebec NDP advertisement.
Meanwhile, as The Hill Times'  Samantha Wright Allen reports, there are four weeks left for parties to name candidates, and the Greens, Liberals and NDP have 270 candidates combined yet to be named.
#Election2019 Circus Watch
In what seems to have been yet another nonsensical bit of rabbit-hole tactical inanity, this time aimed at the federal NDP and, possibly, the federal Green Party by association, a group of New Brunswick NDP candidates that allegedly defected to the Greens on Tuesday had partly un-defected by Thursday, etc. etc. We'll just let you read into the CBC piece.
America Watch: Hostage Farce

AP
While Donald Trump was busy still leveraging the Oval Office as a lure to catfish the White House press corps into a fake relationship with a presidential impersonator, his administration hummed along behind the scenes, madly deregulating America into 1955. This week's gem was a scrapping of the rule phasing out energy inefficient, incandescent light bulbs. Of slightly less consequence, Jared Kushner has lost the Middle East envoy charged with catfishing the Palestinians into an apocryphal peace plan.
2020 Watch: Granite State Shift

Getty
Much of the early attention so far in the 2020 race has been on Iowa. The spotlight will shift to New Hampshire this weekend as the somewhat winnowed 2020 fielddescends on Manchester for the state Democratic Party's convention. Here's the Union Leader's Kevin Landrigan with the set-up piece, Presidential hopefuls hope to stand out at Democratic state convention.
World Watch: Death of a Dictator

Bloomberg
We lead our World section this week with the death of former Zimbabwe president and notoriously brutal dictator Roberta Mugabe on Friday. He was 95. Mugabe, whose evolution from anti-colonial freedom fighter to personification of the practical and moral corruption of absolute power defined the life of his country for nearly four decades, was ousted in a military coup in 2017. Despite the euphoria Zimbabweans expressed at the time after years of political oppression and avoidable economic degradation presided over by a man who became a caricature of the most degrading stereotypes of African governance, his successor, President Emmerson Mnangagwa, has so far dashed their hopes of a return to democracy. China, which is Zimbabwe's largest foreign investor and whose economic clout has produced similar anti-democratic outcomes across Africa and elsewhere, is reported to have been behind Mnangagwa's succession of Mugabe. Here's the Guardian with He left us in this mess: Zimbabweans react to Mugabe's death. And, here's Uncle Bob, a CBC package published not long before Mugabe's ouster that captures the terrible impact he had on the lives of his fellow Zimbabweans.
European Union: Conte de Fée

AFP
Outgoing IMF chief Christine Lagarde was confirmed in her new role succeeding Mario Draghi as president of the European Central Bank by the European Parliament's Committee on Economic and Monetary Affairs (ECON) on Wednesday.The full European Parliament is set to approve the appointment during the week of September 16 in Strasbourg. In an attempt to calibrate expectations of what central bankers can do, Lagarde at one point told MEPs she's "not a fairy," adding that EU member states should "use the fiscal space available to them" to protect the economy. Days before her hearing Wednesday, Lagarde delivered an address at German Chancellor Angela Merkel's honoris causa ceremony at the Leipzig Graduate School of Management that provided a timely look at leadership, the "Four Ds" of Merkel's management style — diplomacy , diligence, determination, and duty — and her love of opera. Here's the Bloomberg piece.
Climate Watch: Fear Factor
From the Department of Pots and Kettles, Peoples Party Leader Maxime Bernier doubled down on his membership in the global club of faux-populist Outrage Annies this week by picking on a 16-year-old girl with braids. Bernier, whose Trumpian use of fear as a political weapon has defined his most recent political incarnation, accused climate activist Greta Thunberg of using fear as a political weapon, among other taunts too rancid to repeat. "When haters go after your looks and differences," Thunberg, who has Asperger's syndrome, tweeted recently, "it means they have nowhere left to go. And then you know you're winning!" In other asymmetrical attacks on teenagers by new world order thugs this week, Beijing indulged in precisely the sort of anti-social, inappropriate behaviour that would see quite a few points docked from its Orwellian social credit score in less hypocritical circumstances when it outsourced a deterrent, videotaped assault of high school students in a playground raid to Hong Kong police.
Noteworthy: The Whole Truth
The New York Times' 1619 Project observes the 400th anniversary of the arrival of the first enslaved African people in America and explores how the economic model that exploited human suffering and systemic racism as commodities for 250 years has defined so much of U.S. history. A three-month editorial series launched Aug. 18 with a special issue of The New York Times Magazine, the project has enlisted prominent Black writers and artists to address subjects from slavery's impact on modern labor practices to the role of racism in America's status as the only industrialized nation without universal health care. It also includes a five-part audio series, recurring stories and Times live events in New York and Washington, D.C.
Podcasts: Peter Principle
We have some excellent news about the looming uptick in your intake of 2019 federal campaign content. Former anchor of CBC's The National and current Policy Magazine contributing writer Peter Mansbridge is launching The Bridge, his nightly campaign podcast. The Bridge will launch when the campaign does. Details available here. Meanwhile, you can read Peter's piece in our Campaign 2019 issue of Policy, The Debate that Changed Debates, about Brian Mulroney's knockout 1984 moment.
Books: Encore
International treasure and oracle of our creeping dystopia Margaret Atwood is once again on the Booker Prize shortlist, this time for her sequel to The Handmaid's Tale, The Testaments. The £50,000 annual award goes to the best original novel written in English published in the U.K. (not to be confused with the International Booker). Salman Rushdie's Quichotte is among the five other titles on the list. The Testaments will be published Sept. 10 and the winner will be announced Oct. 14. "There is a strange pleasure in knowing the secret of the publishing juggernaut that is The Testaments and an exquisite agony in being unable to share it yet," the judges said in a statement. Here's Erin Balser with the CBC Books piece. The Testaments is also long-listed for the Scotiabank Giller Prize.
Here's your handy, one-stop link for all the great CBC Books fall lists, from Canadian fiction to international non-fiction.
Here's the New York Times Book Review with 9 New Books we Recommend this Week.
And, here's the Book Marks Best Reviewed Books of the Week.
Quote of the Week
"You are never really playing an opponent. You are playing yourself, your own highest standards, and when you reach your limits, that is real joy."
Arthur Ashe
Our Campaign 2019 Issue
Four years after Justin Trudeau became the first son of a prime minister to be elected to the office himself, his Liberal government will seek a second mandate from the Canadian people on Oct. 21. Our Policy Magazine Campaign 2019package includes status reports on all four major parties from respected strategists, a look at the government's fiscal house, an update on the security of our election infrastructure, foreign policy as a campaign issue and more. It's all yours…
In this Issue:
Lori Turnbull of Dalhousie University takes us through a key set of numbers, specifically the number of seats needed to form a majority government in the 338-seat House. Here's The Road to 170.
In Sunny Ways Redux? Not so Fast, John Delacourt, former director of communications of the Liberal Research Bureau, says this campaign is a test whose outcome should not be taken for granted.
For Conservative strategist Yaroslav Baran, the campaign offers an opportunity for Andrew Scheer to play to his soccer dad advantage. Here's The Scheer Strength: Relatability.
In The NDP's Ballot Question, Former federal NDP president Brian Topp writes that there is no point in the New Democrats simply running to get rid of Trudeau since "The short road to doing this is to elect a Conservative government."
For Elizabeth May and the Greens, the 2019 election represents a moment. As Ziya Tong writes in M'ayday! M'aidez!, the question is how May will weather the scrutiny.
In the modern era, democracies are aware of threats to their elections, of which the 2016 U.S. election cycle was the most obvious example. In Protecting Elections in a new Threat Environment, Democratic Institutions Minister Karina Gould writes of Canada's protective and pre-emptive response.
The early signs of Maxime Bernier's increasingly Trumpian profile raise the question of whether populism is growing in Canada. Patrick Gossage, former press advisor to Pierre Trudeau, wonders Could it Happen Here?
One of the mega-issues in this campaign is bound to be climate change and carbon taxes, which Don Newman explores in The 'Big E' Election—Energy and the Environment.
After a 2015 campaign in which fiscal policy played a surprising role, former Parliamentary Budget Officer Kevin Page examines the Trudeau government's record and asks Is Fiscal Responsibility an Issue in the 2019 Campaign?
With gender parity having been a major theme of the Trudeau government's first term, Helaina Gaspard and Emily Woolner of the Institute of Fiscal Studies and Democracy look at Canada's gender-based analysis in Because it's 2019: Checking in on Gender Budgeting in Canada.
Foreign policy is rarely a major issue in Canadian campaigns, but with global tensions being what they are, this time could be different. Our foreign affairs sage, Jeremy Kinsman, has Being Back: Foreign Policy as a Campaign Issue.
In Could Health Care Be on the Ballot Again? Shachi Kurl of the Angus Reid Institute writes "For the first time in a long time, party leaders find themselves compelled to say something about our physical well being."
In a guest column, Diabetes Canada President Jan Hux warns that, while U.S. politicians are leading insulin pilgrimages across the border, Canada Has its Own Diabetes Crisis.
Most campaigns have defining moments and in the modern Canadian political era, none more so than the 1984 leaders' debate. Peter Mansbridge captures the drama of the exchange between John Turner and Brian Mulroney in The Debate that Changed Debates.
And, in his regular column. Don Newman provides a prescription for mitigating chaos in the event of a minority House. Here's In Case of Minority, Break Glass.
Finally, we offer timely reviews of two important books of this season. Former Maclean's Editor-in-Chief Bob Lewis looks at Trudeau: The Education of a Prime Minister and finds that John Ivison's biography "fairly bristles with anecdotes and examples of a flawed prime ministry." And, Robin Sears is struck by the personal courage of NDP Leader Jagmeet Singh in his autobiography, Love & Courage.
That's it for this week. Thanks so much for joining us. To subscribe to TWIP, click here or email lianmacdonald@gmail.com. And many thanks to those of you who've already subscribed.
If you enjoy The Week in Policy, you'll probably like our magazine. To subscribe to Policy, click here.
And, if you have any suggestions or complaints for TWIP, fire me off an email at lvandusen@policymagazine.ca.
Have a fabulous weekend.
@Lisa_VanDusen