Friday, September 27, 2019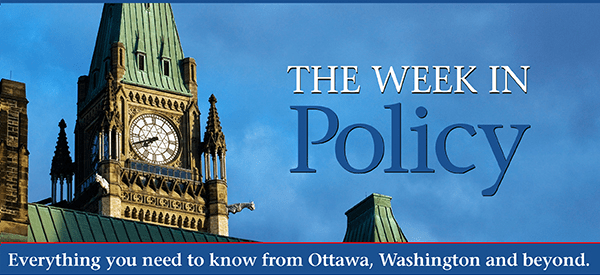 Friday, September 27, 2019
Welcome to The Week in Policy, Policy Magazine's weekly look at developments in policy and politics in Ottawa, Washington and beyond, compiled by Policyassociate editor and Hill Times columnist Lisa Van Dusen.
First Things First: Beautiful Day

AFP
Climate activist and unofficial ambassador for the transformative value of female righteous indignation Greta Thunberg is in Montréal at press time on a gorgeous fall day to head a Friday climate strike across Canada. As marches had already begun around the world for this week's #FridaysForFuture protest, Thunberg,16, met with Prime Minister Justin Trudeau — and told him he's not doing enough to fight climate change — before addressing protesters at an event with Indigenous and environmental leaders. "It is very moving to see everyone, everyone who is so passionate to march and strike, people of all ages and all generations," she told the crowd (above). Here's the Montréal Gazette's live blog from the protest, which is expected to draw 300,000 people. Following his meeting with Thunberg, Trudeau announced that if re-elected, the Liberals will plant 2 billion trees in the fight against climate change.
Above the Fold: The Beginning of the End?

Washington Post/Getty
Thirty-two months after he was inaugurated president of the United States following an election campaign that exposed American democracy to new lows of political corruption, Donald Trump is now the target of an official impeachment inquiry. House Speaker Nancy Pelosi confirmed the launch of the congressional investigationagainst the disruptive, relentlessly untruthful president on Tuesday. Pelosi chose her moment after months of urging caution on impeachment and less than two weeks after the revelation that an intelligence community whistleblower had been prevented by the Director of National Intelligence from talking to Congress. That whistleblower — whose identity remains unknown at press time — had exposed events surrounding Trump's abuse of his office to strong-arm Ukrainian President Volodymyr Zelensky during an Oval Office phone call on July 25 into investigating former vice president and 2020 presidential contender Joe Biden and his son's business interests in the country, while delicately holding a knife to the throat of US military aid to Ukraine. Here's the New York Times with 'Do Us A Favour: Call Shows Trump's Interest in Using U.S. Power for His Gain. Here's the text of the whistleblower complaint. Here's the transcript of the phone call between Trump and Zelensky at the center of the story. Here's CNN Thursday with Pelosi taps House Intel to lead narrow impeachment push over Ukraine scandal. This impeachment process comes 21 years after Bill Clinton was impeached for lying under oath and attempting to obstruct justice to cover up his affair with White House intern Monica Lewinsky. He was acquitted in the Senate and served out his second term in office. Here's the New York Times with How the Impeachment Process Works. And, here's Pelosi in conversation with Mika Brzezinski and Joe Scarborough on Morning JoeFriday morning.
Your weekly TWIP links:
From Policy Editor L. Ian MacDonald, An Inauspicious Beginning.
From yours truly, Policy Associate Editor @Lisa_VanDusen, my Hill Times column from this week, now re-posted on Policy, From Baghdad to Brexit: Britain's Bookend Mea Culpas.
From Policy Social Media Editor Grace MacDonald, her conversation with Gretchen McCulloch, Montréal author of the New York Times bestseller Because Internet. Here's Because McCulloch: A Policy Q&A with the Internet's Linguist-in-Chief.
And, from Policy contributor and BMO Chief Economist Doug Porter, this week's Talking Points, The Impeachment Bunch (complete with Porter-penned theme song to be crooned to the tune of The Brady Bunch).
#elxn43: Three (and a half) More Weeks!
Aah, the modern election campaign: The bombshells, the unknown knowns, the teeth-gnashing polls, the single-use coffee cup Photoshop scandals. It's almost — but not quite — enough to make you pine for Orwellian autocracy. As Canada's federal election careens toward a predictably unpredictable outcome on Oct. 21st, the horse race between the two major parties remains too close to call. With all three leaders of the traditional main parties — the governing Liberals, the Conservatives and the New Democrats — attempting to unveil policy platforms amid the din of trending mini-outrages, claims and counter-claims, journalists are desperately resorting to pushing carked campaign buses just to avoid filing. Here's the round-up of campaign opinion: Andrew Coyne in the National Post with Bad policy versus no policy: The real difference between Conservatives and Liberals. Here's Chantal Hébert in The Star with Why a second-place finish for Trudeau's Liberals makes Conservatives nervous. Here's Shree Paradkar in The Star with Giving Maxime Bernier a platform legitimizes his dangerous ideas.
It was a big week for climate and environmental policy, beginning with the pre-General Assembly UN climate summit and ending with Friday's Montreal climate strike march. Trudeau unveiled a package of tax incentives for clean tech companiesTuesday designed to push Canada to net-zero emissions by 2050, per the pledge made by the European Union and others at the United Nations Climate Action Summit on Monday. NDP Leader Jagmeet Singh unveiled his party's climate action plan in Winnipeg on Tuesday, including the creation of 300,000 green jobs, the end of subsidies for the fossil fuel industry and formation of a publicly funded $15-billion "climate bank" to bolster emission reductions. On Wednesday, as CBC's Mark Gollom reported, Trudeau and Scheer offered duelling green retrofit programs to homeowners and trashed each other's climate plans. On Thursday, Green Party Leader Elizabeth May said her party would cancel proposed pipeline projects and transition Canada to a carbon-free grid system. On Friday, May said in an interview on CBC's Daybreak that the election is a referendum on climate change.
America Watch: Hallelujah

AP
There was a second astounding turning point this week in Donald Trump's relentlessly astounding presidency. During Trump's response news conference Wednesday to Pelosi's announcement of an impeachment inquiry, something seismic happened amid the usual rambling, fathomless dissembling. One cable network carrying it live actually cut away from that coverage. "We hate to do this, really," MSNBC anchor Nicolle Wallace said as video of Mr. Trump, midsentence, was summarily minimized to the corner of viewers' screens, "But the president isn't telling the truth." Meanwhile, on CNN, Wolf Blitzer stuck it out until Trump wrapped it up but said, "The president leveled several distortions, falsehoods in the course of that 45 minutes" when it was done. "Mr. Blitzer's network colleague Jeffrey Toobin called the appearance a "torrent of lies," per the New York Times. "In words broadcast live to millions of viewers, Mr. Trump, without evidence, alleged that former Vice President Joseph R. Biden Jr. and his son had profited from dealings in Ukraine," reported the Times' Michael Grynbaum. "He insulted journalists and accused The Washington Post of publishing a 'fake article.' He asserted without evidence that Senator Chris Murphy of Connecticut had 'threatened' Ukrainian officials and claimed that Democrats had timed their impeachment inquiry to disrupt his trip to the United Nations." On ABC, anchor George Stephanopoulos interrupted the broadcast, saying that there was "no evidence" to support Trump's claims about the Bidens. On NBC, Andrea Mitchell said the accusations against Mr. Murphy were "contrary to any information we have." "We don't know what he's talking about," Ms. Mitchell added.
2020 Watch: Split Screen
Before anyone could say "articles of impeachment" this week, politicos were assessing the impact of a fresh impeachment inquiry on the pre-primary field of 2020 Democratic candidates. Joe Biden (above, on Jimmy Kimmel Live Wednesday) who was the target of the abuse of power recorded in Trump's White House shakedown of a foreign leader, was the most obvious beneficiary of the president's negative attention. Beyond that, the general sense is that the former vice president and Elizabeth Warren have enough traction to maintain their slice of the political bandwidth amid the daily coverage of proceedings on the Hill. Two upper-mid tier candidates, Kamala Harris and Amy Klobuchar, are former prosecutors whose expertise could give them additional lift in this new, highly procedural context. Here's the New York Times with Why Impeachment Might Be Trouble for Some Democratic Presidential Candidates.
Brexit Watch: Gobsmacking Boris

BBC
While Nancy Pelosi was calling time on one new world order nutter on this side of the Atlantic this week, Lady Brenda Hale (henceforth to be known as Notorious LBH), president of the Supreme Court of the United Kingdom, gave unruly sixth former Boris Johnson a good legal birching, announcing the court's unanimous ruling that his prorogation of Parliament was unlawful. The verdict of the 11 justices, read by Baroness Hale, expertly kippered Number 10's justification for attempting to sideline the Parliament for five weeks ahead of the Halloween Brexit deadline, by which point Johnson has repeatedly vowed, like a madman strapped to a bomb, to unleash economic, political and geopolitical catastrophe against his own country. Here's CNN's Hala Gorani expressing the widespread gobsmack Baroness Hale delivered in real time. In the way of such things these days, Johnson responded first by disdaining the decision in his comments, then by doubling down on disruption by making the House of Commons look toxic and dysfunctional for the next two days, confirming yet again that he's in some sort of anti-democracy arse-off with Donald Trump. Here's the Washington Post with After Supreme Court Defeat, Boris Johnson Taunts Parliament. Here's the New York Times with Big Spider Love: The Brooch that Ate Brexit, about the Baroness Hale brooch that went viral.
World Watch: Couille dans le potage?
The 74th session of the United Nations General Assembly opened this week with a passionate defence of multilateralism by French President Emmanuel Macron. What is missing from the current global political context, Macron said, is "the courage of responsibility." Macron also urged an end to the international sanctions on Iran and a resumption of negotiations between Washington and Tehran. In Trudeau's campaign-related absence, Canada was represented at Turtle Bay this year by a delegation headed by Deputy Minister of Foreign Affairs Marta Morgan that included former prime ministers Joe Clark and Jean Chrétien. Here's the New York Timeswith What Happened at the UN General Assembly.
Israel

GPO
From the Department of It Ain't Over 'Til It's Over, after two weeks of carefully contingent political obituaries, Benjamin Netanyahu was was asked Wednesday to form Israel's next government by President Reuven Rivlin. Rivlin (above centre) gave the mandate to form government to Netanyahu (above right) after he received support from 55 Knesset members, compared with Blue and White Leader Benny Gantz's (above left) 54. Netanyahu has until Oct. 24 to fashion a working coalition in the Knesset. Here's the Jerusalem Post piece. Remember when Israeli election outcomes generated endless zettabytes of analysis on the implications for the Middle East Peace Process? Remember the Middle East Peace Process? Yeah, us too.
Noteworthy: Eureka

The Observer
In what was once an annual, geeky curiosity click but has become a blessed antidote to pervasive lunacy, the MacArthur genius grants for 2019 were announced this week. The 26 winners of the $625,000 no-strings-attached award paid over five years include seven writers, a neuroscientist, a choreographer and an urban planner, among others. Ocean Vuong, above, author of the acclaimed novel On Earth We Are Briefly Gorgeous, is among the 2019 fellows. Here's the CNN wrap. And here's the foundation's winners' profiles page.
Books: Les livres chez nous

Argo Books
Since we opened the brief in Montréal and Montréal happens to be where TWIP is assembled, we're using the book blurb this week as a shameless plug for the city's many English, French and language-neutral independent booksellers (my own "local", Argo Bookshop, above). From the McGill-adjacent Paragraphe to Outremont's cool Drawn & Quarterly to Librairie Gallimard on the Main to Westmount's Appetite for Books, they are not only retail destinations but social hubs. Here's 16 Montréal book nooks you need to know and A Guide to Montréal's Best Bookshops.
Here's your handy, one-stop link for all the great CBC Books fall lists, from Canadian fiction to international non-fiction.
Here's the New York Times with 18 New Books to Watch for in October, including Zadie Smith's first book of short stories, Grand Union: Stories.
And, here's the Book Marks Best Reviewed Books of the Week.
Our Campaign 2019 Issue
Four years after Justin Trudeau became the first son of a prime minister to be elected to the office himself, his Liberal government will seek a second mandate from the Canadian people on Oct. 21. Our Policy Magazine Campaign 2019package includes status reports on all four major parties from respected strategists, a look at the government's fiscal house, an update on the security of our election infrastructure, foreign policy as a campaign issue and more. It's all yours…
In this Issue:
Lori Turnbull of Dalhousie University takes us through a key set of numbers, specifically the number of seats needed to form a majority government in the 338-seat House. Here's The Road to 170.
In Sunny Ways Redux? Not so Fast, John Delacourt, former director of communications of the Liberal Research Bureau, says this campaign is a test whose outcome should not be taken for granted.
For Conservative strategist Yaroslav Baran, the campaign offers an opportunity for Andrew Scheer to play to his soccer dad advantage. Here's The Scheer Strength: Relatability.
In The NDP's Ballot Question, Former federal NDP president Brian Topp writes that there is no point in the New Democrats simply running to get rid of Trudeau since "The short road to doing this is to elect a Conservative government."
For Elizabeth May and the Greens, the 2019 election represents a moment. As Ziya Tong writes in M'ayday! M'aidez!, the question is how May will weather the scrutiny.
In the modern era, democracies are aware of threats to their elections, of which the 2016 U.S. election cycle was the most obvious example. In Protecting Elections in a new Threat Environment, Democratic Institutions Minister Karina Gould writes of Canada's protective and pre-emptive response.
The early signs of Maxime Bernier's increasingly Trumpian profile raise the question of whether populism is growing in Canada. Patrick Gossage, former press advisor to Pierre Trudeau, wonders Could it Happen Here?
One of the mega-issues in this campaign is bound to be climate change and carbon taxes, which Don Newman explores in The 'Big E' Election—Energy and the Environment.
After a 2015 campaign in which fiscal policy played a surprising role, former Parliamentary Budget Officer Kevin Page examines the Trudeau government's record and asks Is Fiscal Responsibility an Issue in the 2019 Campaign?
With gender parity having been a major theme of the Trudeau government's first term, Helaina Gaspard and Emily Woolner of the Institute of Fiscal Studies and Democracy look at Canada's gender-based analysis in Because it's 2019: Checking in on Gender Budgeting in Canada.
Foreign policy is rarely a major issue in Canadian campaigns, but with global tensions being what they are, this time could be different. Our foreign affairs sage, Jeremy Kinsman, has Being Back: Foreign Policy as a Campaign Issue.
In Could Health Care Be on the Ballot Again? Shachi Kurl of the Angus Reid Institute writes "For the first time in a long time, party leaders find themselves compelled to say something about our physical well being."
In a guest column, Diabetes Canada President Jan Hux warns that, while U.S. politicians are leading insulin pilgrimages across the border, Canada Has its Own Diabetes Crisis.
Most campaigns have defining moments and in the modern Canadian political era, none more so than the 1984 leaders' debate. Peter Mansbridge captures the drama of the exchange between John Turner and Brian Mulroney in The Debate that Changed Debates.
And, in his regular column. Don Newman provides a prescription for mitigating chaos in the event of a minority House. Here's In Case of Minority, Break Glass.
Finally, we offer timely reviews of two important books of this season. Former Maclean's Editor-in-Chief Bob Lewis looks at Trudeau: The Education of a Prime Minister and finds that John Ivison's biography "fairly bristles with anecdotes and examples of a flawed prime ministry." And, Robin Sears is struck by the personal courage of NDP Leader Jagmeet Singh in his autobiography, Love & Courage.
That's it for this week. Thanks so much for joining us. To subscribe to TWIP, click here or email lianmacdonald@gmail.com. And many thanks to those of you who've already subscribed.
If you enjoy The Week in Policy, you'll probably like our magazine. To subscribe to Policy, click here.
And, if you have any suggestions or complaints for TWIP, fire me off an email at lvandusen@policymagazine.ca.
Have a fabulous weekend.
@Lisa_VanDusen