Friday, September 13, 2019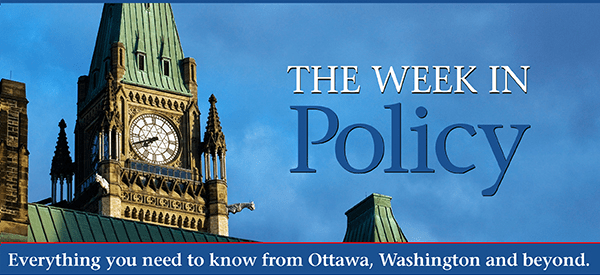 Friday, September 13, 2019
Welcome to The Week in Policy, Policy Magazine's weekly look at developments in policy and politics in Ottawa, Washington and beyond, compiled by Policyassociate editor and Hill Times columnist Lisa Van Dusen.
TWIP Special Edition: It's Official

Reuters
Prime Minister Justin Trudeau made the conventional call on the Governor General Wednesday (above, with wife Sophie Grégoire) to request that Julie Payette dissolve Parliament (here's the actual proclamation), launching Canada's 43rd general election, Oct. 21. Four years after sweeping the country in a landslide seen as both a repudiation of longtime Conservative Prime Minister Stephen Harper and an endorsement of Trudeau's positive tone and fiscal stimulus policies, the Liberal PM faces a more fragmented field of challengers but with evolving story lines — including SNC Lavalin and Québec's Bill 21 controversy — that could supply attack fodder. Among the other party leaders and on the "campaigns matter" front, Conservative Andrew Scheer has yet to imprint a quantifiable leadership brand on voters, NDP Leader Jagmeet Singh has struggled to mount a national strategy that includes making inroads in Quebec and Green Party Leader Elizabeth May is straddling the positive of the party's recent provincial breakthroughs and the pressure of the additional scrutiny a double-digit polling presence brings (see below for all these angles and more covered in our Campaign 2019 issue). Lurking in the sidebars; Maxime Bernier's Trumpian People's Party and the Bloc Québecois under Yves-François Blanchet. Here, from CPAC, are the leaders launching: Trudeau at Rideau Hall on Wednesday; Scheer addressing supporters in Trois-Rivières; Singh in London, Ont.; May in Victoria; Blanchet in Québec City and Bernier in Toronto. The campaign narrative so far on the substantive front is Trudeau pitching a "stay the course" message based largely on a positive economic record and Scheer kitchen-countering with "affordability". Here's CP with In their words: Quotes from Day 1 of the federal election campaign. And, in what has become a tradition of election campaigns everywhere, the early casualty count from social media scouring.
The first debate of the campaign, hosted by Maclean's and moderated by Paul Wells, was held Thursday night with May, Scheer and Singh. Trudeau, who has agreed to participate in the two debates organized by the new debate commission(English scheduled for Oct. 7, French for Oct. 10), skipped it for a campaign event in Edmonton. The Munk debate on foreign policy, which Trudeau has declined to attend, will be held on Oct. 1 in Toronto. Thursday night's debate generated some positive reviews for Singh and May, who produced a moment that rivalled her sassy 2015 peace sign. Here's Maclean's with The Elizabeth May show and the first leaders debate and Jagmeet Singh's moment to shine — and get a little angry. Here's Singh's Friday speech to the Canadian Club in Toronto.
The latest Nanos tracking numbers as of Thursday show Trudeau the preferred choice for PM at 33.6 per cent followed by Scheer at 22.7 per cent, May at 8.1, Singh at 7.4, and Bernier at 2.4. Undecideds are at 24 per cent. Nik Nanos tells us the nightly tracking kicks in Saturday, and you can follow him @niknanos for those numbers.
In early campaign analysis and opinion: The Star's Chantal Hébert with SNC Lavalin and Québec's ban on religious symbols become surprise sleeper issues; Postmedia's Christie Blatchford with why Trudeau can dodge those two issues; CBC's Robyn Urback with The NDP should've been the 'change option' this election. Instead, it's grasping for relevance; Paul Wells in Maclean's with Election 2019: What's the big idea?;  Andrew Coyne for Postmedia with The question of what Trudeau is hiding is not going to go away; And, his colleague, John Ivison, with Trudeau the Brand starts election campaign in unfamiliar role of prohibitive favourite.
We briefly interrupt your special election package to report a non-election headline that certainly seems like it could be a classic tip-of-the-iceberg story. Here's RCMP intelligence director Cameron Ortis charged with violating secrets act.
Here at Policy, we'll be leaving the breaking news coverage to the daily media and tireless embeds on the campaign trail but dropping regular columns from @LIanMacDonald, me, @Lisa_VanDusen, social media editor Grace MacDonald and our Policy contributors, while updating you weekly in TWIP. And, to our readers from all parties who are running in, staffing or volunteering on this election — have an excellent campaign.
Otherwise and Elsewhere this Week:
House Democrats approve guidelines for impeachment hearings (CBS News)
Johnson denies lying to Queen about prorogation (BBC News)
John Bercow: I'll stop Boris Johnson breaking the law on Brexit (The Guardian)
The fake presidency of Donald Trump achieves peak preposterousness (Guardian story, our headline)
Our own must-read campaign issue:
Four years after Justin Trudeau became the first son of a prime minister to be elected to the office himself, his Liberal government will seek a second mandate from the Canadian people on Oct. 21. Our Policy Magazine Campaign 2019package includes status reports on all four major parties from respected strategists, a look at the government's fiscal house, an update on the security of our election infrastructure, foreign policy as a campaign issue and more. It's all yours…
In this Issue:
Lori Turnbull of Dalhousie University takes us through a key set of numbers, specifically the number of seats needed to form a majority government in the 338-seat House. Here's The Road to 170.
In Sunny Ways Redux? Not so Fast, John Delacourt, former director of communications of the Liberal Research Bureau, says this campaign is a test whose outcome should not be taken for granted.
For Conservative strategist Yaroslav Baran, the campaign offers an opportunity for Andrew Scheer to play to his soccer dad advantage. Here's The Scheer Strength: Relatability.
In The NDP's Ballot Question, Former federal NDP president Brian Topp writes that there is no point in the New Democrats simply running to get rid of Trudeau since "The short road to doing this is to elect a Conservative government."
For Elizabeth May and the Greens, the 2019 election represents a moment. As Ziya Tong writes in M'ayday! M'aidez!, the question is how May will weather the scrutiny.
In the modern era, democracies are aware of threats to their elections, of which the 2016 U.S. election cycle was the most obvious example. In Protecting Elections in a new Threat Environment, Democratic Institutions Minister Karina Gould writes of Canada's protective and pre-emptive response.
The early signs of Maxime Bernier's increasingly Trumpian profile raise the question of whether populism is growing in Canada. Patrick Gossage, former press advisor to Pierre Trudeau, wonders Could it Happen Here?
One of the mega-issues in this campaign is bound to be climate change and carbon taxes, which Don Newman explores in The 'Big E' Election—Energy and the Environment.
After a 2015 campaign in which fiscal policy played a surprising role, former Parliamentary Budget Officer Kevin Page examines the Trudeau government's record and asks Is Fiscal Responsibility an Issue in the 2019 Campaign?
With gender parity having been a major theme of the Trudeau government's first term, Helaina Gaspard and Emily Woolner of the Institute of Fiscal Studies and Democracy look at Canada's gender-based analysis in Because it's 2019: Checking in on Gender Budgeting in Canada.
Foreign policy is rarely a major issue in Canadian campaigns, but with global tensions being what they are, this time could be different. Our foreign affairs sage, Jeremy Kinsman, has Being Back: Foreign Policy as a Campaign Issue.
In Could Health Care Be on the Ballot Again? Shachi Kurl of the Angus Reid Institute writes "For the first time in a long time, party leaders find themselves compelled to say something about our physical well being."
In a guest column, Diabetes Canada President Jan Hux warns that, while U.S. politicians are leading insulin pilgrimages across the border, Canada Has its Own Diabetes Crisis.
Most campaigns have defining moments and in the modern Canadian political era, none more so than the 1984 leaders' debate. Peter Mansbridge captures the drama of the exchange between John Turner and Brian Mulroney in The Debate that Changed Debates.
And, in his regular column. Don Newman provides a prescription for mitigating chaos in the event of a minority House. Here's In Case of Minority, Break Glass.
Finally, we offer timely reviews of two important books of this season. Former Maclean's Editor-in-Chief Bob Lewis looks at Trudeau: The Education of a Prime Minister and finds that John Ivison's biography "fairly bristles with anecdotes and examples of a flawed prime ministry." And, Robin Sears is struck by the personal courage of NDP Leader Jagmeet Singh in his autobiography, Love & Courage.
Your weekly TWIP links:
From Policy Editor L. Ian MacDonald, Campaign 2019: Lady and Gentlemen, Start Your Engines.
From yours truly, Policy Associate Editor @Lisa_VanDusen, my Hill Times column from this week, now re-posted on Policy, Cloud Nein: Saving Fiction from Truth Stranger than Fiction.
From Policy Social Media Editor Grace MacDonald, her conversation with Gretchen McCulloch, Montréal author of the New York Times bestseller Because Internet. Here's Because McCulloch: A Policy Q&A with the Internet's Linguist-in-Chief.
And, from Policy contributor and BMO Chief Economist Doug Porter, this week's Talking Points, The Yield Also Rises.
Podcasts: Plane Talk
Our quick list of election podcasts:
CBC's Front Burner with P&P host Vassy Kapelos and polling wiz Éric Grenier.
Peter Mansbridge's daily take, The Bridge.
Rosemary Barton's At Issue panel podcast.
Blue Sky Strategy Group's weekly What You Need to Know.
Books: Cramming
One of the under-appreciated knock-ons of the fixed election calendar? The two hot political books in Canada this fall landed just in time for you to supplement your daily bombardment of campaign coverage with behind-the-scenes looks at the incumbent with Aaron Wherry's Promise and Peril: Trudeau in Power and John Ivison's Trudeau: The Education of a Prime Minister. Be sure to read the review of the Ivison book in our Campaign 2019 issue by former Maclean's ME Bob Lewis.
In book news across the pond, another entry in the revisionist political biography sub-genre we like to call the what happened memoir. David Cameron's For the Record, in which the former UK prime minister attempts to explain his actions in precipitating the misleading, amateurish and ultimately corrupted referendum that was the narrative catalyst for the relentless sh*tshow known as Brexit lands next week. Here's the Guardian with Signs of trouble before Cameron book hits shelvesand Cameron accuses Johnson and Gove of behaving appallingly over Brexit.
And, to close on a happier note, Margaret Atwood's The Testaments dropped this week. The author unveiled her sequel to The Handmaid's Tale with a reading at the great Waterstones flagship Piccadilly branch on Monday at midnight, complete with handmaids.
Quote of the Week: Campaign Edition
"First and foremost — no other party leader is going to say this, but are you ready? — first and foremost, we are Earthlings." 
Green Party Leader Elizabeth May. Sept 11, 2019.
That's it for this week. Thanks so much for joining us. To subscribe to TWIP, click here or email lianmacdonald@gmail.com. And many thanks to those of you who've already subscribed.
If you enjoy The Week in Policy, you'll probably like our magazine. To subscribe to Policy, click here.
And, if you have any suggestions or complaints for TWIP, fire me off an email at lvandusen@policymagazine.ca.
Have a fabulous weekend.
@Lisa_VanDusen