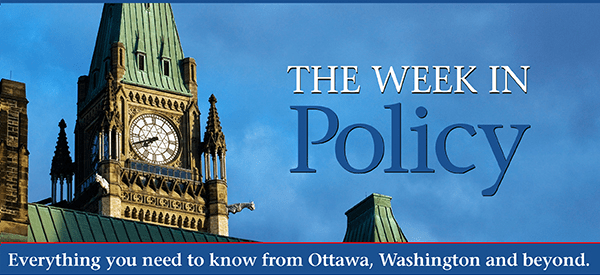 Friday, October 4, 2019
Welcome to The Week in Policy, Policy Magazine's weekly look at developments in policy and politics in Ottawa, Washington and beyond, compiled by Policyassociate editor and Hill Times columnist Lisa Van Dusen.
Above the Fold: Le Débat

AFP
The first French-language leaders debate of Canada's federal election campaign was held Wednesday night on TVA. It included all the party leaders except Green Party Leader Elizabeth May and People's Party Leader Maxime Bernier. The event was less the showdown between Justin Trudeau's and Bloc Québécois Leader Yves-François Blanchet everyone expected than, as the Journal de Montréal put it, a dure soirée for Conservative Leader Andrew Scheer. Among the hangovers Thursday, Scheer again faced a grilling on his position on reproductive rights after ducking the question in the debate, while also facing a fresh controversy over his dual Canada-US citizenship. Here's Le Devoir with Andrew Scheer au coeur des attaques durant le premier débat des chefs, CBC's post-game Four federal leaders fight to woo Quebec voters in fiery French-language debate and Four moments from the TVA debate. And here's Tonda MacCharles and Alex Ballingall in The Star, with Sparks fly in French-language election debate.
And, here's Policy editor L. Ian MacDonald with Scheer as Debate Piñata, in the Language of Molière.
The campaign's two official leaders' debates will be held next week, with the English debate scheduled for Monday and the French debate on Thursday. Here's CBC with where to watch the leaders debates. Here's Earnscliffe's Elly Alboim with A guide for watching the leaders' debates.
At roughly halfway through the federal election campaign heading toward Oct. 21st, the week began with the unveiling of the governing Liberals' party platform on Sunday by Justin Trudeau. The plan includes new taxes on wealthy Canadians and international corporations while reducing taxes on the middle class. It also proposes another four years of deficits, from $27.4 billion next year to $21 billion by 2023. The 85-page platform, titled "Forward: a real plan for the middle class" includes measures on jobs, the environment, social and cultural programs, Indigenous commitments, parliamentary reforms, trade, justice, and security. There's also a costing analysis of 22 key programs by the Parliamentary Budget Officer (PBO). Here are the key takeaways from Global's David Lao. Here's CBC's Aaron Wherry with Promising back-to-back deficits isn't political suicide in Canada anymore. Here's CTV's handy Compare Party Platforms page.
In election opinion this week, here's Postmedia's Andrew Coyne with In a nothing campaign, it all comes down to Ontario, Paul Wells in Maclean's with The missing ingredient in this election, Chantal Hébert in The Star with Andrew Scheer made no gains in French-language debate.
The CBC's excellent The National Presents: Face to Face with the Federal Party Leaders has had federal party leaders taking questions from five undecided voters each every night this week. Here's Trudeau on Monday, Scheer on Tuesday, Elizabeth May on Wednesday and Jagmeet Singh on Thursday.
Here's BlueSky Strategy's handy Friday campaign podcast What You Need to Know. This week: Scoops Versus Policy, recapping the week's viralities, including Trudeau's rap name (Two Planes), Scheer's rap name (Two Passports) and Jagmeet Singh's moment of tolerance with a turban troll. Plus, bemoaning shiny object mania and setting the stage for the crucial next week.
Here's CBC's Éric Grenier with the latest poll tracker results (still a Lib/Con tie at 34 with the NDP at 14, Greens at 10).
Your weekly TWIP links:
From yours truly, Policy Associate Editor @Lisa_VanDusen, my Hill Times column from this week, now re-posted on Policy, Magical: Half a Century of Painting the Château Laurier, on the fight to preserve the architectural integrity of Ottawa's landmark hotel through the eyes (above) of my artist mother, Shirley.
From Policy editor L. Ian MacDonald, Scheer as Debate Piñata, in the Language of Molière.
And, from Policy contributor and BMO Chief Economist Doug Porter, this week's Talking Points, Octobrrrrr.
America Watch: The Joker

EPA-EFE
As the impeachment inquiry into Trump's attempt to goombah Ukraine into helping him Tonya Harding Joe Biden (among Trump's many shortcomings as president, his apparently impeachable ignorance of the fact that there's no shortage of local talent to help him with just such operations) proceeded this week, Americans witnessed the most preposterous clash yet between functioning democracy and what can only be accurately described as a conspiracy to undermine it hiding behind the smoke bomb of 100 conspiracy theories generated by its most diversionary asset. (In related content, my recent Hill Times piece, The New 'C' Word, on the tactical conflation of "conspiracy" and "conspiracy theory"). One of the most entertaining sub-dramas is the Republican damage control strategy, which apparently includes the interview equivalents of saying, "Look! A plane!" and acting as though the questioner is speaking Esperanto. Here's the Washington Post's Eugene Robinson with Impeachment is serious business. Trump trying to avoid it is comic relief. Among the many sources of bafflement around the behaviour of the reality show president, we can now add an inexplicable propensity for vindictively soliciting the services of foreign governments to gather dirt on narratives whose outcomes actually resolved in his favour, including the 2016 election and the Mueller investigation. And, the only summary you really need of Finnish President Sauli Niinistö's hostage-y visit to Washington this week: CNN's Jeannie Moos with Internet mocks Trump visit with Finland president. At press time Friday, Trump had just acknowledged that the Democrats have the votes to impeach him in the House but predicted a victory in the Republican-led Senate. Here's the Washington Post live blog on all impeachment developments.
Perhaps the most interesting character to emerge so far in The Apprentice: Impeachment other than the deus ex machina leading man is Secretary of State Mike Pompeo. The former CIA director, while presumably torn between his loyalty to the intelligence community and his loyalty to a president he has served with notable sangfroid in a drama that pits the two against each other like Meat Loaf vs. Gary Busey, seems to be bearing that tension well. At the same time, Pompeo is attempting to shield officials of a State Department the gutting of which he has presided over from Congressional subpoenas in an impeachment inquiry stemming from a phone call to which he was a party, accusing House Democrats of trying to "intimidate" and "bully" them.
2020 Watch: The Foil

NYTimes
In Nevada on Wednesday night, Joe Biden responded to Trump's rampage. "Let me make something clear to Trump and his hatchet men and the special interests funding his attacks against me – I'm not going anywhere," Biden said in Reno. "You're not going to destroy me. And you're not going to destroy my family. I don't care how much money you spend or how dirty the attacks get." Meanwhile, Vermont Senator Bernie Sanders underwent an arterial stent procedure this week but is said to be recovering well. From the Independent Wednesday, Elizabeth Warren has called out Facebook, the NRA and Saudi Arabia in one week. It was a very smart move. Here's CNN with The 2020 field is shrinking and the candidates know it. And from ABC News Friday, Warren surpasses Biden in latest fundraising haul but falls short of Sanders.
Brexit Watch: An Offer You Can't Accept

BBC
While America seemed to be slowly beginning to break free of its toxic entanglement in Donald Trump's relentlessly preposterous presidency, Boris Johnson's narrative hijacking across the pond proceeded with what appeared to be a farcical Brexit proposal designed to guarantee a no-deal Brexit on Oct. 31 rather than avoid one. And, in a speech to the Conservative Party's annual conference in Manchester, Johnson repeatedly insulted the Parliament of which he is a member, among other oddball rhetorical gambits. Footnote: the words "kangaroo testicle" came up. By press time Friday, the Guardian was reporting that Johnson would be requesting an extension of Article 50 (as opposed to the more rational revocation option) from the EU rather than crashing out of the EU on Halloween, and that his Brexit plan was falling apart.
World Watch: Show of Force

EPA-EFE
In a massive display of military might on Tuesday, China celebrated 70 years of Communist Party rule with a parade of hardware tonnage that belied the degree to which it has significantly increased its geopolitical heft over the past two decades using softer forms of power. "No force can ever shake the status of China, or stop the Chinese people and nation from marching forward," President Xi Jinping said from the Gate of Heavenly Peace, where Mao Zedong proclaimed the founding of the People's Republic of China in 1949. Here's the Beeb with In pictures: China shows off military mights at 70th anniversary parade.
Iraq
The death toll from anti-government protests in Baghdad and elsewhere across the country since Tuesday is 44 at press time, as unrest poses "an increasingly serious test to the country's leadership, which has offered little leeway in the face of the demands, and instead steadily escalated a crackdown," per the Guardian. That crackdown includes an internet blackout and lock downs of major cities. Here's the Al Jazeera live blog.
Trade Watch: Meanwhile

LATimes
In a news conference on Wednesday, House Leader Nancy Pelosi reiterated that Democrats in Congress are on a "path to yes" with regards to the ratification of the CUSMA (NAFTA II). "When we can arrive at a place where not only do we have our issues addressed but that we have enforceability," she told reporters, "that will make it real for America's families and farmers, then we can go down that path." In other trade news — and the latest of a series of developments impacting the highly competitive commercial airline industry — the World Trade Organization (WTO) authorized the United States to impose up to $7.5 billion in tariffs on European Union goods, including cheese, whiskey and wine, in retaliation for subsidies of Airbus. The good news for multilateral trade sanity? The Trump administration actually availed itself of the services of the WTO. The bad news? In his news conference with the Finnish president on Wednesday, Trump attributed the positive ruling to WTO capitulation to his intimidation tactics.
Political Culture: That Which Makes Life Worthwhile
Just in time for the debate we'd all be having about the obsolescence of GDP as an accurate measure of economic success, quality of life or even growth if we weren't besieged by nonsense all day long, Banksy's opened a shop up the road. It's called Gross Domestic Product and it's in Croydon, South London. There's a 99 cornetto stand, a Benny Hill soundtrack on a loop and a pit where leavers and remainers can wrestle over Brexit in Marmite. Just kidding. There's a cradle surrounded by CCTV cameras, disco balls fashioned as riot police helmets and migrant life jackets repurposed as welcome mats. Seriously. Here's the BBC with the details. And here's Bobby Kennedy's speech at the University of Kansas on March 18, 1968, in which he said GDP measures everything "except that which makes life worthwhile."
Noteworthy: Respite
At a time when some wealthy, powerful people have been using that wealth and power to generate problems rather than solve them, Bill and Melinda Gates continue to seek solutions to alleviate human suffering (including by reinventing the toilet,above). The Davis Guggenheim (An Inconvenient Truth) documentary Inside Bill's Brain about Gates's life and mind is like diving into a bath of geeky, uplifting counter-propaganda after a long day of if-only-it-were-fake news. See it now on Netflix.
Events, Dear Boy: Health Hazard

BCCIC
Our friends at the Institute of Fiscal Studies and Democracy (IFSD) hosted an expert event Tuesday on climate change and health notable for its inclusion of front-line emergency and critical care physicians addressing immediate health impacts. Here's the full Facebook video.
Books: So. Many. Finalists.
The six-author shortlist for the Scotiabank Giller Prize was announced Monday. Here's the Globe and Mail piece, Scotiabank Giller prize shortlist includes two Newfoundland authors and three who live in British Columbia. Details of the Giller's annual Between the Pages events — live Q&As with finalists across the country and at the Canadian consulate in New York — are all here. The winner will be announced at the Giller gala, broadcast live on CBC from Toronto on Nov. 18th — always a fun watch and hosted by the lovely and talented Jann Arden this year. The winner will receive $100,000 and each finalist will get $10,000. Esi Edugyan won the 2018 Giller for her novel Washington Black.
Wait, there's more. The Governor General's Literary Awards finalists were also announced this week. The prizes are awarded in both official languages across seven categories: fiction, nonfiction, poetry, young people's literature — text, young people's literature — illustration, drama and translation. Here's the CBC Books piece with all the details. Michael Crummey's novel The Innocents made both the Giller and GG's shortlists.
Here's the New York Times with 9 New Books We Recommend This Week.
And, here's the Book Marks Best Reviewed Books of the Week.
Our Campaign 2019 Issue
Four years after Justin Trudeau became the first son of a prime minister to be elected to the office himself, his Liberal government will seek a second mandate from the Canadian people on Oct. 21. Our Policy Magazine Campaign 2019package includes status reports on all four major parties from respected strategists, a look at the government's fiscal house, an update on the security of our election infrastructure, foreign policy as a campaign issue and more. It's all yours…
In this Issue:
Lori Turnbull of Dalhousie University takes us through a key set of numbers, specifically the number of seats needed to form a majority government in the 338-seat House. Here's The Road to 170.
In Sunny Ways Redux? Not so Fast, John Delacourt, former director of communications of the Liberal Research Bureau, says this campaign is a test whose outcome should not be taken for granted.
For Conservative strategist Yaroslav Baran, the campaign offers an opportunity for Andrew Scheer to play to his soccer dad advantage. Here's The Scheer Strength: Relatability.
In The NDP's Ballot Question, Former federal NDP president Brian Topp writes that there is no point in the New Democrats simply running to get rid of Trudeau since "The short road to doing this is to elect a Conservative government."
For Elizabeth May and the Greens, the 2019 election represents a moment. As Ziya Tong writes in M'ayday! M'aidez!, the question is how May will weather the scrutiny.
In the modern era, democracies are aware of threats to their elections, of which the 2016 U.S. election cycle was the most obvious example. In Protecting Elections in a new Threat Environment, Democratic Institutions Minister Karina Gould writes of Canada's protective and pre-emptive response.
The early signs of Maxime Bernier's increasingly Trumpian profile raise the question of whether populism is growing in Canada. Patrick Gossage, former press advisor to Pierre Trudeau, wonders Could it Happen Here?
One of the mega-issues in this campaign is bound to be climate change and carbon taxes, which Don Newman explores in The 'Big E' Election—Energy and the Environment.
After a 2015 campaign in which fiscal policy played a surprising role, former Parliamentary Budget Officer Kevin Page examines the Trudeau government's record and asks Is Fiscal Responsibility an Issue in the 2019 Campaign?
With gender parity having been a major theme of the Trudeau government's first term, Helaina Gaspard and Emily Woolner of the Institute of Fiscal Studies and Democracy look at Canada's gender-based analysis in Because it's 2019: Checking in on Gender Budgeting in Canada.
Foreign policy is rarely a major issue in Canadian campaigns, but with global tensions being what they are, this time could be different. Our foreign affairs sage, Jeremy Kinsman, has Being Back: Foreign Policy as a Campaign Issue.
In Could Health Care Be on the Ballot Again? Shachi Kurl of the Angus Reid Institute writes "For the first time in a long time, party leaders find themselves compelled to say something about our physical well being."
In a guest column, Diabetes Canada President Jan Hux warns that, while U.S. politicians are leading insulin pilgrimages across the border, Canada Has its Own Diabetes Crisis.
Most campaigns have defining moments and in the modern Canadian political era, none more so than the 1984 leaders' debate. Peter Mansbridge captures the drama of the exchange between John Turner and Brian Mulroney in The Debate that Changed Debates.
And, in his regular column. Don Newman provides a prescription for mitigating chaos in the event of a minority House. Here's In Case of Minority, Break Glass.
Finally, we offer timely reviews of two important books of this season. Former Maclean's Editor-in-Chief Bob Lewis looks at Trudeau: The Education of a Prime Minister and finds that John Ivison's biography "fairly bristles with anecdotes and examples of a flawed prime ministry." And, Robin Sears is struck by the personal courage of NDP Leader Jagmeet Singh in his autobiography, Love & Courage.
That's it for this week. Thanks so much for joining us. To subscribe to TWIP, click here or email lianmacdonald@gmail.com. And many thanks to those of you who've already subscribed.
If you enjoy The Week in Policy, you'll probably like our magazine. To subscribe to Policy, click here.
And, if you have any suggestions or complaints for TWIP, fire me off an email at lvandusen@policymagazine.ca.
Have a fabulous weekend.
@Lisa_VanDusen