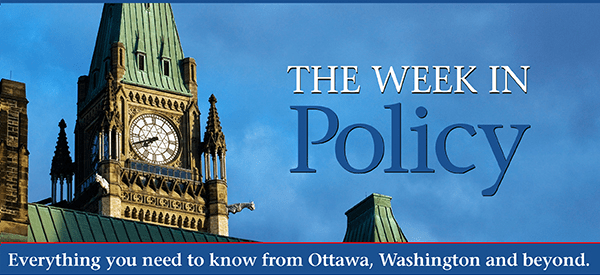 Friday, October 25, 2019
Welcome to The Week in Policy, Policy Magazine's weekly look at developments in policy and politics in Ottawa, Washington and beyond, compiled by Policyassociate editor and Hill Times columnist Lisa Van Dusen.
Above the Fold: Minority Government

Euronews
Prime Minister Justin Trudeau's Liberal government won a qualified reprieve from Canadian voters on Monday, securing a second mandate but reduced to a minority in Parliament. The Liberals won 157 seats (13 short of the 170 needed for a majority) to 121 for the Conservatives, 32 for the Bloc Québécois, 24 for the NDP, 3 for the Green Party and one for independent former cabinet minister Jody Wilson-Raybould. After a fractious campaign that saw a Trudeau scuffed by scandal kept to a seesaw tie in seat projection by Conservative Leader Andrew Scheer until the finals days of the campaign, Canadians delivered a verdict that presents a challenge to the Liberals in both governing and uniting the country. On the other hand, some of Canada's defining legislative accomplishments have happened during minority governments. Here's CBC's Murray Brewster with The voting is over, now the hard part begins for a minority government. Beyond the banner, the sidebars are that the Bloc is back in Québec, NDP Leader Jagmeet Singh won anyway, Andrew Scheer is sleeping with one eye open and the Green Party's Elizabeth May, who will be joined by two new Green MPs in the new Parliament, is hinting at a life after leadership. Oh, and Maxime Bernier's experiment in Canadian Trumpism was a damp squib.
Here's CTV News with Trudeau's first post-election news conference at the National Press Theatre on Wednesday.
With no Liberal MPs in either Alberta or Saskatchewan, Western disenchantment and Western representation in cabinet, which will be sworn in on Nov. 20th, have been themes this week. Here's Brian Platt in the National Post With Liberals wiped out in Alberta, Trudeau promises to do 'a lot more' to rebuild Western support.
In post-election opinion, here's The Star's Susan Delacourt with An ugly election puts parliamentary harmony in doubt. Here's Postmedia's John Ivison with How will Trudeau navigate the choppy waters ahead? Here's The Star's Chantal Hébert with Election results reflect a divided nation.
Your weekly TWIP links:
Our Policy post-election issue is coming together. We'll be giving you those links as they come in @policy_mag plus our online-only columns. Here's L. Ian MacDonald with Next Steps in a New Political Reality. And here's Brian Topp with our NDP post-mortem, Election 2019, NDP: One More Rung Up the Ladder.
And, here's Don Newman's prescient piece from our Campaign 2019 issue of Policy, In Case of Minority, Break Glass.
From our friends and contributors at Earnscliffe, here's the strategy group's post-election analysis.
And, from Policy contributor and BMO Chief Economist Doug Porter, this week's Talking Points memo, World Serious.
In and About Canada: The Other Election

Radio-Canada
While we were all still clicking through on the aftermaths and follow-ups to Monday's federal election results, the Northwest Territories elected a new premier on Thursday. Caroline Cochrane, MLA for Yellowknife's Range Lake district, was elected on the third secret ballot by the 19 MLAs of the Legislative Assembly, who govern by consensus, without party affiliation. Cochrane is currently the only female premier in Canada and the second woman premier of the Northwest Territories. Nellie Cournoyea was premier from 1991 to 1995. Here's CBC's John Last and Sydney Cohen in Yellowknife with a great job on the full story.
In Edmonton Thursday, the United Conservative government of Jason Kenney tabled its first post-election — both provincial and federal — Alberta budget. Finance Minister Travis Toews unveiled a fiscal plan for the country's oil patch province that will "cut public sector jobs, end the freeze on post-secondary tuition, chop municipal funding and delay infrastructure projects, all with the aim of returning to a balanced budget by 2023," per CBC's coverage. NDP Leader Rachel Notley called the budget "a lie." "A lie because none of what Kenney ran on is in this budget," Notley said. "He's not creating jobs. He is cutting front-line services and he raised taxes and fees on Albertans." The budget forecasts a return to a modest surplus of $584 million in the 2022-23 fiscal year. Here's Calgary Herald columnist Don Braid's analysis, Defiant budget launches a new financial era in Alberta.
Global Affairs Canada announced a spate of fresh diplomatic appointments on Thursday, including career diplomat Alison LeClaire as ambassador to Russia, replacing John Kur. Here's Radio-Canada International with Appointment of new Canadian ambassador to Russia raises hopes of détente.
And, that time some wanker with a can of spray paint thought Ottawa MP Catherine McKenna, who has spent the past four years fighting climate deniers, Big Oil and tweeting dinosaurs, would be rattled by a word.
America Watch: 1008 Days…Still Unbelievable

Reuters
Donald Trump dropped his bimonthly racebomb on Tuesday, forcing people who never thought they'd see the day to, once again, Google the name of the president of the United States with a racially charged, gratuitously and inappropriately deployed term, in this case, the word "lynching". This time it was about his own impeachment which, sadly enough, actually feels like progress as far as hooks go. As with all such previously unthinkable moments, we believe in offsetting the disruptive and degrading president's mammoth BS footprint with an emission of truth. Here's the Washington Post with More than 4,000 people have been lynched in the United States. Trump isn't one of them. Here's Jonathan Capehart, also in the Post, with his piece from April on the newly unveiled National Memorial for Peace and Justice in Montgomery, Alabama, The lynching memorial ends our national silence on racial terrorism. We also highly recommend Ta-Nehisi Coates's new novel The Water Dancer, about the industrialized racism and power perversions of slavery. And, for accurate information about lynching and racial terror in America, here's the National Memorial for Peace and Justice and Legacy Museum site. Finally, here's my Hill Times piece from August about Trump's use of his Twitter account as a racist flamethrower, Enemy of the People?
In other impeachment news, while Trump was unleashing yet another bonfire of insanity, veteran diplomat and acting U.S. Ambassador to Ukraine William Taylor was testifying in camera before the House impeachment inquiry that he "was told release of military aid was contingent on public declarations from Ukraine that it would investigate the Bidens and the 2016 election, contradicting President Trump's denial that he used the money as leverage for political gain," per the Washington Post. Here's the BBC with Five takeaways from Taylor's 'explosive' testimony. Taylor's submission before the inquiry was so compellingly incriminating of the president that it inspired Republicans on Wednesday to stage a righteously indignant, blithely misrepresentational sit-in to protest the closed-door hearings, delaying testimony from Deputy Assistant Defense Secretary Laura Cooper by five hours.
2020 Watch: The Trump Effect?
Reuters
After weeks of Joe Biden's brand being conflated with the word "investigation" in Trump impeachment inquiry headlines despite no evidence of wrongdoing in Ukraineby Biden or his son Hunter, the former vice president's lead among Democratic 2020 contenders this week hit its widest margin since he launched his campaign. In a CNN/SSRS poll that dropped Friday, Biden has the support of 34 percent of Democratic and Democratic-leaning registered voters. Sens. Elizabeth Warren of Massachusetts and Bernie Sanders of Vermont are about even for second, with 19 percent and 16 percent, respectively, per CNN.
In other 2020 news, is it that time already?! We were thinking this narrative wouldn't kick in until sometime closer to Iowa, but here's the New York Times with this week's Clinton 2020 trial balloon, Anxious Democratic Establishment Asks, 'Is There Anybody Else?' Here's last week's. And here's Politico Friday with Senate Democrats tell Hillary Clinton: Time to move on.
On the heels of Canada's first all-female-moderator campaign debate, MSNBC has named four women journalists to moderate the Nov. 20 Democratic debate in Georgia. MSNBC stars Andrea Mitchell, Rachel Maddow and Kristin Welker will be joined by the Washington Post's Ashley Parkey.
Brexit Watch: 1218 Days…Still Unbelievable

The Guardian
Even with the stunning aerial shots of swarmed streets and the Churchill statue in a crowd bath, we like Radical Chic John Le Carré for shot of the day from Saturday's People's Vote march in London, where an estimated one million euphoric Remainers turned up to protest Brexit and stayed to celebrate the first defeat of Boris Johnson's deal in the House. By Thursday, Johnson's eerily Trumpian campaign to portray the socioeconomically, politically and geopolitically destructive attributes of Brexit as big, beautiful and easy to win had culminated in the beleaguered prime minister's call for a general election on Dec. 12. And by Friday, well, here's the Guardian with Rebel MPs look to thwart Johnson's agenda, a story that fails to identify which party the rebel MPs actually belong to (at press time), leaving the reader to assume they're being labeled rebels for rebelling against a prime minister rebelling against the interests of his own country, which would seem to flag the necessity for a new term…counter-rebels? Grab a Dramamine and dive into The Independent's live blog. BTW, Le Carré's new novel — Agent Running in the Field — is out. It's about Brexit as a clandestine plot to destabilize the EU which, frankly, would explain everything.
World Watch: Switching Spheres

VOA
Aside from his myriad other impeachable offenses, Donald Trump's tactical imbecility has been leveraged repeatedly by his new world order cohorts as a Trojan Horse for all manner of otherwise unachievable security, trade and political outcomes (the effective ditching of the Middle East peace process, the TPP and the Paris accord; Russia's possible re-accession to the G7, the destabilization of NATO, etc etc). The most spectacular of these so far is the recent weaponization of Trump's mercurial personality to rationalize the narrative of America's abandonment of Kurdish fighters in northern Syria to the agendas of Turkey and Russia. At a meeting in Sochi on Tuesday, Recep Tayyip Erdogan and Vladimir Putin celebrated America's latest voluntary renunciation of influence in the Middle East by agreeing to clear remaining Syrian Kurdish fighters from a large swath of Syria's northern border with Turkey. Trump's treasonous trifecta of relegating America's Kurdish allies to a likely ethnic cleansing campaign by handing Turkey their sanctuary in northern Syria, forfeiting Syria to Russia and unleashing hundreds of ISIS fighters back into the population prompted this ludicrous, Orwellian victory lap by Trump on Wednesday. Here's VOA with Who are the Kurds?  Here's Khabat Abbas in the New York Review of Books with This is Ethnic Cleansing: A Dispatch From Northern Syria.
Democracy Watch: Beijing's Two-Step

AP
Hong Kong's government has officially withdrawn the controversial extradition billthat unleashed 20 weeks of protests and galvanized world attention on the former British colony as ground zero of China's anti-democracy tactics. The move came late Wednesday afternoon amid news that Hong Kong Chief Executive Carrie Lam, who has become the target of discontent over China's attempts to expedite the financial hub's political absorption, will be replaced by Beijing. The withdrawal of the bill and Lam's departure meet two of the protester's five demands. The other three are an inquiry into police brutality, that protesters who've been arrested be released, and greater democratic freedoms. Meanwhile, the Hong Kong police, who've become symbolic of a new brand of militarized, digitized and politicized crowd-control forces, have been assured amid accusations of brutality that they have Beijing's "unwavering support." Here's Wired from Tuesday with the must-read In Hong Kong, Which Side is Technology On?
Spotlight: World of Unrest

CNN
In Beirut, in Santiago, in Baghdad, in Algiers, in La Paz, in Quito, in Port-au-Prince and elsewhere, millions of people have taken to the streets this year to demand everything from regime change to democratic reform to cheaper metro fares. The sheer number of datelines in the story has fragmented international media attention on individual movements somewhat amid the domination of coverage by the epic political crises of Trump and Brexit. This week, coverage of the protests as a global phenomenon began to pick up. Here's CNN with A single grievance sent protesters to the streets but wider discontent has kept them there. Here's the Guardian with Protests rage around the world but what comes next? and An explosion of protest, a howl of rage — but not a Latin American spring. Here's Slate with What the protests breaking out allover the world have in common. And, in local updates, here's Al-Jazeera Friday with Iraqi police open fire to disperse protesters in Baghdad streets. Here's Reuters with the recent Algeria's protesters march against ruling elite as December election approaches. Here's TIME with the recent What happens next in Ecuador. Here's France24 with Thousands of schools remain shut as unrest in Haiti takes its toll.
Noteworthy: #STAYINTHEFIGHT, Nos Amours

Washington Post
Everything I know about baseball I learned from a couple of Roger Angell pieces and a trip or two to Camden Yards to see the Orioles before the Nats were the Nats. Before that, they were the Montreal Expos, which has produced a narrow sub-species of dilettante, baggage-less, cross-border bandwagon fans (me) along with some bittersweet if-onlyers, as the Washington Nationals blaze their way through the World Series. Here's the AP with Tim Raines recalls Montreal, roots for Nats; others, maybe not. Here's the Washington Post with The former Expos are finally in the World Series, and Montréal isn't sure what to think. And, here's sports reporter Jim Warner from WTOP Washington with My 50 years with the Expos and Nationals. The Nats have a 2-0 lead in the best-of-seven series after beating the Houston Astros 12-3 in game two Wednesday. Game three starts at 8:00 pm Friday at Nationals Park. Above: Hall of Famer Vladimir Guerrero, left, talks with Washington Nationals Manager Dave Martinez on Expos throwback day in July.
Events, Dear Boy: Trade Amid Turmoil

Our friends at The Sixth Estate hosted a look Thursday at how Canada's small business sector can survive and thrive amid current uncertainty with the country's three largest trading partners — the United States, China and Britain. The discussion was of particular interest to our readers tracking the success of Global Affairs' revitalized Trade Commissioner Service. Here's Dale Smith's write-up.
Books: Queened

AP
Margaret Atwood was named a member of the Order of the Companions of Honour for her services to literature by Queen Elizabeth at Buckingham Palace on Friday.
Atwood announced this week that she'll donate her half of the Booker Prize money she shared with Bernardine Evaristo (Atwood won for The Testaments, Evaristo for Girl, Woman, Other) — £25,000 ($42,390 Cdn) — to the organization Indspire, which supports the education of Indigenous people in Canada with scholarships, bursaries and other programs. Read Indspire CEO Roberta Jamieson's piece from Policy's 2016 Canadian Universities issue, A Call for Quality Education.
James Daunt, the master bookseller whose revival of Waterstones in the UK became one of the great conventional-wisdom shattering business stories of the last decade, has started on his plan to do the same for Barnes & Noble in the U.S. Graydon Carter's Air Mail this week has a groovy walkabout with Daunt in the flagship Union Square store.  Here's A Daunting Task.
Here's the New York Times with 10 new books we recommend this week.
And, here's the Book Marks Best Reviewed Books of the Week, including raves for Le Carré's Agent Running in the Field.
That's it for this week. Thanks so much for joining us. To subscribe to TWIP, click here or email lianmacdonald@gmail.com. And many thanks to those of you who've already subscribed.
If you enjoy The Week in Policy, you'll probably like our magazine. To subscribe to Policy, click here.
And, if you have any suggestions or complaints for TWIP, fire me off an email at lvandusen@policymagazine.ca.
Have a fabulous weekend.
@Lisa_VanDusen