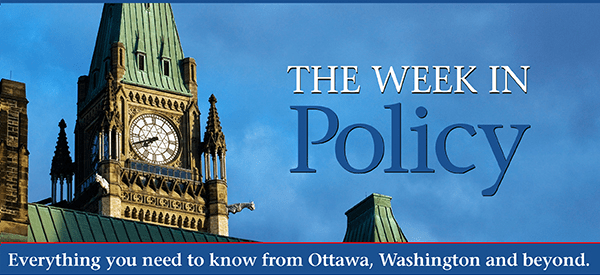 Friday, October 18, 2019
Welcome to The Week in Policy, Policy Magazine's weekly look at developments in policy and politics in Ottawa, Washington and beyond, compiled by Policyassociate editor and Hill Times columnist Lisa Van Dusen.
Election 43: The Last Weekend

'Ordinary Canadian'/Red Deer Advocate
As Monday's federal election approaches and with polls having shifted in the homestretch into minority government territory, the major party leaders heading into the final weekend of campaigning are talking more Parliament than policy. At press time, here's the CBC Canada Poll Tracker, showing Cons: 31.7, Libs: 30.8, NDP: 18.8, Greens: 8.3, Bloc: 6.9, PPC: 2.6, with the seat projection slightly favouring the Liberals. On Thursday, Conservative Leader Andrew Scheer said that "modern convention" dictates that Prime Minister Justin Trudeau must resign rather than reaching a governing arrangement with another party if he doesn't win the most seats. That prompted a few howls on Twitter from people who pointed out that Scheer, as former speaker of the House, knows how minority governments work. NDP Leader Jagmeet Singh has said he'd consider working with a Liberal minority government, reiterating Thursday that he'd fight a Conservative government.
On how things could play out in the House, here's CBC with What happens if no-one wins a majority?  Here's the Globe and Mail with What you need to know about a potential minority government in Canada. Here's CBC's Aaron Wherry with How minority governments work — and what happens when they don't and No, the party with the most seats doesn't always govern. Here's Vanmala Subramaniam in The National Post with The players who would be king: A look at six scenarios for a minority government after the federal election. Here's The Hill Times with Transition teams must be prepared for 'unpredictable outcomes' in minority situation say former senior bureaucrats. And, here's CBC with Rosie Barton's last At Issue panel of the campaign Thursday night, in which Althia Raj, Andrew Coyne and Chantal Hébert address all of this minority-majority argy bargy. And, here's Policy editor L. Ian MacDonald with Ben Mulroney on CTV's Your Morning Friday, on the lay of the land in Quebec. Here's MacDonald's Friday piece on all of the above, 'Modern Convention' and Minority Governments. And, here's Don Newman's eerily prescient piece from our Campaign 2019 issue of Policy, In Case of Minority, Break Glass.
On Wednesday, former President Barack Obama endorsed Trudeau's re-election in a tweet. "I was proud to work with Justin Trudeau as President," Obama wrote. "He's a hard-working, effective leader who takes on big issues like climate change. The world needs his progressive leadership now, and I hope our neighbors to the north support him for another term." Here's CBC with Barack Obama tweets endorsement of Justin Trudeau.
On this election and the future of democracy as we know it, here's Samara's Kendall Anderson in The Hill Times with This election, vote for a Parliament that will defend, reinvigorate democracy. And, also in The Hill Times, (Policy re-post) me with The Ballot Box as the Ballot Question.
In other campaign news, Scheer's main GOTV gambit seems to be fear mongering, including claiming Trudeau will legalize cocaine and raise the GST. Trudeau rejected those claims as untrue and made-up on Friday.
If you haven't voted yet, stop reading this, grab your registration card and get going. Here's Elections Canada with all the voting information you need.
Your weekly TWIP links:
From Policy editor L. Ian MacDonald, a remembrance of legendary McGill University professor Desmond Morton: Honouring a Man's Life of History.
From me, Policy Associate Editor @Lisa_VanDusen, this week's Hill Times column, now re-posted on Policy, The Ballot Box as the Ballot Question, about the 2019 election and the future of democracy.
And, from Policy contributor and BMO Chief Economist Doug Porter, this week's Talking Points, The Talented Mr. Loonie.
America Watch: Quid Pro Whoa

Reuters
In the impeachment scandal engulfing the Trump White House, the gobsmacking scenery chewing this week made us want to do nothing but drink tequila and watch a surreal, marathon loop of Sean Spicer on Dancing With the Stars. Acting White House Chief of Staff Mick Mulvaney brought a briefing room you'd think would be immune to shock at this stage to a collective double-take when he — over to you, CNN — "made a stunning admission Thursday by confirming that President Donald Trump froze nearly $400 million in US security aid to Ukraine in part to pressure that country into investigating Democrats." "That's why we held up the money," Mulvaney said, framing the coercion as politics-as-usual, a rationale belied by the sound of a million jaws dropping as he blithely turned the lectern into a prop for a moral disaster movie. For good measure, Mulvaney later backpedaled furiously. Here's Edwin Rios in Mother Jones with Mick Mulvaney Issues Furious Denial of Mick Mulvaney's "Quid Pro Quo" Allegations. In other corruption-flaunting takeaways from Mulvaney's briefing today, the widely anticipated announcement that the 2020 G-7 will be held at Trump's Doral resort in Miami (think Putin holding the 2014 Olympics in Sochi because his Black Sea villa is there — if he was actually renting out rooms in his Black Sea villa to IOC members). Here's Vanity Fair with Trump leans into corruption, decides to host G7 at Trump Doral.
In what, among other things, has been the latest new world order shock-and-awe operation imposing a sudden military solution on a longstanding, asymmetrical intra-national status dispute (see Kashmir), Donald Trump handed over the closest thing to a homeland the Kurdish people have known — a section of northern Syria — to Turkey this week. Billed as the diplomatic victory of a cease fire between US forces who've already withdrawn from the area and the invading Turkish army, the upshot of Trump's surprise evacuation of US troops from the area last week is that the Kurdish forces that have controlled the area under US protection for their fight against ISIS are now being forced to withdraw. On the Senate floor, Utah senator and 2012 GOP presidential candidate Mitt Romney excoriated Trump in a speech that called the abandonment of the Kurds a "bloodstain" in US history. "The announcement today is being portrayed as a victory. It is far from a victory," Romney said. At a White House meeting Wednesday on Syria and Turkey, a confrontation between Nancy Pelosi and the besieged president produced the latest iconic image of the House speaker (above) channeling the outrage and concern of just about everyone else in the world by standing up to Trump, who tweeted it out as a "hysterical female" slam. That ended badly. Here's the National Post with Trump tries to taunt Nancy Pelosi with a photo on Twitter. She made it her cover photo.
2020 Watch: The Alternatives

Reuters
The fourth Democratic debate of the 2020 election cycle was held Tuesday night at Otterbein University in Westerville, Ohio. The main theme of the night was Elizabeth Warren as piñata as the other 11 contenders on CNN's stage took turns taking shots at the surging Massachusetts senator. Otherwise, Joe Biden emerged relatively unscathed, Bernie Sanders seems just fine, Amy Klobuchar's just getting started, Kamala Harris killed in the spin room, Corey Booker gave good closing, Tom Steyer isn't Marianne Williamson, Biden won the day after and Pete "Benjamin" Buttigieg, who had a good night, is the only politician in the history of politicians who looks younger and younger the longer he's on the campaign trail. Here's CNN's Chris Cillizza with Winners and losers from the fourth Democratic debate. Here's The Hillwith Five takeaways from the Democratic debate in Ohio.
Brexit Watch: No 'Deal or No Deal'

Reuters
As good union leaders and bad lotharios know, there comes a time in any negotiation when the fatigue factor breaks in one direction or the other. In the case of the chaos-addled, irrational actor-riddled Brexit narrative of the past three-and-a-half years, tomorrow's vote in the UK Parliament on Boris Johnson's divorce deal may come down to Brexit fatigue rather than the inherent merits and risks of the proposition (in a flourish of Orwellian naffery, the fateful proceedings have been dubbed "Super Saturday"). Here's Konni Huq in the Independent with Yes, I wish it was over, too — but now is the time to make your voice heard on a damaging Brexit. "The new Brexit deal is essentially the old Brexit deal," per the Guardian, "with a new chapter on the protocol on Ireland and Northern Ireland and a few key tweaks to the political declaration." Here's How is Boris Johnson's Brexit deal different from Theresa May's? After some confusion on this point Thursday, EU leaders dealt a blow to Johnson's pre-vote pressure tactics by leaving open the option of extending Article 50 beyond October 31 if the new deal is rejected by the Commons. On the economic implications of the trade and regulatory provisions of the deal, here's Charles Riley in CNN Business with New Brexit deal is still bad for business and UK economy. Plus, David Cameron compares Boris Johnson to a greased piglet, and (apparently) means it as a compliment. Here's the full text of Johnson's Brexit deal. Here's London Mayor Sadiq Khan in the Independent Friday with This could be our last chance to fight for democracy and our place in Europe, rallying Remainers for tomorrow's Final Say march for a new referendum on the actual deal. Here's former PM Tony Blair urging MPs to defeat the deal, citing Johnson's own denigration of the Northern Ireland customs "compromise" he's now selling. And, former Conservative PM John Major echoing same.
World Watch: Quo Vadis?

Reuters
In a development that telegraphs Hong Kong's possible demise as a regional financial hub, the Financial Times page one main story Thursday, Hong Kong unrest sparks warnings over capital flight, reported that thousands of wealthy residents have been moving their millions out of the enclave. As the New York Times reported last month in Hong Kong's Status as Neutral Ground at Risk as China Asserts Power, the Hong Kong protests that have inspired the world have also provided a security rationale for an exodus of capital, possibly expediting a process already begun by Beijing with a shift in commercial focus to the more controllable jurisdictions of Shanghai, Shenzen and Ningbo. "By 2009, the dollar value of initial public offerings for state-owned Chinese companies on Shanghai's stock market was greater than those in Hong Kong, according to Dealogic, a financial data company," per the Times. "'Hong Kong is no longer critical,' said V-nee Yeh, chairman of Cheetah Investment Management. 'Shanghai will become the pre-eminent financial center over Hong Kong'." Upheaval interrupted the proceedings of the Hong Kong legislature for the second time in a week Thursday, after Carrie Lam delivered a video speech from a secure location.
Democracy Watch: Seriously?

Reuters
A speech by Facebook founder and CEO Mark Zuckerberg at Georgetown University Thursday provoked a backlash by civil rights leaders after the discredited Big Tech front man attempted to peddle the rationale for the platform's refusal to cut weaponized BS from its content as taking a stand for freedom of speech. Zuckerberg cited Martin Luther King as an example of someone whose views were shared (without Facebook, miraculously enough) and changed the world (see line from last week's TWIP — "Maxime Bernier has mastered the globalized rhetorical tactic of fig-leafing alt-right/populist cant in the language of freedom of speech" — and simply substitute "anti-democracy propaganda" for "alt-right/populist cant"). Zuckerberg heard in short order from Dr. King's daughter, Bernice, who tweeted "I heard #MarkZuckerberg's 'free expression' speech, in which he referenced my father. I'd like to help Facebook better understand the challenges #MLK faced from disinformation campaigns launched by politicians. These campaigns created an atmosphere for his assassination."
Appreciation: The Statesman

Baltimore Magazine
Democratic Congressman Elijah Cummings, whose passionate and compassionate advocacy for social justice made him one of the giants of the Democratic party, died on Thursday. He was 68. Cummings, a sharecropper's son, had represented his Baltimore district since 1996 and was serving as chair of the House Oversight Committee, which has a crucial role in the impeachment inquiry against Donald Trump, when he died at Johns Hopkins Medical Center after treatment for an undisclosed illness. "In the House, Elijah was our North Star," House Speaker Nancy Pelosi said in a statement. "He was a leader of towering character and integrity, whose stirring voice and steadfast values pushed the Congress and country to rise always to a higher purpose." Here's the New York Times appreciation. Here's Colbert King in the Washington Post with Elijah Cummings was the keeper of the nation's conscience. Here are Mika Brzezinsky and Joe Scarborough — who were married by Cummings last year — leading the tribute on Morning Joe Thursday. Here's the Baltimore Sun with A look back at U.S. Rep. Elijah Cummings' most powerful speeches. And here's my Hill Times piece from August about Baltimore and Cummings, filed when both were under attack by Trump.
Political Culture: Fill the Void

PA
If you've spent any time wandering the Tate Modern, you know that Turbine Hall isn't an easy space to fill. American artist Kara Walker's Fons Americanus, a 13-metre high re-take on London's Victoria Memorial—and "monumental rebuke" per the Guardian, to the evils of slavery, colonization and commoditized racism—more than meets the challenge. Here's the Guardian review. Here's the TIME piece, including interview with Walker and detail photos, Kara Walker breaks down the influences behind her bold new work at the Tate Modern. And, here's the on-site BBC interview with Walker. You can follow Walker @karawalker_art and on Instagram.
Events, Dear Boy: Legalization, The Sequel
A year after the legalization of cannabis in Canada, edibles, extracts and topicals have been added to the mix. Our friends at The Sixth Estate hosted a Spotlight panel at the National Arts Centre Wednesday on the subject. Here's Dale Smith's write-up of Public Education on the new Cannabis Products.
Books: Opposite of a Catfight
From the moment it was announced that they had both won the Booker Prize in what judges dubbed a "joyous mutiny" against the rules of the award, Margaret Atwood (who won for The Testaments) and Bernardine Evaristo (who won for Girl, Woman, Other) launched a glorious sister act of joint interviews and photo ops to celebrate. Here's the breaking AP story on the announcement. Here's The Guardianwith Booker winners Bernardine Evaristo and Margaret Atwood on breaking the rules. Here's CBC Books with Inside the Booker Prize jury room, where the indecision was unanimous. And, here's Atwood's pre-election op-ed in the Globe and Mail Thursday, Not sure how to vote? Start with the parties that recognize there's a climate crisis.
Toronto author Charles Foran has been named executive director of the Writers' Trust of Canada. Foran, whose 11 books include biographies of Mordecai Richler and Maurice Richard, is a member of the Order of Canada, a senior fellow at Massey College and teaches English at the University of Toronto.
Here's CBC Books with Margaret Atwood's 10 essential books.
And, here's the Book Marks Best Reviewed Books of the Week, including Elton John's Me, Edna O'Brien's Girl and Bill Bryson's The Body.
Quote of the Week
"When we're dancing with the angels, the question will be asked: In 2019, what did we do to make sure we kept our democracy intact?"
Elijah Cummings
Our Campaign 2019 Issue
Four years after Justin Trudeau became the first son of a prime minister to be elected to the office himself, his Liberal government will seek a second mandate from the Canadian people on Oct. 21. Our Policy Magazine Campaign 2019package includes status reports on all four major parties from respected strategists, a look at the government's fiscal house, an update on the security of our election infrastructure, foreign policy as a campaign issue and more. It's all yours…
In this Issue:
Lori Turnbull of Dalhousie University takes us through a key set of numbers, specifically the number of seats needed to form a majority government in the 338-seat House. Here's The Road to 170.
In Sunny Ways Redux? Not so Fast, John Delacourt, former director of communications of the Liberal Research Bureau, says this campaign is a test whose outcome should not be taken for granted.
For Conservative strategist Yaroslav Baran, the campaign offers an opportunity for Andrew Scheer to play to his soccer dad advantage. Here's The Scheer Strength: Relatability.
In The NDP's Ballot Question, Former federal NDP president Brian Topp writes that there is no point in the New Democrats simply running to get rid of Trudeau since "The short road to doing this is to elect a Conservative government."
For Elizabeth May and the Greens, the 2019 election represents a moment. As Ziya Tong writes in M'ayday! M'aidez!, the question is how May will weather the scrutiny.
In the modern era, democracies are aware of threats to their elections, of which the 2016 U.S. election cycle was the most obvious example. In Protecting Elections in a new Threat Environment, Democratic Institutions Minister Karina Gould writes of Canada's protective and pre-emptive response.
The early signs of Maxime Bernier's increasingly Trumpian profile raise the question of whether populism is growing in Canada. Patrick Gossage, former press advisor to Pierre Trudeau, wonders Could it Happen Here?
One of the mega-issues in this campaign is bound to be climate change and carbon taxes, which Don Newman explores in The 'Big E' Election—Energy and the Environment.
After a 2015 campaign in which fiscal policy played a surprising role, former Parliamentary Budget Officer Kevin Page examines the Trudeau government's record and asks Is Fiscal Responsibility an Issue in the 2019 Campaign?
With gender parity having been a major theme of the Trudeau government's first term, Helaina Gaspard and Emily Woolner of the Institute of Fiscal Studies and Democracy look at Canada's gender-based analysis in Because it's 2019: Checking in on Gender Budgeting in Canada.
Foreign policy is rarely a major issue in Canadian campaigns, but with global tensions being what they are, this time could be different. Our foreign affairs sage, Jeremy Kinsman, has Being Back: Foreign Policy as a Campaign Issue.
In Could Health Care Be on the Ballot Again? Shachi Kurl of the Angus Reid Institute writes "For the first time in a long time, party leaders find themselves compelled to say something about our physical well being."
In a guest column, Diabetes Canada President Jan Hux warns that, while U.S. politicians are leading insulin pilgrimages across the border, Canada Has its Own Diabetes Crisis.
Most campaigns have defining moments and in the modern Canadian political era, none more so than the 1984 leaders' debate. Peter Mansbridge captures the drama of the exchange between John Turner and Brian Mulroney in The Debate that Changed Debates.
And, in his regular column. Don Newman provides a prescription for mitigating chaos in the event of a minority House. Here's In Case of Minority, Break Glass.
Finally, we offer timely reviews of two important books of this season. Former Maclean's Editor-in-Chief Bob Lewis looks at Trudeau: The Education of a Prime Minister and finds that John Ivison's biography "fairly bristles with anecdotes and examples of a flawed prime ministry." And, Robin Sears is struck by the personal courage of NDP Leader Jagmeet Singh in his autobiography, Love & Courage.
That's it for this week. Thanks so much for joining us. To subscribe to TWIP, click here or email lianmacdonald@gmail.com. And many thanks to those of you who've already subscribed.
If you enjoy The Week in Policy, you'll probably like our magazine. To subscribe to Policy, click here.
And, if you have any suggestions or complaints for TWIP, fire me off an email at lvandusen@policymagazine.ca.
Have a fabulous weekend.
@Lisa_VanDusen