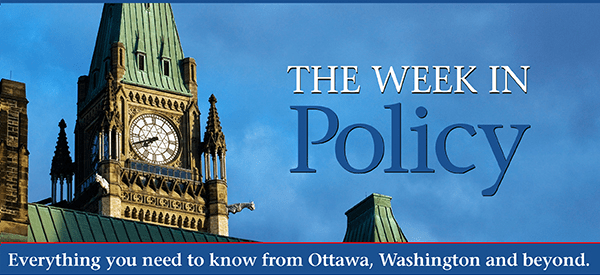 Friday, October 11, 2019
Welcome to The Week in Policy, Policy Magazine's weekly look at developments in policy and politics in Ottawa, Washington and beyond, compiled by Policyassociate editor and Hill Times columnist Lisa Van Dusen.
Above the Fold: The Home Stretch
With ten days to go 'til election day, much of the campaign energy this week was focused on the two officially sanctioned leaders' debates — Monday's English-language event and Thursday's French debate — and where the race stands in the wake of both. The thumbnail takeaway from Tuesday night was that Justin Trudeau broke even, Andrew Scheer played the Al Gore/alpha male card, Jagmeet Singh won the expectations game, Maxime Bernier has mastered the globalized rhetorical tactic of fig-leafing alt-right/populist cant in the language of freedom of speech, Elizabeth May, predictably, won the climate change debate-within-a-debate, and Bloc Leader Yves-François Blanchet made the most of his party-crasher status on SNC Lavalin and Bill 21. Here's CBC's John Paul Tasker with 5 key moments from the federal leaders' debate and CTV's Graham Slaughter with Winners and losers from the election debate. Thursday's French debate also produced no knockouts, no clear winners and the general consensus that debates in French are better than debates in English. Here's CTV with Five notable moments from the French-language leaders' debate and Paul Wells in Maclean's with Le French debate: saving the best for last.
Here's Policy editor L. Ian MacDonald on the two debates this week, with A Debate With No Winners, But a Bit More Clarity and Substance Over Scrapping: The Final, French Debate.
Here's CBC polling guru Éric Grenier with the Canada Poll Tracker. The numbers at press time are Cons: 32.9, Libs: 32.8, NDP: 15.3, GRN: 9.4, BQ: 6.1, PPC: 2.5.
And follow Nik Nanos @niknanos for his daily tracking updates.
Here's The Hill Times with 25 ridings to watch in the election.
And, here's Earnscliffe's Hilary Martin on what role young voters will play in this election.
In and About Canada: Jobs, Jobs, Jobs
In the final employment report before Election Day, StatsCan reported Friday that the Canadian economy added 54,000 mostly full-time jobs in September, bringing the unemployment rate down to 5.5 per cent from 5.7 per cent. There are 456,000 more jobs in Canada than a year ago, bringing employment up 2.4 per cent. The average hourly rate rose to $28.13 from $27.66, an increase of 2.6 per cent.
Your weekly TWIP links:
From Policy editor L. Ian MacDonald, three post-debate pieces on this week's official debates and last week's TVA event: Scheer as Debate Piñata, in the Language of Molière, A Debate with no Winners, But a bit More Clarity, and Substance Over Scrapping: The Final, French Debate.
From me, Policy Associate Editor @Lisa_VanDusen, this week's Hill Times column, now re-posted on Policy, The Blurred Line Between Interesting and Incriminating.
And, from Policy contributor and BMO Chief Economist Doug Porter, this week's Talking Points, Thanks U…and U…and U.
America Watch: Obstruction²

Mapio
In the most preposterous development in the series of preposterous developments that has defined the destructive presidency of Donald Trump, the White House announced Tuesday it would not cooperate with the House Democrats' impeachment inquiry on the grounds that it is "illegitimate". The administration's limited options in the face of a gathering storm of subpoenas were telegraphed early Tuesday, when it blocked a planned deposition from Gordon Sondland — a wealthy hotelier who donated $1 million to Trump's election campaign and was named U.S. ambassador to the European Union in early 2018 — in the inquiry into the president's withdrawal of military aid to Ukraine days before asking its president to investigate 2020 Democratic contender and former Vice President Joe Biden. It immediately raised the question of whether the Democrats might impeach Trump for obstructing his own impeachment. Here's the full text of the letter from White House Counsel Pat Cipollone to House Democrats on Tuesday. And here's the New York Times with White House Declares War on Impeachment Inquiry, Claiming Effort to Undo Trump's Election. On Wednesday night, two associates of Trump personal attorney Rudy Giuliani — Igor Furman and Lev Parnas — were arrested at Dulles Airport on campaign finance charges as they were attempting to leave the US. Here's CNN with the full details. On Friday, former US Ambassador to Ukraine Marie Yovanovitch testified to impeachment investigators that she was recalled from her post in Kyiv as the culmination of a campaign to discredit her authorized by Donald Trump and carried out by Giuliani. "I do not know Mr. Giuliani's motives for attacking me," she said. But people associated with Mr. Giuliani "may well have believed that their personal financial ambitions were stymied by our anti-corruption policy in Ukraine," she said.

Susan Rice, former United Nations ambassador and national security advisor to President Barack Obama, was doing interviews on her new memoir, Tough Love: My Story of the Things Worth Fighting For, this week just as the impeachment crisis and the Syria/Kurd disaster (see below) were converging in Washington. Rice, who is married to former CBC producer Ian Cameron and is therefore an honorary Canadian, made headlines for telling Stephen Colbert that Trump's decision to pull out of Northern Syria and abandon Kurdish fighters was "batshit crazy". Here she is on Morning Joe Thursday, elaborating in a way that will make you wistful for normalcy.
2020 Watch: Parallel Universe
CNN
As the spectacle of the Trump impeachment snowball preoccupied Washington, the Democrats vying to defeat him in 2020 presented an assortment of rational alternatives. Joe Biden, whose targeting by Trump in a classic smear campaign may be the straw that gets the volatile president impeached, came out in favour of that outcome this week. "Donald Trump has violated his oath of office, betrayed this nation and committed impeachable acts," Biden said in his strongest comments to date on the question, adding, "He should be impeached." CNN held back-to-back, half-hour town halls with nine contenders (above) on Thursday night.
Brexit Watch: No Easy Games

The Guardian
World Watch: R2P R.I.P.?

AlJazeera
As if we needed more evidence of Donald Trump's shocking abrogation of the norms of American leadership, the same superpower that led a 2011 NATO intervention in Libya to prevent Muammar Gadhaffi's threatened massacre in Benghazi this week actually enabled an offensive by Turkey against the Kurds in northern Syria who've been indispensable U.S. allies in the fight against the Islamic State. Trump announced on Sunday that US troops would be evacuating Kurdish areas in Northern Syria, leaving the Kurds at the mercy of Turkey, which has long treated the Kurdish statehood movement within its own borders and elsewhere as a threat to national security. The move drew criticism so widespread in Washington that even Sen. Lindsey Graham, whose otherwise unwavering defense of Trump's actions has spawned a thousand jokes about what the mobby president might have on him, was flabbergasted. "I like President Trump," Graham said on Fox and Friends. "I've tried to help him. This to me is just unnerving to its core." Among the potential disasters catalyzed by Trump's decision: a possible large-scale ethnic cleansing campaign and the release of thousands of ISIS prisoners currently kept in Kurd-run jails. Which means that, in addition to his other dubious achievements, Donald Trump may be the American president who reconstitutes the Islamic State. Here's CNN with US troops leaving Syria: Everything you need to know about Trump's pullback.
Democracy Watch: Exporting Censorship


China's forensic approach to gagging criticism of its domestic human rights and anti-democracy foreign policy was in the news again this week. South Park creators Matt Stone and Trey Parker issued a typically cheeky non-apology apology for an episode focused on the system of retaliation and reward that sustains global censorship on China's policies. China retaliated by scrubbing the show from its Chinese platforms. And, the NBA also declined to apologize for Houston Rockets GM Daryl Morey's tweet (above) in support of Hong Kong's pro-democracy protests even after Beijing cancelled a pair of preseason games in the country. "We believe any remarks that challenge national sovereignty and social stability do not belong to the category of free speech," state broadcaster CCTV said in a statement whose irony — coming from a regime currently challenging Hong Kong's sovereignty and social stability — was unfortunate. Meanwhile, Apple removed HKMapLive, an app used by protest organizers in Hong Kong, from its Chinese app store on Wednesday after the People's Daily publicly criticized the app. Here's the New York Times' Nick Kristof with When China Comes for Pooh Bear: President Xi Wants to Censor the Western World, Too. Here's Hong Kong Free Press with Hurt Feelings: How Foreign Brands are Proving to be a Soft Target as China Wields its Power. And, here's WBUR's (Boston NPR) podcast on the China vs. the NBA, including the Wilson Center's Rui Zhong, program associate at the Kissinger Institute and friend of TWIP.
Trade Watch: What's the Damage?

IMF
The incoming managing director of the International Monetary Fund, Kristalina Georgieva (above), warned on Tuesday that Donald Trump's trade war with China (which, so far, has indeed been "good and easy to win"…for China) could cost the global economy $700 billion by 2020 which, while a fraction of the $9.8 trillion lost in America alone from the last entirely self-inflicted financial cataclysm, is still a loss equivalent to the size of Switzerland's entire economy. "The fund will be downgrading its projections for global growth in 2019 and 2020 next week, when it releases new projections of the economic losses related to the trade war," per the Washington Post. Here's Georgieva's first speech as successor to Christine Lagarde, which was also the curtain raiser ahead of next week's IMF/World Bank annual meetings in Washington.
Political Culture: So Much For Greek Drama

Greek actor Christos Loulis as Yanis Varoufakis in 'Adults in the Room'
The destructive blurring of the line between politics and fiction aside, who'd have thought the eurozone crisis of 2015 wouldn't make for riveting cinema (certainly not me, but then I'm still trying to get a script optioned about the WTO banana wars of the late 90s), even with the combustible presence of debt crisis diva and Hellenic Hell's Angel Yanis Varoufakis? Greek critics have been underwhelmed by Adults in the Room, the Costa-Gavras dramatization of the six months of roller-coaster…meetings…that pitted the Syriza government against Brussels and Angela Merkel with then-Greek finance minister Varoufakis as protagonist (it's based on his bestselling account of the crisis). "We did get an idea of what a eurogroup meeting is like," one theatergoer in Athens told the FT. "Yet somehow, it was all rather dull."
And, if you missed it last weekend, the brilliant Saturday Night Live cold open now notable for its understated, downplayed portrayal of the absolute lunacy in the White House.
Noteworthy: Birthday Suit

Reuters
In the Man-Bites-Dog Story of the Week, Russian President Vladimir Putin appeared in his annual birthday photo montage fully clothed. The entire gallery of the former KGB apparatchik communing with Siberian nature and pair bonding with his defence chief, Sergey Shoigu, conveyed the pastoral serenity of Don Corleone puttering in his garden, or the weirdest Heidi publicity stills you've ever seen.
Events, Dear Boy: Fall Ahead
Our friends at The Sixth Estate have posted their fall lineup of upcoming Before the Bell and Spotlight policy panel events at the National Arts Centre, starting with Evidence in Action: Public Education on the New Cannabis Products on Oct. 16. Here's the full lineup. In related content, Sixth Estate founder Andrew Beattie spent his summer vacation on a motorcyle diaries tour of classic motels. Here's the perfect content escape, Sleeping Around in America: The Motelorcycle Chronicles.
Books: The Covert Colonizers
With the economics of privacy poaching, data-mining, data-pimping, social engineering and "consensual" surveillance redefining our professional, social, cultural and political lives, Shoshana Zuboff's The Age of Surveillance Capitalism: The Fight for a Human Future at the New Frontier of Power, has become an international bestseller. Here's this week's Guardian Books interview with Zuboff, a Harvard Business School professor emerita: Shoshana Zuboff: Surveillance Capitalism is an Assault on Human Autonomy.
Here's CBC Books with Margaret Atwood's 10 essential books.
And, here's the Book Marks Best Reviewed Books of the Week.
Our Campaign 2019 Issue
Four years after Justin Trudeau became the first son of a prime minister to be elected to the office himself, his Liberal government will seek a second mandate from the Canadian people on Oct. 21. Our Policy Magazine Campaign 2019package includes status reports on all four major parties from respected strategists, a look at the government's fiscal house, an update on the security of our election infrastructure, foreign policy as a campaign issue and more. It's all yours…
In this Issue:
Lori Turnbull of Dalhousie University takes us through a key set of numbers, specifically the number of seats needed to form a majority government in the 338-seat House. Here's The Road to 170.
In Sunny Ways Redux? Not so Fast, John Delacourt, former director of communications of the Liberal Research Bureau, says this campaign is a test whose outcome should not be taken for granted.
For Conservative strategist Yaroslav Baran, the campaign offers an opportunity for Andrew Scheer to play to his soccer dad advantage. Here's The Scheer Strength: Relatability.
In The NDP's Ballot Question, Former federal NDP president Brian Topp writes that there is no point in the New Democrats simply running to get rid of Trudeau since "The short road to doing this is to elect a Conservative government."
For Elizabeth May and the Greens, the 2019 election represents a moment. As Ziya Tong writes in M'ayday! M'aidez!, the question is how May will weather the scrutiny.
In the modern era, democracies are aware of threats to their elections, of which the 2016 U.S. election cycle was the most obvious example. In Protecting Elections in a new Threat Environment, Democratic Institutions Minister Karina Gould writes of Canada's protective and pre-emptive response.
The early signs of Maxime Bernier's increasingly Trumpian profile raise the question of whether populism is growing in Canada. Patrick Gossage, former press advisor to Pierre Trudeau, wonders Could it Happen Here?
One of the mega-issues in this campaign is bound to be climate change and carbon taxes, which Don Newman explores in The 'Big E' Election—Energy and the Environment.
After a 2015 campaign in which fiscal policy played a surprising role, former Parliamentary Budget Officer Kevin Page examines the Trudeau government's record and asks Is Fiscal Responsibility an Issue in the 2019 Campaign?
With gender parity having been a major theme of the Trudeau government's first term, Helaina Gaspard and Emily Woolner of the Institute of Fiscal Studies and Democracy look at Canada's gender-based analysis in Because it's 2019: Checking in on Gender Budgeting in Canada.
Foreign policy is rarely a major issue in Canadian campaigns, but with global tensions being what they are, this time could be different. Our foreign affairs sage, Jeremy Kinsman, has Being Back: Foreign Policy as a Campaign Issue.
In Could Health Care Be on the Ballot Again? Shachi Kurl of the Angus Reid Institute writes "For the first time in a long time, party leaders find themselves compelled to say something about our physical well being."
In a guest column, Diabetes Canada President Jan Hux warns that, while U.S. politicians are leading insulin pilgrimages across the border, Canada Has its Own Diabetes Crisis.
Most campaigns have defining moments and in the modern Canadian political era, none more so than the 1984 leaders' debate. Peter Mansbridge captures the drama of the exchange between John Turner and Brian Mulroney in The Debate that Changed Debates.
And, in his regular column. Don Newman provides a prescription for mitigating chaos in the event of a minority House. Here's In Case of Minority, Break Glass.
Finally, we offer timely reviews of two important books of this season. Former Maclean's Editor-in-Chief Bob Lewis looks at Trudeau: The Education of a Prime Minister and finds that John Ivison's biography "fairly bristles with anecdotes and examples of a flawed prime ministry." And, Robin Sears is struck by the personal courage of NDP Leader Jagmeet Singh in his autobiography, Love & Courage.
That's it for this week. Thanks so much for joining us. To subscribe to TWIP, click here or email lianmacdonald@gmail.com. And many thanks to those of you who've already subscribed.
If you enjoy The Week in Policy, you'll probably like our magazine. To subscribe to Policy, click here.
And, if you have any suggestions or complaints for TWIP, fire me off an email at lvandusen@policymagazine.ca.
Have a fabulous weekend.
@Lisa_VanDusen