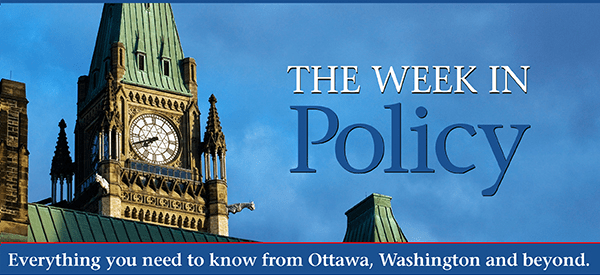 Friday, November 8, 2019
Welcome to The Week in Policy, Policy Magazine's weekly look at developments in policy and politics in Ottawa, Washington and beyond, compiled by Policyassociate editor and Hill Times columnist Lisa Van Dusen.
First Things First: Hometown Remembrance

CBC
Monday is Remembrance Day, observed annually on November 11 in Commonwealth countries to mark the end of hostilities in the First World war in 1918. The Memorial Veteran Banner Project is honouring veterans in towns and cities across Canada, coinciding this year with the 75th anniversary of D-Day and the Battle of Normandy. Second World War veterans Bill Jepps, who served in the Royal Canadian Navy, and Curtis Munro, who served in the Royal Canadian Air Force, above, are honoured in their hometown of Didsbury, Alberta, with banners that will be displayed on light posts. Here's CBC's Dan McGarvey with the details. Keep your poppy on and follow @RoyalCdnLegion.
Above the Fold: The Aftermath

CP
The October 21st federal election produced a victory with an asterisk for Prime Minister Justin Trudeau, a bittersweet loss and instant leadership feeding frenzy for Conservative Leader Andrew Scheer, a trouncing of expectations for NDP Leader Jagmeet Singh and an expected retreat from the arena by Green Party Leader Elizabeth May after more than a decade of service. The major knock-on this week was that Scheer overcame the first threat to his tenure on Wednesday when the Conservative caucus voted against availing itself of the early leadership review provisions of the Chong Act. That respite brings the question to the party's April 2020 convention in Toronto. Here's Stephanie Levitz for CP with In a win for Andrew Scheer, Conservative MPs vote against reforming leadership review process, CBC's Aaron Wherry with Andrew Scheer does not sound like a man who thinks he has to change and Global's David Akin on a preposterous question to which the only sane answer is a scoff and a "Good God, no." Meanwhile, the Liberals had their own caucus on Thursday, including both newly elected and defeated MPs, and billed as a chance to "reflect" on the lessons of the election. The agenda included returning MP Maryam Monsef and defeated MP Matt DeCourcey announcing their engagement. "We're very happy," Monsef said on her way out. Here's CTV's Rachel Aiello with the details.
On the national unity story unleashed by the Liberal shut-out in Alberta and Saskatchewan, Trudeau met Friday with Conservative Manitoba Premier Brian Pallister, who sounded optimistic about the government's odds of reconciling national pressure for action on climate change and Western Canada's economic reliance on fossil fuels. Here's CBC's Kathleen Harris with the details.
Your weekly TWIP links:
From Policy Editor @LIanMacDonald, a chat with former Green Party Leader Elizabeth May as she made her way on VIA Rail's Canadian this week from Toronto to Vancouver after significantly lightening her workload. Here's Elizabeth May, Free Woman.
From me, Policy Associate Editor @Lisa_VanDusen, this week's Hill Times column, re-posted on Policy, The Rime of Andrew Scheer, about the Conservatives' post-defeat habit of devolving into a circular pissing match.
And, from Policy contributor and BMO Chief Economist Doug Porter, this week's Talking Points, Scaling the Great Wall of Worry.
In and About Canada: Rite of Passage

CTV
There are no Tim Hortons in Iran and there are definitely none on Papua New Guinea, where Amirhossein Sahragard spent nearly seven years in offshore detention under Australia's notoriously harsh refugee policies after fleeing Iran and seeking asylum. After years of exposure to riots, beatings and deaths, Sahragard, 27, has now arrived in Canada under a private refugee sponsorship program which, per the Guardian, "has few parallels in the world." Here's CTV News with Canada welcomes asylum seeker who spent 6 years in Australian detention centre. And, here's the Guardian with 'I can't believe I'm free': the Canadian citizens ending the torment for Australia's offshore refugees.
America Watch: Kafka in More Places Than One

Reuters
Congressional Democrats announced this week that the first public hearings in the impeachment inquiry into Donald Trump's documented abuse of power in attempting to extort a foreign leader to get dirt on Joe Biden will begin next Wednesday. House Intelligence Chair Adam Schiff, the former L.A. prosecutor whose choirboy vibe and relentless unflappability seem to drive the beleaguered president bananas, said that three witnesses will testify next week: US diplomat Bill Taylor and State Department official George Kent will appear on Wednesday, and former US Ambassador to Ukraine Marie Yovanovitch is testifying next Friday. Impeachment investigators have already heard in camera from more than a dozen witnesses, including Yovanovitch and Taylor. Transcripts of that testimony, released Monday, reveal an unrecognizable American executive branch whose rampage against career diplomats in the State Department, operatic flouting of every rule of international relations and deployment of a shadow foreign policy apparatus apparently engineered to undermine US credibility and influence can only be reasonably explained as collective insanity, epic covert warfare or, most disturbingly, both. Here's Julian Borger in The Guardian with Kafka in Foggy Bottom: impeachment transcript reveals fear of Trump tweets. And, here's the Guardian's live blog for your updating convenience.
2020 Watch: It's Coming From Inside the Campaign
The 2020 campaign of billionaire Democratic candidate Tom Steyer has become an object lesson lately in the sort of baffling self-sabotage on the part of professionals who know better that has so fatefully cannonballed other candidacies in recent memory. On Monday, a staffer on Steyer's campaign resigned after accessing volunteer data from Kamala Harris' presidential campaign. On Thursday, APreported that former Iowa state house speaker Pat Murphy has been offering campaign contributions to local politicians in exchange for endorsements of Steyer ahead of the crucial Iowa caucuses on Feb. 3. Steyer's campaign press secretary, Alberto Lammers, told AP that Murphy was not authorized to make the alleged offers. Former New York Mayor Mike Bloomberg reinforced the notion this week that the Democratic primary has not yet gelled by indicating he'll jump in as of the March 3 Alabama primary.
Brexit Watch: A Little Brexit Goes a Long Way
Etsy
The third British election in four years involving the future of the country's relationship with the European Union is unfolding about as you might expect given that it involves what former speaker John Bercow this week called the biggest mistake Britain has faced since the second world war and the elaborate efforts to make it seem like anything but. To that end, the Brexelection, ostensibly called by Boris Johnson to recalibrate the parliamentary math in favour of a Brexit deal before January 31st but which may yet cast Jeremy Corbyn in the role of monstrosity midwife, has been precisely the extravaganza of nonsensical Brexitology the punters were betting on. On Wednesday, in an attempt to re-set the week after a series of unforced errors, Johnson grasped for a shameless, hopelessness-and-change rationale that even Trump has had the restraint to steer clear of — the Luddite-shaming, innovation argument for patently destructive, new world order rubbish. "My friends, they are like candle-sellers at the dawn of the electric light bulb," Johnson said of critics of his divorce deal, "or the makers of typewriters on beholding their first laptop computer." On Thursday, he did a walkabout at the Tetley Tea plant in Teesside. By the way, you can get your Boris Johnson Brexit Candle (above…that's a wick, FWIW, not a fuse) for CA$28.58 on Etsy. It does double duty as a marvelous likeness of the late Jean Stapleton or, in a power outage, skinny John Goodman. Here's Alastair Campbell's British GQ interview with Bercow. And, here's the always must-read Marina Hyde in the Guardian with Lurching and rambling, Boris Johnson is in charge. But he's lost control.
World Watch: Art of the bon mot

CNN
In what may be the most explicit expression of French malaise with America's role in NATO since Charles de Gaulle pulled the country out of the Alliance's integrated military command in 1967, President Emmanuel Macron this week unleashed quite a tempête de merde when he warned of the "brain death of NATO." In an interview with The Economist, the leader who has become Europe's most vocal defender on the world stage chose the occasion of a state visit to China — which would view the demise of NATO as an epic triumph — to bemoan the precipitous degradation of American competence and leadership under Donald Trump, saying the alliance "only works if the guarantor of last resort functions as such. I'd argue that we should reassess the reality of what NATO is in the light of the commitment of the United States." The comments were roundly rebuked by everyone from German Chancellor Angela Merkel to NATO Secretary General Jens Stoltenberg to Justin Trudeau, who said "NATO continues to hold an extremely important role not just in the North Atlantic but in the world as a group of countries who come together to share values, that share a commitment to shared security." Here's CNN with Macron says Europe is facing 'the brain death of NATO'. Here's CP's Lee Berthiaume with Trudeau defends NATO as French president warns of alliance's 'brain death.'
Democracy Watch: When Walls Came Down

Getty
Saturday marks the 30th anniversary of the fall of the Berlin Wall which, for anyone not quite clear on why walls are notable for their absence, was greeted in real time with a collective, global euphoria arguably unseen since V-E Day in 1945. The concrete, razor-wired barrier between East and West Berlin that, for nearly 30 years, symbolized the seemingly irreconcilable differences of the Cold War, was first opened and de-militarized, then dismantled and carted off piece by piece in a flash of freedom in the fall of 1989. NBC News correspondent Tom Brokaw was the first journalist on the scene that November night. Here's Brokaw on Morning Joe Friday, talking about what it was like. And, the Guardian with World has failed to learn the lessons of the Berlin Wall, say filmmakers.
Ottawa native Dan McGarry has lived in the South Pacific island archipelago of Vanuatu for the past 16 years, the last six of them spent as media director of the Vanuatu Daily Post in Port Vila, the national capital. McGarry, a Canadian citizen, has increasingly run afoul of the Vanuatu government for reporting truthfully on China's interference in the country. On Thursday, McGarry, whose partner and children are Vanuatuan, was told his work permit would not be renewed for the first time, a de facto deportation. Here's the Guardian with 'Attack on the media': Vanuatu newspaper boss has work visa refused. You can keep up with McGarry @dailypostdan.
From the Department of Minimalist Tech Abuse Revelations, U.S. federal prosecutors in San Francisco filed charges against two former Twitter employees of spying on behalf of Saudi Arabia by mining the accounts of critics and dissidents for sensitive information. "One of those implicated in the scheme, according to court papers, is an associate of Saudi Crown Prince Mohammed bin Salman, who the CIA has concluded likely ordered the assassination of journalist Jamal Khashoggi in Istanbul last year," per the Washington Post.
Trade Watch: Reassurance Policy
CP
Richard Neal, chairman of the powerful House Ways and Means Committee, spent Wednesday in Ottawa, reassuring senior Canadian officials including Trudeau and Foreign Affairs Minister Chrystia Freeland that his party is committed to ratifying NAFTA II. "We want to see this implemented. Renewal is very important to the United States, and I can tell you with all certainty that Speaker [Nancy] Pelosi is committed to getting to yes," Neal said. Buttonholed by a Global News crew on his way into the meeting about what concerns remain among Democrats, Neal said, "I think what we're going to prioritize here is clearly the issue of labour enforcement, and we think that on USMCA (the US acronym for the deal), we're very close but we need some guarantees as it relates not just to Canada but also their help as it relates to Mexico." Here's CBC with the details.
Spotlight: Shared Pride
If you haven't seen it yet, the film Harriet, about the life of Harriet Tubman — escaped slave, liberator and activist abolitionist — is in theatres now. We highly recommend that you bring your children, especially daughters if you have them. Among its merits, the film offers a reminder that Tubman resettled her family members in St. Catharines, Ont., in a series of daring missions by the Underground Railroad she helped devise, and lived there herself from 1850-59. Here's TVO with Why Harriet Tubman made St. Catharines her home, CTV with Harriet Tubman biopic includes her Underground Railroad trek to Canada, and here's the CBC Newsvideo piece Canada's role in Harriet Tubman's story, about the film and the Canadian angle, from St. Catharine's. On the policy front, the U.S. Treasury Department's decision to put Tubman's face — which in every surviving photograph is a sublime, eloquent take-down through time of everyone who ever told a woman she should smile more — on the $20 bill was reversed by the Trump administration in May. Perhaps Canada, given her role in the country's heritage, could put her on its $100. Here's A.O. Scott's New York Times review of Harriet. And, here's the trailer.
Noteworthy: #Hardball20

MSNBC
Hardball with Chris Matthews celebrated its 20th year on the air this week. For our many Canadian readers — journalists, diplomats, IMF/World Bank staff, military attachés and others — who've been posted to Washington in the past two decades, it has been required nightly viewing. For political junkies on this side of the border who tailor their cable packages to get MSNBC, these days, Hardball provides a rational and entertaining window on the daily lunacy of Trumpian Washington. Matthews, a former San Francisco Chronicle columnist, long-ago aide to House Speaker Tip O'Neill and author of eight books, including biographies of Jack and Bobby Kennedy, has consistently presented, above all, a sensibility that belies the tough-guy name of the show; extolling the indispensability of truth and sustaining the romance of politics well practiced, of speeches well written and delivered and of races well-run at a time when such values are becoming woefully exotic. Here's #Hardball20: 20 years of interviews with presidents.
Political Culture: Bravo
As many of our readers know, former OECD Secretary-General, longtime Liberal cabinet minister and Policy contributor Don Johnston is, along with his many other talents, an excellent pianist. Johnston recently hosted an evening at which the McGill Symphony Orchestra performed his composition, Montreal/Montréal, at the university's Schulich School of Music. The event also launched the Performance Materials Support Fund, an endowment created by the Schulich School to purchase musical scores for the school's instrumental and vocal ensembles. You can donate to the fund here, or phone 1-514-398-2787. Here's Don's fantastic contribution to Policy's recent The Canadian Idea issue, Better than Good Enough, about a memorable trip to Sable Island with Pierre Trudeau and Mordecai Richler. And, the excellent McGill Reporter Q&A with Don that Schulich's Chris Maskell filed before the concert, about his love of music, his inspiration for Montreal/Montréal and his former roommate, Leonard Cohen, Donald Johnston: 'Life wouldn't be interesting without music'.
Books: Instructions of History
We fell for Montréal-based writer Taras Grescoe after the first few pages of Sacré Blues, his affectionately irreverent cultural anthropology of Québec, which landed in 2000. Since then, he has published six more non-fiction books:The End of Elsewhere, The Devil's Picnic, Bottomfeeder, Straphanger, and Shanghai Grand, and hoovered up a bunch of awards for them. His latest book, Possess the Air: Love, Heroism and the Battle for the Soul in Mussolini's Rome, has already been chosen by the Globe and Mail as a Fall 2019 Book to Watch. Here's Grescoe's talk about the book during the recent launch at Montreal's Drawn & Quarterly. "History doesn't repeat itself, it instructs," Grescoe told the gathering. You can follow him @grescoe.
Here's the New York Times with 12 New books we recommend this week.
And, here's the Book Marks Best Reviewed Books of the Week.
Our Policy Post-Election Issue: The Reprieve
Welcome to our Policy Magazine post-election issue, The Reprieve, a cover we think captures the qualified nature of the verdict Canadians delivered on Oct. 21 in the form of a minority Liberal government.
First, from veteran strategist and Earnscliffe principal Robin Sears, an indispensable election overview. Here's The Bittersweet Election.
Former
Quebec Premier Jean Charest delivers invaluable insight as to how a minority government affects the dynamic at the fed-prov table in
Back to the Future
.
Liberal
strategist and Hill + Knowlton VP John Delacourt dissects the campaign through the impact of the blackface scandal in
The Day the Poetry Died: How the Liberals Snatched Victory from Disaster
.
Former NDP National director and leadership candidate Brian Topp delivers his assessment of Jagmeet Singh's first campaign as leader in The NDP: One More Rung up the Ladder.
Conservative strategist and Earnscliffe principal Yaroslav Baran examines Andrew Scheer's prospects the usual post-defeat intrigue in Word to Fellow Conservatives: Revive the 'Tory Syndrome' at Your Peril.
Former Green Party Leader Elizabeth May was no more impressed with the general tone of the campaign than the rest of us. Here's her post-election piece, We Fight On.
Liberal strategist and writer Tiffany Gooch has filed the best thing you'll read about Justin Trudeau's record on race relations and what the country's leaders need to do now. Here's Beyond Blackface: Repairing the Legacy of Anti-Black Racism.
Conservative sage and Earnscliffe Principal Geoff Norquay, a veteran of many campaigns in the pre-Twitter age, unfurls the strategic and tactical post-mortem in Not a Campaign for the Ages.
Kevin Page, president of the Institute for Fiscal Studies and Democracy, flexes his fiscal bona fides as former Parliamentary Budget Officer in the essential Money Matters: Fiscal Performance and Minority Government.
Once again, the results from Quebec had a significant impact on the national outcome. McGill Institute for the Study of Canada Director Daniel Béland has filed Quebec's Split Decision: A Tour d'horizon.
Longtime Globe and Mail and Gazette Quebec correspondent and former official languages commissioner Graham Fraser looks at Minority Rights, Bill 21 and the Election.
Dalhousie University's Lori Turnbull looks at the minority math in Why Nobody Made it to 170.
Regular Policy contributor and BMO Chief Economist Doug Porter adapted his post-election BMO briefing note for us. Here's The Post-Election Economic Landscape.
In our Canada and the World section, longtime senior diplomat, former ambassador to Russia, the U.K. and the EU Jeremy Kinsman explores Britain's long national nightmare in Brexit: A Rationale, Not a Defence.
And, our regular columnist Don Newman looks at the surge of the Bloc Québécois in Monsieur Blanchet's Tour de force.
Finally, former Maclean's editor-in-chief and current Historica Canada President Tony Wilson-Smith reviews Sean Fitz-Gerald's book about the state of play in hockey, Before the Lights Go Out: Inside a Game on the Brink in Twilight of a National Game.
Enjoy the issue!
That's it for this week. Thanks so much for joining us. To subscribe to TWIP, click here or email lianmacdonald@gmail.com. And many thanks to those of you who've already subscribed.
If you enjoy The Week in Policy, you'll probably like our magazine. To subscribe to Policy, click here.
And, if you have any suggestions or complaints for TWIP, fire me off an email at lvandusen@policymagazine.ca.
Have a fabulous weekend.
@Lisa_VanDusen