Friday, November 15, 2019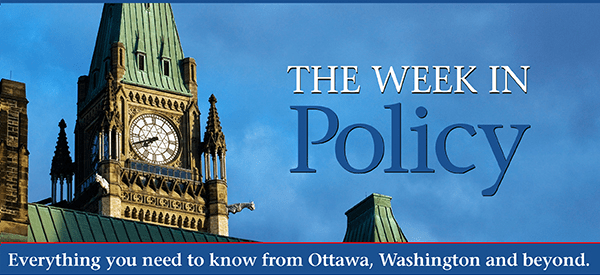 Friday, November 15, 2019
Welcome to The Week in Policy, Policy Magazine's weekly look at developments in policy and politics in Ottawa, Washington and beyond, compiled by Policyassociate editor and Hill Times columnist Lisa Van Dusen.
First Things First: You're Invited
Above the Fold: Speed Dating for Votes

CP
Even as the rest of our readers are busy ordering Candylocks dolls or Googling cheap flights to the Turks and Caicos for Boxing Day, a few of you are playing the throne speech Mad Libs game against a hard deadline sometime in the hours before delivery on Thursday December 5th. That date and the swearing-in of the new cabinet next Wednesday, Nov. 20, are the non-social save-the-dates of the 2019 Ottawa holiday season. Meanwhile, three weeks after Canadians elected a minority Liberal government with an NDP legislative chaser, we have a better idea of how that reality might play out in Parliament. To that end, Prime Minister Justin Trudeau engaged in the minority government version of speed-dating this week, meeting with his House of Commons counterparts to sniff out areas of possible collaboration or caution. NDP Leader Jagmeet Singh warned that his party could vote against the throne speech if his party's demands on pharmacare, dental coverage and Indigenous rights are not met. "I know that in this Parliament they're going to need to work with us," he said Thursday after meeting with Trudeau. "I want to make it clear that isn't going to come for free." For his part, Bloc Québécois Leader Yves-François Blanchet reminded everyone of his bottom line on the question of national unity in the wake of a regionally divided election result. "I still believe that Quebec will do better when it becomes a country," he said on Wednesday after meeting Trudeau. "So I'm not the one that will fight to have a nice, beautiful and united Canada." And Conservative Leader Andrew Scheer had his face-à-face with Trudeau on Tuesday. Scheer told reporters he "laid out priorities that included the national energy corridor, a 'road map' for completion of Trans Mountain pipeline and elements of the Conservatives' environmental plan," per the Star's Bruce Campion-Smith. On Friday, Trudeau met with Elizabeth May, who resigned as Green Party leader after the election but remains the party's leader in the House of Commons. May pushed the prime minister to attend a UN climate summit in Madrid next month, which given the scheduling conflict with the opening of Parliament, isn't likely.
Your weekly TWIP links:
From Policy Editor @LIanMacDonald, a chat with former Green Party Leader Elizabeth May as she made her way on VIA Rail's Canadian last week from Toronto to Vancouver after significantly lightening her workload. Here's Elizabeth May, Free Woman.
From yours truly, Policy Associate Editor @Lisa_VanDusen, this week's Hill Timescolumn, re-posted on Policy, 'State' vs. the Shallow State: Diplomats Strike Back, about the Washington power shifts behind the impeachment headlines.
From Policy Magazine foreign affairs writer and veteran ambassador Jeremy Kinsman, his personal take on the impossible position Kent and Taylor were put in, A Diplomat's Worst Nightmare: The Trump Presidency.
And, from Policy contributor and BMO Chief Economist Doug Porter, this week's Talking Points, Yields low, stocks strong; nothing can go wrong?
America Watch: Anchuria on the Potomac

The Daily Show
The public impeachment hearings that began this week into the conduct of Donald Trump as president of the United States produced some key early takeaways. Among them: Trump, along with all his other precedent-setting norm-shattering, has exposed American diplomats to the sort of disbelief-inducing revulsion during the course of their interactions with political superiors that had heretofore been the occupational hazard of the envoys of dictators and autocratic buffoons; that the industrialization of narrative BS has gone so meta that we now have people lying about a story about a president lying about trying to force an ally to lie about a former vice president, and there are people still questioning, disingenuously of course, what all the fuss is about; and that in this administration, John Bolton was the voice of reason. Here's CNN with the wrap on Wednesday's testimony from veteran diplomats George Kent and Bill Taylor, Impeachment hearing testimony further connects Trump to Ukraine pressure. Taylor, who described what amounted to the superimposition of an alien, unrecognizably corrupt culture on his job as a diplomat, summed up the "irregular" policy track choreographed by Rudy Giuliani, million-dollar Trump donor-turned EU Ambassador Gordon Sondland and others to coerce Ukraine President Volodymyr Zelenskyi into delivering a false content drop incriminating 2020 contender Joe Biden with admirable restraint. "It was illogical, it could not be explained, it was crazy," he told the House Intelligence Committee. Here's CNN with the key moments from his opening statement. On Friday, Marie Yovanovitch, the former ambassador to Ukraine that Trump hounded out of Kiev because of her anti-corruption effectiveness, testified as to the abnormality, recklessness and intimidation she faced during that trajectory. Here's the New York Times with Ambassador testifies that smear campaign led to ouster. And here's the Guardian's live blog of the day's events. Here's CNN's Fareed Zakaria in the Washington Post with his account of interacting with Zelenskyi over months on an interview request as he was allegedly planning to make his false Biden announcement on Zakaria's show.
Here's Policy Magazine foreign affairs writer and veteran ambassador Jeremy Kinsman with his personal take on the impossible position US diplomats were put in, A Diplomat's Worst Nightmare: The Trump Presidency. Here's my Hill Times piece this week (Policy re-post), State vs. the Shallow State: The Diplomats Fight Back. And, here's three wise men, John Meacham, Walter Isaacson and Evan Thomas, in the Washington Post opinion section with It's the Wise Men vs. the wise guys in Trump's America.
And, events in and around the committee room in the Longworth Building this week were brightened by the presence of a posse of therapy dogs. Seriously. And don't scoff — you could probably use this click right about now.
Brexit Watch: 'Til its Over

Flickr
These days, with so many previously unthinkable pressures being brought to bear on public officials in strategically potent positions, some of the most honest and valuable observations are being delivered in exit speeches. Outgoing European Council President Donald Tusk used his on Wednesday to the College of Europe in Bruges to issue both a warning and a rallying cry. The former prime minister of Poland, who became known over his tenure in Brussels for frank and sometimes emotional interventions in person and on social media during the fraught euro crisis and the protracted Brexit negotiations, predicted that, if Brexit goes through, Britain will be reduced to a "second-rate player". "I want to tell you something I wouldn't have dared to say a few months ago, as I could be fired for being too frank," Tusk said. "The UK election takes place in one month. Can things still be turned around? Hannah Arendt taught that things become irreversible only when people start to think so. So the only words that come to my mind today are simply: don't give up." Here are the full text and video of Tusk's speech. Meanwhile, in Brexelection news, Donald Trump will be in town for a state visit in the days ahead of the Dec. 12 vote.
World Watch: Not Giving Up

Reuters
As the Hong Kong protests stretch into their sixth month, the student-led but widely supported movement that has filled the streets continues to adapt to police tactics in what has become a testing ground for the limits of surveillance as a tool of repression, the nature of 21st-century civil disobedience and the relative wisdom of political intractability in the face of sustained public opposition. This week, the proxy war portrayed by Beijing as a symmetrical battle shifted venues to university campuses across the former British colony. "The level of unrest and destruction in the almost six-month-long protest movement has reached new and unnerving heights in recent days," reported CNN on Thursday. Beijing has also intensified its campaign of psychological warfare against the protesters, using state media this week to praise Hong Kong police for their "restraint" the day after an unarmed protester was shot at point-blank range and to warn protesters, "You are on the edge of doom…. walk away as soon as possible while you can still make the call." In related content, a Canadian delegation that included Conservative former foreign affairs minister John Baird and Liberal former justice minister Allan Rock was in Beijing last week warning senior Chinese officials that Canadian public opinion about China has "plummeted." Here's Postmedia's Tom Blackwell with the details.
Democracy Watch: Regime Change 3.0

NYTimes
This week's Alexander Haig Award for I'm in Charging goes to Bolivian Senator Jeanine Añez Chavez, who set the latest precedent for chaotic democratic outcomes when she declared herself president on Tuesday, following the resignation Monday of longtime president Evo Morales. Morales was re-elected Oct. 20 after 14 years in power but those results were immediately disputed, leading to weeks of protests and, in recent days, the abandonment of Morales by the army and police. Morales is now in exile in Mexico. In Ottawa on Thursday, Global Affairs spokesman John Babcock said that Canada will work with the new interim administration — conditional on its commitment to hold new elections as soon as possible. Añez has proposed January 22 as a possible date for a fresh election. Here's CBC's Evan Dyer with the details.
Tech Watch: Eww
This week in surveillance capitalism, the news that Google is harvesting personal search histories on medical symptoms and other health queries from health websites such as WebMD. Here's Anonymous with I'm the Google Whistleblower. The medical data of millions of Americans is at risk, in the Guardian. Here's CBS News with Google's Project Nightingale faces government inquiry over patient privacy.
Events, Dear Boy: The Pharmacare Horizon
Our friends at The Sixth Estate hosted another Before the Bell event on Thursday, this one on the future of pharmacare in Ottawa's new, minority government context. Here's Dale Smith's write-up of the event, What's Next for Pharmacare? The next Before the Bell event is the Dec. 5th Innovation panel. Full details to come but you can register here.
Political Culture: Vital Title

AP/NBC
For all of our readers who are now or who've ever been chiefs of staff (John Spencer as The West Wing's Leo McGarry, above right, best chief of staff ever), you're in a much bigger club than you used to be. As the New York Times reports, the title that was once used almost exclusively in political and military hierarchies has invaded org charts from traditional manufacturing to Silicon Valley to Fifty Shades of Grey 'n Chardonnay book clubs, sometimes for jobs that involve very little chiefing and negligible staffing. "There's something about the title or the idea of the chief of staff that seems to be in the zeitgeist," Chris Whipple, author of The Gatekeepers, a 2017 history of White House chiefs of staff, told the Times. "I'm encountering more and more, not only in the political world but in the corporate world." Here's Hail to the Chief of Staff: The title is suddenly everywhere. It can mean almost anything.
Books: 'Diverse Books Into Diverse Hands'

Shale Project
The latest Books Territory column in the New York Times spotlights Toronto's Another Story Bookshop. "The guiding principle of the bookstore, located in Toronto's Roncesvalles Village neighborhood, is social justice, and it makes itself known right away," writes Wadzanai Mhute. "That was a goal of its founder, Sheila Koffman, who opened Another Story in 1987 in an effort to place, as she put it, "diverse books into diverse hands." Koffman passed away two years ago but the store is now owned by her brother, Joel Koffman, along with employees Eric McCall and Laura Ash. You can follow them @AnotherStoryTO.
What has become a highlight of not just the book awards season but of the pre-holiday viewing calendar — the Giller Prize Gala — is coming up Monday night at 9:00 pm (here's CBC Books with How to tune into the Giller Prize Gala). The event has become an annual showcase for not just Canadian literary talent but for a national sensibility embracing snark without malice, competition without ruthlessness, and public intoxication without disorderly conduct. Witty and talented singer, actress and author Jann Arden takes over the emceeing gig from Rick Mercer this year. Here's CBC Books with The Scotiabank Giller Prize finalists discuss the role fiction plays in a troubled world.
Here's the Guardian with Shelf Mythology: 100 years of the Paris bookshop Shakespeare & Company, about the centenary of the iconic left bank indie bookseller and flaneûr mecca.
Here's the New York Times with 9 New books we recommend this week.
And, here's the Book Marks Best Reviewed Books of the Week.
Our Policy Post-Election Issue: The Reprieve
Welcome to our Policy Magazine post-election issue, The Reprieve, a cover we think captures the qualified nature of the verdict Canadians delivered on Oct. 21 in the form of a minority Liberal government.
First, from veteran strategist and Earnscliffe principal Robin Sears, an indispensable election overview. Here's The Bittersweet Election.
Former
Quebec Premier Jean Charest delivers invaluable insight as to how a minority government affects the dynamic at the fed-prov table in
Back to the Future
.
Liberal
strategist and Hill + Knowlton VP John Delacourt dissects the campaign through the impact of the blackface scandal in
The Day the Poetry Died: How the Liberals Snatched Victory from Disaster
.
Former NDP National director and leadership candidate Brian Topp delivers his assessment of Jagmeet Singh's first campaign as leader in The NDP: One More Rung up the Ladder.
Conservative strategist and Earnscliffe principal Yaroslav Baran examines Andrew Scheer's prospects the usual post-defeat intrigue in Word to Fellow Conservatives: Revive the 'Tory Syndrome' at Your Peril.
Former Green Party Leader Elizabeth May was no more impressed with the general tone of the campaign than the rest of us. Here's her post-election piece, We Fight On.
Liberal strategist and writer Tiffany Gooch has filed the best thing you'll read about Justin Trudeau's record on race relations and what the country's leaders need to do now. Here's Beyond Blackface: Repairing the Legacy of Anti-Black Racism.
Conservative sage and Earnscliffe Principal Geoff Norquay, a veteran of many campaigns in the pre-Twitter age, unfurls the strategic and tactical post-mortem in Not a Campaign for the Ages.
Kevin Page, president of the Institute for Fiscal Studies and Democracy, flexes his fiscal bona fides as former Parliamentary Budget Officer in the essential Money Matters: Fiscal Performance and Minority Government.
Once again, the results from Quebec had a significant impact on the national outcome. McGill Institute for the Study of Canada Director Daniel Béland has filed Quebec's Split Decision: A Tour d'horizon.
Longtime Globe and Mail and Gazette Quebec correspondent and former official languages commissioner Graham Fraser looks at Minority Rights, Bill 21 and the Election.
Dalhousie University's Lori Turnbull looks at the minority math in Why Nobody Made it to 170.
Regular Policy contributor and BMO Chief Economist Doug Porter adapted his post-election BMO briefing note for us. Here's The Post-Election Economic Landscape.
In our Canada and the World section, longtime senior diplomat, former ambassador to Russia, the U.K. and the EU Jeremy Kinsman explores Britain's long national nightmare in Brexit: A Rationale, Not a Defence.
And, our regular columnist Don Newman looks at the surge of the Bloc Québécois in Monsieur Blanchet's Tour de force.
Finally, former Maclean's editor-in-chief and current Historica Canada President Tony Wilson-Smith reviews Sean Fitz-Gerald's book about the state of play in hockey, Before the Lights Go Out: Inside a Game on the Brink in Twilight of a National Game.
Enjoy the issue!
That's it for this week. Thanks so much for joining us. To subscribe to TWIP, click here or email lianmacdonald@gmail.com. And many thanks to those of you who've already subscribed.
If you enjoy The Week in Policy, you'll probably like our magazine. To subscribe to Policy, click here.
And, if you have any suggestions or complaints for TWIP, fire me off an email at lvandusen@policymagazine.ca.
Have a fabulous weekend.
@Lisa_VanDusen