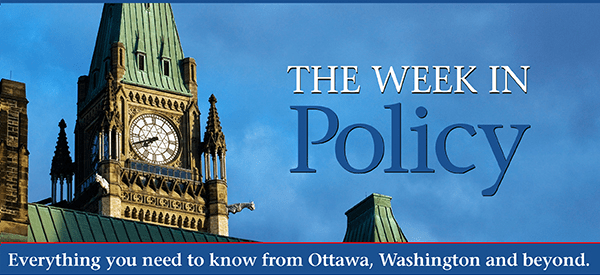 Friday, November 1, 2019
Welcome to The Week in Policy, Policy Magazine's weekly look at developments in policy and politics in Ottawa, Washington and beyond, compiled by Policyassociate editor and Hill Times columnist Lisa Van Dusen.
Our Policy Post-Election Issue: The Reprieve
Welcome to our Policy Magazine post-election issue, The Reprieve, a cover we think captures the qualified nature of the verdict Canadians delivered on Oct. 21 in the form of a minority Liberal government.
First, from veteran strategist and Earnscliffe principal Robin Sears, an indispensable election overview. Here's The Bittersweet Election.
Liberal strategist and Hill + Knowlton VP John Delacourt dissects the campaign through the impact of the blackface scandal in The Day the Poetry Died: How the Liberals Snatched Victory from Disaster.
Former NDP National director and leadership candidate Brian Topp delivers his assessment of Jagmeet Singh's first campaign as leader in The NDP: One More Rung up the Ladder.
Conservative strategist and Earnscliffe principal Yaroslav Baran examines Andrew Scheer's prospects the usual post-defeat intrigue in Word to Fellow Conservatives: Revive the 'Tory Syndrome' at Your Peril.
Green Party Leader Elizabeth May was no more impressed with the general tone of the campaign than the rest of us. Here's her post-election piece, We Fight On.
Liberal strategist and writer Tiffany Gooch has filed the best thing you'll read about Justin Trudeau's record on race relations and what the country's leaders need to do now. Here's Beyond Blackface: Repairing the Legacy of Anti-Black Racism.
Conservative sage and Earnscliffe Principal Geoff Norquay, a veteran of many campaigns in the pre-Twitter age, unfurls the strategic and tactical post-mortem in Not a Campaign for the Ages.
Kevin Page, president of the Institute for Fiscal Studies and Democracy, flexes his fiscal bona fides as former Parliamentary Budget Officer in the essential Money Matters: Fiscal Performance and Minority Government.
Once again, the results from Quebec had a significant impact on the national outcome. McGill Institute for the Study of Canada Director Daniel Béland has filed Quebec's Split Decision: A Tour d'horizon.
Longtime Globe and Mail and Gazette Quebec correspondent and former official languages commissioner Graham Fraser looks at Minority Rights, Bill 21 and the Election.
Dalhousie University's Lori Turnbull looks at the minority math in Why Nobody Made it to 170.
Regular Policy contributor and BMO Chief Economist Doug Porter adapted his post-election BMO briefing note for us. Here's The Post-Election Economic Landscape.
In our Canada and the World section, longtime senior diplomat, former ambassador to Russia, the U.K. and the EU Jeremy Kinsman explores Britain's long national nightmare in Brexit: A Rationale, Not a Defence.
And, our regular columnist Don Newman looks at the surge of the Bloc Québécois in Monsieur Blanchet's Tour de force.
Finally, former Maclean's editor-in-chief and current Historica Canada President Tony Wilson-Smith reviews Sean Fitz-Gerald's book about the state of play in hockey, Before the Lights Go Out: Inside a Game on the Brink in Twilight of a National Game.
Above the Fold: Starting Over

The Hill Times
Eleven days after Canadians elected a minority government led by the incumbent Liberal Party under Justin Trudeau, the meaning of those results for the politicians and policy makers who serve Canadians from the nation's capital is taking shape. Trudeau met with Governor General Julie Payette at Rideau Hall on Tuesday to formally advise her of his intention to form a government which, given his 13-seat plurality, has been uncontested. The names and faces of power in the new government will emerge at Rideau Hall on the morning of November 20th and the process of choosing them is underway in PMO. The major questions at press time: How will he address Western representation with no MPs from Alberta or Saskatchewan? Will Bill Morneau be tabling the next budget? Why would he move Chrystia Freeland out of Global Affairs? Will Catherine McKenna stay on in environment and climate change? Here's The Star's Susan Delacourt with Who will Trudeau pick for his cabinet? Here's CBC's Karina Roman with Why Justin Trudeau is taking his time picking a new cabinet. And, some helpful, unsolicited and entirely altruistic advice from Stephen Harper on how Trudeau can remain in office.
To help with this challenging moment, Trudeau has in brought former Deputy Prime Minister and crucially Albertan Anne McLellan as well as Canada's ambassador to France, Isabelle Hudon, as transition advisors. The transition team is being led by Chief of Staff Katie Telford and includes foreign affairs adviser David Morrison. Here's CTV's Rachel Aiello with the details.
There are 98 new MPs in the Class of 2019 — eight of them returning after stints out of the House — and they arrived for their first day of orientation on Tuesday. Here's CP's Joanna Smith with Rookie MPs introduced to House of Commons with training in Ottawa. The freshman class includes Alexis Brunelle-Duceppe, son of former Bloc Québéois Leader Gilles Duceppe, representing the party in Lac-Saint-Jean. "He's calling me about 10 times a day," Brunelle-Duceppe said of his father as he attended the orientation session Tuesday. Here's the Hill Times with the whole list of newly elected members.
One of the sidebars we'd been waiting for is a look at how Ottawa's public servants adapt to decision-making in a minority government context. Luckily, the reporter who knows the city's public service better than anyone else in the business, Kathryn May, has filed on that very subject for the National Observer. Here's Life of a Public Servant in a Minority Government.
Meanwhile, Andrew Scheer's had the sort of week so common among post-defeat Conservative leaders that George Perlin wrote a book about it eons ago called The Tory Syndrome (see Yaro Baran's piece in our must-read post-election issue). It involves the energetic mobilization of agitation for the leader's head on a pike before anyone's had time to even look up the leadership review provisions of…oops, never mind…they did that. Here's Tonda MacCharles and Alex Boutilier on Wednesday with Scheer faces more criticism as Conservative caucus reminded of new rules that could trigger leadership review. And, here's CP's Stephanie Levitz with Scheer facing new kind of civil war brewing within the Conservative party.
And, Green Party Leader and regular Policy contributor Elizabeth May says she's interested in running for Speaker of the House of Commons, which seems somehow perfect. Here's CBC's Hannah Thibedeau with the full story.
Your weekly TWIP links:
From me, Policy Associate Editor @Lisa_VanDusen, this week's Hill Times column, re-posted on Policy, Canada's Next Choice: Chaos or Collaboration.
In and About Canada: Carbonexit?

CBC
In the latest manifestation of oil patch disgruntlement with Canada's evolving energy status quo of low oil prices, export constraints and increasing opposition over climate change, one of Canada's oldest and largest oil and natural gas companies, Encana Corp., is changing its name and moving to the United States to attract more investors. "Make no mistake, we have a long and proud history in Canada and our assets here are world-class," Encana president and CEO Doug Suttles (above) said on an investor call Thursday morning. "Alberta Premier Jason Kenney said the combination of federal laws around new pipeline development and rhetoric about phasing out the energy industry had created "an inhospitable environment" for companies like Encana and exacerbated the underperformance of the Canadian energy sector," per the Financial Post. Here's CBC Calgary-based business reporter Kyle Bakx with Encana declaring itself American is a gut punch for Alberta.
America Watch: Never Let the Facts…etc. etc.

SkyNews
Donald Trump's play-by-play of the final moments of ISIS leader Abu Bakr al-Baghdadi's mortal coil during last weekend's US military raid had it all — including a plug for his own books, a Jimmy Cagney-as-Rocky-Sullivan "whimpering, crying and screaming all the way" finale, and a bit with a dog (above right). Here's the Guardianwith Doubts over Donald Trump's account of Baghdadi raid, the Daily Beast with Trump Officials Had No Clue Where Trump Got 'Whimpering' Detail in His Baghdadi Raid Account and Vanity Fair with It sure sounds like Trump pulled the al-Baghdadi 'whimpering' story out of his ass. Here's TIME with How U.S. Forces Finally Tracked Down and Killed al-Baghdadi. Here's Jimmy Kimmel with a must-see compare-and-contrast of the Obama/bin Laden and Trump/Baghdadi post-operational recaps. And, our favourite headline of the week: Syrian Kurds say spy stole Baghdadi's underpants for DNA test.
Impeachment Watch: Bending Toward Justice?
AFP
The United States House of Representatives voted on Thursday to proceed with the public phase of the impeachment of Donald Trump, a major development in the process. "Every member should support the American people hearing the facts for themselves," Democratic House Speaker Nancy Pelosi said in a floor speech. "That is what this vote is about. It's about the truth. And what is at stake in all of this is nothing less than our democracy." As the vote was announced, Trump tweeted: "The Greatest Witch Hunt In American History!" and the White House issued a statement saying "the president has done nothing wrong" and calling the process "a blatantly partisan attempt to destroy the president." Trump's defensive politicization of the process has perhaps been best conveyed by Republicans in the House characterizing the attempt to restore sanity to America by checking Donald Trump's daily abuses of power from his weaponized Twitter account to his shakedowns of foreign leaders as a "Soviet-style impeachment." We have no idea but whoever came up with it — spasiba, comrades!
And, just when you thought the intelligence-insulting cynicism of this operation had hit peak eejit, Donald Trump says he wants to stage a "fireside chat" reading of the ludicrously impeachable phone call in which he attempted to coerce Ukrainian President  Volodymyr Zelenskiy into investigating 2020 Democratic contender and former Vice-President Joe Biden, presumably because it's just the revolting spectacle the world needs to renew everyone's faith in democracy. PS: Dear White House Casting Department — please…Kate McKinnon as Zelenskiy.
Brexit Watch: Leaver Fever

Brexiteer and hammy gammon Jacob-Rees Mogg
If the dispiriting, dystopian ran-outta-synonyms-for-dumpster-fire stylings of the 2016 US presidential campaign were your cup of tea, then pull up a lawn chair for the Brexilection. The showdown between anthropomorphic Eton mess Boris Johnson and beardy weathervane Jeremy Corbyn will be leavened slightly by LibDem Leader Jo Swinson as the doomed voice of reason, but that will be your only hourly respite from an avalanche of bollocks so relentless it'll make Ed Miliband's 2015 bacon butty "scandal" look like the Gettysburg address. The Dec. 12 election — which will be a de facto second referendum on Brexit but with the opportunities for preposterous narrative wankery multiplied by 650 — was unleashed Tuesday in the latest bid by Johnson to avoid a real second referendum or an entirely reasonable revocation of Article 50 on the grounds that nothing as destructive and self-destructive as Brexit can be feasibly implemented in a functioning democracy. Here's CNN Internationalwith Everything you need to know about the UK general election on Dec. 12. And, Guardian columnist Marina Hyde with Johnson, Corbyn and Farage are all 'for the people' against 'the elite'. This could end badly.
Also, Wednesday was formidable House Speaker John Bercow's final PMQs and Johnson's farewell on the last day of "the longest retirement since Frank Sinatra"made for a welcome moment of levity. Here's the BBC's fascinating look at Bercow's 10-year speakership by the numbers.
World Watch: The Global Street
Bloomberg
Following-up on our Spotlight last week on the epidemic of protests unfolding internationally from Santiago to Barcelona to Hong Kong, Lebanon saw a major outcome this week. Prime Minister Saad Hariri — son of PM Rafik Hariri, who was assassinated in a massive car bomb attack generally assumed to have been ordered by Damascus on Valentine's Day, 2005 — resigned after two weeks of protests across the country. And, you think a minority government in Canada could get wrangly? Here's Al-Jazeera with Eyes on Hezbollah, allies, after Hariri resignation: Three scenarios emerge as Prime minister's departure ushers in period of horse-trading among major political players. Elsewhere in this week's protest news, here's VICE with Spain and Github are Blocking an App that helps Protesters Organize. Here's the Guardian with seven Chilean protesters on what they're fighting for.
Democracy Watch: Security Blanket

Reuters
In Hong Kong, months of protests have drawn a diversity of citizens demonstrating against China's attempts to impose its authoritarian norms on the former British colony decades before it is set to revert to Beijing's control. A four-day Communist Party Central Committee plenum ended this week with the predictable message that China will be doubling down on cracking down. "We must establish and improve the legal system and enforcement mechanism for safeguarding national security in (Hong Kong and Macao)," the official statement read. Meanwhile, the UK Foreign Office called for an end to violence in Hong Kong, including the HK Police (above) disproportionate response to the situation. On Tuesday, Hong Kong authorities banned Joshua Wong, the high-profile pro-democracy activist who recently testified before the U.S. Congress on the human rights crisis in Hong Kong, from running in next month's local election. Here's Mike Chinoy in the SCMP with By blocking Joshua Wong, Hong Kong is just driving protesters back into the streets.
Noteworthy: Speaking Truth

AFP
Barack and Michelle Obama headlined the Obama Foundation's annual summit in Chicago on Tuesday. The former president cautioned that leveraging the rapid-response lure of Twitter to substitute criticism for activism doesn't accomplish much. "If I tweet or hashtag about how you didn't do something right, or used the wrong word or verb, then I can sit back and feel pretty good about myself, because 'man you see how woke I was, I called you out.' That's not activism. That's not bringing about change," he said. Here's the Guardian with the video and CBS News with the details. The former first lady also spoke on Tuesday, delivering a forthright indictment of the impact of white flight on the South Side when she was growing up there. "There were no gang fights; there were no territorial battles," she recalled, per the Washington Post. "Yet one by one, they packed their bags, and they ran from us. And they left communities in shambles."
Political Culture: Good Drama
AP
Living legend — and woman who, frankly, can do whatever the **** she wants — Jane Fonda won this week's prize for Best Performance While Being Arrested for thanking the BAFTAs for her Stanley Kubrick award for excellence in film as she was being led away in handcuffs at a climate change protest in Washington. Here's the Guardian with Jane Fonda accepts Bafta award during arrest at climate protest.
Books: And the Winners Are…
The 2019 Governor General's Awards for Literature were announced on Tuesday. Joan Thomas's novel Five Wives, "inspired by the true story of five American Christian missionaries who were killed trying to convert a group of Indigenous people in Ecuador," per CBC Books, won for fiction. Le roman Le drap blanc de Céline Huyghebaert — "un amalgame de souvenirs et d'informations récoltés par l'auteure afin de compenser et de faire la paix avec l'absence de son père," selon Le Devoir — a gagné le prix littéraire français. Here's the full list of English winners, et puis les gagnants publiés en français.
Here's the New York Times with 13 Books to Watch for in November.
And, here's the Book Marks Best Reviewed Books of the Week,
That's it for this week. Thanks so much for joining us. To subscribe to TWIP, click here or email lianmacdonald@gmail.com. And many thanks to those of you who've already subscribed.
If you enjoy The Week in Policy, you'll probably like our magazine. To subscribe to Policy, click here.
And, if you have any suggestions or complaints for TWIP, fire me off an email at lvandusen@policymagazine.ca.
Have a fabulous weekend.
@Lisa_VanDusen