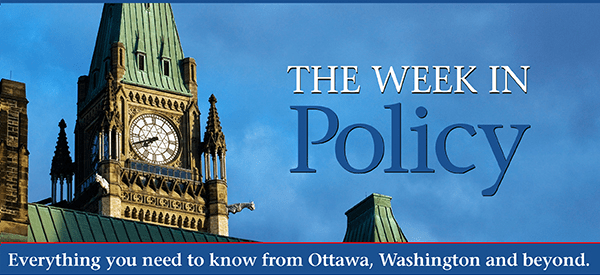 Friday, July 26, 2019
Welcome to The Week in Policy, Policy Magazine's weekly look at developments in policy and politics in Ottawa, Washington and beyond, compiled by Policyassociate editor and Hill Times columnist Lisa Van Dusen.
Above the Fold: La Canicule

New York Times
Paris may not be burning but it was hot as l'enfer this week as a heat wave from the Sahara swept across Europe, bringing record temperature spikes to France and Britain and creating a run on fans and air conditioners. "There is a 40-50 per cent chance that this will be the warmest July on record. This heat wave is exactly in line with climate change predictions," Karsten Haustein at the Environmental Change Institute at the University of Oxford told Reuters. Meanwhile, in the latest headline from that climate-change-is-a-hoax dispelling file where financial institutions, insurance companies and other corporate citizens have begun adapting to the very real costs of global warming, Moody's this week purchased a controlling stake in Four Twenty Seven, a firm that measures the physical risks of climate change.
Your weekly TWIP links:
From Policy Editor and former speechwriter to Prime Minister Brian Mulroney L. Ian MacDonald, an appreciation of the 1962 John F. Kennedy speech that launched the Apollo program 50 years ago, 'We Choose to Go to the Moon.'
The latest column from yours truly, Policy Associate Editor @Lisa_VanDusen, in the Hill Times on Elon Musk's unveiling of his brain monitoring device, Neuralink. Here's Brain Hacking and the New Meaning of 'Tech Zombies'.
Former Canadian Ambassador to Russia Jeremy Kinsman was back in the city where he served in the tumultuous early 90s and filed us a fantastic piece on how things have changed and what Muscovites are saying. Here's Letter from Moscow.
From our Policy columnist Don Newman, the latest of his excellent pieces on the role energy and climate in the 2019 election, The Pre-Election Universe is Unfolding as it Should.
In and About Canada: Anti-Canadian Values, The Sequel
As widely expected, People's Party of Canada Leader Maxime Bernier delivered a speech echoing of the emotionally charged, divisive elements of every populist campaign that has disrupted politics from Europe to South America. In his first major platform drop, delivered in Mississauga on Wednesday evening, Bernier promised the usual checklist of immigration cuts, xenophobia and border boundaries, denouncing what he called "extreme multiculturalism" as "a very dangerous form of social engineering." Bernier also reanimated the "Canadian values test" concept that Kellie Leitch failed to sell two years ago when running against him for the Tory leadership Andrew Scheer won. "Immigrants whose responses on background checks demonstrate that they do not share mainstream Canadian values will be rejected," he said. Leitch's proposed screening for "anti-Canadian values" among prospective immigrants provoked a backlash that was both passionate and withering.
America Watch: Now What?

Reuters
After a day of highly anticipated testimony before two congressional committees on Wednesday, former Special Counsel Robert Mueller left the American people pondering the reality of a sitting president who has been pronounced empirically indictable by the former head of the FBI vigorously pursuing re-election to avoid that indictment. If part of Russia's intent in generating a parallel narrative in the 2016 presidential election was to corrupt and degrade American democracy, the apparent impunity of their nominal beneficiary may be an ironic net bonus. Responding to the day's events, Trump repeated his claim that the Mueller investigation was a "ridiculous hoax" and a "witch hunt". The events of this week have left the Democrats having to choose between what will likely be futile impeachment and a clearly toxic status quo, with 16 months to go before the 2020 election. Here's CNNwith Key moments from the Mueller hearings. Here's the Washington Post's Dan Balz with Democrats are now left with one option to end Trump's presidency: The 2020 election. Some reviews of Mueller's appearance were less than flattering. Here's the Washington Post with On Mueller's Final Day on the Stage, a Halting, Faltering Performance.
Much of the attention on 2020 in the wake of Mueller's appearance shifted to electoral integrity, in terms of protecting the process from both foreign propaganda and the hacking of results. In a sign of the strange, strange times, Republicans in the Senate twice in 24 hours blocked bills aimed at strengthening election security in the immediate wake of Mueller's warning on the subject. Last week, Director of National Intelligence Dan Coats named Shelby Pierson, who worked on intelligence issues surrounding the 2018 midterm elections, to oversee 2020 election security intelligence. Here's the New York Times with the details. There are increasing calls for if not a return to paper ballots then at least a paper ballot backup system to both police and deter hacking, including from a leading voting machine supplier.
2020 Watch: Debate Prep Weekend

New York Times
This week, with the political focus largely on the Trump-Mueller tango, Democratic 2020 candidates spent their time at Wednesday's NAACP annual convention(candidate Sen. Kamala Harris, right, and journalist April Ryan, left) in Detroit and, presumably, on debate prep. The second Democratic debates will be hosted by CNN on July 30-31 — that's next Tuesday and Wednesday — in Detroit. Here's the New York Times with the lineups and bilateral matchups to watch for. Here's Gabriel Debenedetti in New York magazine with a look at the current state of debate prep in That's Hell: Democrats' Debate Prep Gets Real.
World Watch: Puerto Rico Se Levanta

Reuters
After weeks of massive protests stemming from a corruption scandal magnified by a scandalous hacking leak, Puerto Rico Governor Ricardo Rosselló announced Wednesday night that he will resign, news greeted by euphoria in the streets of San Juan (above). Under Puerto Rico law, the secretary of state would normally become acting governor until the current term expires with the Nov. 3, 2020, election. That post is currently vacant but the next in line, Justice Secretary Wanda Vázquez Garced, is seen by protesters as more of the same. San Juan Mayor Carmen Yulín Cruz, who earned global acclaim during the aftermath of hurricane Maria for standing up to Trump, declared months ago that she'll be running for governor in 2020. Here's the Washington Post with the timeline of events for the past few weeks. Here's TIME magazine with Puerto Rico's Governor is Resigning. But his Successor Worries Protesters, Too.
Democracy Watch: The New Civil Disobedience

AFP
While Beijing is treating the pro-democracy protests in Hong Kong as a key front in its anti-democracy efforts worldwide, the demonstrations have also been a testing ground for protesters adapting to innovations in technology-enabled surveillance and intimidation tactics, including facial recognition apps. Here's the New York Times'fascinating piece on how China's surveillance state tactics are already being used in the streets of Hong Kong, In Hong Kong Protests, Faces Become Weapons. On Friday, protesters held a sit-in at Hong Kong International Airport (above) over the slow police response to attacks on passersby and protesters by plainclothes thugs last week that put 45 people in hospital. Flight attendants and airport staff joined the sit-in. And on the common authoritarian tactic of inserting violence into peaceful protest movements to discredit them with the wider public and justify cracking down, here's the Guardian's Lily Kuo with Hong Kong: Why thugs may be doing the government's work.
Brexit Watch: Feeling Purge-y

Reuters
In what could be a prelude to a snap election call to alter the Brexit calculus in the House of Commons, incoming UK prime minister Boris Johnson this week wasted no time displaying his proclivity for the grand gesture by sacking more than half the cabinet just hours after taking the job. Earlier Wednesday, Johnson met the Queen at Buckingham Palace for the transfer of power as the 93-year-old monarch's 14th prime minister in her 67-year reign. In his first speech at Downing Street, Johnson said he could improve on Theresa May's proposed Brexit deal but that the failure to reach an agreement with Brussels wouldn't stop Brexit. "We can do a deal without checks at the Irish border," he said of the contentious "Irish backstop" provision negotiated by May to maintain the open border between what, post-Brexit, will be the non-EU Northern Ireland and EU-member Ireland. "It is of course vital at the same time that we prepare for the remote possibility that Brussels refuses any further to negotiate and we are forced to come out with no deal." Here's the Guardian with the new cabinet list. Here's Global's Amanda Connolly and Mike Le Couteur with Trudeau should use same approach with UK's Johnson as with Trump: experts. On Thursday, EU chief Brexit negotiator Michel Barnier told EU leaders in a letter to keep calm and carry on in response to Johnson's bombastic rhetoric, per Politico Europe, and after Johnson's first speech to the House as PM on Thursday, Barnier called his Brexit position "unacceptable." Here's the BBC with the details.
Tech Watch: The Corrections
The US Federal Trade Commission this week fined Facebook $5 billion US for privacy violations stemming from revelations last year that data mining firm Cambridge Analytica had gathered details on as many as 87 million Facebook users without their permission. "The agency said Wednesday that following its yearlong investigation of the company, the Department of Justice will file a complaint alleging Facebook 'repeatedly used deceptive disclosures and settings to undermine users' privacy preferences'," per the AP. Meanwhile in Brussels, the incoming European Commission plans to introduce a Digital Services Act later this year to regulate hate speech, political advertising and other illegal content for the first time.
Noteworthy: Uplift Interlude
While it has been a less-than-inspiring week for democratic checks and balances in both the United States and the United Kingdom, where populist leaders seemingly intent on acting against the interests of their own countries are testing the limits of liberal democracy, here's a look at two public servants. One, former McGill Law professor and Supreme Court of Canada nominee Nicholas Kasirer, underwent his Q&A session with the House of Commons Justice Committee on Thursday. Here's CBC's Peter Zimonjic with Top court nominee Justice Nicholas Kasirer says he has what it takes to join the SCC. Here's CPAC with the full video of Thursday's hearing. The other judge, formidable U. S. Supreme Court Justice Ruth Bader Ginsburg, made it clear in an NPR interview this week that reports of her impending death are greatly exaggerated (though we're hoping she's been sleeping with one eye open). "I am very much alive," the 86-year-old Ginsburg told legendary SCOTUS correspondent Nina Totenberg.
Books: Perfect Timing
What with dearth of all but gallows humour in so much of the political sphere these days, here's CBC Books with 10 Canadian books that will make you laugh this summer, starting with This Hour has 22 Minutes comedian Mark Critch's Son of a Critch.
Here's the New York Times Book Review with 6 New Books we Recommend this Week, including Colson Whitehead's new novel, The Nickel Boys.
And, here's the Book Marks Best Reviewed Books of the Week.
Our Policy Summer Special: The Canadian Idea
Welcome to our 2019 summer special issue, The Canadian Idea. In 1850, abolitionist preacher Theodore Parker defined the American idea around equal rights. As there's never really been an equivalent "Canadian idea" (notwithstanding the famous "As Canadian as possible under the circumstances" entry via Peter Gzowski) we wanted to unleash some of our regular contributors and favourite voices on the notion. We asked that they write about what Canada represents to them, in more personal than political terms. The results are a great summer read, especially in the pre-election heat. Here's the Policy site. And here's the PDF. 
The Canadian Idea:
In The Evolution of Arrival, longtime CBC anchor Peter Mansbridge, himself an immigrant from post-war Britain, writes: "The country has changed a lot in the sixty-five years since I walked down that gangway, not much more than a toddler, and I've witnessed Canada change and grow and mature."
As a reporter and author on Quebec, and for a decade as Commissioner of Official Languages in Ottawa, Graham Fraser has long seen the country Through the Lens of Language. In the Canadian experience, he writes that "the longest history and the deepest fault line has been that of language."
After a career as an advocate for Nova Scotia's Black community and warrior against racism, Wanda Thomas Bernard became a Senator in 2016. "Despite being historically perceived as a 'Promised Land' and 185 years after emancipation," she writes, "people of African descent still do not have equitable access to opportunity in Canada." Here's Racism in Canada: Planting the Seeds of Inclusion.
Pollster Shachi Kurl, executive director of the Angus Reid Institute, considers the attitude of Canadians towards first-generation born Canadians of immigrant parents, describing her own experience as the daughter of parents from India growing up in Canada's official multiculturalism. Here's From My Parents Homeland to My Own.
Elizabeth May has a favourite way of seeing Canada and talking to voters—on the train. In Big Country, Small World, she describes not just the political value but personal growth dividend of spending half her life traveling across the country. "Honestly," she writes, "I do not think that anyone who has not seen the country by rail—or at least by leisurely road trip—can claim to have seen it at all."
One of six children who grew up in Labrador in a working-class Mi'kmaq family, Vianne Timmons became not only one of the first generation of her family to attend university, she became president of the University of Regina. A champion of Indigenous empowerment and inclusion, Timmons writes, "I still believe that one of those little girls I have seen in Rankin Inlet can be our prime minister some day." Here's The Canadian Idea Hinges on a Promise Fulfilled.
In An American in Canada: It's Complicated, Sarah Goldfeder, a State Department veteran who stayed in Canada after her last posting and is now an Ottawa-based consultant, writes, "When Americans ask me how I find living in Canada, it's a hard question," she notes. "I chose Canada but I love my country."
As secretary general of the Organisation for Economic Development and Cooperation (OECD), Don Johnston saw Canada as a nation among nations. As a longtime Liberal cabinet minister under Pierre Trudeau, he saw the country in ways most people never do. In Better Than Good Enough, he reminds us of how valuable Canada has become in a context of global turmoil, and recalls a visit to Sable Island with Pierre Trudeau and Mordecai Richler (above) as his quintessential Canadian moment.
In The Canadian Idea that Spawned the Others, Tom Axworthy, who served as principal secretary to Pierre Trudeau, argues that the values of inclusion and pluralism that we now embrace as Canadian had to evolve from tolerance, and without it, there would be no Charter of Rights and Freedoms.
In The Conscience of the Country, Dalhousie University's Lori Turnbull describes what has happened since the patriation of the Constitution and enactment of the Charter in 1982. As constitutions around the world become targets for populists, Canada's remains a model for the protection of rights and the codification of democratic governance.
Our resident foreign policy writer, Jeremy Kinsman, has served Canada in its most senior diplomatic roles, as ambassador to Russia, the U.K. and EU, and has witnessed firsthand the evolution of Canada's international image. One major change? People no longer think Canadians aren't interesting. Here's May You Live in Canadian Times.
And, last but never least, our regular columnist Don Newman, who has written a series of excellent pieces for Policy on the election-year exigencies of energy policy, looks at the pre-election landscape and surmises things could be much worse. Here's The Best of Times. Seriously.
As always, many thanks to Policy designer Monica Thomas, web designer Nic Landry, and social media editor Grace MacDonald.
Enjoy the issue!
That's it for this week. Thanks so much for joining us. To subscribe to TWIP, click here or email lianmacdonald@gmail.com. And many thanks to those of you who've already subscribed.
If you enjoy The Week in Policy, you'll probably like our magazine. To subscribe to Policy, click here.
And, if you have any suggestions or complaints for TWIP, fire me off an email at lvandusen@policymagazine.ca.
Have a fabulous weekend.
@Lisa_VanDusen