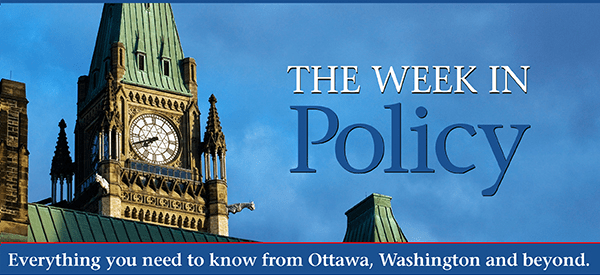 Friday, July 12, 2019
Welcome to The Week in Policy, Policy Magazine's weekly look at developments in policy and politics in Ottawa, Washington and beyond, compiled by Policyassociate editor and Hill Times columnist Lisa Van Dusen.
Above the Fold: Our Regular Programming

CP
As America this week witnessed the appalling spectacle of its New World Order president disparaging his fellow citizens as outsiders, there was a display of liberal-democracy unity in Montréal, where the 17th Canada-European Union Summit was held Wednesday and Thursday. Prime Minister Justin Trudeau, outgoing EU Council President Donald Tusk and other senior officials met on an agenda dominated by the ratification of the Comprehensive Economic and Trade Agreement (CETA) between Canada and the EU, which Canada's Parliament has approved but which France has yet to ratify. Ten Canadian politicians, including NDP Leader Jagmeet Singh and Green Leader Elizabeth May, urged French lawmakers in an open letter Monday not to ratify the massive deal, which eliminates tariffs on 98 per cent of trade between Canada and the EU. The delineation between Canada and the 28-member bloc that represents the second-most powerful democratic geopolitical player on the global stage on the one side and Trump's worldview — personally, domestically and internationally — on the other was made clear in comments by both Tusk and Trudeau in response to Trump's recent behaviour (see below). Trudeau said the chants of "send her back" in response to a Trump screed about Somali-born Rep. Ilhan Omar (D-Minn) at a rally Wednesday night were "hurtful, wrong and completely unacceptable." Tusk said he was happy to be in Montreal, where he hadn't "heard anyone shouting 'send him back'." Here's CPAC with the full post-summit newserfrom Thursday. And here's the BBC's piece on international condemnation of Trump's behaviour.
On Monday, Trudeau met with NATO Secretary General Jens Stoltenberg at CFB Petawawa on Monday. The two discussed the state of the military alliance in an age of non-kinetic threats, including the evidently irrational actor in the White House, and the perpetual issue of defence spending. "After years of decline, we are now in the fifth consecutive year of rise in defence spending across Europe and Canada, and I encourage you to redouble your efforts," Stoltenberg said during a tour of Canadian Forces Base Petawawa. Here's CTV with their full joint newser. And, here's Andrew Coyne's Q&A with Stoltenberg in the National Post.
In other EU news, outgoing German Defence Minister Ursula von der Leyen was chosen Tuesday to replace Jean-Claude Juncker as president of the European Commission. Von der Leyen told reporters in an interview posted by the GuardianThursday that she'd be open to an extension of the existing Halloween Brexit deadline and that a hard Brexit would have "massively negative consequences" for both Britain and the EU.
And, G7 finance ministers and central bankers meeting in Chantilly, France, Thursday said that crypto-currencies such as Facebook's proposed Libra must be regulated as tightly as possible to ensure they do not become the next synthetic collateralized debt obligations, systemic IED-wise. The group also agreed to reform the taxation of Big Tech companies by taxing "activities without physical presence, in particular digital activities."
In related reading, some of the best writing lately on the current battle for democracy and the liberal world order has come from the Financial Times' Martin Wolf. He may be paywalled but well worth the subscription. Here's Tuesday's The Case for Sane Globalism Remains Strong and his other latest pieces, Brexit Means Goodbye to Britain as We Know It, Bretton Woods at 75: Global Cooperation Under Threat, and his non-paywalled video on why Vladimir Putin is wrong when he says liberalism is dead.
Your weekly TWIP links:
The latest column from yours truly, Policy Associate Editor @Lisa_VanDusen, in the Hill Times on the 30th anniversary of the Canadian embassy in Washington, Happy Birthday, 501 Pennsylvania.
Former ambassador Jeremy Kinsman's piece on the Darroch debacle, Darroch and Diplomacy: When Persona non Grata is a Badge of Honour.
From our Policy columnist Don Newman, the latest of his excellent pieces on the role energy and climate in the 2019 election, The Pre-Election Universe is Unfolding as it Should.
In and About Canada: All About October

Jagmeet Singh/Twitter
Since pretty much every political story in Canada these days is about the October 21 federal election, here's a round-up of pre-campaign summer stock content. First, the Hill Times with how the opposition Conservatives are blaming the post-Norman affair staffing churn in the senior ranks of the Department of National Defence on Trudeau and Defence Minister Harjit Sajjan rather than General Jonathan Vance, chief of defence staff. Here's Opposition MPs skirt top soldier, place blame for DND 'chaos' on Trudeau, Sajjan. (Interestingly, 900 km south the Pentagon is also experiencing an unprecedented senior staffing crisis as its third acting defence secretary in a matter of weeks awaits confirmation). From the CBC Wednesday, the Conservative Party was compelled to re-package a fundraising pitch video attacking Trudeau's foreign policy that used the plight of two Canadian men detained in China after one of their families complained about the clip. NDP Leader Jagmeet Singh (above), spent most of the week on a Québec walkabout to shore up the party's support in the province Jack Layton once swept but where NDP fortunes have waned. Just because we're finally embracing the headline-in-the-form-of-a-question trend, is the Canada Food Guide a communist plot? And, the entire People's Party of Canada board in a Winnipeg riding has resigned in disgust, claiming that the populist party led by Maxime Bernier is being taken over by "racists, anti-Semites and conspiracy theorists."
America Watch: Racist Old Faithful
AP
The stage was set in Washington this week by Donald Trump's shockingly unpresidential torrent of emotionally loaded, racist Twitter content Sunday, anchored by the longstanding white supremacy trope of "go back", as in "to where you came from if you're not white, even though you were born here," directed toward the four Democratic progressive women in Congress known as "The Squad." Just days before former Special Counsel Robert Mueller is set to testify before the House Judiciary and Intelligence committees next Wednesday — which could galvanize the push for his impeachment — the political calculation behind Trump's cascade of historically unprecedented, unapologetically hateful rhetoric this week remains opaque. The good news for Democrats is that the story of last week's infighting that culminated in social media populist Alexandria Ocasio-Cortez's accusation of racism against House Speaker Nancy Pelosi, which prompted a backlash against "AOC" from the Congressional Black Caucus, was wildly — downstaged?— by Trump's outburst. On Tuesday, the Democratic-led House of Representatives passed, with votes from four Republicans and one independent, a resolution condemning Trump's racist remarks but failed to pass a resolution to begin impeachment proceedings. Clips of the week? Sen. Lindsey Graham conjuring an antediluvian Red Scare to bring it back to ideology instead of values. And Rep. John Lewis, more than half a century after he had his skull cracked by billy clubs for trying to cross the Edmund Pettus bridge and march to Selma, actually having to explain why racism is bad, all over again, in his interview Tuesday with NBC's Andrea Mitchell. Here's the New York Times' Frank Bruni on the 2020 dynamic informing this latest drama in Donald Trump Wishes he Were Running Against Alexandria Ocasio-Cortez. "The four congresswomen — the Squad, as they've come to be known — make the Democratic Party look much more progressive than it actually is," Bruni writes. "The president and his minions are counting on that." A few columnists went to town with Trump's claim that he doesn't have a racist bone in his body. Here's NYT's Nick Kristof anatomy lesson, Trump is Racist to the Bone. On an uplifting note, Omar was greeted by an exuberant hero's welcome at Minneapolis-St.Paul airport Thursday, including chants "Welcome home!"
And, in yet another story this week about the tactical small world of democracy degradation, the one about how Beijing is exploiting the freedom of speech it denies its own citizens by having China's diplomats adopt Donald Trump's toxic Twitter habits, including as an echo-chamber amplifier for Trump's racism.
2020 Watch: Meanwhile…

MSNBC
With Trump behaving like a one-man Pearl Harbor this week, the questions hanging over Democratic candidates seemed more epic than tactical as a belligerently racist president occupied the space where two-and-a-half years ago Barack Obama stood. As events from tension with Iran to the industrialized cruelty unfolding at the Mexican border to the Jeffrey Epstein sex trafficking case to the Trumpian texting scandal in Puerto Rico reflect the dystopian blast radius of the toxic president, Trump may be inadvertently boosting the campaign of the rival most urgently focused on his removal, Joe Biden. In an interview with MSNBC's Mika Brzezinski posted Monday, Biden said of Trump's behaviour, "It's not only shameful, it's incredibly damaging," on everything from national security to climate change. In other 2020 news this week, the lineup for the second debates (CNN, July 30-31) was announced Thursday. Biden and Sen. Kamala Harris, whose exchange over his position on desegregation busing during the 70s electrified the first debate, will be on the same stage again on July 31st.
World Watch: Out of this World

NASA
We open our international section this week with an interplanetary lede: the 50th anniversary of the moon landing and the perspective that recast humanity's relationship with both our nearest galactic neighbour and our own planet. The Apollo 11 mission lifted off from NASA's Kennedy Space Center on July 16th, 1969, with astronauts Neil Armstrong, Edwin (Buzz) Aldrin and Michael Collins on board. They landed on the moon on July 20th, and Armstrong became the first man to set foot on the moon six hours later, on July 21st. Here's NASA with the video of Armstrong's historic moment of contact, which prompted what was arguably the most iconic one-liner since the Bible: "One small step for man, one giant leap for mankind." Here's President John F. Kennedy, seven years earlier at Rice University, delivering his soaring rationale for that giant leap. Here's Moon Landing 50th: CBC Takes you inside the landmark mission and its impact. Here's Hannah Thibedeau's excellent CBC panel Tuesday with Commander Chris Hadfield and CBC science reporter Nicole Mortillaro about the impact of the moment on the space-enthralled 9-year-old Hadfield, the scientific value of the mission and, of course, Apollo 11's Canadian content. Here's Vanity Fair with the playlist that accompanied Armstrong, Collins and Aldrin to the moon, and an interview with their space DJ, Mickey Kapp. And, here's my Hill Times column from last year on the moon landing and the film First Man, La La Landing: First Man and the Power of Perspective.
Strait of Hormuz
Breaking at press time, "Iran said Friday that it had seized a British oil tanker in the Persian Gulf, and the tanker's owner said it had lost contact with the vessel as it appeared to be heading toward Iran. The British government said it was urgently seeking information about the incident," per the New York Times.
South Africa
After a year of explosive testimony in the televised hearings of the Zondo Commission into corruption during the regime of former President Jacob Zuma, the panel's star witness, Zuma himself, appeared on Monday. Zuma, whose decade-long ANC Party rule was defined in its latter stage by the "state capture" whereby business and other interests hijacked the government's decision-making process to benefit themselves, blamed foreign intelligence agencies for his downfall. By Wednesday, Zuma's lawyers, "unsatisfied with the line of questioning," had secured an adjournment from Justice Raymond Zondo. By Friday, Zuma was threatening to boycott the proceedings, a threat he later withdrew. Here's South Africa's EWN with the details.
Democracy Watch: Reinforcements

HKFP
In Hong Kong on Wednesday, 9,000 senior citizens turned out for a march that belied the notion that the protest movement against China's efforts to expedite the former British colony's de-democratization is made up of young rabble rousers. Meanwhile, Taiwan's president, Tsai Ing-wen, said the island nation whose sovereignty is disputed by Beijing will offer sanctuary to more than 30 protesters wanted for storming the Hong Kong legislature on July 1st who have fled to Taiwan. "These friends from Hong Kong will be treated in an appropriate way on humanitarian grounds," Tsai told reporters. Here's the Guardian with the details. Tsai is currently fighting the early battles of a January 2020 re-election fight against a pro-China opponent.
Brexit Watch: Win One for the Kipper?
In a moment that represented both a fishy first in the annals of campaign debates anywhere and a bit of peak Britism, presumptive Tory leader and Brexit Thelma-and-Louiser Boris Johnson brandished a smoked kipper as a rhetorical prop in his final "hustings" debate with Jeremy Hunt Wednesday. The vacuum-packed, mail-order herring was displayed as a victim of draconian EU regulations — a scourge definitely worth tanking the UK economy, undermining EU unity and empowering the anti-democratic New World Order over. Here's The Independent with Boris Johnson waves smoked kipper during Tory debate in bizarre rant at EU. Meanwhile, as Theresa May prepares to depart Downing St., her valedictory speech at Chatham House Wednesday included swipes at Johnson, Trump and Vladimir Putin in the form of a warning against absolutism and populism at a time when both have divided her party against itself. May expressed regret at having failed to implement the divorce from the European Union narrowly rationalized by the 2016 referendum result rather than pronouncing it patently un-implementable, which might have disarmed the Brexit-or-busters among Conservatives who are selling the no-deal option as bold rather than reckless. Here's the full video. On Thursday, Conservatives in the House of Commons sent a message to Johnson by passing an amendment that would preclude him from proroguing Parliament in order to perpetrate a no-deal Brexit.
Tech Watch: The Examined Life
As — two decades into the fourth industrial revolution — human beings begin to grasp the connections among privacy, surveillance, human rights, democracy, life, liberty and the pursuit of happiness, the New York Times Privacy Project is keeping track of just some of the ways in which the boundaries of our lives are being obliterated, often without our knowledge or consent. Here's the main page. And here's this week's newsletter from the project on What we've learned (so far).
Noteworthy: Special Delivery
After a year in Provence and months marshaling editorial talent, Graydon Carter, the Canadian former Vanity Fair editor, is launching his new content venture, Air Mail, this weekend. The weekly newsletter, delivered Saturday mornings at 6 am, will be "The Economist with attitude" and/or "the weekend edition of a nonexistent international daily," Carter told the New York Times in February. Read the full pitch page and subscribe here.
Links We Love: The Other Elders

Irish Times
As fans of positive borderless collusion, especially of the Canadian-American variety, the Neil Young-Bob Dylan concert in Kilkenny, Ireland, on Sunday stood out this week. Amid what's beginning to feel like a timely re-appreciation of the political protest music that first made Young a star and that earned Dylan a Nobel for literature in 2016 (go see Marianne and Leonard, about Leonard Cohen and his muse, Marianne Ihlen — it whizzes by), the Irish Times review by Ed Power will put a smile on your face.
Books: Counterprogramming
We scoured every cranny of the internet to find the most un-Trumpian book blurb so we could close on a serene, anti-inflammatory note. As usual, it was CBC Books to the rescue, with Reading retreats offer a chance for book lovers to unplug.
From The View's Ladies Get Lit series, panelist Ana Navarro's very timely recommendations this week, Harper Lee's To Kill a Mockingbird and Chimamanda Ngozi Adichie's Americanah.
Here's the New York Times Book Review with 11 New Books we Recommend this Week, including Colson Whitehead's new novel, The Nickel Boys.
And, here's the Book Marks Best Reviewed Books of the Week.
Our Policy Summer Special: The Canadian Idea
Welcome to our 2019 summer special issue, The Canadian Idea. In 1850, abolitionist preacher Theodore Parker defined the American idea around equal rights. As there's never really been an equivalent "Canadian idea" (notwithstanding the famous "As Canadian as possible under the circumstances" entry via Peter Gzowski) we wanted to unleash some of our regular contributors and favourite voices on the notion. We asked that they write about what Canada represents to them, in more personal than political terms. The results are a great summer read, especially in the pre-election heat. Here's the Policy site. And here's the PDF. 
The Canadian Idea:
In The Evolution of Arrival, longtime CBC anchor Peter Mansbridge, himself an immigrant from post-war Britain, writes: "The country has changed a lot in the sixty-five years since I walked down that gangway, not much more than a toddler, and I've witnessed Canada change and grow and mature."
As a reporter and author on Quebec, and for a decade as Commissioner of Official Languages in Ottawa, Graham Fraser has long seen the country Through the Lens of Language. In the Canadian experience, he writes that "the longest history and the deepest fault line has been that of language."
After a career as an advocate for Nova Scotia's Black community and warrior against racism, Wanda Thomas Bernard became a Senator in 2016. "Despite being historically perceived as a 'Promised Land' and 185 years after emancipation," she writes, "people of African descent still do not have equitable access to opportunity in Canada." Here's Racism in Canada: Planting the Seeds of Inclusion.
Pollster Shachi Kurl, executive director of the Angus Reid Institute, considers the attitude of Canadians towards first-generation born Canadians of immigrant parents, describing her own experience as the daughter of parents from India growing up in Canada's official multiculturalism. Here's From My Parents Homeland to My Own.
Elizabeth May has a favourite way of seeing Canada and talking to voters—on the train. In Big Country, Small World, she describes not just the political value but personal growth dividend of spending half her life traveling across the country. "Honestly," she writes, "I do not think that anyone who has not seen the country by rail—or at least by leisurely road trip—can claim to have seen it at all."
One of six children who grew up in Labrador in a working-class Mi'kmaq family, Vianne Timmons became not only one of the first generation of her family to attend university, she became president of the University of Regina. A champion of Indigenous empowerment and inclusion, Timmons writes, "I still believe that one of those little girls I have seen in Rankin Inlet can be our prime minister some day." Here's The Canadian Idea Hinges on a Promise Fulfilled.
In An American in Canada: It's Complicated, Sarah Goldfeder, a State Department veteran who stayed in Canada after her last posting and is now an Ottawa-based consultant, writes, "When Americans ask me how I find living in Canada, it's a hard question," she notes. "I chose Canada but I love my country."
As secretary general of the Organisation for Economic Development and Cooperation (OECD), Don Johnston saw Canada as a nation among nations. As a longtime Liberal cabinet minister under Pierre Trudeau, he saw the country in ways most people never do. In Better Than Good Enough, he reminds us of how valuable Canada has become in a context of global turmoil, and recalls a visit to Sable Island with Pierre Trudeau and Mordecai Richler (above) as his quintessential Canadian moment.
In The Canadian Idea that Spawned the Others, Tom Axworthy, who served as principal secretary to Pierre Trudeau, argues that the values of inclusion and pluralism that we now embrace as Canadian had to evolve from tolerance, and without it, there would be no Charter of Rights and Freedoms.
In The Conscience of the Country, Dalhousie University's Lori Turnbull describes what has happened since the patriation of the Constitution and enactment of the Charter in 1982. As constitutions around the world become targets for populists, Canada's remains a model for the protection of rights and the codification of democratic governance.
Our resident foreign policy writer, Jeremy Kinsman, has served Canada in its most senior diplomatic roles, as ambassador to Russia, the U.K. and EU, and has witnessed firsthand the evolution of Canada's international image. One major change? People no longer think Canadians aren't interesting. Here's May You Live in Canadian Times.
And, last but never least, our regular columnist Don Newman, who has written a series of excellent pieces for Policy on the election-year exigencies of energy policy, looks at the pre-election landscape and surmises things could be much worse. Here's The Best of Times. Seriously.
As always, many thanks to Policy designer Monica Thomas, web designer Nic Landry, and social media editor Grace MacDonald.
Enjoy the issue!
That's it for this week. Thanks so much for joining us. To subscribe to TWIP, click here or email lianmacdonald@gmail.com. And many thanks to those of you who've already subscribed.
If you enjoy The Week in Policy, you'll probably like our magazine. To subscribe to Policy, click here.
And, if you have any suggestions or complaints for TWIP, fire me off an email at lvandusen@policymagazine.ca.
Have a fabulous weekend.
@Lisa_VanDusen