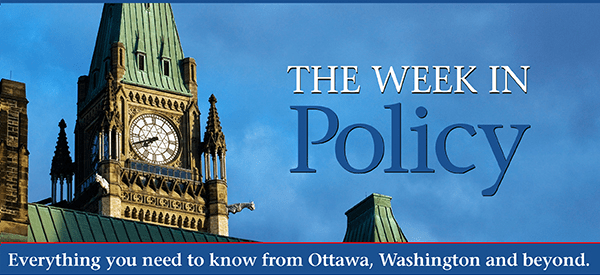 Friday, August 9, 2019
Welcome to The Week in Policy, Policy Magazine's weekly look at developments in policy and politics in Ottawa, Washington and beyond, compiled by Policyassociate editor and Hill Times columnist Lisa Van Dusen.
Above the Fold: The Originals

Canada.ca
We open on this summer Friday of another terribly difficult week in many parts of the world by observing the United Nations International Day of the World's Indigenous Peoples, honouring the 370 million Indigenous people living in 90 countries around the world. "First Nations, Inuit, and Métis peoples have shaped Canada's history and identity," Prime Minister Justin Trudeau said in a statement Friday. "Their cultures have marked every aspect of our past and present…as we celebrate Indigenous cultures, we also recognize the injustices Indigenous peoples have faced in Canada and continue to face around the world. While we cannot change history, we are working to right persisting historic wrongs." We highly recommend the contribution by Vianne Timmons to our current Policy issue on The Canadian Idea, about her journey as a woman of Mi'kmaq ancestry who grew up as a miner's daughter in Labrador and became president of the University of Regina; The Canadian Idea is Built on a Promise Fulfilled. This is also the United Nations International Year of Indigenous Languages, which Google has marked by launching the Celebrating Indigenous Languages Google Earth program, which enables listeners to hear more than 50 Indigenous language speakers from across the globe speaking and singing. And, to close on a beautiful note, award-winning Inuit throat singer and novelist Tanya Tagaq performing at the Kennedy Center in April.
Your weekly TWIP links:
From Policy Editor and former speechwriter to Prime Minister Brian Mulroney L. Ian MacDonald, an appreciation of the 1962 John F. Kennedy speech that launched the Apollo program 50 years ago, 'We Choose to Go to the Moon.'
The latest columns (two because there was no TWIP last week) from yours truly,Policy Associate Editor @Lisa_VanDusen, Enemy of the People?, exhorting Twitter last week to shut down Donald Trump's account for violating its hate speech rules, and, this week's, The Storm Before the Crackdown? on how violence in Hong Kong's protests only serves Beijing's interests.
From our Policy columnist Don Newman, the latest of his excellent pieces on the role energy and climate in the 2019 election, The Pre-Election Universe is Unfolding as it Should.
And, from BMO Chief Economist and regular Policy contributor Doug Porter, Friday's Talking Points memo, Shabby Road, pricelessly rendered in the theme of the Abby Road 50th anniversary.
In and About Canada: Homeward Bound

David MacNaughton/Twitter
Canada's ambassador to the United States, David MacNaughton, who has played a key role in both steadying bilateral relations during the precarious Trump presidency and in the epic NAFTA re-negotiations, has announced he'll be leaving Washington to return to the private sector in Toronto at the end of August. "Serving as Canada's ambassador in Washington, at this pivotal time in our country's history, has been the greatest honour of my life," MacNaughton said in a statement delivered at the embassy  on Thursday. "Doing so under Prime Minister Trudeau – who leads our country with strength, wisdom and calm, including through the most difficult and uncertain trade talks in our history, has been a privilege." MacNaughton, whose career as a consultant and Liberal political strategist at the provincial and federal levels has been distinguished by a notable lack of enemies and by respect across party lines. He served as Ontario co-chair in 2015. Here's Ryan Maloney with the HuffPost piece.
Knock wood, but it's been fairly quiet in Canadian politics in the past week, so we'll give you a round-up of pre-election content. Pollster Nik Nanos has dropped fresh numbers for CTV News that show an overwhelming majority of Canadians — 85 per cent — are expecting the upcoming campaign to have a more negative tone than previous ones. Another Nanos poll shows that 56 per cent of Canadians disapprove of premiers actively campaigning for federal parties this fall. Meanwhile, Alberta Premier Jason Kenney, who on Wednesday dangled the threat of budget cutsagainst the provincial election commissioner's office still investigating his colourful 2017 leadership campaign, leapt into the federal fray with a video posted to social media. "Rather than focusing on Alberta separating from the Canadian federation, I'd like to focus on separating Justin Trudeau from the Prime Minister's Office," Kenney said.
The Trudeau government announced changes to the way it evaluates new drug prices on Friday that it says will save Canadians billions over the next 10 years. The tweaks to the Patented Medicine Prices Review Board, set up in 1987 to keep prices in check, are set to take effect next July. "The [board] relies on outdated regulatory tools and information that foreign medicine pricing authorities updated years ago. As a result, list prices for patented medicines in Canada are now among the highest in the world," notes a release from Health Canada. Here's CBC with the details.
The Canadian economy lost 24,200 jobs in July, with the unemployment rate ticking up two-tenths to 5.7 per cent, though yer-over-year gains were up 1.9 per cent. Full-time jobs fell 11,600, private sector payrolls were down 69,300. "Of course, all of this must be put in the context that Canadian job figures had been outer-worldly strong up until the past two months," wrote BMO's Doug Porter Friday. "The one counter-trend aspect to today's result was yet another sprint in wages, as the average hourly measure charged up to 4.5 per cent y/y, the fastest pace in more than a decade." Here's the CBC piece. And, here's the StatsCan Daily page.
America Watch: Under Siege

AP
America's previously unthinkable siege by the relentlessly racist, belligerent and divisive actions of its own president produced yet another nightmarish week for our neighbours. Last weekend saw two mass shootings over less than 24 hours, including one in El Paso, Texas, committed by an avowed white supremacist whose death toll stands at 22. Hours later, a lone gunman whose motive remains unknown shot and killed 9 people, including his own sister, at a nightclub in Dayton, Ohio. In a brutal juxtaposition of the systemic flipside of racially motivated violence, 55 people were shot, seven fatally, in the deadliest shooting weekend this year in black neighbourhoods in Chicago. America's law enforcement and security services now find themselves in the previously unthinkable position of fighting an apparent escalation in homegrown white supremacist terrorism whose proliferation is linked to the country's own blatantly racist and relentlessly inflammatory commander in chief. The El Paso shooting, whose perpetrator had posted a white supremacist manifestoon 8chan, a cybercesspool of hate speech that was effectively knocked offlineMonday in the wake of the shooting, happened just over a week after FBI Director Christopher Wray warned a congressional committee of an uptick in domestic terrorism arrests this year motivated by white supremacy. The shooting followed the latest and most provocative racially-themed controversy generated by Trump, who had been attacking Congressman Elijah Cummings and his predominantly Black Baltimore district in outrageously racist terms. That offensive seems part of a larger, pre-2020 Black/white, rural/urban, divide-and-conquer strategy that includes the hoary dog-whistle of denigrating America's "inner cities". Here's the Christian Science Monitor's piece, Why America's Cities Have Become the President's Punching Bag. In related content, my Hill Times column last week about how Twitter should enforce its hate speech policy and shut down Donald Trump's account, Enemy of the People?
In more related content, more than 600 undocumented workers were rounded up in ICE raids in Mississippi this week, generating the latest installment of dystopian, previously unthinkable content from the Trump administration, including sobbing children separated from their parents.
The week's events underscored the crisis in American democracy represented not only by the daily damage of Trump's presidency but by the cost of intractability on the part of congressional Republicans beholden to the gun lobby and the tactical politicization of the Second Amendment. On a positive note, in the wake of last weekend's massacres, there was some potential progress on the legislative front, on proposed "red flag" laws.
And, while the perpetual, corruption-skewed debate over gun laws in America was reignited this week by the latest of more than 250 mass shootings so far this year, there was a (relative) spike in shootings over the August long weekend in Toronto that left 17 people injured. On Thursday, Border Security and Organized Crime Reduction Minister Bill Blair wouldn't commit to a handgun ban, citing other, "very effective measures" to prevent handguns from getting into the hands of criminals, including more resources to stop guns from crossing into Canada from "the greatest arsenal in the world", stricter storage requirements and enhanced weapon tracing. On Friday, Toronto Police Chief Mark Saunders told reporters that multiple arrests had been made following the recent shootings, which he attributed to street gangs.
In news related to all of the above, another resignation this week in the senior leadership of the US intelligence community. The departure of Deputy Director of National Intelligence Sue Gordon for Aug. 15th, the same day her boss, Dan Coats, leaves his post as DNI, opens two crucial intelligence titles for Trump to fill.
2020 Watch: The Opposition

AP
During a week dominated by events at the fraught intersection of racism and gun violence, the Democratic 2020 contenders provided steady, collective evidence of America's rational opposition. Here's a video round-up of the candidates respondingto the El Paso shooting. In an interview with CNN's Anderson Cooper Monday, former Vice President Joe Biden took on the traditional presidential role of consoler-in-chief, drawing on his own experience of loss and grief. On Wednesday, during a speech in Iowa, Biden pointedly said Trump has "fanned the flames of white supremacy in this nation", and excoriated the most un-presidential president in history as having "more in common with George Wallace than George Washington." Here's the full video. And New Jersey senator and 2020 contender Cory Booker delivered a speech responding to the moment on Wednesday at the Mother Emanuel AME Church in Charleston, S.C., where a white supremacist gunman killed nine people at a bible study class in June, 2015. Here's the Washington Post's Jennifer Rubin with two pieces: Biden plays a unique role amidst tragedy and Cory Booker delivers an impassioned — and impressive — speech in Charleston. Meanwhile, the latest on what congressional Democrats are doing about impeachment. And, for context from a classic American president whose legacy is, ironically, burnished daily by the same man who made questioning his legitimacy a racist political springboard, here's Barack Obama's statement from Monday on the current crisis, his 2008 "more perfect union" speech on race relations delivered in Philadelphia, and his impromptu rendition of Amazing Grace in Charleston four years ago.
On the 2020 hustings this week, the Olympics of American of retail politics, the Iowa State Fair, is on. As always, the highlight is the monument to trans-fats without which the U.S. presidential cycle doesn't truly begin, the butter cow. Here's the Des Moines Register with Candidate Bingo: How Many Presidential Candidates Can You Find at the Iowa State Fair? and Your first look at the Iowa State fair Butter Cow.
And, it was a week during which the absurdity of America's gun laws combined with the absurdity of its president left Democrats with no language more appropriate to the occasion than pointed profanity. Here's the Washington Post with After a weekend of mass shootings, Democrats are cursing inaction on guns — literally.  And here's Vogue with The F-Word is on the Effing Rise.
World Watch: This Should End Well

AP
In the latest instance of a trend toward unilateral, non-negotiated, un-democratic resolutions to intra-national status disputes that can be reasonably attributed to the shift of American leadership in favour of a bullying New World Order, India stripped Kashmir of its special political status Monday, an avoidably destabilizing move in a tinderbox region that may preclude an escalation in tension with Pakistan, a decisive military crackdown or both. This news transcends regional considerations because Kashmir is among the most the world's most hotly disputed areas, having been the catalyst for one war and multiple skirmishes between India and Pakistan over the past six decades. The Hindu nationalist government of Prime Minister Narendra Modi made the alarming move Monday by revoking much of Article 370 of India's constitution, which granted special status to Jammu and Kashmir after independence and partition in 1947. That India's only Muslim-majority state has been essentially targeted with a political grenade by a prime minister who rose to power after being implicated in deadly anti-Muslim riots while governor of Gujarathas put the region on edge. In the week ahead of the move, India deployed 10,000 troops into the region, which was put on lockdown as democratically elected politicians were arrested and, on Sunday, the internet was shut down. In the longer term, Modi has removed the land ownership requirement in Kashmir that only permanent residents can own property, sparking fear of a demographic transformation similar to that undertaken by Israel in the Palestinian territories and China in Tibet. Pakistan's prime minister, Imran Khan, called Modi's actions "illegal", saying they will "further deteriorate" relations between the nuclear neighbours. In a televised address to the nation on Thursday, Modi said the move "will rid Jammu and Kashmir of terror and separatism", an ominous echo of Khan's concern expressed to Parliament on Tuesday that Modi is preparing an ethnic cleansing campaign. Here's an excellent analysis by the Guardian's Jason Burke, India's cancellation of Kashmir's special status will have consequences. Here's the BBC with an explainer on Article 370 and the legalities. Here's the Times of India's tick-tock on the top-secret maneuvers by the Modi government that blindsided the Rajya Sabha (upper house) of Parliament on Monday. In related content about the trend away from peacemaking and negotiations toward brutality and ethnic cleansing as a form of conflict resolution, here's my Hill Times piece from November, 2018, Why Sri Lanka's Chaos Matters.
Meanwhile, in some positive exceptions on the peacemaking/negotiating front, Sudan's pro-democracy opposition and the country's military signed a constitutional declaration Sunday that will pave the way for the formation of a transitional government following the ousting of dictator Omar al-Bashir in April. And on Tuesday, Mozambique's president and its main opposition group signed a peace accord to end years of violence and facilitate elections in the fall.
Democracy Watch: The Front Line

SCMP
As the pro-democracy protests against China's encroaching power continued in the streets of Hong Kong for a tenth week, tactics on both sides provided a window on the technologically transformed realm of 21st-century civil disobedience, from the use by authorities of facial recognition apps to the use by protesters of laser pens to thwart them. On Thursday, the pro-Beijing newspaper Ta Kung Pao published a photo of opposition activists meeting in a hotel with Julie Eadeh, a political section chief in the U.S. Consulate in Hong Kong, along with details about Eadeh's State Department career and the names of her husband and teenage children. (Ironically, the content drop may have also exposed the current scope of surveillance in Hong Kong, the infiltration of the protest movement by Beijing informants, or both). On Friday, hundreds of protesters flooded into Hong Kong's airport terminal again for a sit-in they vowed to continue through the weekend. China responded to that by ordering Cathay Pacific to suspend any staff seen to be supporting the protests.
Here's the Washington Post with China leaks U.S. diplomat's personal information in Hong Kong as protesters flood into airport.  On Thursday, Canada upgraded its travel warning for Hong Kong, advising a "high degree of caution." here's my Hill Times piece this week on Hong Kong, The Storm Before the Crackdown?
Brexit Watch: Wheeeeeeeeeee!

The Sun
As one might expect from Britain's Trumpian graduate of the Nice Country You Got Here…Be a Shame if Something Should Happen to it School of Politically Assisted Suicide, Boris Johnson is turbo charging his way over a no-deal Brexit cliff catalyzed by a corrupt referendum that delivered a hairline result on a ridiculously vague question to what will by all accounts be catastrophic consequences. To that end, this week's doomsday narrative was predictably chaotic, with reports on Monday that EU diplomats have been told by Johnson's chief EU advisor that his boss will not negotiate an alternative to a no-deal Brexit followed by reports Wednesday of UK no-deal Brexit preparations minister Michael Gove betraying the conflict of interest embedded in his title by calling the EU "wrong and sad" for its refusal to negotiate an alternative to a no-deal Brexit. Johnson has been using the Irish backstop included in Theresa May's withdrawal agreement to protect the open border between Ireland and Northern Ireland in the event of a no-deal Brexit as a tactical deal-breaker, reportedly calling it "the anti-democratic backstop" which is post-truth, New World Order-ese for "the democratic backstop." Meanwhile, the trope that all hope is lost continues to be propagated when, in fact, revoking Article 50 of the Treaty on European Union would end this massive cock-up. In related content, Preet Bharara's Stay Tuned podcast from Thursday, in which former UK foreign minister and man whose absence from the leadership of the Labour Party seems fateful, David Miliband, addresses the lunacy of Brexit among other topics. Also, performers at the Edinburgh festival are balking at payment in the newly dodgy pound and are insisting on being paid in euros. And, for a bit of gallows humour, the Brexit/Titanic video you may have missed.
Climate Watch: Another Warning
The United Nations Intergovernmental Panel on Climate Change (IPCC) warned in the special report Climate Change and Land this week that the impact of global warming on land use and sustainability is threatening food security. Among the specific findings: "Attempts to solve the climate crisis by cutting carbon emissions from only cars, factories and power plants are doomed to failure," per the Guardian, since "about half of all emissions of methane, one of the most potent greenhouse gases, come from cattle and rice fields, while deforestation and the removal of peat lands cause further significant levels of carbon emissions." Which amounts to a recommendation to stop eating meat, per Reuters coverage. Here's the Guardianwith Climate crisis reducing land's ability to sustain humanity, says IPCC. The next major Assessment Report from the IPCC, its sixth since 1988, is expected in 2022.
Tech Watch: Cyberchomsky
If you haven't heard of Gretchen McCulloch yet, you will. The Montrealer and McGill linguistics grad published Because Internet: Understanding the New Rules of Language last month, the New York Times rave called it "incisive and entertaining", it hit the NYT Bestseller List this week at No. 9, Vox ate it up, and she's WIRED's resident linguist. Here's McCulloch's blog, All Things Linguistic, and her podcast, Lingthusiasm. You can follow her @GretchenAmcC.
And, from the always interesting Black Hat security conference in Las Vegas on Wednesday, a warning that should surprise absolutely no-one: hackers can break into your smartphone just by sending a text, whether you answer it or not.
Links we Love: Come From Away II
Late-night host Jimmy Kimmel has discovered the notoriously named hamlet of Dildo, N.L., making it the most fertile Canadian awkwardly-christened late-night comedy meme since David Letterman elevated Saskatchewan Petro Canada pumper Dick Assman to international infamy in 1995. Kimmel, who has offered to be mayor, says he'll start by visiting soon. Here's the CBC's full coverage.
Political Culture: No Joke…

EqualityCantWait
Few people are as well versed in the economic costs of gender inequality as Melinda Gates, whose work with the Gates Foundation has connected her with so many of the lives behind those numbers around the world. Gates has recruited a posse of comedians including Maya Rudolph, John Mulaney, Sarah Silverman, Fred Armisen and the legendary Carol Burnett to help her drive home the urgency of correcting gender inequality. Here's the excellent PSA for EqualityCantWait. And here's the latest WEF Global Gender Gap Report. In related content, the excellent interview Seth Meyers did with actor and activist Geena Davis Monday on the Geena Davis Institute on Gender in Media that she founded in 2004 and the documentary This Changes Everything, about the fight for gender parity in Hollywood.
…Joke
From Canada with Wombats, aka the country that brought us the noble political tradition of democracy sausages, former Australian Prime Minister Kevin Rudd is living his best post-PM life by declaring himself Global Handball King ("well, sort of"), trash-talking all comers on Twitter and dismissing his critics as "a bunch of humourless, anti-handball narks" (Ozish for "an annoying person"). Here's Aussie Guardian with the must-read Why is handball tragic Kevin Rudd issuing challenges and signing tennis balls?
Noteworthy: Beloved

Random House
She had a head that looked custom-made for a righteous Mount Rushmore, full of the brilliant, symphonic truth that is now her indelible legacy. Toni Morrison, whose novels — including Beloved, Song of Solomon and The Bluest Eye, among others — on the African American experience as an exploration of universal sacrifice, suffering, love and resilience made her the first Black woman awarded the Nobel Prize in Literature, died Tuesday. She was 88. Morrison's essays and speeches are as powerful as her fiction, and reading them today in collections like The Source of Self Regard is a reminder of not just her immense talent but of what a visionary she was — her thoughts on immigration, politics and the promise and peril of the internet remain not just relevant but momentous. Her thoughts on race provide not just an eloquent, elegant repudiation of hate speech but a roadmap for truth and reconciliation. Here's the New York Times appreciation. Here's the Times with The Essential Toni Morrison Reader, on her novels. Here's Morrison's Nobel lecture from 1993, in audio and full text. Here's the landing page for all of Charlie Rose's interviews with Morrison. From the 2003 one, in response to what she would want to tell the world in a final lecture: "I would like to say something about how hard it is, and how necessary it is, for us to become, and to remain human. That means a lot. It means not giving in to the comic book version of who we are. Not giving in to all this Medieval rhetoric. It means not doing that. We know, deep down, what's right. And what's true. And what's needed. We've gotta get there. We just have to." Barack Obama, whose candidacy she crucially endorsed early on in the grueling 2008 campaign that made him America's first Black president, said farewell Tuesday, calling Morrison a national treasure. "Her writing was not just beautiful but meaningful—a challenge to our conscience and a call to greater empathy."
Books: Housekeeping

New York Times
Cannot believe I did this because excitement-wise around here, the Booker Prizenominations are like the Oscars and the Bad Sex in Fiction Awards all rolled into one (no reflection on the nominees), but I forgot to blurb the Bookers two weeks ago and was off last week. So, as you may have heard, Margaret Atwood is on the longlist for The Testaments, the Handmaid's Tale sequel that doesn't actually land until September, heading a baker's dozen that also includes Salman Rushdie, John Lanchester, Jeanette Winterson and a whole slate of less familiar names to root for (Oyinkan Braithwaite, above centre, nominated for My Sister, the Serial Killer). Here's the Guardian's main, and last year's fun read What is it like to win the Booker? And, here's the New York Times piece, also leading with Atwood.
Here's CBC Books with a list that'll have you making a list: 34 works of Canadian fiction to watch for this fall.
Here's the New York Times Book Review with 12 New Books we Recommend this Week.
And, here's the Book Marks Best Reviewed Books of the Week.
Our Policy Summer Special: The Canadian Idea
Welcome to our 2019 summer special issue, The Canadian Idea. In 1850, abolitionist preacher Theodore Parker defined the American idea around equal rights. As there's never really been an equivalent "Canadian idea" (notwithstanding the famous "As Canadian as possible under the circumstances" entry via Peter Gzowski) we wanted to unleash some of our regular contributors and favourite voices on the notion. We asked that they write about what Canada represents to them, in more personal than political terms. The results are a great summer read, especially in the pre-election heat. Here's the Policy site. And here's the PDF. 
The Canadian Idea:
In The Evolution of Arrival, longtime CBC anchor Peter Mansbridge, himself an immigrant from post-war Britain, writes: "The country has changed a lot in the sixty-five years since I walked down that gangway, not much more than a toddler, and I've witnessed Canada change and grow and mature."
As a reporter and author on Quebec, and for a decade as Commissioner of Official Languages in Ottawa, Graham Fraser has long seen the country Through the Lens of Language. In the Canadian experience, he writes that "the longest history and the deepest fault line has been that of language."
After a career as an advocate for Nova Scotia's Black community and warrior against racism, Wanda Thomas Bernard became a Senator in 2016. "Despite being historically perceived as a 'Promised Land' and 185 years after emancipation," she writes, "people of African descent still do not have equitable access to opportunity in Canada." Here's Racism in Canada: Planting the Seeds of Inclusion.
Pollster Shachi Kurl, executive director of the Angus Reid Institute, considers the attitude of Canadians towards first-generation born Canadians of immigrant parents, describing her own experience as the daughter of parents from India growing up in Canada's official multiculturalism. Here's From My Parents Homeland to My Own.
Elizabeth May has a favourite way of seeing Canada and talking to voters—on the train. In Big Country, Small World, she describes not just the political value but personal growth dividend of spending half her life traveling across the country. "Honestly," she writes, "I do not think that anyone who has not seen the country by rail—or at least by leisurely road trip—can claim to have seen it at all."
One of six children who grew up in Labrador in a working-class Mi'kmaq family, Vianne Timmons became not only one of the first generation of her family to attend university, she became president of the University of Regina. A champion of Indigenous empowerment and inclusion, Timmons writes, "I still believe that one of those little girls I have seen in Rankin Inlet can be our prime minister some day." Here's The Canadian Idea Hinges on a Promise Fulfilled.
In An American in Canada: It's Complicated, Sarah Goldfeder, a State Department veteran who stayed in Canada after her last posting and is now an Ottawa-based consultant, writes, "When Americans ask me how I find living in Canada, it's a hard question," she notes. "I chose Canada but I love my country."
As secretary general of the Organisation for Economic Development and Cooperation (OECD), Don Johnston saw Canada as a nation among nations. As a longtime Liberal cabinet minister under Pierre Trudeau, he saw the country in ways most people never do. In Better Than Good Enough, he reminds us of how valuable Canada has become in a context of global turmoil, and recalls a visit to Sable Island with Pierre Trudeau and Mordecai Richler (above) as his quintessential Canadian moment.
In The Canadian Idea that Spawned the Others, Tom Axworthy, who served as principal secretary to Pierre Trudeau, argues that the values of inclusion and pluralism that we now embrace as Canadian had to evolve from tolerance, and without it, there would be no Charter of Rights and Freedoms.
In The Conscience of the Country, Dalhousie University's Lori Turnbull describes what has happened since the patriation of the Constitution and enactment of the Charter in 1982. As constitutions around the world become targets for populists, Canada's remains a model for the protection of rights and the codification of democratic governance.
Our resident foreign policy writer, Jeremy Kinsman, has served Canada in its most senior diplomatic roles, as ambassador to Russia, the U.K. and EU, and has witnessed firsthand the evolution of Canada's international image. One major change? People no longer think Canadians aren't interesting. Here's May You Live in Canadian Times.
And, last but never least, our regular columnist Don Newman, who has written a series of excellent pieces for Policy on the election-year exigencies of energy policy, looks at the pre-election landscape and surmises things could be much worse. Here's The Best of Times. Seriously.
As always, many thanks to Policy designer Monica Thomas, web designer Nic Landry, and social media editor Grace MacDonald.
Enjoy the issue!
That's it for this week. Thanks so much for joining us. To subscribe to TWIP, click here or email lianmacdonald@gmail.com. And many thanks to those of you who've already subscribed.
If you enjoy The Week in Policy, you'll probably like our magazine. To subscribe to Policy, click here.
And, if you have any suggestions or complaints for TWIP, fire me off an email at lvandusen@policymagazine.ca.
Have a fabulous weekend.
@Lisa_VanDusen