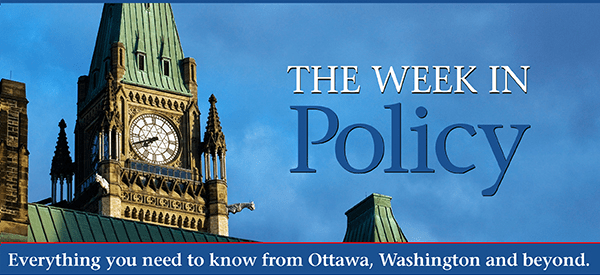 Friday, August 30, 2019
Welcome to The Week in Policy, Policy Magazine's weekly look at developments in policy and politics in Ottawa, Washington and beyond, compiled by Policyassociate editor and Hill Times columnist Lisa Van Dusen.
Above the Fold: Round up the Usual Suspects?

SCMP
We open after a week in which democracy continued to be cynically undermined by powerful men acting like adolescents elsewhere with a story of bravery and principle on the part of young people in Hong Kong risking their lives to maintain it. In a pointed escalation of Beijing's response to three months of pro-democracy uprisings, police began arresting high-profile protest leaders on Friday morning local timeahead of another weekend of planned demonstrations. Among the 28 arrested, activist and politician Joshua Wong, 22, (above right) was "forcefully pushed into a private minivan on the street" while walking to a subway station at about 7.30 am and Agnes Chow, 22, (above left) was arrested at her home, according to a statement from their party, Demosisto. Andy Chan, 28, who heads the Hong Kong National Party, was reportedly detained at Hong Kong international airport as he was about to board a flight to Japan. Hong Kong pro-democracy lawmaker Cheng Chung-tai was also arrested Friday. China's state-run Global Times, in a content drop befitting a global leader in contrived propaganda streeters, reported that "some local HongKongers" reacted to the arrests by exclaiming "This is the best news of the day!" The arrests came hours after Chinese troop movements were reported on mainland China across the border from Hong Kong. "The arrest of prominent activists during sensitive periods is a common tactic by the authorities in mainland China, but such an approach is highly unusual in Hong Kong, which has its own legal system and far greater protections for civil rights," per the New York Timescoverage. Late Friday local time, Wong and Chow were released on bail. "We still keep on our fight," Wong told reporters. "We shall not surrender."
Our Campaign 2019 Issue
Four years after Justin Trudeau became the first son of a prime minister to be elected to the office himself, his Liberal government will seek a second mandate from the Canadian people on Oct. 21. Our Policy Magazine Campaign 2019package includes status reports on all four major parties from respected strategists, a look at the government's fiscal house, an update on the security of our election infrastructure, foreign policy as a campaign issue and more. It's all yours…
In this Issue:
Lori Turnbull of Dalhousie University takes us through a key set of numbers, specifically the number of seats needed to form a majority government in the 338-seat House. Here's The Road to 170.
In Sunny Was Redux? Not so Fast, John Delacourt, former director of communications of the Liberal Research Bureau, says this campaign is a test whose outcome should not be taken for granted.
For Conservative strategist Yaroslav Baran, the campaign offers an opportunity for Andrew Scheer to play to his soccer dad advantage. Here's The Scheer Strength: Relatability.
In The NDP's Ballot Question, Former federal NDP president Brian Topp writes that there is no point in the New Democrats simply running to get rid of Trudeau since "The short road to doing this is to elect a Conservative government."
For Elizabeth May and the Greens, the 2019 election represents a moment. As Ziya Tong writes in M'ayday! M'aidez!, the question is how May will weather the scrutiny.
In the modern era, democracies are aware of threats to their elections, of which the 2016 U.S. election cycle was the most obvious example. In Protecting Elections in a new Threat Environment, Democratic Institutions Minister Karina Gould writes of Canada's protective and pre-emptive response.
The early signs of Maxime Bernier's increasingly Trumpian profile raise the question of whether populism is growing in Canada. Patrick Gossage, former press advisor to Pierre Trudeau, wonders Could it Happen Here?
One of the mega-issues in this campaign is bound to be climate change and carbon taxes, which Don Newman explores in The 'Big E' Election—Energy and the Environment.
After a 2015 campaign in which fiscal policy played a surprising role, former Parliamentary Budget Officer Kevin Page examines the Trudeau government's record and asks Is Fiscal Responsibility an Issue in the 2019 Campaign?
With gender parity having been a major theme of the Trudeau government's first term, Helaina Gaspard and Emily Woolen of the Institute of Fiscal Studies and Democracy look at Canada's gender-based analysis in Because it's 2019: Checking in on Gender Budgeting in Canada.
Foreign policy is rarely a major issue in Canadian campaigns, but with global tensions being what they are, this time could be different. Our foreign affairs sage, Jeremy Kinsman, has Being Back: Foreign Policy as a Campaign Issue.
In Could Health Care Be on the Ballot Again? Shachi Kurl of the Angus Reid Institute writes "For the first time in a long time, party leaders find themselves compelled to say something about our physical well being."
In a guest column, Diabetes Canada President Jan Hux warns that, while U.S. politicians are leading insulin pilgrimages across the border, Canada Has its Own Diabetes Crisis.
Most campaigns have defining moments and in the modern Canadian political era, none more so than the 1984 leaders' debate. Peter Mansbridge captures the drama of the exchange between John Turner and Brian Mulroney in The Debate that Changed Debates.
And, in his regular column. Don Newman provides a prescription for mitigating chaos in the event of a minority House. Here's In Case of Minority, Break Glass.
Finally, we offer timely reviews of two important books of this season. Former Maclean's Editor-in-Chief Bob Lewis looks at Trudeau: The Education of a Prime Minister and finds that John Ivison's biography "fairly bristles with anecdotes and examples of a flawed prime ministry." And, Robin Sears is struck by the personal courage of NDP Leader Jagmeet Singh in his autobiography, Love & Courage.
Enjoy the issue.
Your weekly TWIP links:
From Policy Editor L. Ian MacDonald, The Pre-campaign Lay of the Land.
From yours truly, Policy Associate Editor @Lisa_VanDusen, my Hill Times column from this week, now re-posted on Policy, Joe Biden and the Electability Trap.
From Policy Social Media Editor Grace MacDonald, her newly posted conversation with Gretchen McCulloch, Montréal author of the New York Times bestseller Because Internet. Here's Because McCulloch: A Policy Q&A with the Internet's Linguist-in-Chief.
In and About Canada: Over to You
In pre-election news, Conservative Leader Andrew Scheer appeared at a hotel on Toronto's airport strip on Thursday to respond to reporters' questions about his positions on gay marriage and abortion after the Liberal Party's decision to resurface video of Scheer talking about same-sex marriage in 2005 and about reproductive rights in another clip. Scheer accused the Liberals of "dredging up divisive issues" to distract Canadians. Here's CBC's Aaron Wherry with Scheer tried to douse a debate on abortion, same-sex marriage — and muddied waters even more. Here's CPACwith the video of Scheer's newser. Meanwhile, the NDP has a serious shortfall in nominated candidates just weeks ahead of election day. "The party says it has found 175 people to run under the orange banner in the upcoming election — meaning nearly half of the 338 ridings in Canada don't have a New Democrat candidate yet," per CBC's Catharine Tunney. " According to the NDP's website, the party has yet to nominate a single candidate in New Brunswick, P.E.I., Nunavut or the Northwest Territories." And, a new book compiling analysis by two dozen Canadian academics, Assessing Justin Trudeau's Liberal Government, says Trudeau has kept or partially kept 90 per cent of his promises since 2015. It uses Université Laval's Polimètre tracking tool. Here's CP with Did Trudeau keep his 2015 election promises? Mostly, a new analysis finds. Both Trudeau and Scheer launched their first campaign ads this week and, as CBC's John Paul Tasker reports, there's a lot of talk about moving forward. Here's the Liberal ad. Here's the Conservative ad. The NDP ad drops next week.
The last major economic numbers to drop before the upcoming election show a second-quarter growth spurt, with Friday's GDP figures showing the Canadian economy exceeded projections by expanding at an annualized pace of 3.7 per cent, its strongest three-month stretch in two years. Also this week, Statistics Canada reported Canada's largest inflow of foreign direct investment (FDI) in four years, "another sign growing global trade tensions haven't reduced the appetite for the northern nation's assets," per the Financial Post. Direct investment from abroad rose to $18.7 billion (US$14 billion) in the second quarter, the strongest inflow of FDI since early 2015.
The high-stakes, highly competitive and protracted contest to replace Canada's CF-18 fighter jets lost a player this week as Airbus pulled out of consideration. "Airbus decided to withdraw after looking at the NORAD security requirements and the cost it imposes on companies outside of North America," per CBC's Murray Brewster.
America Watch: Meanwhile…

NASA
In real-world change executed by the Trump administration while humanity was distracted by the reality-show lunacy of its male lead, the latest roll-back to Obama-era environmental protections was announced Tuesday with the proposed weakening of regulation on climate-changing methane emissions. Also, some children born to U.S. military and other government employees while living abroad will no longer be granted automatic citizenship. And, the protection that allowed immigrants to avoid deportation while they or their relatives receive life-saving medical treatments has been revoked.
Absurdity Watch: Covfefe's for Closers?
At the G6+🤡 last weekend, Donald Trump's capacity for outlandish sabotage was relatively limited by Emmanuel Macron's Gallic charm and efficient application of the lessons of Charlevoix. In dystopian degradation terms, the Trumpian fear factor that had collected around Biarritz in the days before the gathering soon dissipated in favour of an echo chamber diversion of mass anxiety toward next year's G6+🤡, which could include a cameo by Russian President Vladimir Putin and which the president of the United States began pitching as a booking opportunity for his Trump National Doral Miami resort with all the subtlety of Alec Baldwin's "have I got your attention now?" monologue (a.k.a. the "coffee's for closers" speech) from Glengarry Glen Ross. The upshot? There were no ballistic, cross-border tweets on exiting French airspace.
2020 Watch: First, the Good News

AFP/Getty
The third Democratic 2020 debate will be held on a single night with just 10 candidates. Also, it will be three hours long. The ten who made the cut based on financial supporters and poll numbers are Joe Biden, Cory Booker, Pete Buttigieg, Julián Castro, Kamala Harris, Amy Klobuchar, Beto O'Rouke, Bernie Sanders, Elizabeth Warren and Andrew Yang. The debate will be held on Thursday, Sept. 12 at 8 p.m. In campaign trail news, Biden defended his rendition of a story about the bravery of a soldier that the Washington Post reported conflated details of three different events. On Wednesday, New York Senator Kristen Gillibrand withdrew from the race.
World Watch: Locked Down, Still Disputed
Pakistanis brought their nation to a standstill Friday as they observed "Kashmirhour" in solidarity with the disputed region after India stripped the state of Jammu and Kashmir of its autonomy and flooded the area with troops. "Today's event is to let Kashmiris know that the nation is standing with Kashmiris through thick and thin," Pakistani Prime Minister Imran Khan told demonstrators at a rally in Islamabad.Meanwhile, Kashmir seems to be serving as a testing ground for new world order security-state oppression, censorship and ethnic cleansing tactics in the Muslim-majority state, with police reportedly refusing to issue death certificates for protesters being killed by security forces, who deny any civilian casualties since India invaded the disputed region in early August. More than 3,000 people whose opinions have made them targets of the occupation forces have now been detained without warrant. Their whereabouts are unknown. Jammu and Kashmir's 12.5 million people remain without internet and mobile phone service. Here's Amnesty International's statement from Monday, India: Government Must Immediately Release Jammu and Kashmir Political Leaders. Meanwhile, Indian opposition Leader Rahul Gandhi and a multiparty delegation of Indian MPs who arrived in Srinagar to assess conditions were turned away at the airport on Monday. Also on Monday, Twitter, which claims consistently and erroneously that Donald Trump doesn't violate its hate-speechpolicy, sent Pakistani President Arif Alvi a warning for posting a video of protests in Kashmir. Here's Imran Khan's Friday op-ed in the New York Times, The World Can't Ignore Kashmir. We are all in Danger.
G7
In actual news out of last weekend's G7, the serious business accomplished behind the scenes included an aid package for the scorched earth plundering of the Amazon rain forest being committed by the government of Brazilian Trump Jair Bolsonaro, who fulfilled his role as a populist cartoon villain by balking at the $26.5 million in G7 funds and separate $15.8 million from Britain and $15 million from Canada. Here's the G7 Leader's Declaration, which replaced the final communiqué this year so that Trump couldn't melodramatically denounce it. Here's Amelia Cheatham at the Council on Foreign Relations with How Brazil's Burning Amazon Threatens the Climate.
Brexit Watch: Cry Havoc

Reuters
In the entirely predictable third act of the historical melodrama he signed on to when he ended his pre-referendum Hamlet-ing in 2016 and enlisted as a pro-Leave actor, Boris Johnson tossed a procedural grenade into British democracy on Wednesday by moving to prorogue on Sept. 11 for five weeks, seriously restricting Parliament's margin of manoeuvre to pre-empt a disastrous no-deal Brexit. The provocative stunt drew outrage from pretty much everyone but zealous Brexiteers. Speaker John Bercow called it a "constitutional outrage". Labour Leader Jeremy Corbyn slammed it as a "threat to our democracy". On Thursday, George Young, the Tory whip in the Lords, resigned over Johnson's tactic, which Johnson rationalized with the deadpan promise of a "very exciting agenda" to be laid out in a Queen's speech on Oct. 14, two weeks before the Halloween Brexit deadline. Scottish Conservative leader Ruth Davidson, a Johnson ally, also resigned. In related content, NATO Secretary-General Jens Stoltenberg reiterated the alliance's position that Article 5 of the Atlantic Charter — the "all for one" provision — applies to cyberattacks, though no word on whether it covers attacks on the democratic governance of NATO members by their own, rogue heads of government. In more related content, my recent Hill Times piece, Boris, Donald and the Race to the Boorish Bottom.
Democracy Watch: First, the Bad News

Anadolu
In the apparent page-a-day adaptation of Authoritarianism for Dummies to the world's most powerful democracy this week, a third-party campaign to target journalists as enemies of the people by gathering oppo research dossiers on all theircontent histories was reported by the New York Times on Monday. The story serves the triple purpose of isolating certain news organizations as anti-Trump for propaganda purposes, intimidating journalists who write the truth, and degrading American democracy by obliterating the longstanding norm of journalistic protection from persecution by government. The good news? Nobody's been beheaded yet. (Washington Post columnist Jamal Khashoggi, above, decapitated by a G20 government hit squad during otherwise routine consular appointment, Oct. '18). Here's the Times with Trump Allies Target Journalists Over Coverage Deemed Hostile to White House. In related content, the equally unbelievable Palestinian student set to begin studies at Harvard turned back at US customs over social media posts by friends.
Climate Watch: Wunderkind

AP
Two days after she arrived in New York by way of two-week, carbon-neutral, transatlantic sail, 16-year-old Swedish climate activist Great Thunberg led hundreds of American teenagers protesting outside the UN headquarters in New York on Friday in one of her trademark school strikes. Meanwhile, in climate damage news, a five-year status report on the Great Barrier Reef published Friday by the Australian government downgraded the outlook for the UNESCO World Heritage Site and world's largest structure built by living organisms (coral) from poor to very poor. Here's the Sydney Morning Herald with the details.
Events, Dear Boy: Rock the Vote

Toronto Star
With Labour Day looming, the policy events circuit is back up and running. Our friends at the Institute for Fiscal Studies and Democracy and their iVote-jeVoteprogram will welcome UK-based responsible tech advocate, former Ryerson Leadership Lab global fellow, former Blue State Digital managing director and former Fridge drummer Sam Jeffers (above), co-founder of Who Targets Me?, to discuss electoral integrity on Monday, Sept. 9 from 5:30-7:00 and Ottawa University's Hagen Hall. You can register here.
Books: Go to the Mattresses

New York Times
Apparently not satisfied with undercutting booksellers online, Amazon seems to be adopting a more strategic approach with its bricks-and-mortar operations. The retail disruptor and Big Tech behemoth is opening a branch directly across from Nashville's Parnassus Books, which, being co-owned by bestselling novelist Ann Patchett (above) is one of the highest-profile, symbolic independent bookstores in the United States. The move is being greeted as an attempt on the part of Jeff Bezos to generate a dispiriting, we-will-crush-you-like-a-bug narrative for which Patchett's notoriety will provide industry-wide amplification. Here's LitHub with Amazon's opening a store across the street from Nashville's Parnassus Books. Because Amazon is bad. Here's Nashville writer Margaret Renkl's New York Timesop-ed, Parnassus Books cares about us. Does Amazon? Here's the scene from You've Got Mail in which Tom Hanks as mega-bookstore owner Joe Fox tells Meg Ryan as Kathleen Kelly to "go to the mattresses" — per indispensable life coaching from The Godfather — to fend off the Goliath she doesn't know is him. (Sure, she lost the store and ended up with Tom Hanks, but that was just a movie). And, from 2016 in the New York Times, Ann Patchett's Guide for Bookstore Lovers. You can follow Parnassus @ParnassusBooks1.
Here's your handy, one-stop link for all the great CBC Books fall lists, from Canadian fiction to international non-fiction.
Here's Zara Meerza's LitHub review What Does a War Correspondent Look Like?on Our Women on the Ground: Essays by Arab Women Reporting from the Arab World.
Here's CBC Books with 22 works of nonfiction from around the world to watch for this fall.
Here's the New York Times Book Review with 11 New Books we Recommend this Week.
And, here's the Book Marks Best Reviewed Books of the Week.
Quote of the Week
"In the midst of chaos, there is also opportunity."
Sun Tzu, The Art of War
That's it for this week. Thanks so much for joining us. To subscribe to TWIP, click here or email lianmacdonald@gmail.com. And many thanks to those of you who've already subscribed.
If you enjoy The Week in Policy, you'll probably like our magazine. To subscribe to Policy, click here.
And, if you have any suggestions or complaints for TWIP, fire me off an email at lvandusen@policymagazine.ca.
Have a fabulous weekend.
@Lisa_VanDusen