First, Do No Harm: Canada's COVID-19 Crisis Management
Canadians are grieving compounded tragedies this week. Unbelievably enough, one man proves things could be worse.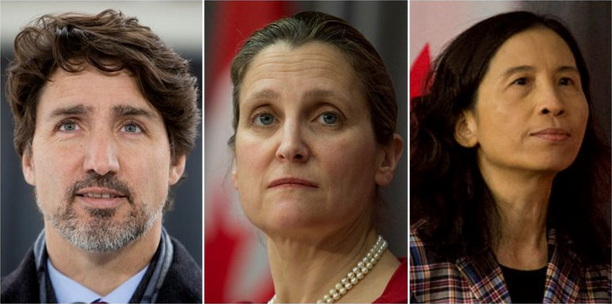 Hill Times/Andrew Meade
Lisa Van Dusen
April 23, 2020

At a certain point in the saga of the 2008-09 financial cataclysm, I ran out of synonyms for cataclysm—calamity, catastrophe, disaster—as nothing seemed to capture the rolling tsunami of that contagion and the same inadequate words became repetitive very early on.
Writing about it weekly from Washington between the collapse of Lehman Brothers in September 2008 and the G20 in London in April 2009 when things started to turn a corner, I started grasping at other languages—bordel, sciagura, unglück—out of sheer unglück fatigue.
The COVID-19 pandemic, as we are reminded continually, is a different sort of cataclysm. It is different because it pits short-term population health and medium-term population health against each other amid an economic time bomb in a way that makes the prisoner's dilemma seem like a coin toss. It combines the immediate terror—"don't go outside, it'll get you!"—of a Godzilla movie with the Hobbesian worst-case scenario of a stimulus-proof recession—"'Go shopping' won't work this time"—with the looming threat of a social-order tipping point—"When the people go hungry, governments topple."
If, in this age of narrative warfare, someone had concocted a crackpot Dr. Evil-like plot to bring down the free world by afflicting it with the mother of all wicked problems, they could not have come up with a more wicked one. It makes the pre-existing wicked problem rampaging around the White House look like an Adlai Stevenson tribute act.
As with every major disaster these days whose outcomes hold any value whatsoever—especially economic value—to the interests currently bedeviling world affairs in the name of geopolitical dominance, this one comes with no shortage of unnecessary obstacles, avoidable confusion, and tactical obstruction. As the human toll mounts, the immediate solution of more widespread, globally standardized testing, a morbidity-mitigating treatment, and a viable vaccine get obscured by the sideshow of an American president who has made himself not just part of the problem but a WHO-defunding, IMF-scuttling, shutdown-ending pandemic supervector. The question of when to loosen the economic tourniquet containing this pandemic is not about hunches, it's about the science of weighing the daily number of new cases against the time required to neutralize the threat to the utmost degree humanly possible.
Meanwhile, with the help of Prime Minister Justin Trudeau's palliative daily stoop chats, Deputy Prime Minister Chrystia Freeland's honest and competent briefings, Chief Public Health Officer Theresa Tam's accessible-but-not-patronizing updates, and the lineup of mostly women health officers echoing that no-nonsense crisis communications approach in provincial capitals, Canada has never made boring look so good (a theme beautifully, and boringly, echoed in Ryan Reynolds' Bring Boring Back Conquer COVID-19 t-shirt fundraising campaign).
Hundreds of people have died in this country and hundreds of thousands more (the global death toll is approaching 200,000 at this writing) have died across the globe from a virus whose disruptive and destructive capabilities disarm modern damage control approaches with medieval ruthlessness. Which leaves crisis management as any government's chief responsibility. Truthfulness, tone, and pitch—as every leader from Lincoln to Churchill to Pierre Trudeau proved—are invaluable components of that role.
When events conspire to produce a reality that makes the deadliest mass shooting in Canadian history a sidebar to a larger daily disaster and prevents grieving families from observing the rituals essential to processing the loss of loved ones to violence, having a government whose modus operandi is "first, do no harm" shouldn't feel lucky, but it does.
That the power of personality as a component of leadership has never been as clear as it is in Washington right now isn't just column fodder; it's absolutely tragic. It's not a reflection of America, it's just a different sort of disaster.
Lisa Van Dusen is associate editor of Policy Magazine and a columnist for The Hill Times. She was Washington bureau chief for Sun Media, international writer for Peter Jennings at ABC News, and an editor at AP in New York and UPI in Washington.