Fifty Years of Being in the Right Place at the Right Time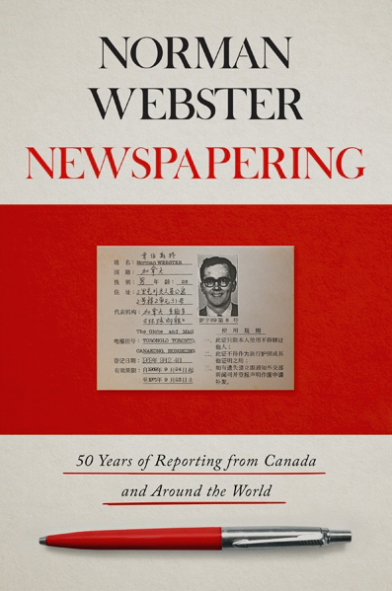 Newspapering: 50 Years of Reporting from Canada and Around the World
By Norman Webster
Barlow Books/2020
Reviewed by Graham Fraser
January 11, 2021
In 1971, Norman Webster was The Globe and Mail's China correspondent, covering ping pong diplomacy: the arrival of an American ping pong team that laid the groundwork for the beginning of diplomatic relations between Richard Nixon's United States and Mao Zedong's China.
After days of scrambling about, writing about the visit and taking photographs of what had become, as he put it, "not just a big story…a Big Story," he shipped off his material the way he had learned was most efficient: on a flight to Shanghai, and then by Air France to Paris and on to Toronto. He then asked the American correspondents travelling with the team how they were doing it, and learned they were sending their stuff to Canton, across the border to Hong Kong, and then to the US. Norman was elated. He knew this was a recipe for disaster, or at least lengthy delay by Chinese officials.
"I wrestled with my conscience, lost the battle and returned to the counter," he wrote, years later. "Guys, I said, there's something you should know. And I told them the whole story, including the Shanghai escape route."
He was greeted with polite condescension; the Americans had everything taken care of. "Thanks anyway. And they left." So did Webster, whistling.
"What happened? Well, the Canton-bound film somewhat got misplaced in transit and took days to reappear," he wrote. "The Shanghai package, meanwhile, bumped along to Toronto, where The Globe and Mail ran a world scoop of photos of the Great Ping Pong Adventure. It also flogged them to Time (colour cover), Newsweek, Paris Match, The Australian, the Honolulu Star-Bulletin, and others around the world."
That one anecdote in this wonderful collection captures the essence of Norman Webster: cheerful, well-informed, shrewd, honourable, —- and highly competitive. He is an athlete, and until recently played hockey and competed in triathlons.
This collection of Webster's reporting ranges from London to Beijing, Oxford to Mogadishu and Quebec City to Queen's Park with brilliant thumbnail sketches of Bill Davis, Mike Pearson, Daniel Johnson Sr., Zhou Enlai, Margaret Thatcher, Princess Di and many others. The texts, originally published in The Globe and Mail, The Gazette and Maisonneuve, are a blend of stories filed from the spot at the time and later, longer, sometimes nostalgic recollections. The result is a delight.
I first met Norman Webster in the fall of 1973. I had just joined The Globe and Mail, and had been sent — perhaps to learn from the best — to Queen's Park for a few weeks, where Norman was the bureau chief. He was furious; he had just spent days following a Liberal leadership candidate around northern Ontario, and the story he had filed had been cut to ribbons.
The lesson I learned from this was that whoever you were, The Globe owned your labour. I suspect that one of the lessons Norman may have learned was how to write in a way that made his stories difficult to cut. The pieces included in this collection are perfect examples: almost every one of them ends with a sting in the tail that no cynical copy editor would dare remove.
The insights stand up, years after they were written. The only case where he felt obliged to write a postscript was about Aung San Suu Kyi. While she was, as he wrote 11 years ago, "courageous, beautiful, eloquent, winner of the Nobel Peace Prize (and) authentic leader of her people," her "cold-hearted actions against the Rohingya Muslim minority" left him wondering. "Did we make a bad call here? Did a world and journalists looking for a heroine go overboard in our evaluation of Burma's beautiful lady of the lake?" he wrote in 2018. "When she finally came to power after a long struggle with her generals, did she revert to the thuggish ways of those same generals?" He concluded that "the world may now be seeing the downside of the determination and ambition that served her so well under house arrest."
Born and raised in Sherbrooke, Quebec in the Eastern Townships, Webster went to Bishop's University, worked part-time for the Sherbrooke Record, and then won a Rhodes Scholarship. When he returned from Oxford, he was hired by The Globe and in 1965, at the ripe old age of 24, was sent to Quebec City where the Quiet Revolution was in full swing. After a stint at the long-gone Globe Magazine, he went to Queen's Park: first as bureau chief, and then as a columnist. Then China. Then London — which, in those days, meant those parts of the world that were not Asia or the Americas.
This is a collection, not a memoir. It includes nothing about his time as editor-in-chief of The Globe or The Montreal Gazette. But Norman Webster's character shines through: his wry sense of humour, his respect for the people he writes about, his nuanced insight into their character, his deep historical understanding, his belief in bilingualism, his hatred of smoking and separatism, his affection for Montreal, les Canadiens, the Eastern Townships and the monarchy.
As he wrote about the Queen Mother, he "went to bat for decency, honour, love, family, freedom, royalty and good cheer." Plus, of course, hockey and clear prose.
Contributing Writer Graham Fraser spent 19 years at The Globe and Mail, in Toronto, Quebec City, Ottawa and Washington. The author of several books, he served as Canada's Commissioner of Official Languages from 2006-2016.