Everybody Take a Xanax: Processing Canada's Loss at the UN
Canada's failure to obtain a seat at the UNSC table will not affect our place in the world.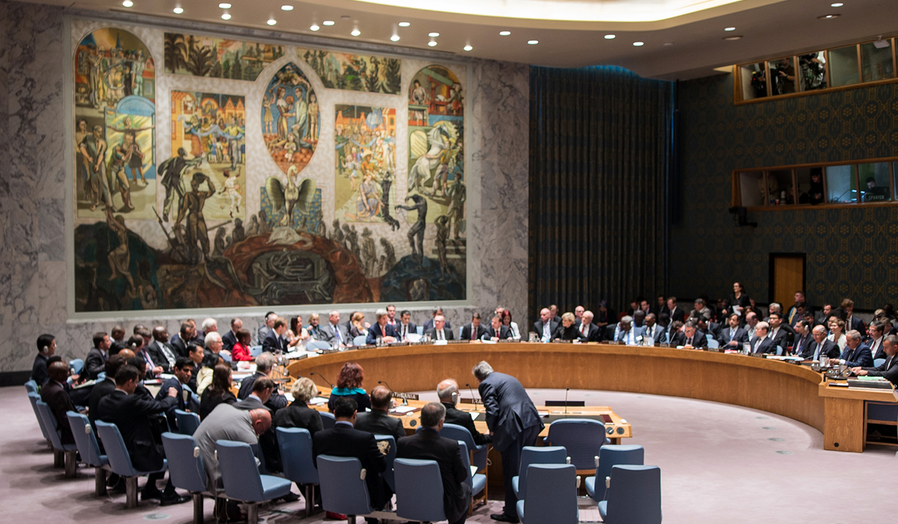 Jeremy Kinsman
June 18, 2020
Canada's loss in its quest for a non-permanent seat on the UN Security Council is sad for many Canadians, but their regret should be balanced against a few thoughts:
The UN Security Council isn't what it was, having been unable to even have a useful meeting on the world's most recent security nightmares — Covid-19, and before that, the Syrian catastrophe — because of the toxic rivalries among permanent and veto-wielding members China, Russia and the US. It makes being a second-class, non-permanent member a frustrating experience.
It has no bearing on what the world thinks of Canada and Canadians, still near the very top of any list of countries most admired for their stability, civility, and inclusivity.

The two other Western European and Others (WEOG) candidates are the very best of breed. Norway and Ireland incarnate the same valuation of rules-based multilateralism, especially via support for the UN, and human rights, as Canada, but have in the last decade done it better.
The last point alone is a good indication of why we lost.
They won on their records.
Was there something wrong with ours? It's a question of how we look to others, at least those few among the world's billions who think about such things.
Think back to 1998 when we last won. We had a coherent, protagonistic foreign policy under Lloyd Axworthy within the paradigm of "human security", whose concept and reality-based agenda covered the elimination of land mines, the responsibility to protect human lives (post- Rwanda and Srebrenica), and the establishment of the International Criminal Court, among other meritorious things. All these were pluses for the UN.
We were coming from decades of real leadership in the UN, under — successively — Pierre Trudeau, Brian Mulroney, and Jean Chretien. When necessary, we stood up to anybody including the US (and Axworthy never shrunk from that).
Lastly, we had a pro at the UN in Bob Fowler (famously kidnapped by Al Qaeda in Niger a decade later, and freed after 130 days in the Sahara). The UN community is a professional community. Some countries send political organizers and campaign chairs to the UN but they pay a price.
What was our problem this time?
First, we came in very late. Norway and Ireland had declared their intention to run years ahead of Canada. Our regional group was happy with their exemplary candidacies.
This was pointed out to the political enthusiasts in the Trudeau campaign camp in 2015, who thought it was the perfect way to show that "Canada's back" from the UN-averse Harper years. The argument that you need to show you are back before to say you are back was kind of lost on those enthusiasts, who in any case didn't think then they'd be back in power in Canada.
When the Liberals won their huge majority, it seemed a tonic to others in the democratic world to see a young, engaging, optimistic, attractive, inclusive, reasonably progressive, etc., etc., etc., leader… and that became the brand. It didn't work for this campaign. Newness does have a shelf-life.
Consider three successive headlines on today's CBC morning-after website:
"Canada loses its bid for seat on UN Security Council;"
"Trudeau government must stand up against Trump's escalating attacks on International Criminal Court;"
"New NAFTA takes effect next month. US is already threatening legal challenges."
There you have the Canadian dilemma.
The world has complex and deep problems. But everybody knows that Donald Trump's abrasive, disruptive, even destructive, "America First" assault on relationships and multilateral understandings is a defining challenge to the rules-based order the imperfect UN (as imperfect as our world) represents.
The Security Council needs members who will intelligently resist that. Canada's management of the save of NAFTA was a first-class performance. It required a whole new level of strategic communications mastery to finesse the mercurial, erratic, vindictive US President. "Speak no ill of the president" was the m.o. of the PMO, at least never in public.
Not even when Trump came to Canada and trashed the G-7 Charlevoix Summit, walking out on Justin's world-league show, which the PM totally lost control of, the way he lost his voice for 21 seconds when asked about the most recent example of offensive Trump behaviour.
So, the rather entitled pitch Trudeau and others were making to the UN's members — that Canada deserved to be on the UNSC because "we're at all the big world tables" didn't really score. What, they asked, did we accomplish at those tables?
If we were on the UNSC, would we take on the US? Could we even manage at last to talk to Russia? China? Actually, ministers Freeland and Champagne have been trying like hell to build a like-minded solidarity group with others to defend multilateralism. We have the best relationship with fellow key democracies like Germany and France in decades. That will continue.
But what worked against our claim that "Canada's back" among those in the know around the UN was that after claiming we were going to lead in the reform of UN peacekeeping, we took two years to agree to send 250 personnel to Mali in a support role and then yanked them after one tour despite the UN's request that we stay. Ireland is the most stalwart contributor to peacekeeping forces in the UN.
Anyway, it's behind us. Time now to figure out what we really stand for, how to help contribute to it, and how to work our arrangements on the North American continent, easier if Joe Biden wins in November, and an essential point of our existential contemplation.
Contributing Writer Jeremy Kinsman is a former Canadian Ambassador to Italy, to Russia and to the European Union, and High Commissioner to the U.K. He is a Distinguished Fellow with the Canadian International Council.