Elizabeth May, Free Woman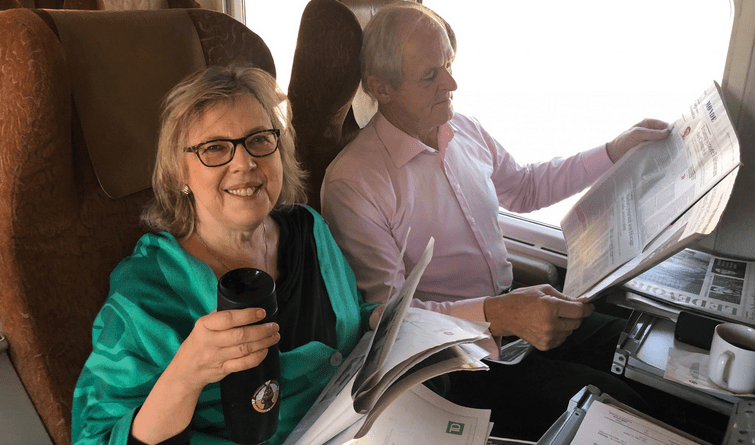 Column/ L. Ian MacDonald
Nov. 7, 2019
Elizabeth May was in a good mood as the train pulled out of Toronto's Union Station on its way to Vancouver. As May wrote for Policy Magazine in her contribution to our The Canadian Idea issue in July, the train is her favourite way of travelling for several reasons. The Canadian is the pride of the VIA Rail fleet, and the four-day trip to Vancouver gives her quality time with her new husband, John Kidder.
It's also environmentally preferable to air travel and May, stepping down as leader of the Green Party, has obvious views on that. Moreover, she has never quite overcome her fear of flying.
So, all was well in her world, having just resigned as Green leader at a time of her choosing, and setting in motion a process for electing her successor next fall. Meanwhile, she will continue to sit as the Green parliamentary leader in the House of what is now a three-member caucus, with every intention of running again in the next election. And make no mistake, she loves the House on the Hill. When May was a first term member in the Class of 2011, MPs voting in the Maclean's annual survey elected her Parliamentarian of the Year in 2012, then Hardest Working member in 2013 and Best Orator in 2014.
But at 65, after four national campaigns, it was no secret around Ottawa that 2019 would likely be her last election as leader.
"This is what I wanted," May said on her cell phone an hour out of Toronto on Wednesday morning. "Everything turned out perfectly."
Well, maybe not perfectly in political terms, but considering where she had come from in her 13 years as Green leader, and how far she'd brought the party, it's not a bad bilan. It's a measure of the impact of her leave-taking that the CBC ran her resignation as the lead story on The National Monday night. You don't see that every day about the leader of what was once a fringe party, and is still only the fifth party in the House. The Greens may not have won a double-digit slice of the popular vote, or up to a dozen MPs, which would have given them a share of the balance of power in a minority House. But if they had, she might've stayed.
In the event, the Greens won 6.5 percent of the pop vote, well off their pre-campaign polling numbers exceeding 10 percent. And, the distribution of votes into seats proved highly inefficient for the Greens.
Justin Trudeau's Liberals won 157 seats, just 13 short of a majority, with only 33 percent of the vote, the lowest in Canadian history for forming a government. The Conservatives took 121 seats with 34.5 percent of the vote, winning the popular vote but losing the election. The NDP won 24 seats with 16 percent, and will hold the default balance of power. The Bloc Québécois won 32 seats with 7.7 percent of the vote, all of it in Quebec—obviously the most efficient vote on the board.
And Elizabeth May, for her 1.1 million votes and 6.5 percent of the popular vote, has only three seats to show for it.
All of which makes a powerful case for electoral reform, with some kind of proportional representation replacing first-past-the-post ballots.
Which, among other things, is one of Trudeau's broken promises. After the House of Commons Special Committee on Electoral Reform (ERRE) reported to Parliament on Dec. 1, 2016, recommending that FPTP be replaced by proportional representation, the file was dropped when Maryam Monsef was shuffled out as minister of democratic institutions. When Karina Gould replaced her in February, 2017, she announced that electoral reform would be shelved as a consensus had not emerged on the question.
May was an impassioned member of the special committee, collegially working MPs in an effort to build an all-party consensus. While the posturing of some members occasionally annoyed MPs of other parties, May was always looking for a tenable middle ground, which was evident in the report killed by the PM. "Trudeau broke his word," May says.
May and the Greens would have done a lot better under a mixed member proportional MMP system, as in Germany, where citizens receive two votes, one FPTP vote locally, and another on a regional proportional basis. As Robin Sears points out in the new, post-election issue of Policy: "It's worked very well for more than 60 years in the only competitor to Canada as a successful federal state."
May points out that under a proportional system advocated by Fair Vote Canada, the Greens would have won 22 seats. As it happens, the Conservatives would have won 117 seats to 116 for the Liberals under Fair Vote Canada's PR breakout, with 57 for the NDP and 26 for the Bloc. That would have been incredibly interesting, as well as hugely problematic for financial markets.
As it is, May takes comparative comfort in the Greens winning even three seats. "No Green candidate in any FPTP system had ever been elected before us," she says. May has been joined by Paul Manly, her neighbour on Vancouver Island, and Jenica Atwood, the breakout winner in Fredericton, marking the Greens' first win east of British Columbia.
May also leaves the Greens in surprisingly strong financial shape. While the NDP is flat broke and in no condition to wage an election any time soon, May maintains the Greens are ready to go whenever the next election is called.
"We have no debt," she says proudly. "We have money in the bank to keep on rolling."
Of the campaign completed three weeks ago, she calls it "a very dispiriting election." She terms it "a dirty campaign," at the leaders' level, which the media seized upon to the detriment of covering ballot questions such as the environment.
May spent the better part of her career as an environmental activist in Ottawa, going back to her time as an adviser to the Mulroney government, including on its successful international work on restoring the ozone layer and stopping acid rain. Among the calls she received at her office while she was out on Monday was one from Brian Mulroney. May was an active proponent of her former boss being named Canada's Greenest Prime Minister a decade ago.
Looking ahead, she says, "I'm really quite committed to the next 18 to 24 months" in the minority House, after which she plans to run again. "I am interested in running for Speaker after the next election," she says.
But she's clearly had enough of being leader.
"Being former leader will give me a lot of time," she says. Including vacation time. Summers have come and gone without vacations, she says, "because of obligatory events for a leader." That means shorter summers at the May family home in Margaree, N.S., which makes her a Cape Breton girl. Born and raised in Connecticut, she moved with her parents to Cape Breton as an 18-year old, before attending St. Francis Xavier University and graduating from Dalhousie Law School in the 1980s. After leaving the government in 1989, she was founder and director of the Sierra Club of Canada, leaving that only in 2006 to seek the Green leadership. Newsweek once named her one the world's most influential women, and she's been on a UN list as one of the leading women environmentalists of the world. She's also author of a bestselling memoir, Who We Are: Reflections of My Life and Canada.
Among those cheering May's decision is her daughter Cate May Burton, now 28, who has been after her mother since the 2015 election to resign as leader. When 2019 came and Liz May was still leader, she says her daughter told her: "This time you have to promise me, this is the last one."
And so, it was. That familiar face on the train to Vancouver, that's Liz May — a free woman.
L. Ian MacDonald is editor and publisher of Policy Magazine.